The Yoga of the Heart, Sound & Poetry
Akasha Wellness Retreat

Apr 20 - 25, 2018 (6 days)

Double Room - Private - €1,245.00 Queen Room - Private - €1,620.00 Twin Room - Sharing - €825.00
About us
Hatha Yoga, Music & Poetry Retreat with Abby Dixon
Combining movement, stillness, deep thought and free expression we will embark on a week long healing retreat in the countryside of Transylvania. Our days will include two Hatha yoga and meditation sessions juxtaposed with poetry writing and mantra chanting. Focusing on enabling our true voices to blossom, emphasis is given to tuning into subtle energy frequencies and becoming more aware of the chakra system. Believing that the true answers to health and happiness lie within us all this system brings about deep purification, healing and transformation. We just need to find the courage to look inside and listen more carefully to silence.
Here is Abby performing at Sofar Ibiza, more like this in Transylvania too!
Included:
Daily Morning and EveningYoga Practice with Meditation & Pranayama with Abby 
Poetry, Music & Mantra Chanting Sessions with Abby
3 Organic Plant Based meals per day all nutritionally balanced, varied & delicious
All drinks, detoxifying teas, smoothies & juices on retreat
1 x 60 min massage or body therapy from the spa included in the rate
Unlimited Outdoor Jacuzzi Hot Tub, Traditional & Infrared Sauna
5 nights accommodation in boutique rooms with en-suite bathrooms and glorious mountain views.
Group activities, cinema & library, creative arts & crafts
Enjoy walks in nature, reading & relaxing in our common areas.
Optional Massages by gifted resident massage therapists
Pick up & Drop Off to & from Brasov City
Integrative Medicine & Nutrition support by email & phone during or post your retreat.
HATHA YOGA
There is something different about asana practice when ones eyes are closed. There is no room for distraction, no room for comparison or communication. We become gifted with the present moment. Each morning and evening we will meet on our yoga mats to find a balance between movement and stillness. Our teacher, Abby Dixon shares a self-adapted version of classical Hatha Yoga, inspired by Hridaya, Sivananda and Agama traditions.
The focus is to find a space of tranquility within, while activating and energising different muscles and energy points in the body. Using the chakra system to guide yogis through their practice brings another element into the sequence, and allows for deeper exploration of these subtle energy wheels. Drawing attention to the breath, especially during awareness phases brings yogis more in tune with their lung capacity, and its common underuse. Through breath we are able to eliminate more toxins than through any other method of excretion. We explore breath and its ability to cleanse and heal through pranayama practice, too. Holding postures for extended periods of time, allows the body to become more subtle and flexible without risking injury.
The states of stillness cultivated during these periods resting in posture, deepen our states of consciousness and allow for each seat to become a meditation position. Yoga is more than a workout. It makes you realise that when you surrender and when you find stillness, strength follows. This strength cultivated is both mental and physical, bringing harmony and balance to our existence.
MUSIC
Music is magic. We will finish each yoga practice with a mantra, and there will me many opportunities throughout the week to sing sacred songs from all over the world.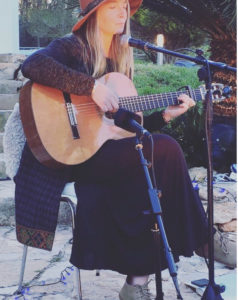 Our retreat leader – Abby Dixon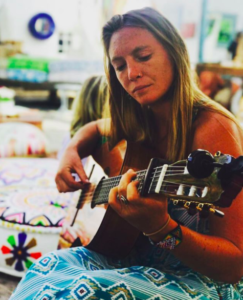 I was born and raised on the Isle of Man, a beautiful, blustery Island in the middle of the Irish Sea. Blessed by a childhood on this mystical land, filled with old folk-lore, myths and fairy-tales, I developed a love early on for all things mysterious, wild and untamed. Some years ago I packed up life in London, leaving behind a career in Human Rights, to follow a dream of exploring the world, teaching yoga and writing and performing poetry. I have journeyed, on foot,on horseback and by hair-raising public transport through thousands of square kilometres of African wilderness, Indian mysteries, the Himalayas, the High Andes, the Amazon rainforest and the fiery volcanoes of Latin America.
Expanding my knowledge of yogic practice and philosophy, shamanism, crystal and energy healing, permaculture design, wildlife conservation and sustainable living techniques, has changed my perspective on life dramatically. I passionately believe that since stepping onto the spiritual path, purifying my being on physical, mental, emotional and spiritual levels, my creativity has blossomed and with it the manifestation of my greatest dream. Today, I have chosen to settle of a warmer Island, though just as wild and mystical; Ibiza. I combine asana yoga and meditation with music and poetry, to bring about deep purification healing and transformation. I teach yoga and perform live music all over this wonderful world. I love my life.
Skill level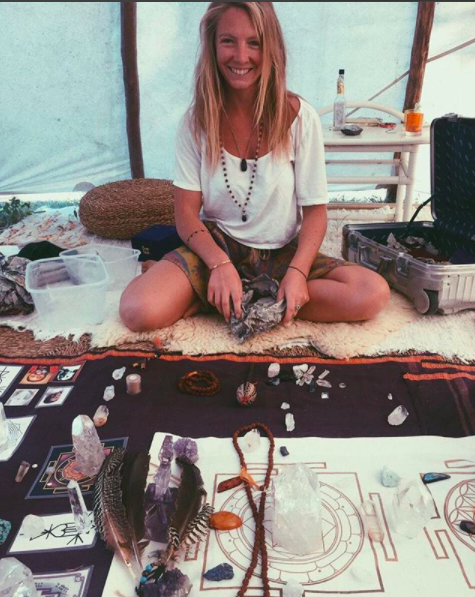 Day 1 Arrival Day
16.00PM – 18.00PM Arrival & Registration
18.00PM – 19.30PM Evening Yoga & Meditation Practice
19.30PM – 20.30PM Candlelit Dinner 
20.30PM – Opening Circle & Retreat Presentation
___________________________________________________
DAY 2, 3, 4, 5 Full retreat Days
7.30AM – Wake Up
8.00AM – 9.30AM Morning Yoga, Pranayama & Meditation Practice + Charkra Juice
9.30AM – 10.30AM Breakfast
10.30AM – 14.00PM Free Time & Spa Therapies*
14.00PM – 15.00PM Lunch
15.00PM – 18.00PM Free Time & Spa Therapies*
18.00PM – 19.30PM Evening Yoga & Meditation Practice
19.30PM – 20.30PM Dinner
21.00PM – Optional Group Activity*
___________________________________________________
DAY 6 Departure Day
7.30AM – Wake Up
8.00AM – 9.30AM Morning Yoga, Pranayama & Meditation Practice + Charkra Juice
9.30AM – 10.30AM Breakfast
10.30AM – 11.00AM Closing Circle & Departure

Good to know
We can't accommodate children on retreat unless on specialised retreats for children as well. We welcome participants over 18 years of age.
Accommodation is in individual bedrooms each with en-suite bathrooms. Some bedrooms can be shared with other guests on retreat ( Twin Sharing Rooms) or on a Private Basis ( Double Room Private & Queen Room Private)
We provide all Yoga Mats & Props however you can also bring your own if you prefer.
Weather in the mountains can be unpredictable if you plan to go walking in nature please bring warm clothing & waterproof shoes.
Optional Evening Group Activities include Movie Nights, Group Games, Hang Out Nights, Kirtan Nights & more.
During Free Time & Spa Therapies you are free to spend your time as you want to, Massage Therapies and Salt Baths are booked & paid for separately please see our Spa Menu.
We practice a Digital Detox Retreat, this is to allow your mind to disconnect from the overload of digital communications and listen more deeply to life, connect with others on the retreat and live in the present moment. We provide a Guest access computer for use during the retreat. On Departure Day we will gladly provide Wifi access to get in touch with your friends & family or to share your photos on social media.
Every morning until breakfast time and one full morning until noon we practice a silent retreat, this is a powerful tool to connect with yourself, pick a good book and explore the true benefits of being on retreat. This is YOUR time.
Optional Activities whilst at AKASHA R/E.TREAT are:

Reading, Painting, Colouring, Creating in our creative corner.
Skiing in the winter we can assist with transport to the nearest skiing slope 30min away.
Horse Riding with local trained horses, from €25 / hour
Hiking in the mountains and local valleys
Nutrition & Lifestyle Medical Screening support from Medical Doctors as part of our team.
Reviews
Write a review - tell others about your experience.
Thank you!
We're glad you've joined our retreat community. See you around :)
Return to my event
×