Event Highlights
Take part in ceremonies performed by trained Shamans
Experience authentic Andean culture and traditions
See a new perspective of life and develop physically and spiritually
Trek to the sacred mountain of Ausengate
Visit the famous islands of Uros, Taquile and Amantani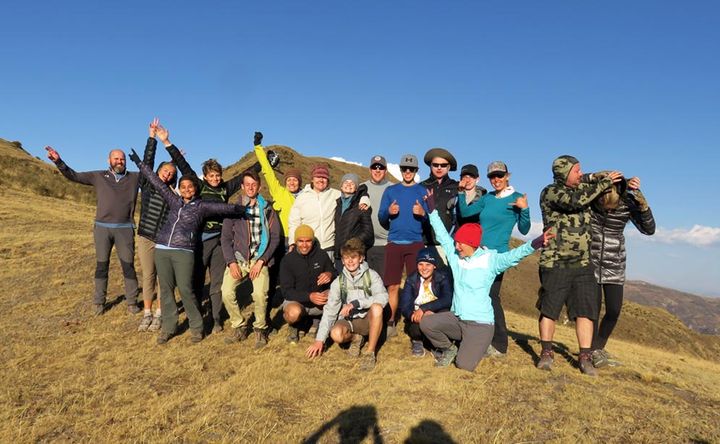 Schedule
ITINERARY:
DAY 1: Cusco - Sacred Valley (Pisac or Urubamba)
Today we will meet or pick you up in Cusco, nestled among the energy-infused mountains of the Andes. We will transfer straight to the lower altitudes, warmer climate and peaceful environment of the Sacred Valley. Along the way, we will visit Awanakancha, a community-driven project that introduces us to the South American camelids and traditional weaving techniques of the area.
After arriving at your hotel in Pisac, you will participate in an authentic Andean Blessing to Pachamama (the Earth Mother) ministered by an Andean Priest. This ceremony invokes the help and energy of the Mountain Gods and Pachamama (the Apus and the Earth Mother, respectively) for the health, wellbeing, and happiness of the participants. At the same time, the participants show appreciation for life and their blessings.
The rest of the day will be free for you to relax and acclimatize.
DAY 2: Cusco – Sacred Valley (Pisac)
To begin, the shaman must start with a Flower Cleansing Ceremony, done with sage and yellow flowers. Sage is common around houses and businesses here in the Andes, often found by the front door, and is used to ward off bad spirits. In our ceremony, it is used to clean the negative energies from your body. The shaman creates a cover of sage over you while saying a prayer in his native Quechua language. The next step is to cover your body with yellow flowers for protection. Many say they can feel the strong energy as an after effect of the ceremony. It is quite a moving experience.
DAY 3: Pisac – Visit to the ruins of Pisac and Ollantaytambo - Ollantaytambo
This morning we will visit Pisac, a spectacular Inca site located along the length of a ridgeline high above the village of the same name. Here, we will learn about the Intiwatana (Sun Temple) and its religious significance before continuing through the picturesque Sacred Valley to tour the ruins of Ollantaytambo.
Ollantaytambo is the only continuously inhabited Inca town; it is still laid out on its original Inca street plan. Our tour will take us up its steep terraces to the enigmatic, unfinished temple and magnificent views at the top. We will explore the lower temple as well, with its many baths and water channels. Before dinner, you will have the opportunity to wander Ollantaytambo's cobblestone streets lined with water channels that have been running since the time of the Incas.
• Note that the ruins of Pisac and Ollantaytambo require purchasing an additional entrance ticket (see below). This same ticket can be used for the ruins of Moray on Day 4.
DAY 4: Ollantaytambo – Visit to the ruins of Moray and Salineras – Aguas Calientes
In the midst of endless agricultural fields that lie just above the Sacred Valley is Moray. This is a lesser-known Inca site whose original use is still debated. There are some who believe that it was a sacred site and representative of the female womb; however, most believe that it was an Inca experimental agricultural centre. Formed by concentric, circular terraces, there can be a difference in temperature of up to 15°C between the upper and lower terraces, creating various environments and allowing for the growth of species from different parts of the empire. Regardless of its original use, it is a site full of energy, perfect for our yoga practice.
From here it is a short ride to the Salineras salt pools near Maras. In existence since pre-Inca times, these small pools are fed by a natural spring and left to dry until it is possible to harvest the salt. Each pool is owned by a family from the area and provides a renewable source of income for the region. Walk through this surreal white landscape, we'll take advantage of
the light and colours for some incredible photos. Note that the Salineras salt pools require an additional entrance ticket of S/.10 which can be purchased at the entrance.
Afterwards, we will return to Ollantaytambo to catch the train to Aguas Calientes. Here, we will spend the night before getting up early the next morning for Machu Picchu.
DAY 5: Aguas Calientes - Machu Picchu - Cusco
We will get up early to catch one of the first buses up to Machu Picchu and in time to watch the sunrise over the mountains. After enjoying the views, we will have a two-hour tour of the Inca citadel, visiting the principle sites. After the tour we recommend the following activities:
• Climbing Wayna Picchu and visiting the Temple of the Moon (requires an additional pass and must be reserved at time of booking – see below).
• Climbing Machu Picchu Mountain (requires an additional pass and must be reserved at time of booking – see below).
• Hiking to the Sun Gate, where the first rays of sunshine on the winter solstice.
• Visiting the Inca Bridge, where you can marvel at the incredible engineering skills and ingenuity of the Incas.
• Sitting on the terraces below the Temple of the Condor and taking in the energy of the site.
• Walking through the site again, ducking into hidden corners and little-visited rooms to refine your own theory about Machu Picchu.
In the afternoon we will return to Aguas Calientes to catch the train to return to Cusco and your hotel.
DAY 6: Free day in Cusco
This day is for you to relax in preparation for tomorrow's journey to Ausangate and enjoy the city of Cusco. There are many places for massages and souvenir hunting, plus museums and Inca temples to visit. We can make recommendations to suit your tastes.
DAY 7: Beginning of Ausangate trek: Cusco - Tinki - Pacchanta
We'll leave Cusco at 7am in our private car along the Cusco-Puerto Maldonado road and head to the town of Tinki (3,800m/12,464ft), first stopping in Urcos to visit the beautiful lake of the same name. Our second detour is the agricultural and herding community of Cattca, which has spectacular views of the region. We'll next pass through Ocongate, capital of the district with the same name and only a half hour from Tinki. Finally, we arrive in Pacchanta, a small community with attractive hot springs for us to bathe and relax in after our 6-hour drive. We'll have lunch and set up camp here, enjoying the fabulous views of the snow-capped local peaks. Post-lunch activities for you to choose from include a small hike, riding Andean horses, or simply relaxing in the hot springs all evening.
DAY 8: Pacchanta - Lake Uturunco
We'll leave Pacchanta and begin an easy climb across the Puna (a dry, high-altitude ecological zone with little vegetation) to arrive 4 hours later at our lunch spot. This spot affords us a view of the beautiful and profoundly sacred mountain Ausangate (6,372m/20,900ft).
We'll arrive at our destination of Lake Uturunco after roughly 4.5 hours of hiking. We'll camp and have dinner right in front of Ausangate. Our campsite is surrounded by vegetation, beautiful lakes of red, green and turquoise (Puca Cocha, Uturuncu Cocha, and Azul Cocha), and sweeping views of glaciated mountains.
Optional: Horse rental for $70 USD per day.
DAY 9: Lake Uturunco – Puno
We'll keep trekking after breakfast, with a 4-hour descent back to Pacchanta (4,100m/12,464ft). Our route takes us past falcon and "vizcacha" (an Andean rodent similar to rabbits) habitat, with views of the former hunting the latter if we are lucky. Our transport will pick us up in the afternoon for our 8 hour drive to the city of Puno.
DAY 10: Puno – Taquile Island (Overnight stay in a family home)
Our day begins at 7:45am with pickup from your hotel. We'll first visit the floating Uros Islands, which are man-made from local reeds. Our guide will explain the importance of these islands and their role in the ecosystem of Lake Titicaca, the highest navigable lake in the world. Our visit will last around 1.5 hours.
Our 7km boat trip to Taquile will take at most 2 hours, during which you can take in the splendid, unobstructed views of the lake and surroundings, including the Cordillera Real (Royal Mountain Range) in Bolivia. A community representative will be waiting to welcome us as our boat docks and will divide us up and introduce us to our host families. During your stay, these families will provide your food and lodging and accompany you as you tour the island.
Most people on Taquile are very helpful and well organized. These traits contribute to their high proficiency in weaving and textiles, as recognized and awarded by UNESCO. Of note is that the yarn and weavings are made mostly by men, who begin as young as 8 years old. Life on Taquile continues much as it has for centuries, without many modern changes. Your visit to the community will last around 2 hours, with another hour to enjoy a delicious traditional lunch. The best way to support the community is to buy some of their artisan goods. In this way, the people of Taquile can continue displaying their ancestral culture to future visitors.
In the afternoon, our guide can organize a walk to one of the local sacred mountains known as Pacha Tata. This area is known for the friendliness of its people and for being home to the Cantuta flower, the national flower of Peru. The communities here dedicate themselves to cultivating their terraces, raising sheep, and creating artisan textiles and stone carvings. After this visit we'll return to our homestay accommodations to spend the night.
DAY 11: Taquile – Puno – Aramu Muru
We'll have a tasty breakfast with our homestay families then have the chance for a final walk around the island to see the sun rise. A 2-hour boat ride then brings us back to Puno and on to Aramu Muru, one of the most mystical and energetic places around Lake Titicaca.
Aramu Muru – Hayu Marca is an enigmatic, 5m-high altar carved out of a single piece of stone and is surrounded by a very special view; it is a reference point for many spiritually-minded travelers. Our visit here will have a few stops along the way, the first being in Chucuito. This is an appealing little colonial town home to a curious Inca temple known as "Inca Uyo," or the fertility temple. The temple contains around 20 sculpted stone phalluses, a sign of having been a ritual center dedicated to fertility.
After this stop, we'll continue southwards to the Aramu Muru gateway located within some unusual rocky formations, a stone forest of sorts. We'll take a walk around the site and then arrive at the mystic gateway, a spiritual site for meditation and contemplation. Upon returning to Puno, we'll have our goodbye dinner and a celebration with music and dance.
DAY 12: Puno / Juliaca and farewell
Our transport will pick you up from your hotel and take you to the Juliaca airport and your connecting flight to Lima. Our services end here. Happy travels!
About This Event
This transformational journey begins with a retreat at our Sacred Valley retreat center, where you will participate in a variety of ceremonies (see below for a full list). The healing ceremonies work on the spiritual, psychological and physical levels, teaching you to work with your heart and learn the art of transforming suffering into happiness. The ceremonies are performed by trained shamans from the high Andean community of Q'eros.
We designed this unique experience for travelers who would like to experience authentic Andean culture and traditions. This includes four ceremonies, all presided over by Q'ero Nation shamans specialized in different areas of healing. Q'ero is a small village a few days walk up the mountains, and its inhabitants are a high mountain people who fled up higher into the Sierra when the Spanish invaded, managing to survive the Conquest. As such, they are the closest living descendants of the Incas and still maintain many of their ancient traditions. Each of their shamans is specially chosen by a shamanic family to follow their profession.
The first ceremony is an Andean Blessing on to invoke the protection of the Mountain Gods and Mother Nature, and to offer gratitude. The next three ceremonies are a Flower Cleansing Ceremony, a Coca Leaf Reading Ceremony, and an Offering to Pachamama, the Earth Mother. Traditional shamanic ceremonies such as these have been practiced since before the time of the Inca Empire and their Quechua culture. Participating in these shamanic ceremonies with an authentic Andean shaman will show you a new perspective on life and will allow you to develop physically and spiritually.
The pilgrimage then segues into a guided visit to Machu Picchu before returning to Cusco. We next head south for our trek towards the sacred mountain of Ausangate, one of the most spiritual treks in the region. We'll finish by journeying to the southern city of Puno along the shores of Lake Titicaca to visit the famous islands of Uros, Taquile and Amantani and the sacred site of Aramu Muru.

You should bring:
Sunscreen, sunglasses, hatWater for your journey to the Sacred Valley and Machu PicchuComfortable walking shoesCameraHeadlamp if you have one or a flashlightOriginal passportSmall suitcase or backpack with enough clothing for the 7 days.
What's Included
INCLUDED:
Day 1 : Cusco Arrival – Drive to Sacred Valley (Pisac) – Andean Blessing
Itinerary steps: 1
Meals included: lunch
Accommodation included: Hotel
Day 2 : Pisac – Visit Sr. de Huanca Shrine – Three Ancestral Ceremonies - Pisac
Itinerary steps: 1
Meals included: breakfast
Accommodation included: Hotel
Day 3 : Pisac – Visit to the ruins of Pisac and Ollantaytambo - Ollantaytambo
Itinerary steps: 1
Meals included: breakfast
Accommodation included: Hotel
Day 4 : Ollantaytambo – Visit to the ruins of Moray and Salineras – Aguas Calientes
Itinerary steps: 1
Meals included: breakfast, lunch
Accommodation included: Hotel
Day 5 : Aguas Calientes - Machu Picchu - Cusco
Itinerary steps: 1
Meals included: breakfast
Accommodation included: Hotel
Day 6 : Free day in Cusco
Itinerary steps: 1
Meals included: breakfast
Accommodation included: Hotel
Day 7 : Beginning of Ausangate trek: Cusco - Tinki - Pacchanta
Itinerary steps: 1
Meals included: breakfast, lunch, dinner
Accommodation included: Hotel
Day 8 : Pacchanta - Lake Uturunco
Itinerary steps: 1
Meals included: breakfast, lunch, dinner
Accommodation included: Camp
Day 9 : Lake Uturunco (End of Ausangate Trek) - Puno (B, L)
Itinerary steps: 1
Meals included: breakfast, lunch
Accommodation included: Hotel
Day 10 : Puno - Taquile Island
Itinerary steps: 1
Meals included: breakfast, lunch, dinner
Accommodation included: Homestay
Day 11 : Taquile Island - Puno - Aramu Muru
Itinerary steps: 1
Meals included: breakfast, lunch
Accommodation included: Hotel
Day 12 : Puno - Juliaca - Return flight home
Itinerary steps: 1
Meals included: breakfast
Accommodation not included
Dinner x 3
Breakfast x 11
Lunch x 7
Pickup from your hotel and transfer to the Travel and Healing retreat...
4 different healings.
Translation and personalized assistance during the entire retreat.
10 nights' accommodation in hotels and 1 night in a family home on...
Transportation from Ollantaytambo to Cusco.
3D/2N Trekking near Ausangate.
Transportation from Cusco to Puno.
Tour of Amantani – Taquile Islands.
Tour of Aramu Muru.
A guide on all the tours.
Breakfast
Lunch
Dinner
What's Not Included
Not included:
Pisac and Ollantaytambo Tourist Ticket
If you wish to visit the ruins of Pisac or Ollantaytambo on Day 4, you must purchase a tourist ticket. A full tourist ticket costs S/130 or S/70 for students (up to 25 years old with a valid ISIC card). The full tourist ticket is valid for 10 days and allows entry to the majority of tourist attractions in Cusco, the Sacred Valley and the South Valley. An alternative option for this tour is to buy a partial tourist ticket, which costs S/70, includes Ollantaytambo and Pisac, and is valid for 2 days. Purchasing the full ticket is the better option if you also plan to visit other sites in the Sacred Valley, the South Valley, or the ruins right outside Cusco.
Tickets for Wayna Picchu and Machu Picchu Mountains.
Those trekkers who wish to climb Wayna Picchu Mountain after they have finished the trek must let us know well in advance as permits are limited. For high season (May to October), 2-4 months in advance. Low season (November to April) 1-2 months in advance. There is an additional $15 USD per person charge so we can purchase your ticket for the 2nd time slot at 10:00 am (students with ISIC card: $8 USD per person). Machu Picchu Mountain (additional cost $15 USD) is far less busy and doesn't need to be booked as far in advance but must also be reserved ($15 USD) at the time of booking so that we can purchase your ticket.
Accommodations
Only Accommodations included
Amenities
Free Wifi
Tour Assistance
Ceremony Space
Menu/Cuisine
Every meals are light acoording to the customers.
Directions
Urb. El trebol A-6, San Sebastian, Cusco
Reviews To review this event, visit the page for the venue or retreat leaders (above).
Similar Retreats You Might Like

Thank you!
We're glad you've joined our retreat community. See you around :)
Return to my event
×