Yoga Retreat in Goa, India – New Year Energise & Awaken Part II
Akasha Wellness Retreat
Jan 5, 2019 - Jan 11, 2019

(7 days)

Goa - Triple Room Sharing - €1,044.00 Goa - Twin Room Sharing - €1,248.00 Goa - Private Double Room - €1,938.00
About us
An Akasha curated experience in Goa, India
To inspire, balance & serve the flow of life.
For those that know us, India is no foreign land, it's the Mother land. Every year she calls us, and we always answer. Except this time, you're also invited.
We're taking a few friends along with us to re-create the Akasha experience in Goa, during January 2019.
Yoga Alchemy to Energise & Awaken part 2
For those that have joined us in part 1, this will be our chance to offer a further glimpse into the deeper dimensions of yoga & philosophy, offering in-depth sessions to discover your vast potential for greater consciousness, empowerment, and connection. Guided by the beautiful energy of the first New Moon of 2018 on Jan 17th and using this to reignite our passion & love for life.
In this retreat the focus is to strengthen the body through energising yoga flows, the mind through clear intentions & the soul through an awakened & revived spirit. A chance to write your own start, to begin again, a new chapter in the book of life.
WHERE
South Goa, India
Our beautiful location for this retreat is an oasis of tropical tranquility located in South Goa, in a remote fishing village situated in the lush, verdant foothills of the Western Ghats and minutes away from Goa's most scenic and pristine beaches, Galgibag, Talpona & Patnem all within easy reach. This is a home away from home, Goa style.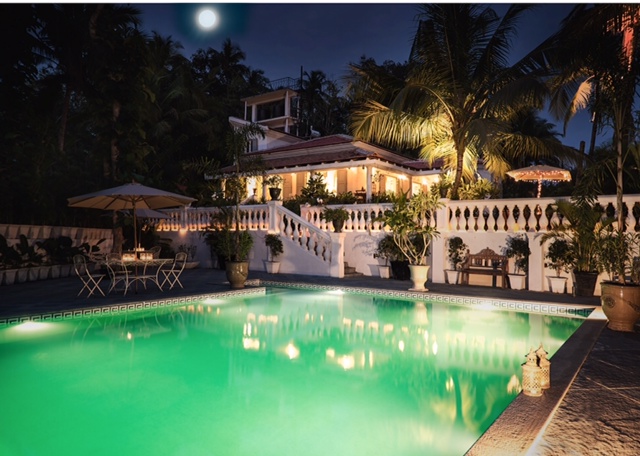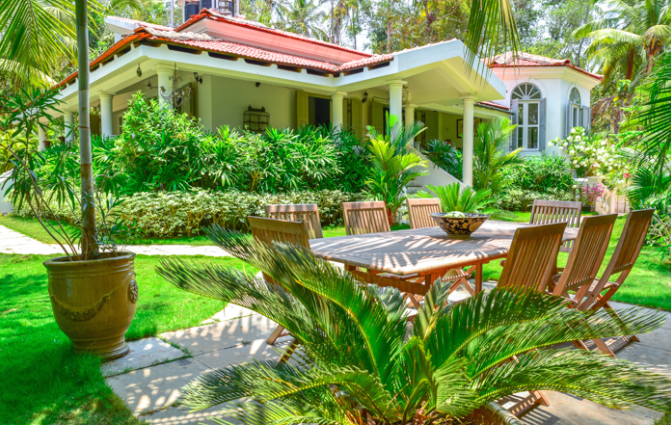 Room Options
Triple Rooms to be shared between 3 guests each with single bed. You'll find comfortable beds, marble floors, air conditioning & a beautiful view.  From €835.20 for 6 nights all inclusive
Twin Rooms to be shared between 2 guests each with single bed. A generous and beautifully decorated bedroom to sleep like a princess or prince even. All rooms have air conditioning and an en-suite bathrooms and some have their own private balconies. From €998.49 for 6 nights all inclusive
Double Rooms for 1 person or for 2. Make it a private room for yourself or a room for 2, you and a loved one. These bedrooms have king size beds, wonderful antique furniture, marble floors and en suite bathrooms. Wake up with the sound of tropical birds and sunshine as these rooms are wonderfully light and some even have private balconies. From €1550.40 for 1 person / €1905.60 for 2 people for 6 nights all inclusive.
To Book we only need a 25% deposit and remaining balance in Nov 2018. 
Karma Yoga
5% from all our Goa retreats go to local charities in Goa working with disadvantaged women and children.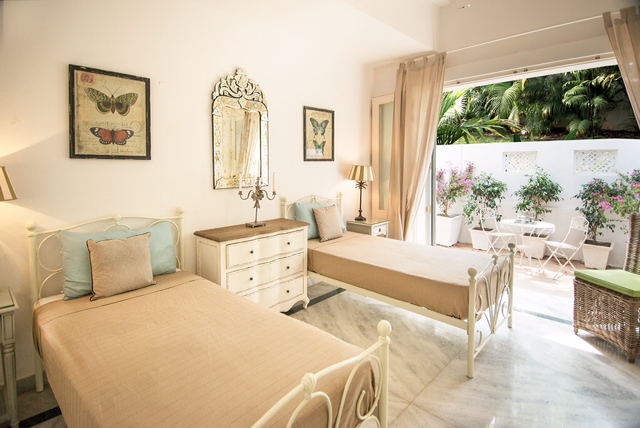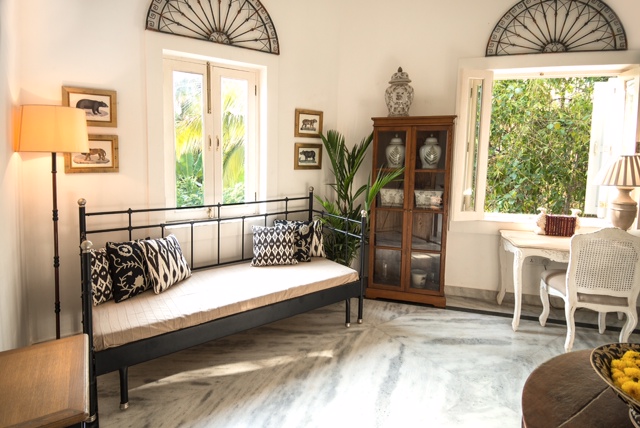 WHAT'S INCLUDED
Limited places, small group of people ( 10 – 14 guests max) and 3 facilitators to support & guide your progress during the retreat
Daily Yoga Flows & Meditation classes featuring Ashtanga and Yin postures blended in creative thematic flows & suitable for beginners & advanced. Some Yoga sessions will be in the shala, some by the pool & some on the beach at sunset.
Boutique luxury accommodation in a private home, not a hotel, not a retreat centre, an intimate home, just like Akasha. Our Goa home has air conditioning throughout, a gorgeous pool, lovely shaded terraces, lush gardens & spaces to relax outdoors surrounded by coconut trees & frangipani flowers.
Healthy Vegetarian meals with the Akasha touch, inclusive of daily superfood smoothies, fresh exotic fruit, delicious salads & a variety of Indian delicacies as well as BBQs with fresh fish & seafood for non vegetarians from the local fishing village. The food will be fresh & varied, home cooked with love & soul. All filtered water, detox & Ayurvedic teas, coffees, fresh juices and a glass of vino together at night will all be there.
A 60 min massage as a gift from us, more can be booked and paid for on site. In house relaxing massages, energy work & sound healing sessions offered by Wendy Cohen.
Ayurveda consultations & Ayurveda Workshop with a Guest speaker from India sharing his knowledge of vedic science, health, art and culture with specific focus on Ayurveda & health.
Morning Trips to local Hindu temples, Sunset Yoga on the beach, Picnic Dinner on Galgibag (Turtle) beach, lovely evenings by the ocean.
Dolphin spotting trip on Stand Up Paddle Boarding or Kayaks
Mandala Making & Sacred Geometry Workshops, Om healing sessions
Agnihotra Havan  – Sacred Vedic Fire Ceremony
Transportation to and from the airport ( Goa Dabolim Airport)
& above all lots and lots of fun, new friendships waiting to be formed & sunshine!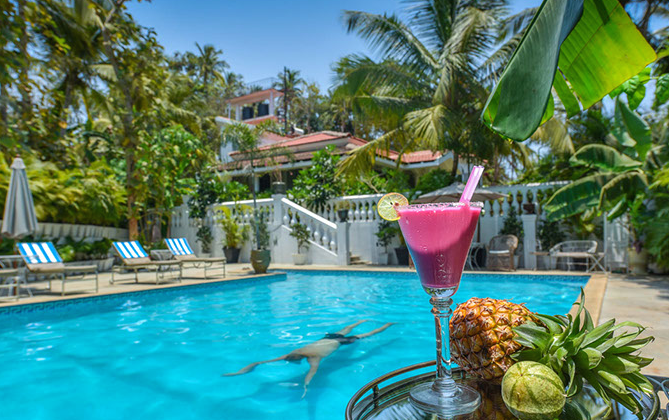 STAY FOR 1 WEEK, FOR 2 OR FOR 3!
10% REDUCED RATE FOR BOOKING 2 RETREATS TOGETHER
20% REDUCED RATE FOR BOOKING THE FULL 3 Weeks
CONTACT US FOR DETAILS
ITINERARY & RETREAT PROGRAM
Day 1 Arrival Day
15.00PM – 17.00PM Arrival, Retreat Introduction & House Tour

18.00PM – 19.30PM Evening Yoga & Meditation Practice

19.30PM Candlelit Dinner

20.30PM – 21.30PM Opening Circle & Intention Setting
Day 2,3,4,5,6 Full Retreat Days
This is the format for the full retreat days, see below for activities, trips & workshops.
6.00AM Optional Sunrise Agnihotra Havan

7.00AM – Wake Up Gong

7.30AM – 9.00AM Morning Yoga Practice & Meditation Class

9.00AM – Breakfast

10.00AM – 13.00PM Relaxation time, Pool side or Optional Beach trip & Massages

14.00PM – 15.00PM Lunch

15.00PM – 18.00PM Relaxation time, Pool side or Optional Beach trip & Massages

18.00PM – 19.30PM Evening Slow Flow Yoga & Meditation Practice

19.30PM Dinner

20.30PM Evening Group activity
Sunset Yoga & Dinner on the beach
On two evenings we will be practicing Yoga & meditation on the beach at sunset. Our location is the less frequented Galgibaga beach in South Goa. Perhaps one of few hidden treasures that Goa has left. The beach is known as one of the three places in Goa that form the nesting grounds of the Olive Ridley turtles, a protected species. The northern portion of this beach is protected as the turtles nesting grounds and gives the beach its nickname, Turtle beach. The pristine stretch of golden brown sand is lined with coconut palms and other beautiful trees; and above all it is a peaceful and quiet area.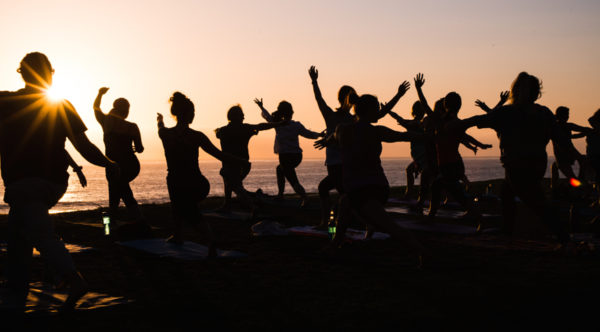 Dolphin Spotting on Stand up Paddle (SUP)  or Kayaking
One morning we will wake up bright and early and head to Palolem beach. Here we will each have a board to play and head out to sea ( for those that don't fancy this kayaking is also available). Early in the morning the sea is calm there are no fishing boats and very often we spot dolphins swimming freely in the bay. A beautiful experience that also works the core muscles and balance.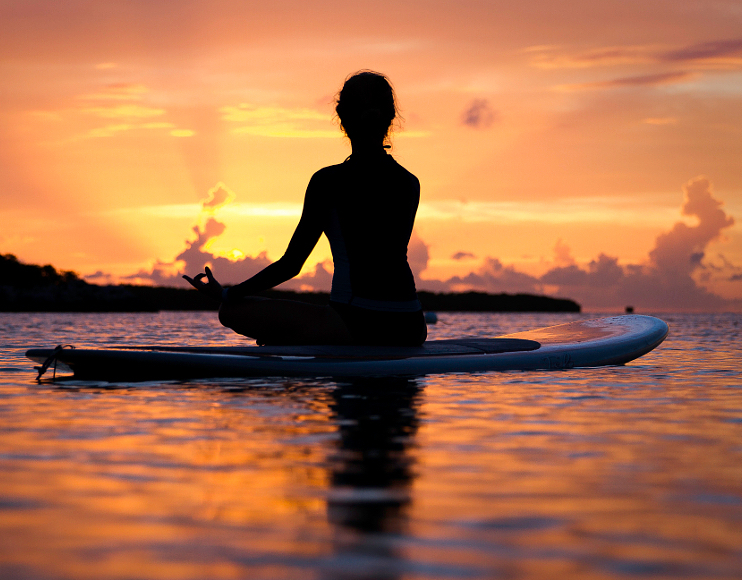 Local Hindu Temples
On one morning per week we will visit one of the temples below. A beautiful & short trip by rickshaw to attend the morning sunrise rituals are at the temples.
The Mallikarjun Temple – The Shri Mallikarjuna temple dedicated to Lord Mallikarjun, an incarnation of Lord Shiva. The temple is believed to be constructed during the middle of the 16th century, as per the writing on a plaque near the temple dome, and it was later refurbished in the year 1778.
The Shri Chandranath Temple or Chandreshwar Temple is a renowned Hindu religious place in south Goa. Devoted to Lord Shiva (also called Bhuthnath or Chandreshwar), the temple has an ancient chariot, renowned for its exquisite woodcarvings. The temple has the famous Shiva Linga, which was supposed to ooze water with the touch of moonlight. Some sources say that the temple has been designed in such a way, that moonlight falls directly on the Shiva Linga on full moon nights.
Workshops and talks during the retreat
 Om Healing Session
Om is the primordial sound creating and pervading the whole universe. The sound Om belongs to all humanity, to all nations and to all religions. Om Healing, through chanting, can balance us physically, mentally, emotionally and spiritually. When you go through this simple but powerful process, emotions are released and inner peace and love arises. It leads to a more joyful life and supports our health and our meditation practice.
Mandala & Sacred Geometry Session
The word Mandala meaning "circle" in sanskrit and represents wholeness; a cosmic diagram reminding us of our relation to infinity, extending beyond and within our bodies and minds.The mandala appears to us in all aspects of life, the Earth, the Sun, the Moon and more obviously the circles of life encompassing friends, family and communities. Mandalas are used for meditation and healing purposes, allowing the individual working with them to dive into the depths of self discovery. The process of creating this sacred geometry allows access to the deeper levels of the unconscious mind and promotes release, harmony and unity with the cosmos.
Ayurveda Workshop
We have a special guest from India who will be giving a practical introduction to the Ancient Indian Health Science of Ayurveda. Our guest will be sharing his knowledge of vedic science, health, art and culture with specific focus on Ayurveda & health. Private consultations will also be available on request.
Chakra Balancing talk with Wendy
An insight into the meaning, locations and significance of the seven main Chakras and demonstration on how to check for imbalances, using a pendulum. We will also give advice on ways to balance each chakra using methods including yoga asanas, nutrition, colours, chanting, massage and other holistic therapies. Each person will be given this information to take away and incorporate into their own wellness and self care practice.
Day 7 Departure Day
6.00AM Optional Sunrise Agnihotra Havan

7.00AM – Wake Up Gong

7.30AM – 9.30AM Morning Dynamic Yoga Flow with Meditation

9.00AM – 10.00AM Breakfast

10.00AM – 11.00AM Closing Circle
12.00PM Departure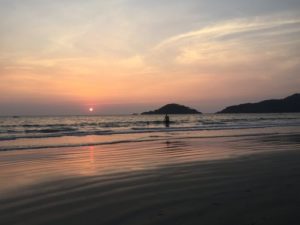 ---
Yes, you do. However this is not an overly complicated process, a 30 day eVisa can be obtained easily online for most nationalities, the approval is instant. If you need a longer visa you will need to go to an Indian embassy near you and simply apply in person.
WHICH AIRPORT & AIRLINES ?
The nearest airport to us is Goa Dabolim International (GOI) airport which is about 1.5hrs away. We will organise a free transport for you from the airport to the retreat.
Purely from personal experience, we have used Thomson Airways, JetAirways & Qatar Airways previously to fly into India.
Thompson Airways has chartered flights direct to Goa Airport from London, which is pretty cool and we just checked about 499GBP return.
Jet Airways have daily flights from London and major European hubs to Mumbai, from there another short domestic flight to Goa, which can also be with JetAirways.
Qatar Airways on the other hand flies from most European cities to Dubai and then a connecting flight direct to Goa.
Depending on which route you prefer. Let us know if you need help.
WHAT ABOUT HEALTH & SAFETY ?
From our experience we have never had any health issues whilst in Goa, however as with most travelling abroad common sense keeps you safe. Though there are no chances of serious illness or epidemics in Goa and therefore no need for injections, jabs or travel pills simple things like: drinking plenty of filtered water to keep hydrated, wearing appropriate factor sunscreen & having adequate travel insurance are pretty obvious ones which we will insist on.
Goa is a pretty Westernised place with many that have moved there permanently, especially South Goa therefore security is strong. The house itself is in a village surrounded by other homes and also has manned security.
We're sure you have others and if you do please let us know!
Thank you!
We're glad you've joined our retreat community. See you around :)
Return to my event
×