Swastha Yoga Advanced Credit – 200 hours CONSCIOUS ALIGNMENT Internship, Costa Rica – May/June
About us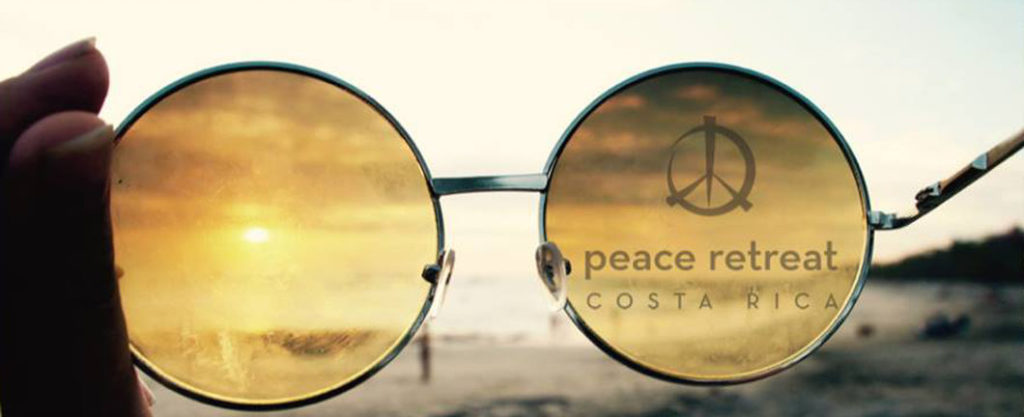 The Conscious Alignment program is a unique program for yoga teachers wishing to expand their knowledge and teaching experience, to explore the possibilities of offering effective hand-on support, and to empower their students to make the right decisions for their own bodies and practice.
Through this intimate training program, participants will have the opportunity to grow both as a teacher and as a student under the guidance of some of the most knowledgeable and experienced yoga trainers and mentors in the field.
Typically, in 200-hour yoga teacher training programs, the focus is on covering the most basic assists for common poses. In the Conscious Alignment program we will build off of the basics of assisting, introduce a deeper understanding of the body, and integrate a more in-depth review of assisting from the foundations of the Swastha Methodology that support and assist each other into our most optimal alignment.
---
Our mission is to presence peace, enhance wellbeing, and inspire new possibilities for self-expression and vitality.
---
The Conscious Alignment program is ideal for yoga teachers looking to:
Learn real skills for safe, effective hands-on assisting and basic anatomy for assisting purposes
Teach and understand how to appropriately assist a variety of bodies in a group setting
Generate a new understanding and perspective of the poses by learning more advanced physical assists and by incorporating Swastha Methodology
Expand your knowledge and experience assisting your students in the Swastha principles of alignment
Have a practical hands-on experience, with constructive and personal feedback on your assists and touch from a member of the teaching team, as well as from your peers, during practices
Expand and ignite your own asana practice
Be of service and contribute to others
Maximum # of participants accepted into the program: 4 (four)
The Conscious Alignment Program runs congruently with our Swastha Yoga International 200-hour yoga teacher training programs which creates an expanded platform for learning through shared participation in discussions, observation of the asana practices, teaching and partnering with a diverse group of individuals and bodies.
Our teacher training students range from those desiring to deepen their personal practice and gain greater vitality, flexibility and strength in all aspects of life, to those committed to becoming yoga teachers and seeking a broader range of perspective and capability in working with diverse populations.
---
This mix provides a rich and unique learning community to work with – the perfect environment for growing yourself and for creating your next expression in the world.
---
Conscious Alignment is an intensive program and hands-on process which requires full commitment and presence. Your days will be balanced between asana practice, learning alignment principles, giving and receiving assists, teaching, discussions and exercises. We will also have a significant focus on physical alignment, promoting alignment both in your own body and that of your students. As a participant in this program, your effort and impact are vital to creating an environment where conscious integrated learning may take place.
To support this, we are committed to:
Delivering a powerful training experience that facilitates your development as a yoga teacher and evolution as a human being
Offering a supportive structure and environment aligned with our values
Creating an intimate experience by accepting only 4 participants into the Conscious Alignment program
Includes:
• All training and training materials
• Shared accommodations
• 3 meals per day
Menu:
At Peace Retreat, we prioritize our guests' heath, preserving the environment, and supporting the local economy and culture. As such, we are committed to buying local, organic, and in-season produce and animal products. We avoid buying imported foods to minimize our carbon footprint, we avoid processed foods, and we support local farmers. We also use a range of traditional ingredients, infused with Ayurveda food combining principles, in our menus to support our "food as medicine" approach.
We offer fresh, locally sourced, well-prepared meals that meet a variety of dietary needs. Two meals (breakfast and dinner) are typically included in your contract, unless otherwise negotiated. Lunch and snacks can be added for an additional charge. Our menu offers both vegetarian and omnivore options and can also be prepared vegan or gluten-free upon request. There is also a juice bar on site serving fresh smoothies, juices, snacks and desserts. Playa Negra is also home to local restaurants that are all within a 15-20-minute walk from Peace Retreat.
---
"Utterly divine location. I can still smell the air and feel the earth of this place. It's no exaggeration to say that this place has the ability to touch deeply."
~ Nick B
---
Accommodations:
Shanti Room is one of two private rooms on the second floor of Casa Yoga. Shanti Room has a private bath with a great view of our pool and the Costa Rican jungle! The room is beautifully appointed for couples or a traveling pair with a beautiful four-poster queen size bed, a single bed, and amour all constructed out of reforested teak wood.
Shine Room is the largest room of Casa Yoga, and is on the first floor. It has one queen sized teak bed, two single beds (that can be set as bunk beds), a teak desk, and a private bathroom. Shine room has the capacity to accommodate an additional set of bunk beds, making it perfect for families.
There are 6 cabinas on our beautiful jungle property. Each cabina was lovingly constructed with reforested teak wood, and contains furnishings of the same. Cabinas have screen-windows, a ceiling fan, a safe, and also include an open-air closet with storage space. Cabina guests use our beautifully constructed stone showers, sinks, and community washroom facility.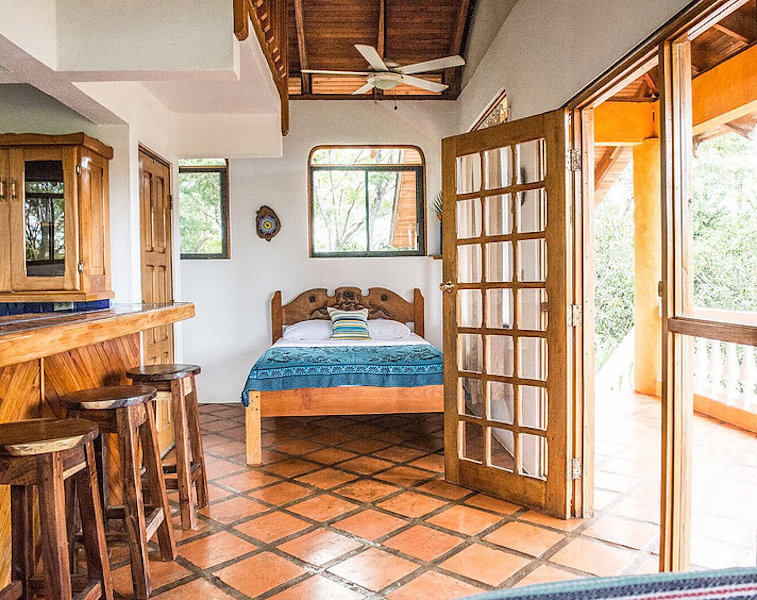 ---
"Amazing teacher training experience at this gorgeous eco-retreat, in synch with local community and ecosystems. Top notch yoga classes, and an immersive, natural place to stay and experience Costa Rica."
~ Meghan B
---
Directions:
Peace Retreat is located in Playa Negra, a small town on the Northern Pacific Coast of Costa Rica. The closest airports are in the city of Liberia and the town of Tamarindo.
From Liberia International Airport, drive towards Santa Cruz (it is a right hand turn onto the highway from the airport). Just before the bridge at the entrance of Santa Cruz (approximately 40 minutes from the airport), turn right and follow the signs to Playa Junquillal, Paraiso, and others.
After 17 km on a paved road, you will cross a bridge. Take the first turn to the left after the bridge, go straight for 400 meters and then turn right following signs to Paraiso and Playa Junquillal (you should see the first signs to Playa Negra too).
After another 12.2km on the paved road, you will reach Paraiso (it is a T-intersection). At Paraiso's soccer fields, turn right following the sign to Playa Negra.
Follow the dirt road for 3.4km and you will take a right hand turn – you will see surf boards that say "Peace Retreat" on them at the corner.
Follow the road approximately 500 meters you will see another surf board on the right side of the road directing you to turn left into the driveway. Follow the driveway to the end and you will be at Peace Retreat.
From Tamarindo Airport turn left and follow the road 1.1km to t-intersection.
Turn right and follow the road 13.3km, you will notice a directions sign that indicates three towns – Santa Cruz, Pairaso and Playa Junquillal, turn right there.
Follow the road 400 meters and turn right and proceed to Pairaso.
After another 12.2km on the paved road, you will reach Paraiso (it is a T-intersection). At Paraiso's soccer fields, turn right following the sign to Playa Negra.
Follow the dirt road for 3.4km and you will take a right hand turn – you will see surf boards that say "Peace Retreat" on them at the corner.
Follow the road approximately 500 meters you will see another surf board on the right side of the road directing you to turn left into the driveway. Follow the driveway to the end and you will be at Peace Retreat.

---
"Peace Retreat is such a beautiful, relaxing place nestled off the path. It's a perfect location with amazing staff, amenities and yoga instructors."
~ Autumn Y
---
FAQ
How close is the beach?

A 20 minute walk, a 5 minute drive.
Do I need a car?

No, but having a car makes getting around much faster and easier.
Where is the closest ATM?

The closest ATMs (and bank) are in Tamarindo & Santa Cruz (both are approximately 30 minutes away by car and approximately a $30 taxi).
Is the Playa Negra beach only for good surfers?

Playa Negra is great for experienced surfers and next to Playa Negra is Sandy Beach, which is awesome for beginner surfers, swimmers and snorkelers.
When is rainy season?

Late May through October.
When is it the hottest?

March – May
Are there lots of bugs?

We live in the jungle ­ there are bugs including scorpions, mosquitos, spiders and snakes. Wear shoes and bug spray.
Does Peace Retreat have air conditioning?

No. Our structures have been engineered in such a way that we do not require a/c.
Do I have to bring my yoga mat?

No, we have some available for use.
Do I have to bring my yoga props?

No, we have blocks and straps available to borrow for up to 12 people.
Cancellation Policy:
Initial deposit payment is due to secure the dates along with a signed contract.
8-10 participants – Flat Fee deposit of $1000
10+ participants -20% of estimated attendance
Second deposit payment due 90 days out from retreat:
40% deposit due
One week prior to start date:
Final balance is due
All deposits are non-refundable.
Notes:
It is typical to have the number of retreat/training participants fluctuate during the booking process. In our experience we often observe the enrollment number grow as the retreat/training start date nears. We are committed to partnering with you in a way that works for you. We are pleased to adjust the contract numbers as enrollment moves. Please note that our group contract numbers are for a minimum of eight guests. As such, should group leaders enroll less than eight (8) guests there is still a requirement to pay for 8 guests.
Should contract terms not be met, Peace Retreat reserves the right to cancel any bookings without any advanced notification.
This program qualifies for 200 Yoga Alliance Continuing Education Credits and, with approval, can also be used towards the Swastha Yoga International 500 hour Yoga Teacher Training certification
Reviews
Write a review - tell others about your experience.
Thank you!
We're glad you've joined our retreat community. See you around :)
Return to my event
×