Maya Path to Awareness: A Direct link to the Divine October 19-26, 2018
Buddha Travel
Oct 19, 2018 - Oct 26, 2018

(8 days)

$2,995.00 - US Per Person based on Shared Accommodation $3,995.00 - US Per Person based on Private Accommodation
About us
 
Buddha Travel Approved Retreat:
The Maya Path to Awareness:
A Journey with Maestro Miguel Angel Vergara
A Journey with Maya Master teacher Miguel Angel Vergara and Trudy Woodcock can be the beginning of your personal discovery, October 19-26 2018 in the Yucatan. The mysteries and magic of the ancient Maya can be captured and understood through their ancient sites and their sacred ceremonies. Ceremony was their direct link to Spirit, their connection with the Divine, and was part of their daily lives. Through this link they had access to higher realms of consciousness, other dimensions, worlds of inspiration and knowledge that all the new technology of our era can't come close to showing us. Our computers, smart phones, and other devices are great to share what we know. Ceremony connects us to what we don't know. It connects us to the Cosmos, and the Maya were experts at doing just that.
---
"Ceremony, when deeply understood and practiced regularly, gives access to higher consciousness and in higher consciousness lies solutions to many of the situations, both personal and global, that we face today."
~ Miguel Angel Vergara
---
This journey has two parts:
– the outer journey where you visit ancient sites, participate in ceremonies, and learn what is needed to create your own ceremonies
–the inner journey where you remember the sacred, reconnect with the Divine and claim the Spiritual power within you.
Miguel Angel Vergara will guide you through the ancient Maya sites and open portals to the Maya Master Teachers who are still there in Spirit waiting for you. As you walk through Uxmal, Mayapan and Edznah you may become aware of, and connect with, the countless ceremonies performed in their temples and pyramids throughout time. As you participate in sacred ceremony with Maya shamans you can reestablish your direct link with the Divine, with the Father and Mother, Heart of the Sky and Heart of the Earth.
Ceremony, when deeply understood and practiced regularly, gives access to higher consciousness and in higher consciousness lies solutions to many of the situations, both personal and global, that we face today. We invite you to join us for an exciting and fun week of exploring the true gifts of ceremony.
---
"I feel that something has been put right in my soul after this trip, some kind of spiritual energy adjustment, something clicking back into place, and I have been enjoying an improved flow in my life. So much gratitude."
~ Gemma
---
Daily Schedule:
KEY: B = Breakfast, L= Lunch, D=Dinner, FWL= Farewell Lunch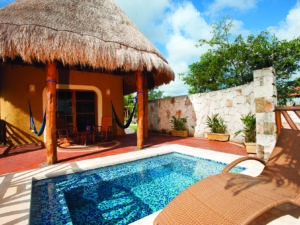 October 19th: ARRIVAL IN MERIDA
No meals or events are scheduled for today since many people arrive late in the evening so plan your flight for whatever suites you best. We will meet you at the Mérida airport and transfer you to the beautiful Hacienda Sotuta de Peon which will be your home for the next 3 nights.Overnight at the Hacienda Sotuta de Peon. https://www.haciendaviva.com/hotel/
October 20th: CENOTE AND MAYAPAN (B, L, D)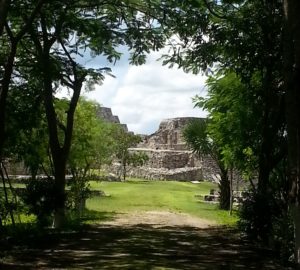 Overnight at the Hacienda Sotuta de Peon. https://www.haciendaviva.com/hotel/
     October 21st: UXMAL (B, L, D)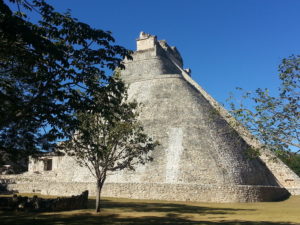 Breakfast then a visit to Uxmal, the Maya Feminine University. This is one of the most important ancient Maya sites in the Yucatan with some of the most beautifully decorated temples. Miguel Angel will guide you through the main areas of this incredible site, following which you will have time to explore on your own and tune into the energies of the ancient ceremonies performed here.
"In this Sacred Feminine University the great Priestesses of ancient times are still there to teach you the Unconditional Love of the Mother." Miguel Angel Vergara
Following lunch together there will be a special treat: a visit to the Chocolate Museum were you can learn the importance of cacao in the ancient Maya world. You will get to taste it too! We then return to the Hacienda for a free evening to relax, swim, and process your experiences.
 October 22nd: XTACUMBILXUNAAN CAVE (B, L, D)
Today we transfer to the beach for more ceremonies, teachings, and relaxing. On our way we will stop at special cave for a Maya sacred meditation to connect with the Maya underworld. Here we meet with Grandmother Ix'Mukane, Heart of the Earth, and ask her to guide us on our journey and transmute any negative aspects we are carrying with us into Light.
"The Great Sun, Heart of the Sky, in perfect union with the Heart of the Earth will guide you, through the energy of the Jaguar, to transform your being." Miguel Angel Vergara
Following our ceremony in the Heart of the Earth we travel on to the beach hotel in Campeche, arriving in time to see the sun set on the magical waters of the Gulf of Mexico.
Overnight: Tucan Siho Playa: http://www.tucansihoplaya.com/sihoplaya.html
     October 23rd: TEACHINGS (B & D)
We have two full days of teachings and practices at this beautiful, quiet, beach hotel. You will receive a Ceremonial Kit with all you need to create your own altar and learn the sacred meaning of each of the pieces. Miguel Angel will step through the structure of a Maya ceremony and explain how a deeper understanding of the Maya Cosmovision is part of it.
We will do ceremonies on the beach and whether you want to learn how to create and perform your own ceremonies at home or learn how to create a strong, direct link to the Divine and move into a level of higher consciousness, these two days of teachings, practices, ceremonies and meditations will give you the base you need.
Morning session: "Creating a Direct Link with the Divine through Maya Sacred Ceremonies." Learn to create and strengthen your link with Father Sun and Mother Earth through a deeper understanding of the Maya Cosmovision as portrayed in their ceremonies. This connection raises your consciousness and from this higher consciousness it is so much easier to see where you are, where you are going, and how you are going to get there.
Afternoon Session: Meditation with a drumming and sharing circle.
Overnight: Tucan Siho Playa: http://www.tucansihoplaya.com/sihoplaya.html
 October 24th: TEACHINGS (B & D)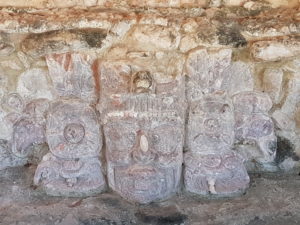 October 25th: EDZNAH AND CAMPECHE CITY (B & FWL)
We have breakfast together and then say goodbye to our home on the beach. We are visiting the amazing Maya site of Edznah for our closing ceremony. In this final ceremony of our journey we give thanks for all we have learned, for the guidance and protection we have received, for the gifts of friendship we will be taking home with us, and a special thank you to the Heart of the Sky and the Heart of the Earth.
"The Cosmic Vibrations of the sacred mantras will activate your consciousness and spirit to touch again the marvelous energy of the Creation." Miguel Angel Vergara
We will have a farewell lunch in the Colonial City of Campeche before continuing on to Mérida where you will have a free evening for any last minute shopping and to prepare for your flight home tomorrow.
Overnight at Hotel El Conquistador, Mérida. http://www.elconquistador.com.mx/
October 26th: Depart from Merida
No meals or events planned for today so you can book your flight home for anytime. We will transfer you to the airport in time for your departure.
---
"What an awesome trip, although that word just doesn't do justice to what I experienced and how peaceful/complete I now feel.  I travel a lot and have had wonderful trips to many amazing places in this world, but I think this might be my favorite trip of all."
~ Linda B
---
Skill Level:
✔ Beginner
✔ Intermediate
✔ Advanced
Accommodations:
Sotuta de Peon, Hacienda Viva (nights 1, 2 & 3)
"Staying in Sotuta de Peón is a unique experience of connection with nature, as well as a portal to time and history. Our 30 rooms combine comfort and good taste; in every detail of the decoration and in the distribution of the spaces we find the most subtle and distinctive features of the architecture of the haciendas and the traditional Mayan house.
Surrounded by trees and gardens, it is a joy for your senses, as well as enjoying the immense green sea of the henequen plants, whose textures are lost in the distance and the horizon.
Whether you visit the museum house, in the main building of the hull, or spend time in one of its gardens or in the silence and clarity of the Dzul-Ha cenote, you will be connected with you, with your own, with this Mayan land full of mysteries that the breeze takes from one corner to another and make of your stay in Sotuta de Peón, an experience that you will repeat every time you can with your partner, your family, your friends; or as a space of renewal, silence and inner retreat. Make of Sotuta de Peón, your home in Yucatan." ~ from https://www.haciendaviva.com/hotel/
Tucan Siho Playa (nights 4, 5 & 6)
"The Tucán Sihoplaya Hotel, located in the State of Campeche, is a colonial construction that dates back to the 19th century. Its greatest charm lies in its past and architecture as Hacienda Henequera built on the seafront and today, one of the most comfortable and modern hotels in the Gulf of Mexico. All our rooms are heated and with an incredible view of the sea, to wake up with the first rays of the sun and in the afternoon enjoy the subtle sound of the sea." ~ from http://www.tucansihoplaya.com/habitaciones/
Hotel El Conquistador, Mérida (final night)
"Live intensely the most characteristic atmosphere of the city and enjoy in our facilities one of the most traditional avenues in all of Mexico. The Paseo de Montejo of Mérida Yucatán. We have 156 modern rooms with all the services that will make your stay comfortable and unforgettable." ~ from http://www.elconquistador.com.mx
---
" I loved my voyages and experiences with you and will indeed return at some point.  I still carry the experiences with me and do even try a ceremony in my yard periodically… "
~ June G.
---
Menu:
At Hacienda Viva in Sotuta de Peón, we feature Mexican and  Yucatecan cuisine, the perfect blend between Mayan and Spanish heritage, using recipes passed down from many earlier generations. All of the menu selections change daily and are prepared by local chefs who use the local seasonings and flavors. The Indigenous culinary traditions make Sotuta de Peon a unique dining experience as well as a memorable encounter with culture.
In addition to regional gourmet cuisine, vegetarian entrees, fresh squeezed juices and seasonal fruit are always available as well as foods that are free of salt, fluoride and chemicals.
At Tucan Siho Playa and Hotel El Conquistador, we can offer a vegetarian menu. If there are special dietary needs, please contact us prior to the retreat.
Miguel Angel Vergara offers a weekly reading to understand Maya energy.
Included in your Retreat Package:
Airport-Hotel-Airport transfers on arrival and departure days
Hotel accommodation: 3 nights at Sotuta de Peon, 3 nights at Tucan Siho Playa, 1 night at El Conquistador, Merida.
Meal plan as per itinerary: 6 Breakfasts, 4 Lunches, 5 Dinners
Entry fees to listed Maya sites: Mayapan, Uxmal, Xtacumbilxunaan, Edznah
Transportation to all listed sites in air conditioned vehicle
English/Spanish guide services
Teachings with Miguel Angel: ceremonies, meditations, lectures, practices
Personal ceremonial altar kit
Shaman fees and expenses
Gratuities for chambermaids and waiters
Not Included:
Beverage and Drinks
Personal items
Entry fees for sites not listed on itinerary
Gratuities for driver and guide
---
"Heart of the Sky and Heart of the Earth; this Maya teaching is one of the most important for humankind today. Creating a direct channel to the Sky while being firmly grounded on the Earth allows us to stay centered, avoid distractions, and manifest at our highest level. As you work with these ancient Maya teachings you will see your life come together in perfect balance and harmony, bringing you to an amazing new level of awareness."
~ Miguel Angel Vergara
---
Directions:
You can reach Sotuta de Peon by flying into Merida International Airport (Manuel Crescencio Rejón International Airport) or Cancun International Airport.
LOCAL TRANSPORTATION
From Merida: Taxi services are available to take you to Hacienda Viva from the airport.
From Cancun: Luxury bus service is available from the airport to Merida, where taxi service to Sotuta de Peon is available; private car service or rental car can also be arranged.
Transportation to the resort will be arranged for participants in Buddha Travel Retreats upon registration.
Cancellation Policy:
Retreat Payment, Cancellation, Refund and Registration Policies
The following represents the Buddha Travel Retreat Payment and Cancellation and Refund Policies as of September 28th, 2017
The Buddha Travel Retreat Payment, Cancellation and Refund Policy:
1) Deposit of 50% must be paid at time of Registration booking.
2) Balance of 50% must be paid in full 30 Days Prior to Retreat Arrival date.

which is 30-DAYS prior to the Retreat starting date.
3) 100% of Retreat Registration booking must paid in full when booked less then 30 days prior to Retreat program arrival date.
4) In the event of a Cancellations before 90 days or more prior to the Arrival date a 20% processing fee will be deducted from the amount of the Deposit for the reservation, meaning 80% of your Deposit will be REFUNDED to you.
5) Cancellations less then 60 days or more prior to the Arrival date will have a 50% Processing Fee deducted, meaning that 50% of the payment received to that date will be REFUNDED.
6) There will be NO Cancellations or Refunds provided less then 30 Days from the Retreat program Arrival date.
7) Absolutely No Refunds will be provided for people "either arriving late or departing early" for the retreat after the start date or prior to the end dates as published on the www.buddha.travel website related to your specific Registration booking.
8) Buddha Travel Reserves the Right to Cancel or Reschedule any Retreat Program upon written email Notice. In the event of Cancellation or Rescheduling a Refund will be made in accordance with our Refund Policies as noted herein, in "The Buddha Travel Retreat Payment, Cancellation and Refund Policy". Where feasible, a Credit could also be applied against a future Retreat Program.
Any questions or concerns please feel free to contact me directly,

NOTE: We recommend that you purchase trip cancelation insurance for your flights, Emergency Medical Insurance while you are traveling.
Thank you!

michael@buddha.travel

Thank you!
We're glad you've joined our retreat community. See you around :)
Return to my event
×