Spiritual Yoga & Meditation Teacher Training in the Mountains
Anuttara Ashram

Aug 4 - Sep 3, 2018 (31 days)

Private Cabin - Agartha - CAD $4,000.00 Private Cabin - Shangrila - CAD $4,000.00 Shared Cabin - Shambala - CAD $3,700.00 Female Dormitory - CAD $3,000.00 Male Dormitory - CAD $3,000.00 Camping - CAD $2,500.00
About us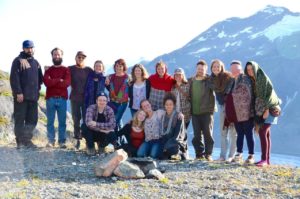 A multi-style meditation retreat located in an off-grid ashram in Northern BC, Canada.
Surrounded by mountains, forest, rivers, waterfalls, wildlife and pristine silence, this retreat will initiate you into 3 different styles of meditation. All styles will help bring you into the depths of your being assisting you in resting in your pure essential nature.
Every participant is welcome to participate in as much or as little of the retreat as they would like. Nothing is mandatory.
This is an opportunity for you to reconnect with yourself at a slower pace, without any expectations while resting in a sacred space.
"Come! Come Do it! This is for anyone in any stage of their practice, whether you're beginning or far on the path, whether you want to teach or not. There is really something to be gained from this very unique program." Levan "I was so impressed, I was blown away by the depth and the amount of information that was covered."
---
Event Highlights
"Yoga is not just about asana. The physical practice is a gateway for many people to find deeper meaning in their life. We honour the practice of asana while also opening our students up to Yoga beyond the mat. Anuttara is for those who are craving something deeper and more authentic."
-Aarti
Co-founder & Facilitator of Anuttara Yoga
Why ChooseAnuttara Yoga?
Professional and Experienced Facilitators
Learn Spiritual Psychology
Trainings are done in Harmony with Nature
Honours Yogic Tradition (while preparing you to teach in a modern world)
Students Graduate Ready to Teach
Study in a Light-hearted and Humorous atmosphere
Discover Yoga Through Music & Dance
Freedom to Find your Yoga (not somebody else's)
---
Venue Highlights
Completely off-grid. Located on 100 acres of pristine old growth forest. Rivers, waterfalls and wildlife.
A genuine ashram built on seva and love.
Founded with the blessings of Sri Prem Baba.
---
Amenities
Free Wifi
Free Parking
Tour Assistance
Coffee/Tea
Yoga Studio
---
Schedule
6 am - Morning Practices Yoga Meditation, Pranayama, Yoga Nidra, Kriya Yoga
9 am - Breakfast
10 - 1230 - Teaching methodology, Anatomy and the Adjustments
1 pm - Lunch
2 - 4 - Personal time
4 - 530 - Yoga Philosophy
530 - 630 - Mantra Meditation
630 - 730 - Dinner
730 - Share Circle and Bhakti Yoga
---
Menu Types
Vegan
Vegetarian
Ayurvedic
Dairy Free
---
Menu/Cuisine
"Anuttara provided the opportunity to step away from an individual self and starting to truly experience and access a feeling of all one, an interconnectedness that I had never felt before."
- Ananda
"Honored to be learning from teachers with strong practices and deep respect for the sacred tradition of meditation. At Anuttara I deepen my practice, my learning, and contribute to a community that is changing my life."
- Georgia
"When you enter this place, no matter how hard you resist, you will slowly unravel the truth about life and yourself. The teachers are so genuine with a deep and loving desire to see the students grow, awaken and blossom. It can be a truly life-changing experience."
- Laura
"It is a home to my heart and if you want the freshest air, water, and earth in the world, this is that. Combine saintliness with the extraordinarily pristine and you have something truly special and sacred. This is the real deal. "
- Christopher
---
Accommodations
Accommodation varies:
Camping, Dormitory, Shared Cabin and Private Cabin.
Camping - we do rent tents but we usually prefer that you bring your own camping gear.
Dormitory is twin sized beds. 5 people in the male dormitory (4 twins, 1 double), 7 people in female dormitory (2 bunkbeds, 3 twins).
Shared Cabin - Two twin beds, wood stove and private deck overlooking the mountains.
Private Cabin - One with a queen sized bed the other with a single twin. Both with their own private decks and beautiful views of the surrounding nature.
Reviews
Write a review - tell others about your experience.
Thank you!
We're glad you've joined our retreat community. See you around :)
Return to my event
×