Somatic Yoga Movement 200-hr Teacher Training
Kura Kura Yoga Retreat Bali

Sep 3 - 30, 2018 (28 days)

$3,700.00 - Program Price w Shared Accommodation $4,200.00 - Private Room outside Kura Kura
About us
Somatic Yoga Movement

200 hours Teacher Training Course
Namaste!
We welcome you to a new experience of revealing your Light
Through conscious Yoga practice ~

Please read all information below with full presence and attention.

SYM is a special program which inspired us to revisit the whole Yoga experience we

had before and create something that resonates with us on a deeper level. This is more

than a Course. It is development of relationship with Self, body, mind, movement,

breath and community. T.K.V. Desikachar often emphasized: "Yoga is a

relationship." This Course follows this calling of building the relationship on many levels.
SOMATIC
Each one of us, despite race, religion, age and culture is guided by the laws of physical

realm. Everything we see around us is physical. And our bodies are more physical than

anything. Our extraordinary bodies are more intelligent than anything. Understanding

this physical patterns inside, we are able to re-pattern our mind. Soma – means body in

Latin. A somatic movement is one which is performed consciously with the intention of

focusing on the internal experience of the movement, rather than the external

appearance or result of the movement. The term somatic education was coined by

Thomas Hanna. Hanna used the term somatic education to describe methods of

sensory-motor education that use somatic movement to improve motor control and

sensation and change learned muscular patterns. Many people find somatic movement

education methods to be highly effective in relieving chronic pain, improving bodily

function, and recovering from common musculoskeletal conditions.
YOGA
Our nature as humans is to identify the difference and the connection between body,

mind and spirit. Our higher purpose is to unify these aspects, so we can create and

share.
MOVEMENT
Absolutely everything in this Universe lives by Movement. Stillness, as we understand it,

is an illusion. If we look into any object under microscope we will discover that on

cellular, atom level everything is moving, vibrating, pulsing and trembling. Stopping the

movement is not actually possible. But restricting the movement or changing it's quality
from fluid to rigid – is possible. This is what happens in our body. We tend to immobilize

or overuse our body.

THIS COURSE IS FOR YOU, IF:

1. You are a beginner in Yoga and want to delve into the fundamental knowledge of

Yoga with or without intentions to teach.

2. You are a Yoga practitioner and want to develop and form your own style, with or

without intentions to teach.

3. You are an experienced Yoga instructor and want to explore the art of teaching from

your authentic heart, broaden your yogic knowledge and experience, and hone your

existing skills.
WE TARGET:
 To bring you to a higher awareness of your own body, and all other human


bodies.

 Let go of old and distractive self-beliefs and build a solid foundation for your Self


Identity.

 To show you the way of Owning your Voice.
To provide you with various tools of mindful movement, to explore your physical


and mental capabilities in a safe and engaging manner.

To build confidence and compassion towards your body from the space of


practical knowledge.

To discover what your unique, authentic Yoga is, so that you can share your passion with the world.
EXPECTATIONS:

This Course is not designed to create another generic Yoga teacher or to give you a

script from which you can teach.  This Course is designed to give you the tools to be an

effective, unique and self-loving Human first of all.  Our aim is to inspire you to become

a Conscious Mover, who can understand, observe, explain, accept, and adapt to the

ever shifting experiences life presents you, so that you can apply these vital concepts to

yourself and anyone else.

When you travel for a long 4 weeks Course, to share space and food with new people, it

may feel overwhelming. It can take you out of your comfort zone in a beautiful and new

way. Our schedule is full from 6.30 am till 8pm. Please make sure you are able to

dedicate your focus completely to the Course. If you are planning to have surfing/spa/socializing time simultaneously, we recommend to separate these events from each other.

It is a common fact that today we perceive Yoga as a physical practice, beautiful flexible

bodies posted on social media. If you share such perception, it is ok. We invite you to

broaden Yoga frame. In fact everything we do can be lived in the concept of Yoga.

There are many forms of Yoga, but nothing escapes this law of unification. Be ready to

experience new dimensions of physical and mental practice, which might not feel as

"Yogic" to you.

You don't need specific Yoga experience. Your desire and passion for self-healing are enough. Our students vary in their Yogic "levels", from totally beginner to advanced. Each finds his/her challenge and expansion.
Our 200 hour program meets the standard requirements of Yoga Alliance USA.

Additional offerings have been added to enrich the program to facilitate this experience

being both informative and transformational.
HIGHLIGHTS OF THE COURSE:

Asana Lab
Posture, transitions, alignment and adjustment. We offer diversity of Yoga

styles: Vinyasa, Hatha, Yin, Restorative, Zen Flow, Kundalini Yoga, Somatic movement,

Bartenieff fundamentals. This allows to expand our physical and mental understanding

of flow and stillness. During Course we play fun and experiential games to support the

awareness of Asana practice.

Breath Lab
Breathing practice is the anchor of our program. We basically gather

together in order to expand the inhalation and exhalation and dwell in to emptiness

between them. Be ready to breath a lot, during movement and during meditation. The

goal is to let you sense how breathing correctly benefits and deepens your practice.  If

you feel this powerful connection yourself, you will be able to pass it along to your

students and apply it to your everyday life.

Movement Lab
The studies and practice of Somatic Movement, like Bartenieff

Fundamentals, meant to re-pattern the neurological connections that govern movement.

It is based on 4 principles: breath, core support, dynamic alignment and spatial intent.

It's goal to reawaken a student's awareness of muscles and joints that are not used,

used inadequately or misused, so that she or he can extend movement possibilities in

both energy and expressivity. Movement lab also contains Ecstatic dance, floor

communication, shaking release.

Meditation Lab.
Guided dynamic, mindfulness meditations and Osho Dynamic

enhance the space between classes. Training is enriched with different daily meditation

to help you find which meditation techniques resonate most with you. You will learn how

to guide various different styles of meditations, how to sequence Yoga Nidra and other

techniques, and how to use your voice as an effective tool. You will watch educational movies which are based on harboring inner tranquility and developing meditation for

non-contact hours.

Vocal Awareness.
Throughout our practice we will be doing vocal exercises, chanting,

public speaking playing with sound and vibration. Voice – is power. Voice – is identity of

how we present ourselves to the world, as it emerges from the core of our being, it

broadcasts everything about us to the world. Since we live in a culture where perception

is reality, having a confident, commanding voice and persona can make the difference

between being heard and being ignored.

Art of teaching is presented by 5 languages of teaching. When you master these skills you can speak these 'languages' not only on the mat, but in your daily life. Yoga is much broader than just Asana practice and correct alignment.  How can you create effective sequences, create a class that allows your students to move deeper into their

understanding of themselves, and teach in a way that let's your personality shine forth?

These are the questions we aim to help you discover the answers to, so that the way

you live is an example that teaches others.
Language of Presence
Language of Touch
Language of Speech
Language of Observation
Language of Kindness


The transforming point of your teaching skills is when you are to able see yourself


from outside. For this to happen we are filming some of the practices and classes.


Videos will be shared only within the group and class discussion. These videos are your


key learning material. WHY?


We all know about human's tendency to freeze and sweat in front of camera. When we


listen to our recorded voice or see ourselves on the screen it triggers deep reactions


and we close up.


At the same time we admire Yogis or people of other profession for their ability to talk in


public.


Our videos will remain in the frame of the Course only as a learning material.


There is no one can who teach you anything about yourself but YOURSELF.


Watching yourself will allow:


1. Overcome the shyness and shame of self and realize that they are illusions.


2. See the details that you are not aware of and correct them.


3. Learn how to give and receive positive and constructive feedback and hold your


ground.


4. Become camera friendly which can allow you to share with bigger amount of


people. It doesn't have to be only Yoga.


5. Develop self-confidence and take it to your everyday life.


6. Inspire others.

Anatomy & Physiology
In this Course you will not be studying Latin names of

muscles, joints and bones. This is an old way of learning anatomy, which loses it sense

as time passes. We also don't need to be medical doctors or biologists to know what is

happening inside of the body. We believe in evolution on all levels. Everything is

developing and changing, though education system today stands decades behind. In

our Course Anatomy subject is experiential, fun and playful. We base learning on the

Myofascial, proprioceptive and kinesthetic abilities of the body. Why do we move the

way we do? How can we re-pattern our habits? And where are the emotional and

mental blocks in our body? Anatomy Trains concept by Tom Myers makes a huge

impact on our Anatomy classes. Also we enriched the Course with educational

practicums from Leslie Kaminoff, the Author of Yoga Anatomy.org.
Philosophy
The roots and history of Yoga take us far away into the ancient past, and

no one definitely know the age of Yoga or it's origin. There are various versions on this.

It can take a life time to study Yogic philosophy. This knowledge is available for us

through many ancient scripts, which fortunately survived, have been translated and

interpreted for us, modern people. One of the basic Yogic holy script are Patanjali Yoga

Sutras, which reveal 8 Limbs of Yoga. The 2 first limbs (Yamas and Niyamas) are the

seeds out of which our practice starts growing. In our Course we chose to dwell and

focus on these first 2 limbs. This way we can understand this ancient practice in a nice,

non-rushing way.
Rituals and Ceremonies
Remembering and respecting our roots – Mother Nature is something we have to remind ourselves as we live every day. Beautiful rituals and ceremonies will help us to feel the power of our tribe, connection and love.
Shamanic breathwork
A practice of deep activation of the unconscious level through

dynamic breath, which releases energetic blockages and old wounds. These practical

elements will help balance the mind, body and emotions because if unresolved issues

linger in our everyday life we cannot unleash our pure potential to serve others.
Mauna –Silence
You will experience the tremendous gift of silence in real practice

which will allow you to dwell into the peaceful part of your consciousness. It is not easy

practice. In every training we see how students tend to break the silence and return to

old mind chatters. Though we always have chance to start all over again. Please be

aware of this practice and we invite you to take it seriously, you will feel the benefits of it

very soon.

AbunDANCE
is the name of our Ecstatic dance sessions. Through Course we will be dancing altogether, in silence. This is very different from being in a disco at night and drinking alcohol. Such experience allowed us to forget the true purpose of dance. It is a healing, dynamic meditation, surrendering to the sound and the vibration flow of own

body. We met students who were self-conscious to dance in front of new people in the

middle of the day. And after trying it, Dance became their most favorite practice. So

relax and allow yourself to experiment beyond your "box".
Moon practice
Moon has scientifically proven impact on Earth and her inhabitants.

And Moon also effects our body systems. We will be charging and restoring our bodies

during New moon and Full moon in a special and beautiful way.

Cacao ceremony – few times in the Course we will be learning about the beneficial

effects of Cacao Medicine. How it can become an energy boost, blood cleanse and

digestion support. Cacao ceremonies are well known for their warm, heart-opening and

energy-rising gatherings.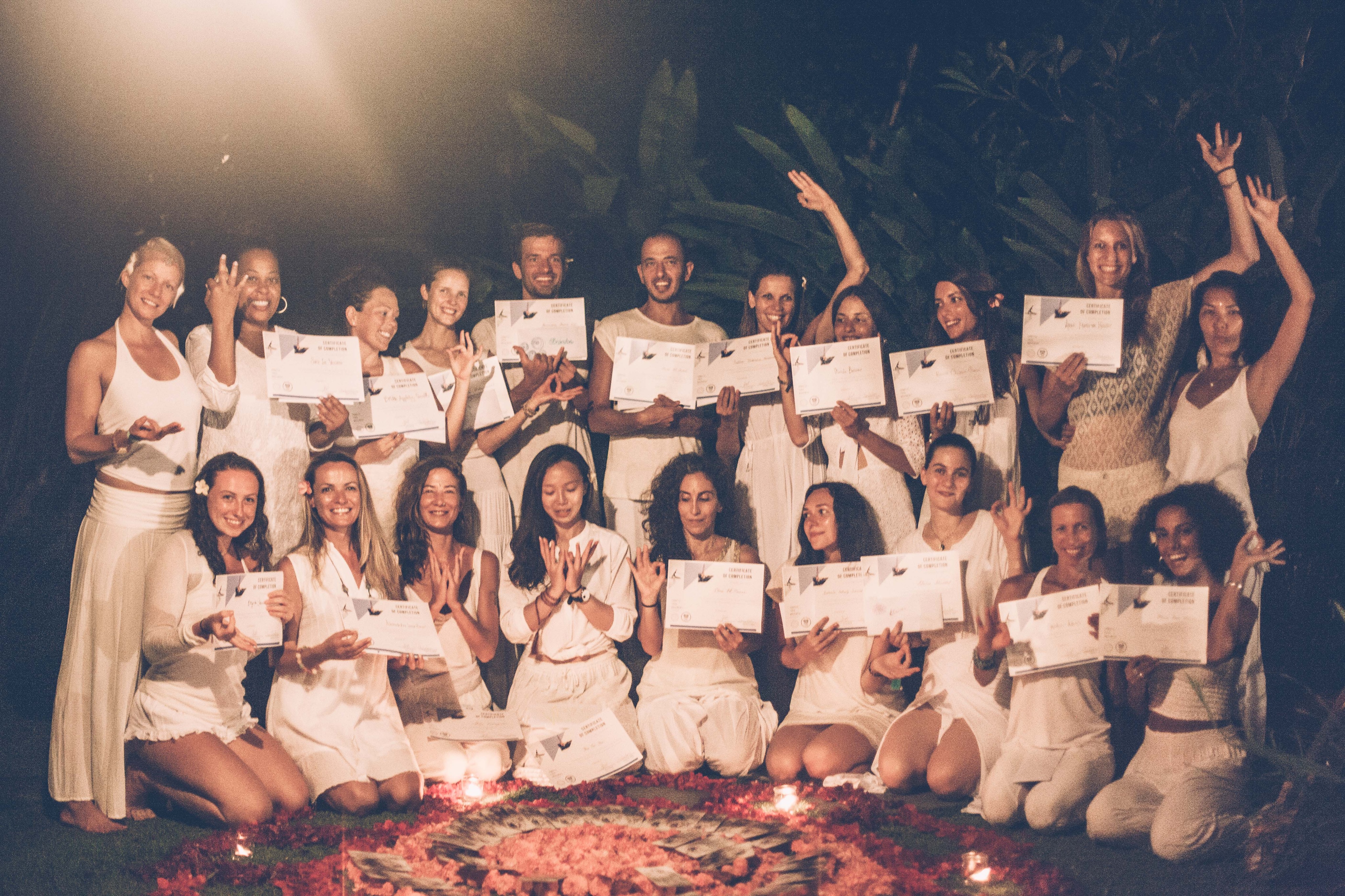 INVESTMENT:

Standard Price  USD

– standard shared room – 2 single beds $3700 usd

– single room outside of Kura $4200 usd

**Early bird (before 1st of July)

– standard shared room – 2 single beds $3300 usd

– single room outside of Kura $3850 usd
Inclusion: Program and Certification; Shared accommodation in a beautiful Balinese

style bungalow; 3 healthy vegan meals + healthy drink during day; Participation in a Sea water Balinese Purification ceremony.

Payment is processed through Paypal or Bank transfer. Please include the charges of your Bank/PayPal in the payment transaction. First payment is 30% from the total amount to secure your spot in our Circle. Remaining 70% is due 3 weeks before the Course starts (before 13th of August). We suggest not to carry large amounts of cash with

you. Balinese ATMs are not always able to withdraw big amount of cash. Currency in Indonesia is counted in thousands. So 100 dollars is equal to 1,500,000 Balinese Rupiyas. Sometimes ATMs don't accept bank cards of certain countries. Though you will need some cash for: laundry, souvenirs, shopping, transport and food during

weekends (if you choose to eat outside). In some restaurants & shops you can pay by card.

Cancelation and refund: first 30% of payment is non-refundable.
In case of cancellation, 70% of the total amount will be sent back to you.
This Course is designed for 18 people.
LOCATION

Our venue is Kura Kura Yoga Retreat – a beautiful, family style cozy resort, on the

shores of Indian Ocean. Kura Kura is often associated with a nest or a womb, in which

all inhabitants feels safe, nurtured and loved. Please check about Kura more here:

http://www.kurakurayogaretreat.com/

How to get:

1) Your flight arrives to Denpasar International Airport. Please make sure you are

arriving not later than 2pm on 30 th of September. We start at 3pm.

2) Take taxi from airport to Munggu village for 250000-300000 Indonesian Rupiyas. It

will take you about 40-60 minutes to reach Kura Kura.

3) If you are Early Bird email me to book your taxi yogawithaliya@gmail.com

SCHEDULE OF OUR COURSE

We start on 3rd of September at 3pm with Opening Ceremony.

We finish on 30th of September after breakfast with Closing Ceremony.
Reviews
Write a review - tell others about your experience.
Thank you!
We're glad you've joined our retreat community. See you around :)
Return to my event
×