*VIP* ​Settimane Enogastronomica | Registration Closed
Lunablu Retreat Center in Puglia - Italy

Jun 17 - 23, 2018 (7 days)

Lunablu | Private Villa | Room 1 - €1,878.00 Lunablu | Private Villa | Room 2 - €1,878.00 Lunablu | Private Villa | Room 3 - €1,878.00 Lunablu | Private Villa | Room 4 - €1,878.00
About us
Is it your dream to have an true Italian holiday experience, deeply rooted in the authentic Italian lifestyle?  Think food, wine , friends, meeting locals and feel Italy from the heart….then let  Luca take you on a journey: Catch an early ride to the local fishmarket to chat with the fishermen, taste urchins and pick up the catch of the day. Visit the local fruit and vegetable markets together, shop for artichokes and fungi, or other products that are in season. After a quick cafe in the local bar, you will return 'home for this week' and there you will cook together… authentic Italian meals.  Luca will teach you about the wines, and take you to the wineyards, so you can look, listen and taste. And then…let's finish our day together in the garden, enjoy our home cooked meals, a bottle of wine, fantastic company and some nice music.
Life as it should be…Buon cibo, buon vino, buoni amici (Good food, good wine and good friends)
About Luca:
Luca was born in Milan and traveled the world, always seeking inspiration for new dishes, only to always return to his roots: The Italian kitchen. The way he learned from his Nonna and his own mother. Authentic, warm and caring cooking, putting their maternal wisdom in each every dish. Luca visited Panama, Mexico, California, Thailand and lived in Brasil for many years, he currently lives and works in The Netherlands, where he works a private chef and cooks for any type of event or professional kitchen. For many years Luca has been working in the hospitality field, he organised private cooking classes and has taken many guests on a journey through the scents, colors and emotions of the various vineyards of Italy. '…But be aware,..'says Luca "to enter the world of wines is sedusive, it is a road of no return once you have tasted and understood what a glass of wine can transmit…'
Luca's biggest passion is to host people and ensure that they enjoy a taste of what Italian kitchen has to offer. Authentic yummy food, accompanying wines surrounded by an experiences of total well-being…life as it should be. ( oh and he loves Inter Milan)
What is included:
6 nights/ 7 days stay in a wonderful private masseria
Double room with private bathroom, air-conditioning, access to the sun terrace
Swimming pool facility with sun beds (Tip bring one large beachtowel!)
Full board, with high quality organic Italian breakfast, lunch and dinner. Starting with dinner on day 1 and ending with a light breakfast on the last day
Water, tea, coffee, wine during the meals is included
Excursions (weather permits)

Welcome Aperitivo
Winetasting in cantina
Visit to caves & short boatride
Pasta making class
Otranto / beach visit
Visit to Gelateria
Visit Otranto
Beachday
Local market
Extra's upon request and against additional charges
Transfers from and to Airport
Special Diets: upon request
Soft drinks, alcoholic drinks and other beverages during the day
Massages and Therapeutic sessions
Art classes, individual coaching and or consulting services
Excluded are:
Personal expenses
Flights
Insurances
Local transport
Typical day:
This is one of these days that you want to wake up early, Luca is venturing out to buy fresh products every morning, and today you can join him. Early rise it is, after a quick coffee the two of you drive to the local cheese laboratory. The owner greets you friendly and shares his best cheeses with you. Who knew so many different mozzarellas did exist? Well, off we go to visit the baker and the local market. Fresh fruits and vegetables, they come fresh from the land. You can see it immediately, not two of them have the same shape, size or color… this is what we sometimes forget when going into the supermarkets at home.
With all fresh products bought you stop at the local cafe, Italians are sitting outside, chatting and having a coffee. It is busy; Luca walks inside and gets a cappuccino and a dolce for both of you. Wow … this is how I can start my day…. and…it is only 8AM when we get back at the lodge. One of the other guests is already in the pool for a quick swim. Others attend the morning meditation class. Time for breakfast! We discuss today's program: we go to Otranto, and then to the beach, so get your bags ready! Departure around 10.30. When we arrive in Otranto we visit the Cathedral with its mind-blowing mosaics, have an ice-cream … go for the caramelized figs (our personal favorite)…. And then some free time to roam the little city with its lovely shops and beachfront city walls. Back to the car and then to the beach, lunch is ready for us when we arrive and we put ourselves in the daybeds. The beach is sandy, the sea beautiful turquoise and super calm today… time for a swim and some relaxing. The sun is shining and the people are friendly and open wherever we go! It is such a fantastic experience; you really don't feel like a tourist or a foreigner. We stay as long as possible to enjoy the sunset. Then we return to our 'home' for this week. Luca starts cooking and whoever wants to help, is more than welcome. At around 8pm dinner is being served outside under the patio near the pool… candles lit the place, Jovanotti in the background and everyone has quite some stories to tell after a couple of glasses of white chilled wine. It will be a late night….
Your accommodation:
The massive private lodge has been tradionally restored in its authentic atmosphere. There are four independent appartments, finely furnished with old-fashioned antiques, but with all the modern comforts. Every bedroom provides for a small kitchenette and a private bathroom, air-conditioning / heating, access to the garden or the large sundeck. There is a swimmingpool in the large private garden, with direct access to the archeological sites nearby. The main dining room has a majestic architectural  design with inviting large family style tables and various coves for privacy. The indoor hall is impressive and allows space for yoga sessions or other group activities.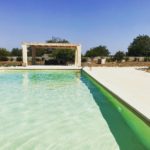 Reviews
Write a review - tell others about your experience.
Thank you!
We're glad you've joined our retreat community. See you around :)
Return to my event
×