Event Highlights
Develop and learn new skills
Help personality growth and fulfillment
Thin out the ego. Remove selfishness
Overcome likes and dislikes
Eliminate prejudices
Purify the heart, Feel oneness
Become more loving
Have a more flexible mind and tolerant attitude
Broaden your outlook on life
Spiritualize your activities
Guided morning and evening Satsang (meditation, chanting, lecture)
Staff meeting
2 hr yoga class
2 nutritious vegetarian meals
Selfless service: seva-study : 4-5 hours
Personal time and relaxation
Personal study
Staff Svadyahya (weekly meeting with senior staff and swamis)
Schedule
6:00am Satsang – Meditation, Kirtan chanting, Lecture, or Silent Walk
7:30am Hot breakfast
8:00am Asanas and Pranayama
10:00am Vegetarian Brunch
11:00am Karma Yoga
1:30pm Fruit snack
2:00pm Yoga Vacation Workshop
4:00pm Asanas and Pranayama
6:00pm Vegetarian Dinner
7:30pm Satsang – Meditation, Kirtan chanting and Lecture
10:00pm Sleep
About This Event
Do you want to add meaning to your life?
Seva Study is a residential program in which spiritual volunteers become fully immersed in the ashram for a minimum of one month. The idea of selfless service (seva) is an important concept in all yogic traditions.
Because the Self is perceived as being the other, serving other people is considered an essential devotional practice to open the heart and to expand your idea of your self.  Indeed, Karma yoga is the foundation of all yoga paths.
Therefore, this residential program is designed following that spiritual formula of oneness. As a matter of fact, you will add meaning to your life by this practice selfless service.
At the same time, the seva-study karma yogi will put into practice the yogic teachings of concentration and focus in action.  Furthermore, the participant will learn to sublimate the emotions and practice the teachings of Swami Sivananda "adapt, adjust, accommodate"
Keys for Karma Yoga
Right attitude: Work as worship – Have the attitude of offering, humility, and selflessness
Right motive: It's not what you do that counts but your real motive behind.
Do your duty according to your particular situation
Do your best: You should not hold back from fear of effort required or from fear of criticism.
Give up results: You are not the doer. You are only the instrument.  Detachment from results means freedom.
Serve God and the Self in All.  Love thy neighbor as thyself.
Follow the discipline of the job.  Every work experience has something to teach you.
Qualifications of a karma yogi:  Free from anger, egoism, greed.  Should be generous, amiable, loving, sociable nature, humble, free from hatred, harshness, judgement
Be Supported by the Community
Practicing in a dedicated group can help overcome isolation and give you support to do daily practice of yoga.  You will be empowered by being part of a team of dedicated volunteers.  Also, you will be able to channel your energy by serving an international mission of peace.  Furthermore, you will expand your horizons.
Work without stress in Nature
This divine life is set in the clean fresh air and beauty of the foothills of the Sierra Nevada mountains.  In this beautiful environment, you will discover the secret of success: how activities and work in the right environment with the right attitude are not leading to stress.
The mind will be delighted and soothed contemplating the ashram's land that is populated by oaks and pines, various shrubs, flowers, berry bushes, and many animals.  Furthermore, you will feel at awe in witnessing the sunset and getting lost in the starry sky.  Working with others is more enjoyable when nobody has a personal motive.
Daily be inspired to be better
Sadhana (spiritual practice) is built in and mandatory.  Indeed it is helpful to be coached and guided in practice and in work.  This life gives you easy access to spiritual counseling and guidance.  You are not alone to fend for yourself.  Learn more about us.
Be Part of a Live Tradition
You will feel daily connected to the sacred teaching of the gurus and feel empowered in following their footsteps.  In fact, the ashram schedule and ways of functioning are passed on by the disciples of the living lineage.  What is being taught in books will be alive in front of you.  Furthermore, you will feel the palpable love and support of the guru through daily interactions and happenings.
Be Part of the Peace Mission of the Founder
Swami Vishnudevananda opened his network of ashrams and centers to enable individuals to learn the art of true peace.  Inner peace leads to outer peace.  Inner peace needs to be cultivated in daily life through self-discipline and controlling the mind.  Be inspired to be part of this network of peace loving and dynamic volunteers knowing that together we are making the world a better place.
"Be the change that you want to see in the world" – Mahatma Gandhi
Head, Heart, and Hands Together
Karma yoga life is the only way to apply integrally the 4 paths of yoga (karma yoga, bhakti yoga, raja yoga, jnana yoga) in daily life.  The head, the heart, and the hands have to pull together to be productive while feeling genuinely happy in the soul.  This is a marvelous way of holistic life leading to well-rounded development.
The Nature, the Prana (Energy), the Staff and the Knowledge available here cannot be described in words as words have too little power to convey the whole. This is where one has to come and to experience to believe that such a great place does actually exist. - Kenny Lam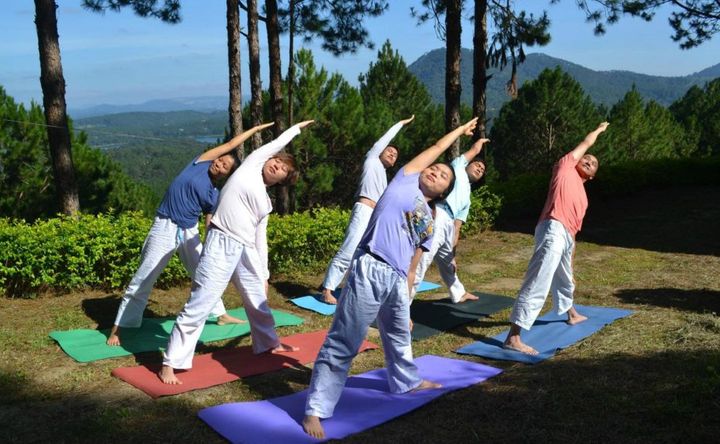 Venue Highlights
Amazing Views
Bird Watching
Untouched Forest
Walking Meditation Labyrinth
Tuyen Lam Lake
Bonfire Meditation
Waterfalls Nearby
Zen Monastery nearby
Dalat Market nearby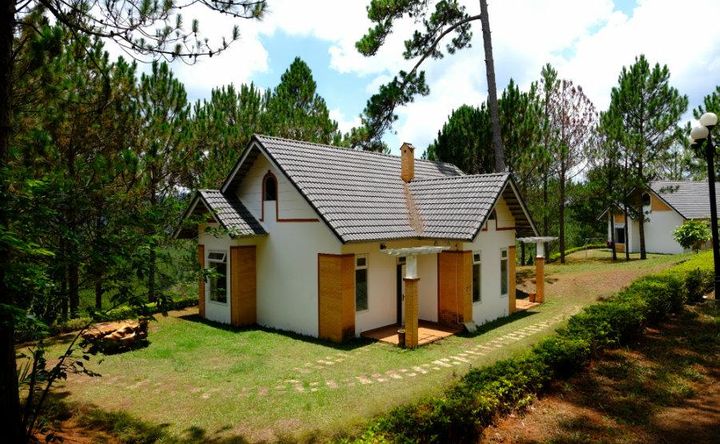 Accommodations
Options for Single, D2, D3/4 are available.
Each room has its own bathroom and shower.
Furnishings include a desk/table, chair, dresser/wardrobe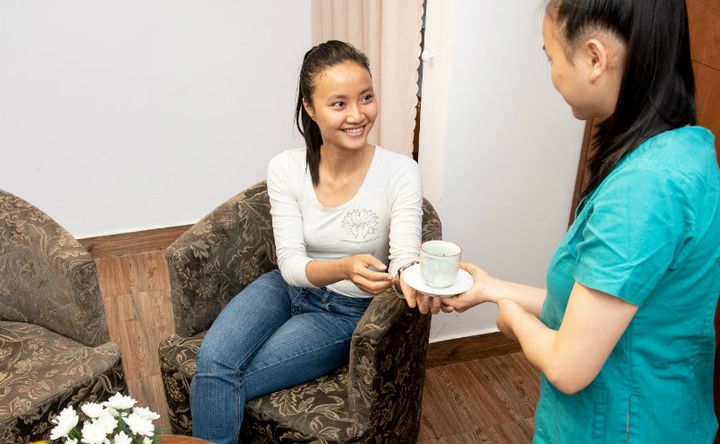 Amenities
Free Wifi
Sauna
Pool
Towels
Kitchen
Tour Assistance
Restaurant
Yoga Studio
Menu Types
Vegan
Vegetarian
Ayurvedic
Organic
Gluten Free
Dairy Free
Nut Free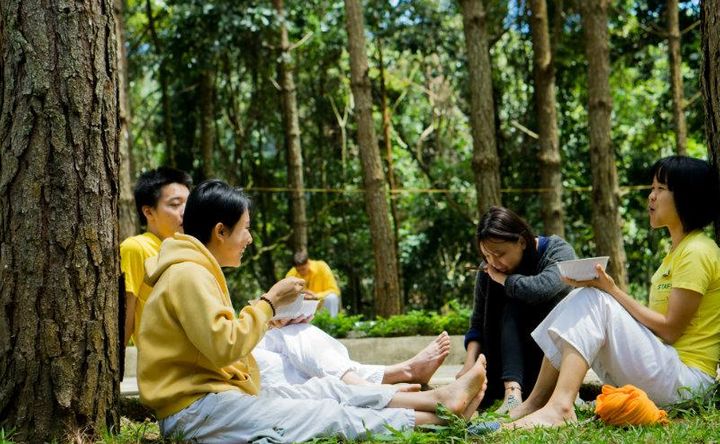 Menu/Cuisine
The Yoga Resort uses mostly organic, locally produced vegetables. Meals at the ashram are freshly prepared with love and care by dedicated karma yogis. Following Yoga tradition, meals are vegetarian, including a limited amount of dairy items. Eating a plant-based diet has been conclusively shown to be good for health and well-being. It is detoxifying and nutritive at the same time.
Please note that meat, fish, alcohol, tobacco, coffee, black tea, and eggs are not served in the Yoga Resort. We ask guests not to bring these items onto the Yoga resort property.
Directions
By air
Dalat Lien Khuong airport, 45 minutes drive
from the Yoga Resort, is served by daily flight
from major cities in Vietnam. International
travelers are advised to fly to Ho Chi Minh
City, from where there are many connecting
flights to Dalat. Pick up from Dalat Lien
Khuong airport by a local taxi company can
be arranged.
By road
Dalat is 350 km from Ho Chi Minh, 465km
from Da Nang, 87km from Nha Trang – the
closest beach town, and 84km from Cam
Ranh beach.
---
Cancellation Policy
100% deposit refund for cancellation 30+ days before event.
50% deposit refund for cancellation 15-29 days before event.
0% deposit refund for cancellation 0-14 days before event.
The remaining balance (total price minus deposit) is due upon arrival.
Get full details...
Reviews To review this event, visit the page for the venue or retreat leaders (above).
Similar Retreats You Might Like

Thank you!
We're glad you've joined our retreat community. See you around :)
Return to my event
×