Host your event with us
About us
Do you yearn for a place in nature that's neither too corporate – nor too touchy-feely – to hold your next retreat or event?
A place where you and your team can really get away from it all, re- connect and engage deeply in what is meaningful to you?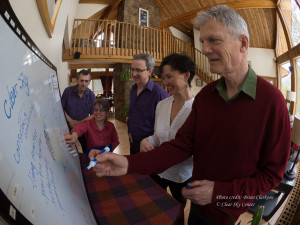 We love sharing our space and 300+ acres with spiritual explorers, leaders and heart centered organizations. Whether you are looking for a spiritual home where you can lead your group in a retreat or you are seeking an alternative space and ways to strengthen you and/or your team, the atmosphere at Clear Sky is down to earth, nourishing and inspiring.
We can care for up to 15 people at a time in our main facility "The Sanctuary". With Bull Mountain and a food forest in our backyard, it can really feel like you are far, far, far away from it all. The thing is, we are just 45 minutes away from the Canadian Rockies International Airport, one hour from the US border and have amenities nearby in Cranbrook, Fernie, and Kimberley.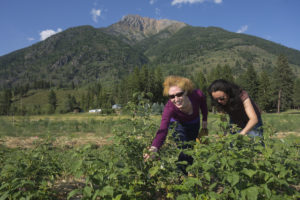 Also, worth noting is that optional wireless internet provides the choice to enjoy the benefits of online access or unplug and reconnect with nature and each other.
Go ahead and reach out to us. Share more about what you have in mind for your retreat or event by selecting the "Contact us to find out more" button. A member of our team will get back to you by phone or email to explore options and discover the best fit.
---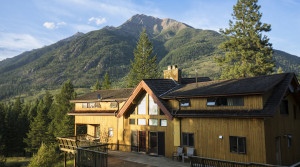 Additional experiences you can include in your event at Clear Sky:
There are many ways to tap into the elements of Clear Sky which can enhance the health of you and your group. In the embrace of Clear Sky, you will be supported to take a breath and refresh.
If you are curious to find out more about some of the wholesome explorations you can partake in at while you are at Clear Sky, see below.
---
Gettin' Mindful Session!
Mindfulness is a tool that can improve your quality of (work) life, productivity and well being. Here at Clear Sky, our trained instructors can show you how to bring mindfulness into your daily activities and interactions. Through emphasizing how to apply intention and attention, we can all learn to reduce tension and increase the joy factor in everything that we do.
Nature Trail Walk
Clear Sky lies at the foot of majestic Bull Mountain and the 300+ acres property offers easy walking nature trails where you can unplug and rejuvenate with your team. Learn about the unique grasslands ecosystem, and precious wildlife corridor that connects Yellowstone to Yukon, as you enjoy the great outdoors.
Food Forest Tour
Clear Sky planted the first one acre cold climate food forest project in Canada in 2013. Come and discover this innovative approach to sustainable agriculture with our demonstration model tour. Delicious, nutritious and unusual fruits, nuts, herbs, medicinals, plants and insects will lead you down a path of discovery you can enjoy and share with your team and family.
Team building processes for greater work-life experience
Learn some holistic approaches and mindfulness tools that you can apply again and again when working with diverse team members and challenges. Learn how to engage all members and come to a collective statement for what the best workplace scenario would be. These simple techniques can lead to longer lasting results, greater collaboration and success for individuals and organizations.
Getting Results Together…. And Enjoying It Through Green Building
Explore the relationship between mindfulness and sustainability through the case study of Clear Sky's green building project, "Sky Roots". Learn effective tools for improved teamwork, including managing people's different perspectives, planning, implementation and troubleshooting the inevitable challenges that arise. This session will review some simple mindfulness principles and techniques that will help things flow more smoothly.
Your event can either be self-catered or we can offer local/organically sourced and mindfully prepared meals.
The venue could not have been better in my opinion. I felt so welcomed by the staff. Knowing the Clear Sky Center is actively involved with environmental education was fitting for our symposium. I personally really loved the open simplicity and feeling of the place. Having so much light and the outdoors so present was wonderful.
-Janet Cook
---
Go ahead and reach out to us. Share more about what you have in mind for your retreat or event by selecting the "Contact us to find out more" button. We will get back to you by phone or email to explore options and discover the best fit for you. Once you submit this form, we'll be in touch within 1-2 business days, often the same day.
---
Thank you!
We're glad you've joined our retreat community. See you around :)
Return to my event
×