Himalayan Odyssey India – A Spiritual Retreat Adventure 2018
About us
Join us on an amazing journey of spiritual awakening through the magical lands of the Himayalas, India.
India is mesmerising in its wealth of history, mythology, religion, spirituality, humanity and nature. It's a place strung with jewel-like places of beauty and sacredness, where the divine meets the mundane on your average street corner.
From our deep love for India we are opening an invitation to host a group of special travellers to a 22-day meditative tour taking you through the peaks and foothills of the Himalayas, all the way to the sacred crystal waters of the Ganges. A unique blend of retreat and tour like no other.
During this expansive journey we will melt with infinite skies, turquoise waters, immersing ourselves in the most authentic Indian mystical realms, connecting with the inner and outer pearls: the hearts of our local hosts, the hidden corners we've discovered and love… meeting with our inner depth and beauty through meditation to enrich your experience. The group shares the path of inner transformation together discovering inner pearls, you'll carry these jewels with you forever.
This tour brings travelers a unique opportunity to explore Kashmir, Leh, Ladakh, Manali and Rishikesh, in a conscious encounter with the richness of Mother India and each other – to find the inexplicable beauty of this sacred place on Earth where we allow ourselves to melt into the vastness of the rooftop of the world.
"The very word Himalayas makes my heart beat faster. To me it is not something just physical, it carries the whole heritage of the spirituality for centuries. From the days of Upanishads till today Himalaya has produced more enlightened people than any other piece of land in the world." – Osho
Himalayan Odyssey Highlights
This 22 day journey is like no other, a retreat, adventure and spiritual pilgrimage all in one – this will make for a month you won't forget. Here are a few of the highlights:
Go deeper into yourself, in meditation, in connection and exploration.
We'll share daily meditation from mystics from a range of paths and schools – including Osho Meditations and Tantra awareness practices, Kashmir-Shivaism, Tibetan Buddhism, Himalayan Yoga, and more.
We'll travel to connect with a Ladakhi Oracle. This wonderful, humble woman performs ceremonies for healing and cleansing. During a special ritual she enters a trance state and a diety enters her body and she gives a transmission to those who have come for ceremony. We have no idea what she will bring forth to share. A group session where you'll have the opportunity to ask for insight on your own path.


Several years ago, she told Sheela she would meet Omkar, a little over six months before they connected in person. She rarely holds ceremonies for outsiders and we feel privileged to be able to share this space with her.
A multi-day camping trek through Himalayan valleys, a breathtaking experience immersed in an untouched natural environment. Disappear into the openness of the night skies.
Feel the feminine shakti of the River Ganges in the home of Indian 'seers' in Rishikesh. Where the Beatles fell in love with India and spent time recording an album.
This is a true grounded spiritual adventure for the body, mind and soul.
Throughout this journey, Omkar & Sheela will share meditations and yogic practices to deepen your experience. Also connecting with spiritual teachers and guides along the way, giving a practical and insightful taste of Indian spirituality.

All meals are provided on this 22 day journey, other than approximately 4 days at the end of the trip where we will have a more flexible evening schedule. You will get a taste of delicious Indian vegetarian cuisine to stimulate the palate and we know all the best spots.

All accommodation and transportation is included. Accommodation is a blend of homestays, high quality mountain camps, luxury camping, guest houses, boutique hotels and quality hotels along the way.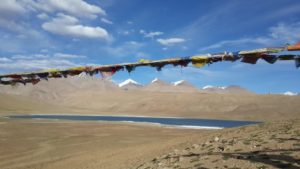 Itinerary
Day 1 – Arrive in Delhi. Welcome, old city and spice market tour.

Day 2 – Fly to Srinagar. Visit the artisan craft market and visit master craftsmen. Journey to Dal Lake by boat.

Day 3 – Meditative craftwork with pashmina weavers. Intro to Kashmir Shivaism at Kashmiri ashram

Day 4 – Spectacular drive through the Himalayan mountains to Leh. Rest day.

Day 5 – Monastery and palace visits around Leh, preparing for the trek.

Day 6 to 10 – An incredible 3 night and 4 day camping trek through mountain passes, remote villages, apricot groves and mountain streams. A fully guided, well equipped mountain journey, suitable for all levels of walkers. Typically daily walking time varies between 3 and 5 hours.

Day 11 – Ceremony with Ladahki oracle Lhamo.
Day 12 – Wonderful drive through mountain passes to Sarchu. Luxury camping.

Day 13 – Mountain peak drive to Manali. Afternoon to relax and bath in healing hot springs.

Day 14 – Manalis old temples & ashrams – An intro to Hinduism in the Himalayas.

Day 15 – Drive to Dharamshala, the home of the Dalai Lama..

Day 16 – Tibetan Buddhism teachings at a Buddhist center. Mountain & waterfall walks *

Day 17 – Dalai Lama teachings if his schedule permits *

Day 18 – Drive to Rishikesh home of the 'seers'. Himalayan rejuvenation with purification, yoga, meditation and amazing food.

Day 19 – Morning yoga & meditation. Visit the ­Beatles ashram.

Day 20 –Yoga, meditation, optional pujas, ashrams etc.

Day 21 – Indian closing ceremony – Puja. The group finishes in Rishikesh.
* ­Subject to change based on the Dalai Lamas agenda changes. We will also allow for flexibility to adapt to the group energy
Your Hosts – Sheela & Omkar
Sheela & Omkar choose to live a conscious life and travel sharing transformation groups, meditations and personal expansion processes. Connecting you with special places and people that tourists rarely discover. They will be hosting you for 22 days along this journey, sharing meditation & yoga practices from their own paths. Ranging from tantra meditation, Osho Active meditations to classic hatha yoga and breathwork.

This 22-day adventure was crafted to share these life changing connections that can be hugely transformative to anyone who is open.
Practicalities
Whats included

1. Trekking equipment's like, sleeping Tents, toilet tents, mats, sleeping bags and dinning tent etc.

2. Guest house, home stays, camping and luxury camping & hotel accommodation during your stay – twin sharing with breakfast.

3. All meals during the trek and expeditions. Approximately four meals not included on the last few days of the tour.

4. All transportation as per the itinerary.

5. All meditations, teachings and visits with local specialist and guides.

6. Horses to carry your loads.

8. Experienced guide, cook and staff during the trek.

9. A medical box with necessary medicines. Mountain medic for the trek. 

10. All entry fees, inc Hemis national wildlife protection fee.

11. Airport pick up and drops
Non-Inclusions

This price doesn't include personal expenses like Flight tickets, laundry bills,

Phone calls, shopping's, extra snacks, meals and drinks etc.

We provide drinking water during the trek and some days when travelling. 

Any additional donations for specific support you feel to give to community projects we'll encounter.

Any tips – eg. for hotel/camp staff and drivers etc

Required

International Flight to Delhi

Onward travel from Rishikesh
What to bring

1. Clothing suitable for multiple climates, there will be a broad spectrum of environments from the cold of the mountains to the warmth of the lush river Ganges

2. An open heart and mind – if it's not before you get here, the journey with these wonderful folk is assured to change that

3. Durable footwear for mountain walking, outdoor clothing to suit

4. An open mind!
Reviews
Write a review - tell others about your experience.
Thank you!
We're glad you've joined our retreat community. See you around :)
Return to my event
×