Personalized Detox and Yoga Retreat in Ubud, Bali
About us
If you really need to change your life and give yourself a gift of personal growth, our tailored detox & yoga retreat programs are an excellent choice for you.
Our bodies naturally cleanse themselves through detoxifying our organs. However, our liver and gut suffer from the stresses of modern lifestyles that challenge, instead of support their functions. It's easier to continue running a stressful daily lifestyle than it is to step away to nourish ourselves. This is where our detox tailored programs come in.
Detox, short for detoxification, is the body's natural, ongoing process of neutralizing or eliminating toxins from the body. Toxins are anything that can potentially harm body tissue, including waste products that result from normal cell activity, such as ammonia, lactic acid and homocysteine, and human-made toxins that we are exposed to in our environment, food, water and daily stress. Benefits of a cleanse, detoxifies your body from the inside out – at a complete metabolic and cellular level. Your blood becomes purified and your body is able to release toxins from the colon, kidneys, bladder, lungs, sinuses, and the skin clears out all of the unhealthy lifestyle habits or exposures you have had over time. When you give your digestive system "a break" your body has more energy to devote to releasing toxins. You will also get to choose to practice gentle yoga or meditation to help eliminate the toxins from your blood stream.
During your free time, you will enjoy relaxing by our private pool overlooking the rice fields, book into colonic sessions, lymphatic massage , body scrub, far infrared sauna sessions, reflexology, nutrition consultations, daily invigorating morning yoga practice, cherry picked movies on meditation and much more.
Our expert holistic team at Gaia ensure you are engaging in a well-researched protocol to give your body the nutrients it needs to function properly to support your cleanse.
The idea is for you to love our detox programs, rehydrate, and reset your digestive and sleeping patterns to its optimal and healthiest balance as you leave Bali feeling fully energized again!
"Wandering re establishes the original harmony which once existed between man and the universe."
---
Event Highlights
CHOOSE FROM A DEEP OR LIGHT CLEANSE:
In the Deep Cleanse, you are on a liquid-only cleanse while on the retreat [juices & warm soups]. Your detox is intensified as energy that would normally go towards digesting and breaking down solid food is now used for healing and repairing on a cellular level. On this cleanse, you get all the nutrition you need while your body is detoxing itself at an accelerated level that supports the liver, gallbladder and kidney detoxification.
In the Light Cleanse, you are on an all-living foods diet. This includes a combination of fresh juices, soups,plant based meals & salads to nourish your body whilst giving it a chance to do some much needed internal cleansing. On this diet, the rate of detoxification is slowed down. This is recommended especially if you are just coming off a standard heavy diet (fast foods, processed foods, lots of sugar and fat) and do not want to detox so quickly.
---
Venue Highlights
The view from the villa is quintessential Bali. Think swaying palm trees, therapeutic breeze, beautifully landscaped rice terraces and wind chimes singing away. The grand entrance of opens up to marble and teak wood that has 8 bedrooms, 9 bathrooms, private spa room with sauna and hot tub, Western-standard kitchen, private catering kitchen, dining room, large screen projection, full staff and a beautiful pool perched at the edge of the rice fields with decks and views to soothe the body and mind.You can take a leisurely 15 minute stroll to town and discover a vast array of markets, world class raw & vegan restaurants, Balinese warungs (kitchen) and a plethora of healers, spas and yoga studios.
Ngurah Rai International Airport (Bali's international airport) is just 90 minutes away from our villa making it a relaxing destination to travel to. Our friendly staff can also arrange tours during your stay if you wish to explore more of the island. And since Bali is a fairly small island, you can plan many exciting adventures and day's trip around the island while you retreat at our villa. 
---
Amenities
Air Conditioning in Rooms
Free Wifi
Spa
Sauna
Pool
Towels
Free Parking
Kitchen
Tour Assistance
Hot Tub
Coffee/Tea
Yoga Studio
House-Keeping
---
Schedule
Transfer including pick-up and drop-off to Airport as well as local transport in Ubud
7 nights accommodation
7 days unlimited supply of fresh detox juices, coconut water and unlimited water
Daily supply of pro-biotic, natural supplement intake and fiber powder supply
5 sessions yoga or guided meditation exercises
4 sessions colonic hydrotherapy sessions
Infrared Sauna 3 x a day for 15 30 minutes
3 sessions kidney compress with amethyst bio-mat therapy
4 sessions of 1 hour massage and 1 body scrub
1 hot stone massage
1 steam sauna session – cold and hot plunge pool at Tjampuhan Spa
Water purification experience at Tampak Siring Holy Water Temple
Gamelan Traditional Music Performance
1 session of abdominal massage
1 hour session of foot reflexology
1 session Natural Facial
Antioxidant Jamu Turmeric & Detox Juice 45 minute demo with our chef
Plenty of rest time to read, swim, enjoy movies on health, wellness, nutrition & meditation at night
Complimentary natural products
---
Menu Types
Vegan
Vegetarian
Pescetarian
Includes Meat
Organic
Gluten Free
Dairy Free
Nut Free
---
Menu/Cuisine
BREAKFAST MENU
COFFEE AND TEA:
Balinese Robusta Coffee
Bali Tea – Local Sari Wangi
FRUIT JUICES:
Your choice of one of the following: watermelon, papaya, pineapple, banana or mixed fruits.
FRUIT SALAD:
Arrives in a bowl (request for yogurt and honey on the side)
You may also request the particular combination of fruits that you like within season.
EGGS:
2 eggs either scrambled / poached / fried / boiled / omelet
Request for additional cheese / onions / mixed vegetables.
Arrives with 2 pieces of warm toast, butter, jam or honey.
PANCAKE OR FRENCH TOAST:
Plain pancakes or served with banana / pineapple and honey.
French Toast (request with jam or honey)
CHIA COCONUT YOGURT:
To replace eggs as a nutrient dense vegetarian option
LUNCH AND DINNER MENU
VEGETARIAN DISHES:
1. Pad Thai Noodle
2. Pumpkin Curry
3. Cap Cay Vegetables
4. Red Bean Vegetarian Chili
5. Corn Fritter
6. Tofu with Gado-Gado (peanut) sauce
7. Roasted Potatoes
8. Red Rice & Yellow Rice
9. Tempe Tofu Satay
10. Lentil Stew
11. Tofu Fritter
12. Tempe & Vegetables
13. Sayur Vegetables (with shredded coconut)
14. Steamed Water Spinach
15. Quinoa Veggie sautéed with garlic
16. Tofu curry
17. Vermicelli Noddle
18. Tempe Stew with red sauce
19. Chips with fresh salsa and guacamole (locally sourced ingredients)
20. Tempe on Sticks
21. Nori Maki
22. Mashed Potatoes
23. Corn / Cheese Quesadillas
24. Okra Veggie Urap
25. Traditional Laksa soup with Egg
26. Mushroom Bruschetta with Feta Cheese
27. Black Bean Burritos served with Salsa & Guacamole
RAW DISHES & SALADS
1. Teriyaki Vegetables
2. Raw Zucchini Pasta with Marinara Sauce / Pesto Basil Sauce
3. Beetroot Salad
4. Green Thai Papaya Salad
5. Zucchini Roll with Cashew Cheese, Sprouts and Avocado
6. Raw Spring Rolls with Peanut Sauce/ Sweet Chili Sauce
7. Vegetable dips with Sesame Basil Sauce
8. Raw Nori Maki Rolls
9. Pomelo Salad
SOUP
1. Fresh Garden Green Vegetable Soup
2. Coconut Pumpkin Soup
3. Tomato Basil Soup
4. Asparagus Corn Soup
5. Potato and Leek Soup
CHICKEN & FISH
1. Chicken Steak
2. Tuna Curry
3. Chicken Curry
4. Chicken / Prawn Tempura
DRINKS
1. Iced Lemonade
2. Fresh Coconut Water
3. Iced Rosella Tea
4. Lemon Ginger Honey
5. Orange Juice
6. Iced Turmeric Juice
7. Coconut Lemonade with Young Coconut Milk
*Note for lunch
Vegetarian lunch option consists of 5 main courses and 1 salad of the day.
Non-Vegetarian lunch option consists of 1 salad of the day + 4 vegetarian main courses and 1 fish or chicken main course.
*Note for dinner
Vegetarian dinner option consists of 1 soup + 1 salad + 1 dessert of the day and 4 main courses.
Non-Vegetarian dinner option consists of 3 vegetarian main courses and 1 fish / chicken main course of the day + 1 soup + 1 salad + 1 dessert of the day.
---
Accommodations
THE VILLA
There are 8 bedrooms and 9.5 washrooms which can comfortably accommodate 16 guests at double occupancy.
We have two fully equipped kitchens as well as full time kitchen staff and superb amenities, offering the best in Bali.Twelve large lounge chairs surround our pool, perched at the edge of the rice fields to watch the sun rise in the morning or turn on the underwater lights for a dramatic night time dip. The large open entrance area on the ground floor can fit up to 60 people for lectures and 30 people for yoga or workshops. There is a projection TV to support your video demonstrations.
Gaia Retreat Center offers students and teachers the perfect environment; a private and natural setting surrounded by acres of rice terraces and swaying palm trees due to a therapeutic knock-out breeze allowing you to pursue a mindful, health-conscious lifestyle in peace and solitude. We specialize in plant-based cuisine with all ingredients sourced locally and we can cater to non vegetarian eaters as well as clients with specific dietary needs.
Breakfast is inclusive at no extra charge and lunch / dinner are optional - we cater to all requirements and preferences from raw / plant based dishes to vegetarian and non vegeterian options. Our staff are highly trained in satisfying every dietary need and cater to all tastes.
Note - Villa Gaia is rented as a whole and not per room / per person.
INCLUDED IN THE VILLA RENTAL
Entire access to the property
Daily Breakfast
Return Airport Transfers
All natural soap, shampoo + conditioner provided and made locally in Bali
Daily maid service
Unlimited wifi
24 hour security
Fresh coconut water + ozone drinking water
Ginger herbal tea + Balinese coffee
Private Swimming Pool
Sauna, Hot Tub & Power Plate
Discounted massages at $15 per hour
Discounted colonics at $50 per hour
---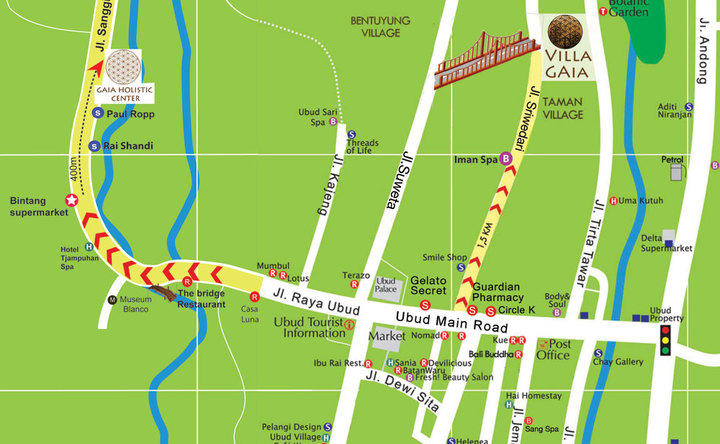 Directions
Around 45 minutes drive with a taxi from the airport to Villa Gaia. Transfers are always included in our retreats.
Location:
Villa Gaia, Jl. Sriwedari no.5, Br Tegallantang, Ubud, Kabupaten Gianyar, Bali 80571
We are right across from the white bridge and same road as Seniman Coffee and Hujan Locale Restaurant on Sri Wedari.
Contact:
Office: + 62 361 972312
Google Map: https://goo.gl/maps/iS37hHeZEvr
Thank you!
We're glad you've joined our retreat community. See you around :)
Return to my event
×