30 Day Transformational Life Changing Retreat
Event Highlights
Rewilding -Week 3 of the program go through the ultimate survival experience and learn to cope with only the bare essentials. You will be lead into the forest and armed only with the basic human needs – shelter, fire and food. This experiential learning exercise allows you to explore the blockages you experience on everyday life. During the experience you will receive feedback on how to manage your emotions, cooperate effectively and which leadership style is most suited to you.
Personal Development - Life begins at the edge of your comfort zone. We take you through a process of self-development to enable you to become more authentic, self-assured, and to feel empowered to achieve your dreams. Receive one on one coaching from the Heart Attack Program mentors as they take you through a unique self evaluation process of your core values and beliefs structure. Discover techniques and tools to take control of your thoughts, feelings and behaviour to manifest things most important to you in life.
Optimal Nutrition - Throughout the 30 days you will receive delicious, nutrient dense meals carefully prepared by our Rosemary Kitchen Team. Notice how your body begins to respond as you detox and reset.
Your Environment - Florianopolis is known as the Island of Magic, and once you visit it's not hard to know why. This sub-tropical paradise is famous for its beaches and natural wonders. There is something for everyone on the island, from great surfing to world famous parties, relaxing fishermen villages and secret beaches. The friendly locals welcome tourists to their colourful Brazilian culture so there are too many reasons to come explore for yourself!
Through your 30 days you will embark on an exciting journey of personal-development and self-expression. You will experience a varied range of activities, some that you are familiar with, and others you certainly won't be. We believe that growth comes directly from challenge. Although we'll be pushing you out of your comfort zone and giving you scenarios which will test you, we will always be there to help guide and support you .As well as this, you will experience various activities and experience designed to show you a more positive way of life, how to express your true self and how to achieve your goals and to create the life you want. Activities include but are not limited to:
Monk (Mind) - Vipassana, Meditation, Fasting, Yoga, Breathwork, Subconscious Mind, Sweat Lodge, Self-discovery & Discipline Workshops, Stress Management Techniques, Self-love Practices, Connection, Strengthening your Values.
Monkey (Body) - Raw Nutrition, Detoxing, Krav Maga, Monkey Movement, Fitness, Survivalism, Fishing, Permaculture, Ocean Swimming, Ecstatic Dancing, Expressive Arts, Self-sustainability.
Modern Human (Functionality) - Personal Coaching, Volunteer work, Time Management, Discover your Talents, Public Speaking, Body Language, Goal Setting, Productivity, Positive Language and Communication, Social Skills, Achievement, Partying.
Schedule
07:00: Morning Yoga
08:00: Ocean Swim
08:30: Meditation and breathing exercises
09:00: Natural Breakfast
10:00: Monkey movement on the beach
12:30: Break
13:00: Vegan Lunch
14:00: Values clarification workshop
16:00: Break
17:30: Connection workshop
19:30: Pod groups/end of day summary
20:00: Break
20:30: Pescatarian dinner
22:00: Evening meditation/wind down
22:30: Bed time!
About This Event
The Idea
We do the same things and expect different results, but just imagine what joy and excitement could enter your life once you express your true passion and commit to a purposeful challenge.
The Overview
Heart Attack is a month long course that gives you the opportunity to transform your personal limits into strengths and maximize your full potential. The aim is to give you practical tools and direction to achieve your optimal way of life, whatever that is uniquely for you. Using our 6 phase process you will experience yourself in a totally new way, removing layers of unconscious conditioning and uncover parts of yourself you never knew existed. We do this through experiential learning, group empowerment and self-development as we know that book knowledge can only take us so far.
The Process
You will be immersed in a 6 step experiential learning and guided self-development process; all providing you with the awareness and capabilities you need to accomplish any goal.
1. Inspiration
Ignite your curiosity and prepare your growth mindset as you ready yourse l f for intensive learning, meaningful connections and self-realisation. In this phase we will energise you by increasing your awareness of what truly matters in your life, and show you the unimaginable possibilities available through passionate and determined behaviour. You will discover new levels of motivation as you connect with the stories and people that inspired the project to form.
2. Self-discovery
Unveil your true self and understand your past experiences and limiting beliefs that have led you up to your current situation. Get ultimate clarity on what actions you need to take and learn techniques you need to be the person you desire to be and create the life you've always dreamed of.
3. Embodying
Go face to face with your areas of growth to feel ok with uncertainty. We create environments for you to put all of your learnings to practice as you explore, experiment, and develop your new tools to understand how to implement them effectively.
4. Reflection
Get regular check-ins to monitor and support your growth and instant feedback during your challenges.
Each person is given personal and specific guidance from their designated mentor throughout their progression to ensure that their limiting behaviours and the actions for improvement are fully understood and performed to the highest standard.
5. Transformation
Once you have the tools and techniques to change your behaviours, you will understand how to use them in any context you find yourself in so that you may consistently act in line with your values and progress towards your
goals.
6. Living
Put your new found confidence and abilities to the test i n re a l l i fe situations and observe the results.
We will be there to support you even once you've finished the program with phone and video conversations to guide you to permanent and long-lasting change.
It is these experiences within our safe, supportive environment which will raise your self-awareness, awaken to self-love and empower you with the capabilities to accomplish any goal. The process can help you to live in closer alignment to who you really are and help you find the balance you've been looking for. The Rosemary Dream Team act as your personal coaches, challengers and supporters, there to guide and grow with you. Heart Attack can be the most extraordinary month you could ever imagine… the choice is yours.
The Outcomes
• Clearly defined goals
• Personal functionality and productivity
• Life redirection and focus
• Improved social capabilities
• Overcoming limiting beliefs
• Leadership development
• Values discovery
• Boosted self-confidence
• Understanding of the subconscious
• Find your talents
• Discipline and self-control tactics
• Optimal nutrition
• Survival skills
• Immersive cultural experience
• New connections and a network with like-
minded individuals from all over the world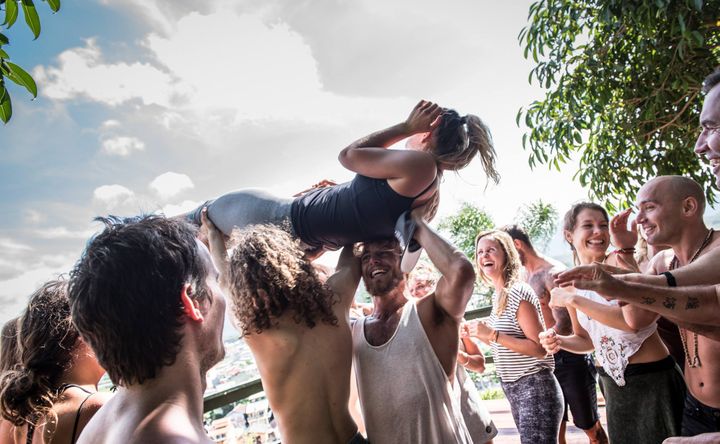 Venue Highlights
THE RIVER, LAKE, FOREST AND MOUNTAINS.
Our home is set in 72,000m² of wild nature which provides the ideal environment for you to challenge your body and mind. We have a natural playground at our disposal, including a river flowing from Barra to the local town, the ocean waves to surf and splash in, the saltwater lake to swim, the forest to explore and the mountain to conquer. There are many amazing hikes and walks to do in the area; one to the lighthouse overlooking Barra da Lagoa, another to an astro-archaeological site, another to nudist beach and many others. You can choose to escape to whatever landscape you feel and reimmerse yourself into the wonders of the natural world.
Get ready to climb trees, run through the forest, hike up mountains and splash with the fishes.
THE HOUSE, THE ACTIVITIES, THE FACILITIES, THE OPPORTUNITIES, THE ATMOSPHERE.
This is not a surf camp, spiritual sanctuary, self-help centre, wellness retreat, hippy community, etc. This is an experience based in the wilderness to enable to self-empowerment.
Living Space
The open communal area has a modern kitchen for you to enjoy and a wooden deck for shared family meals. Climb up high to our library deck or hang out in the fishing net, enriching your mind with books from philosophy to comics and everything in between. Explore to our hidden attic quiet room to meditate, read or enjoy a well-earned nap. Home will provide you with an amazing shared living space perfect for building a sense of community and the opportunity to form new and lasting friendships.
Weekly Activities
Each week we create a different schedule that includes all the daily activities. The type of activities depend on which members of the family we have currently at Rosemary. We have everything you could imagine in one place: parties, yoga, surfing, studying, topical talks, discussions, fasting, gardening, detoxing, meditating, surviving, sailing, moving, eco-building, dancing, cooking, WORKING, hiking, free diving, self-sustainability teaching, public speaking , self-expression, painting, singing, acting, book reading, goal setting, poetry… YOU NAME IT… WE'VE GOT IT (or we'll just make it happen)! Not only this, but we also have weekly empowerment session where we will discuss, teach and learn about topics such as social fears, personal barriers, goal setting, personal identity and finding purpose. We also encourage you to go on a fishing trip with the local fishermen to experience real culture and help the community.
Facilities and Opportunities
Rosemary is not just a really cool house. Although we do have wifi free to use, you might be distracted with our two yoga decks overlooking the sea and Barra, which can be used for many activities or just to sit and admire the view, yoga mats, hanging hoops and our surfboards if you fancy yourself as a rad surfer dude. We live within the perfect balance of nature and urban life. There are plenty of activities in the surrounding area, such as sand boarding, clubbing, kayaking, live music, to do at a low coast. The International Airport, Bus Station and City Centre are all less than an hour from our door.
Atmosphere
The people that come to volunteer at Rosemary are special. They are part of the family because they share our values and strive to create a positive living space. Whilst you work here you will experience the dynamic energy of positive, fun and ambitious people who want to push themselves and Rosemary to new heights. We are constantly looking to improve and challenge ourselves in order to positively impact the world and make us happier and more productive people.
Accommodations
All participants are given shared accommodation as standard, cosy private rooms are available on request. Our shared mixed dorms come with a bathroom and lockers. Every bed has its own plug, light and curtain for privacy. They have been built with reclaimed wood that we collected, so each has it's own unique character. We provide towels and sheets and of course, we have lovely hot showers.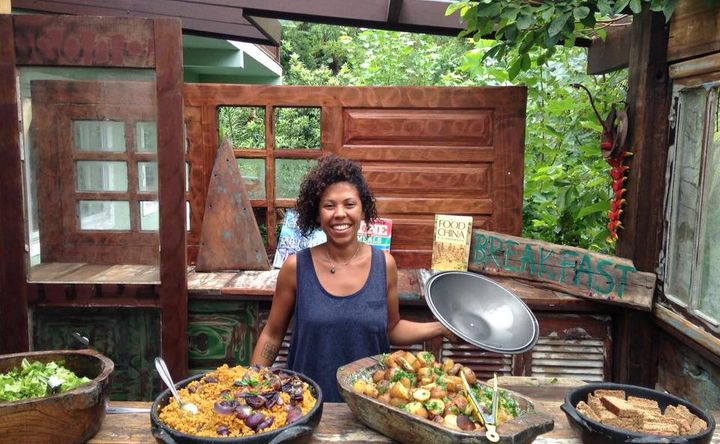 Menu/Cuisine
We provide breakfast and lunch everyday (excluding Sunday), which is usually a buffet-style vegetarian selection. On an average day we have fresh fruits, such as watermelon, apple, banana and papaya, raisin and coconut oats, egg frittata, fruit compote and a healthy treat of some sort. Lunch is equally as tasty and healthy, but changes from day to day. Every Tuesday and Friday we get together; team and guests, to eat a family meal. This is a shared dinner to strengthen bonds and form new ones around some filling food.
Directions
Bus
Rosemary Dream is based in Barra Da Lagoa. The cheapest way is to arrive is by bus. From the central bus station (Terminal Centro), it will take you 1-2 hours depending on the day. When you arrive at Centro, you need to exit and head right to the local bus station (Terminal Urbano). Here you will need to get either the 320 or the 330 to TILAG (Terminal de Integração da Lagoa da Conceição) and then the 360 to Barra Da Lagoa. At the final stop you will see a big blue bridge which you need to cross and then follow the path right for 100 metres until you're at Rosemary Dream.
Uber
It is around 50 Reis to get an uber from the Terminal Centro to Barra da Lagoa so if you don't mind spending that little bit extra, jump in!
Flight
If you took a flight to Florianopolis, you can either get a ticket for a minibus to a nearby bus station and get a bus from there to Terminal Centro, Floripa inside the airport before you exit, or alternatively you can take a taxi there too.
Reviews To review this event, visit the page for the venue or retreat leaders (above).
Similar Retreats You Might Like
Thank you!
We're glad you've joined our retreat community. See you around :)
Return to my event
×