Unleash Joy!
AHKI Retreat
Jan 26 - Feb 2, 2019

(8 days)

$1950 US plus airfare
About us
Rejuvenate your body, soothe your heart, calm your mind and lift your soul in this week-long winter escape to Costa Rica. Immerse yourself in the sacred space of AHKi Retreat surrounded by mountains, ocean and sounds of nature as Kellie, Karen and Kimeiko guide you through an inspiring program of yoga, meditation, SoulCollage®, and local excursions. Opt to enrich your experience with a reiki treatment and/or a Reiki 1 certification course. The benefits of this retreat will extend well beyond this week as you leave with new healing practices, friends and joyful memories.
For full details please go to: www.awareyoga.com/unleashjoy
---
Event Highlights
Daily Hatha Yoga and Meditation
SoulCollage®
Reiki and Optional Reiki 1 Certification
Vegetarian Cuisine
Optional Excursions including ziplining, SUP, jungle tours
Body and Holistic Treatments
Vegetarian cuisine
---
Venue Highlights
An intimate yet spacious facility, AHKi is nestled in 5.5 mountain acres, located near the Pacific coast, in the Guanacaste region of Costa Rica. Imbued with lush green mountainsides, blue ocean waters, plentiful sunshine and with its accessible location, AHKi is the perfect destination for our retreat. As remote as AHKi feels, it's only minutes away from beaches, kayaking, horseback riding, surfing, zip-lining, nature hikes, shopping, restaurants and more. AHKi is truly a sacred space - built specifically according to the ancient science of Vastu Shastra, "the yoga of space", invoking peace, wellness and harmony - with the environment as well as within one's self.
This unique, boutique retreat will host only our group for the week. We'll have exclusive use of the entire property and its facilities, which include the 750 sq. ft. open air teak-floored yoga shala which has incredible views of the Pacific Ocean, mountains and valleys, an exquisite salt water pool, library/game room and 5 1/2 acres of tropical forest.
---
Amenities
Free Wifi
Spa
Pool
Towels
Kitchen
Coffee/Tea
Yoga Studio
House-Keeping
---
Schedule
Yoga and Meditation - 7:00 to 9:00am
Each morning we'll take the time to center and take inventory on exactly where we are mentally, emotionally, physically and spiritually. Setting the course in this way will enable us to make the best use of our day, moment by moment. Yoga will be gentle and introspective, as you listen to your inner guidance and make the best decisions for your body, mind and spirit.​
Breakfast - 9:00 to 9:30am
Enjoy a self serve feast of fresh fruits, homemade organic yogurt from fresh raw milk, locally baked breads, home made granola, gluten free pancakes as well as gallo pinto (a Costa Rican traditional dish of rice & beans) and organic eggs served up in creative ways.​
Morning Journaling - 9:30 to 10am
After breakfast each morning, explore the concepts of unleashing joy and finding soul connection through a short reading and meditation, and take time to express on paper whatever arises.
Morning Programming - 10:00 to 12:30pm (and the first full day)
During the beginning days of the retreat, we'll learn about SoulCollage® from Karen Quiros and spend some time beginning to gather images and ideas to create our personal SoulCollage® Cards. Some of us may choose to spend every morning working with SoulCollage® or journalling, while others may opt to take the Reiki 1 Certification course offered by Kimeiko Dover.
Lunch - 12 Noon to 12:30pm
Healthy and delicious lunches are served sit-down style and carefully planned to be "climate appropriate". You will never feel weighed down from food too heavy for the Costa Rica climate, but, you will most certainly leave the table satiated!
Afternoon Free Time - 12:30 to 6:30pm
Spend the afternoon lazily on the beach, receiving bodywork, or on a shopping excursion to Nosara. Of if you're craving adventure, book an optional excursion and try kayaking, stand-up paddle boarding, a wildlife hike, zip lining, horseback riding, snorkeling, or surfing and more!
Afternoon Movement and Breath Awareness (optional) - 4:30 to 6:00pm
Most afternoons there will be yoga offered in the Jungle Shala at Ahki. If you've stayed at AHKi for the day, or are back in time, consider checking in with yourself once again. ​
Dinner - 6:30 to 7:30pm
Enjoy dinners made with wonderful local organic ingredients. Mother Nature's gifts on a plate - not just to satisfy your hunger, but to feed your body while you nourish your soul!​
Evening Gathering as a Group - 7:30 to 9:30pm
Each evening at AHKi we'll have something new to explore. We'll all learn about Reiki, the Japanese system of healing energy, experience the deep meditative practice of Yoga Nidra, and have fun with a Chakra and Pendulum workshop. On our last evening we'll indulge in a yin practice, infused with reiki from Kimeiko, Karen and Kellie.
---
Menu Types
Vegan
Vegetarian
Includes Meat
Organic
Gluten Free
Dairy Free
---
Menu/Cuisine
Here at AHKí we are serving up fresh (organic, when available) vegan/vegetarian, gluten/dairy-free meals made from scratch.
​​Yogurt, milk, butter and locally baked breads are available for those not watching their gluten or dairy intake. In our amply stocked kitchen, our experienced staff cooks solely for our retreat guests, enabling us to take into consideration your individual dietary needs, making the appropriate modifications and adjustments. All meals are served in our lovely open air dining room, with a grand vista of the gardens, pool and mountains and sea.
​Chef Daniela's healthy, delicious and creative meals are served sit-down style and carefully planned to be "climate appropriate". You will never feel weighed down from food too heavy for the Costa Rica climate, but, most certainly you will leave the table satiated! (We also can provide chicken or fish options per your advance request at a slight, additional cost.)
---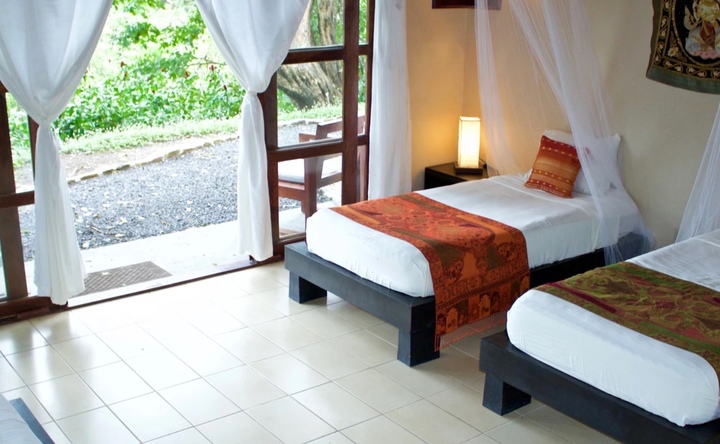 Accommodations
Nestled amongst the trees along a mountain ridge are two beautiful and spacious cabinas with a total of SIX large guest rooms which can accommodate 3 singles each. The heads of all the beds are positioned to the south or east, a Vastu principle that helps to induce a restful night's sleep. All rooms have large ceiling fans, large windows and doors and plenty of overhead ventilation for optimal airflow, mosquito nets and oscillating floor fans (if needed) for complete comfort. Each room has a private bath with a large unique, indoor/outdoor, hot water shower, and patios & decks that command stellar views of the mountains and valleys.
---
Directions
AHKí is located on the Pacific Northwest coast of the Nicoya Peninsula in the Guanacaste region. We are 11k south of Nosara, home of the internationally acclaimed Nosara Yoga Institute.
We suggest flying into Liberia (Daniel Oduber Quiros International Airport). The airport is expanding and more flight selections are opening up every day. If your group leader has made transportation arrangements from Liberia, a driver from AHKí will be waiting for you. We are an easy 2 hours drive.
​The San Jose International Airport (Juan Santamaria) is a 4 - 5 hour drive. If you choose to fly into San Jose, you can opt to: rent a car, take a bus, or fly the short flight on Nature Air or Sansa Air. Both terminals are near the San Jose airport and their flights are only a 45-50 minute trip to Nosara Airport (a 20-25 minute drive from us). However, they do have luggage weight restrictions, so please check the web sites to get all the information. If you are considering this route, an overnight stay in San Jose is suggested since variable weather conditions that affect the flights of small air crafts can make coordinating your connecting flight a bit tricky! *Please be informed that upon exiting the country (from either airport) you will be required to pay a $28 departure tax.
​If you choose to rent a car from either airport, there are many options, Alamo, Budget, Economy, etc. These sites can be found online by googling them + Liberia, Costa Rica. We recommend you reserve your car when you purchase your airline tickets and confirm all car rental costs for what exactly is included. You can save some $$ by consulting with your credit card company (AmEx has a good program) regarding car rental insurance.
Thank you!
We're glad you've joined our retreat community. See you around :)
Return to my event
×