Sivananda Yoga Health Educator Training (SYHET ) Jan 03, 2020 - Jan 18, 2022
About This Event
Mission Statement
The Sivananda Institute of Health and Yoga seeks to empower individuals with classical Yoga tools and Self-knowledge to promote integral health, to reduce stress, to restore balance and a sense of purpose in one's life.
Join us for our 2-Year Program beginning January 2018.
Who Benefits from this Knowledge?
Yoga teachers
Health care providers
Hospitals
Acupuncture clinics
Physical therapist and chiropractor offices
Social workers
At-risk youth facilities
Psychologists
Therapists
Counselors
Nurses
Life coaches
Corporate wellness programs
Those with a true passion for health and well-being
The Sivananda Yoga Health Educator is trained in the therapeutic application of Yoga techniques to address following health conditions:
Health and Lifestyle: (healthy daily routines, relaxation and coping skills in work, family, relationship, diet, exercise…)
Cardiovascular Conditions: Hypertension, Heart diseases (practice of asanas and breathing, relaxation to decrease in heart rate and blood pressure, modification of coronary artery disease risk factors)
Metabolic Conditions: Diabetes, Obesity, Auto-immune disorders, Chronic Fatigue (healthy relationship with food)
Respiratory Disorders: Asthma, Improper Breathing (pranayama to improve balance of Autonomic Nervous System, improve cardio respiratory efficiency)
Musculoskeletal Conditions: Back Health and spine issues, Rheumatoid Arthritis, Osteoporosis, Balance issues, Mobility and stiffness due to age or sedentary and immobile modern lifestyle (adapted Yoga asanas to conditions)
Psychological Disorders and nervous system Psychosomatic diseases: Sleep disorders, Anxiety, Insomnia, Depression, Stress, Trauma (PTSD), Addiction, Chronic Pain (Using yoga psychology to improve mental health, capacity of emotional regulation, increase relaxation, improve interpersonal relationships, decrease anxiety level, improve concentration and brain blood flow, reduction of perceived stress and improve adaptive autonomic response to stress, improve sense of well-being)
Special Populations: Senior and aging, Multiple Sclerosis, Epilepsy, palliative care, rehabilitation and recovery after surgery and injury, deaf, blind, autistic.
Lack of Spiritual Health: Lack of self-discipline, self-care, meaning of life. (acquiring stability and courage, development of virtues, selflessness, Self-awareness, Self-enquiry, improve discrimination and detachment)
Use classical Yoga techniques to address specific health concerns and provide an overall sense of wellbeing and peace to those in need.
Overview
Over the course of the training, the Sivananda Yoga Health Educator becomes versed in the therapeutic application of the Five Points of Yoga and the Four Paths of Yoga—Karma Yoga, Bhakti Yoga, Raja Yoga (includes Hatha Yoga), and Jnana Yoga.
The goal of the Sivananda Yoga Health Educator is to empower participants in their own Self-healing through the practice of asana, pranayama, conscious relaxation techniques, vegetarian diet, positive thinking tools, and meditation practices.
Practical tools, foundational concepts and philosophical knowledge are gained to create the framework for more advanced study as one progresses through the program. Emphasis is placed on understanding the subtler aspects of the causes of disease and stress in the individual. Common health conditions addressed include respiratory disorders, cardiovascular conditions, diabetes, auto-immune disorders, musculoskeletal conditions, psychology, etc.
Intensive study in Yoga psychology, the therapeutic effects of meditation practice, the theory of karma and disease, counseling techniques based in the Vedic sciences, Ayurveda psychology, as well as understanding the root cause of addiction and behaviors are covered in the curriculum. Thus, the Yoga Health Educator has the knowledge and intuitive capacity to be a positive and healthy instrument of healing.
Promote a complete Yoga lifestyle with HEALTH TECHNIQUES
Based on the classical four paths of Yoga
HATHA YOGA: postures, breathing, relaxation, diet
RAJA YOGA: psychology, self regulation techniques, meditation, mantras
JNANA YOGA: Vedanta philosophy, self-enquiry, Selfremembrance
BHAKTI YOGA: devotion, love and emotional sublimation
KARMA YOGA: selflessness, duty and service
Empower Self-healing in people to reduce stress and to restore balance and purpose to their life. Gain tools and knowledge in areas such as:
Causes of stress and their relationship to disease
Anatomy and physiology relating to stress and disease
Application of Yoga practices to promote a healthy lifestyle
Therapeutic effects of meditation practice on stress-based health conditions
Root causes of addiction and harmful behaviors
Application of Vedic Counseling techniques for integral health
Yogic perspectives on the stages of life and life's purpose
Yoga of relationships
Theory of karma and disease
Course Format
The Sivananda Yoga Health Educator Training in Vietnam is structured over 24 months with 3 2-week residential study immersions taking place at the Sivananda Yoga Resort and Training Center in Dalat, Vietnam and one online 3-week immersion.
Practicum Program
Under the supervision of an assigned Mentor, the Sivananda Yoga Health Educator meets with participants in one-on-one Yoga Health Consultation sessions (observed and unobserved). The Sivananda Yoga Health Educator student conducts intake and assessment of participants, and develops protocols addressing the health needs of the participant. Follow-up, re-assessment, and adjustment of protocols to meet the participant's evolving needs and goals are an essential component of the Practicum and the work of the Sivananda Yoga Health Educator.
Requirements
Completion of the Sivananda Teacher Training Course (TTC) or other 200-hour Yoga Teacher certification is a pre-requisite for the Yoga Health Educator program.
Start Date: January 2018
Completion Date: January 2020
Are you ready for the next step in creating a more peaceful world?  Contact us for a free Program Consultation
"Charge the vision with Wisdom and see the whole world as God." Swami Sivananda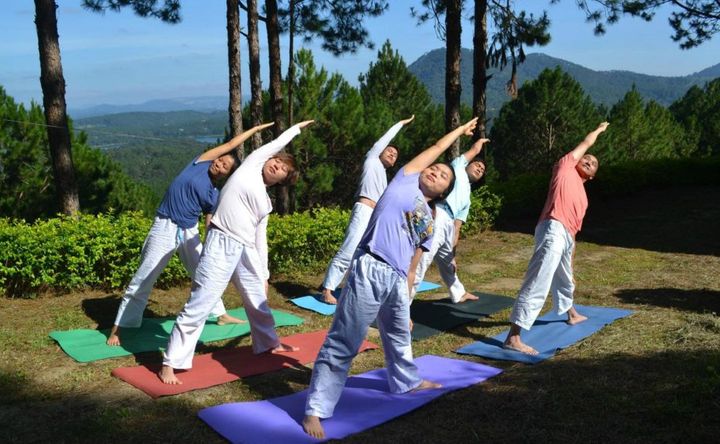 Venue Highlights
Open to guests year round, the Yoga Resort and Training Center welcomes people from around the world, and provides a peaceful setting in which to find a way back to a holistic lifestyle in harmony with nature. Our guests often testify to the effect of a sense of stress relief and the experience of improved physical, emotional, and spiritual health. You can join for a minimum of 3 days, for a week, or longer.
Designed by Yoga Master Swami Sivananda, the daily routine at the Yoga Resort is the core of a practice to restore good health on all levels:
6:00am Satsang – Meditation, Kirtan chanting, Lecture, or Silent Walk
8:00am Asanas and Pranayama
10:00am Vegetarian Brunch
11:00am Karma Yoga
2:00pm Yoga Vacation Workshop
4:00pm Asanas and Pranayama
6:00pm Vegetarian Dinner
7:30pm Satsang – Meditation, Kirtan chanting and Lecture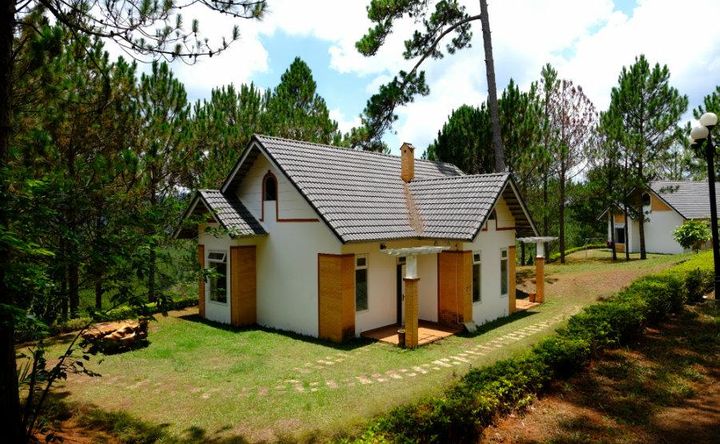 Accommodations
The Sivananda Yoga Resort and Training Center is located amidst the secluded pine forests surrounding Tuyen Lam Lake, close to the hill-station town of Dalat, Vietnam, famed for its moderate climate and scenic beauty. The fresh air and silence of the forest location have moved many to remark on the healing atmosphere.
The location offers opportunities for walking, with several vantage points from which the local countryside can be admired. Regular walks up on the mountainside in the early morning, in time to watch the sunrise, or in the evening enjoy the light of the full moon or for star-gazing, are popular events in our program. On warmer evenings we often enjoy meditation outdoors in the light and warmth of a campfire. Close to our main Yoga hall a classical walking labyrinth provides a place for contemplative walks.
Guests are housed in villa-style buildings, each with 3-5 separate rooms, that are spread over the property. Accommodation is simple, providing basic comforts. Bedding and towels are provided. Please note that housekeeping services are not provided during your stay.
Guest accommodation is provided in villa-style buildings, each with several rooms, that are situated in the forest area. All rooms have attached bathrooms. Single occupancy is available, we also have some double rooms, other rooms have 3-4 beds.
Facilities are simple, providing basic comfort. There is no air conditioner or heater provided. Please note that we do not provide housekeeping services for your room during your stay.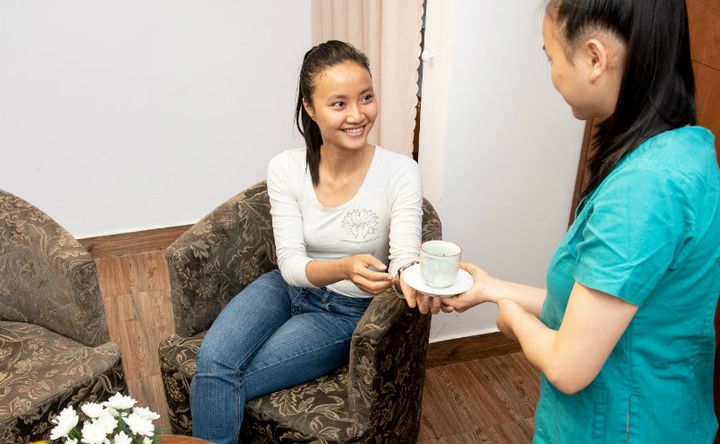 Amenities
Free Wifi
Towels
Yoga Studio
Menu Types
Vegan
Vegetarian
Ayurvedic
Organic
Gluten Free
Dairy Free
Nut Free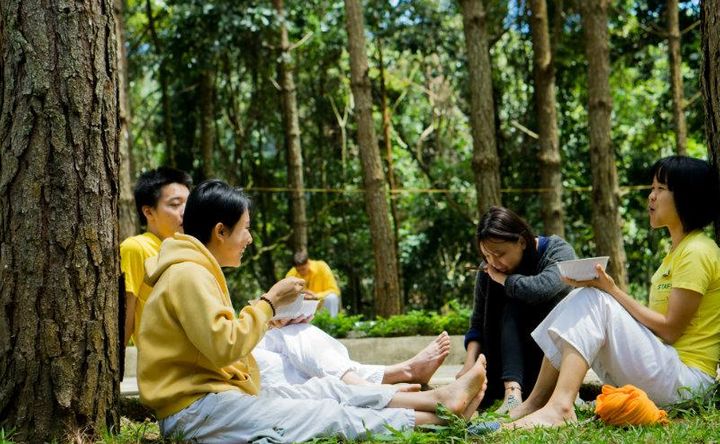 Menu/Cuisine
The Yoga Resort uses mostly organic, locally produced vegetables. Meals at the ashram are freshly prepared with love and care by dedicated karma yogis. Following Yoga tradition, meals are vegetarian, including a limited amount of dairy items. Eating a plant-based diet has been conclusively shown to be good for health and well-being, it is detoxifying and nutritive at the same time.
Meals are offered at 10:00 am and 6:00 pm, with a small fruit snack served in the afternoon. Additional snacks are available in the boutique if needed.
In the case that you have special dietary restrictions please mention on your application form and we will do our best to accommodate you.
Please note that meat, fish, alcohol, tobacco, coffee, black tea, and eggs are not served in the Yoga Resort. We ask guests not to bring these items onto the Yoga Resort property.
Directions
By air
Dalat Lien Khuong airport, 45 minutes drive
from the Yoga Resort, is served by daily flights
from major cities in Vietnam. International
travelers are advised to fly to Ho Chi Minh
City, from where there are many connecting
flights to Dalat. Pick up from Dalat Lien
Khuong airport by a local taxi company can
be arranged.
By road
Dalat is 300 km from Ho Chi Minh, 660km
from Da Nang, 135km (3 hour drive) from Nha Trang/Cam Ranh, the closest beach town.
---
Cancellation Policy
100% deposit refund for cancellation 30+ days before event.
50% deposit refund for cancellation 15-29 days before event.
0% deposit refund for cancellation 0-14 days before event.
The remaining balance (total price minus deposit) is due upon arrival.
Get full details...
Reviews To review this event, visit the page for the venue or retreat leaders (above).
Similar Retreats You Might Like

Thank you!
We're glad you've joined our retreat community. See you around :)
Return to my event
×