Iconic India – 8 Day Rajasthan Boutique Tour & Yoga Escape
Akasha Wellness Retreat

Mar 16 - 23, 2019 (8 days)

€1,794.00 - Twin Room sharing - 7 nights Tour & Yoga Escape €2,490.00 - Private Double Room for 1 Person - 7 nights Tour & Yoga Escape €3,490.00 - Private Double Room for 2 People - 7 nights Tour & Yoga Escape
About us
An Akasha curated experience in Rajasthan, India
Boutique Tour & Yoga Escape following the footsteps of the Maharajas.
7 Night Tour, Mar 16  – Mar 23,  2019
8 Days, 4 destinations – Udaipur > Narlai > Jodhpur > Nagaur
When you think of India, you immediately think of all the colours, spices & vibrant sounds of Indian culture. Yet very few people get to experience it in it's purest form. We go to the heart of India, the crown jewel of this magical land we've fallen in love with. A tour that combines some of the most iconic Rajasthani destinations, yoga & wellbeing, fine dining & a deep insight into India's culture, history & people.
---
The heart of Rajasthan
Expect Rajasthan's fairy-tale like palaces, epic forts & colourful festivals.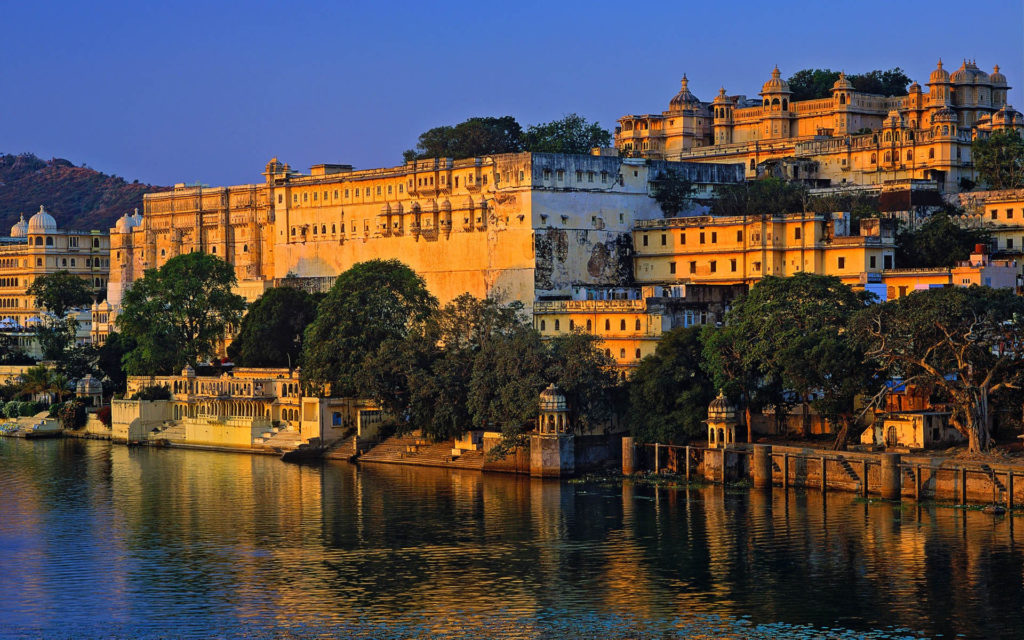 Capturing the essence of India's royal heritage, this retreat will bring to life an old world of princes and princesses while enjoying the comfort and luxuries of now.
---
Early Bird Price for 7 nights all inclusive
 Twin Sharing Room- €1395 / €1744 from June 1st
Private Room for 1 person – €1824 /€2280 from June 1st
Private Room  for 2 people- €2324 / €2780 from June 1st
€400 deposit to book remaining balance by Nov 1st 2018. Single supplement applies. Group size 10-12 people.
Included on your tour:
Pick up from Udaipur airport on arrival day 16 Mar, Drop off in Jodhpur city on departure day 23 Mar
7 nights luxury boutique accommodation with breakfast & set menu experience dinners at some of the most iconic Rajasthani Palace hotels.
Twice daily guided Yoga classes at sunrise & sunset in breathtaking locations, breathing & meditations, creative journaling, intention setting & manifesting exercises.
Transport to, entrance fees & guided tour of Udaipur City Palace, Udaipur Old town, Ranakpur Temple, Guided Village walk in Narlai,  Jodhpur Mehrangarh Fort, Jodhpur Stepwell Square, Guided walking tour of Jodhpur, Nagaur guided tour of Ahhichatragarh Fort.
Comfortable transport between locations by private 4×4 A/C vehicles.
An abundant amount of photo opportunities, culture & history immersion & above all lots of fun!
Not Included:
Lunch is not provided for the duration of the trip however a range of options will be available.
City transport such as tuk tuk/ taxi's.
Drinks with dinner although these are optional and available.
Flights to India or to Udaipur/ from Jodhpur.
Spa treatments although available at each location.
Optional:
Full Day Visit Agra – Taj Mahal before / after the tour from €155 / person
Experience the Rajput lifestyle in a luxury tented camp from €200 / person / night inclusive of dining & transport from Jodhpur / Nagaur.
Optional massages, treatments or experiences will also be given at each location we visit.
---
Royal Abode – Heritage Hotels of Rajasthan
For this fabulous retreat we selected a few very special places to stay, chosen with care to give you a true feel of the magic of Rajasthan.
Udaipur 2 nights  – Heritage Hotel Chunda Palace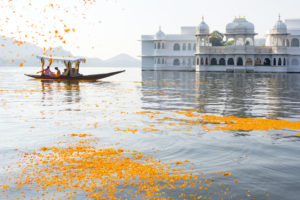 At every hotel you have the choice between a twin sharing room or a private room. Those all have en-suite bathrooms and the amenities one can expect from a high-end boutique hotel. Pools and spa facilities will be available as well.
---
Dining Experiences
No true sense of wellness without gastronomic treats to please your inner being. While abundant breakfast buffets will get you tastefully going in the mornings, in the evenings you will sit down for some delightful culinary experiences. Dinners at the signature restaurants of Jodhpur, a 4-course feast surrounded by thousands of oil lamps and accompanied by folk songs as well as a private candle lit dinners are sure to make up for the satisfaction of all senses. Some of our dining highlights:
Private candle-lit 4 course dinner in a 1100 year old stepwell with live music.
Dinner in Jodhpur with traditional langa singers and kaalbelia dancers.
Al fresco dining at Pal Haveli city centre in Jodhpur.
Fine dining at Pillars, Taj Umaid Bhawan Palace set in a lovely colonnaded veranda of the unapologetically opulent 5 star hotel and the principal residence of the Jodhpur royal family.
---
Yoga & Wellbeing
The tour is designed to maintain balance between sightseeing, culture, activities & experiences with the only constant amongst all these variables being our daily yoga practice. Classes are suitable for beginners or intermediates.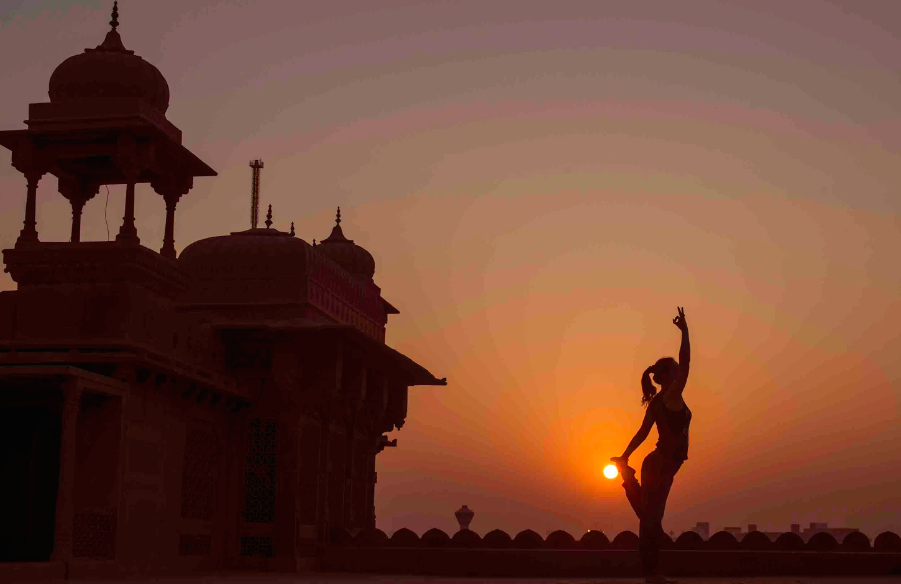 FIRST SESSION – 16 MAR PM
Introduction class, gentle slow flow & guided meditation – Opening Circle & Group Introduction
DAILY SESSIONS ON ALL FULL DAYS – 17 – 22 MAR
Morning Practice 90min – a mix of meditation & breathing to begin with, followed by vinyasa sequences working through the whole body and ending with a gentle guided savasana.
Evening Practice 60min – slow movement, restorative or Yin style practice ending with a gentle guided savasana or meditation.
LAST SESSION – 22 MAR PM
Partner assisted breathing & stretching, followed by a gentle slow vinyasa & guided savasana. Ending with our Closing circle.
Please bring your own practice mat as these will be unavailable to purchase in Rajasthan.
Spa & Treatments
In every location we will have an opportunity to enjoy relaxation by the pool, sunbathing & a range of treatments from Ayurvedic massages, scrubs, wraps and facials.
---
Yes, you do. However this is not an overly complicated process, a 60 day eVisa can be obtained easily online for most nationalities, the approval is instant. If you need a longer visa you will need to go to an Indian embassy and simply apply in person.
Getting there & away
BEFORE ( TOUR STARTS ON 16 MAR)
Frequent Flights to Delhi or Mumbai from most European destinations. Optional Visit to the Taj Mahal at Agra the night before ( 40min by express train).
TOUR START  – ARRIVAL ON 16 MAR AT UDAIPUR
Frequent daily flights with multiple operators from Delhi & Mumbai to Udaipur Airport. Transfer from airport to hotel included.
TOUR END – DEPARTURE 23 MAR FROM JODHPUR
We drop off everyone in central Jodhpur at mid day. If you are flying onwards please arrange flights in the afternoon / evening. Frequent daily flights from Jodhpur to Delhi or Mumbai.
AFTER (23 MAR ONWARDS)
Stay extra nights in Jodhpur or adventure further with a visit to Jaisalmer, Jaipur or Pushkar. Visit the Taj Mahal at Agra when you're in Delhi or adventure further into India, short trips to Goa or Kerala are recommended.
<a href="https://www.getdrip.com/forms/194431662/submissions/new" data-drip-show-form="194431662″>Show form</a>
Thank you!
We're glad you've joined our retreat community. See you around :)
Return to my event
×