Therigatha 'Verses of the Elder Nuns' Retreat
Spirit Rock
Jun 20 - 24, 2018

(4 days)

sliding scale, speak to venue for details
About us
This retreat has filled. Please submit an application if you are interested in being on the residential wait list or a commuter.
Date: Wednesday, June 20, 3:00pm – Sunday, June 24, 11:30am


Cost:

$150, plus a donation to the teachers and retreat staff. Code 368R18.
---
Retreat Description:

Prerequisite: Participants must have attended at least one 5-night residential retreat in Vipassana prior to this retreat.
PLEASE NOTE: Retreatants are required to keep 8 Precepts, or 7 Precepts if not taking the 6th Precept, for the entire length of this retreat. The 8 Precepts are listed at the bottom of this description. For those who choose not to keep the 6th Precept, a light supper will be available.
Renunciation is not a four letter word…
The Therigatha – Verses of the Elder Nuns – are inspired verses of liberation composed by nuns at the time of the Buddha and preserved in the Pali Canon. Together with the background stories of their former lives, these poems present a fascinating account of what motivated these women to leave their homes for a life of homelessness and dedicate their lives wholeheartedly to the Dharma. Women's voices are a rarity in Buddhist texts and these sound loud and clear through the ages to remind us of our spiritual commitment and that the path is still there to be walked.
Jetsunma will offer commentary and Ayya Anandabodhi & Ayya Santacitta will lead guided meditations enabling the meaning of these verses to penetrate more deeply into our life and practice.
THIS RETREAT IS OPEN TO ALL GENDERS.
The framework of the Precepts, Noble Silence, chanting and simple ceremonies will provide a monastic container to hold and inspire us during this retreat.
Spirit Rock offers this retreat on a dana basis. The word "dana" means generosity and simply translates into a heartfelt donation. At the end of the retreat, participants will be invited to offer dana donations in three categories: to support the retreat teachers, to support the retreat cooks and retreat managers, and to Spirit Rock so that we can continue to offer a yearly monastic retreat on a dana basis. (A retreat of this length would normally have a minimum price of $500.) We invite you to give what is appropriate for you.
Although there is no retreat fee, a $150 deposit is required to register for the retreat. Registrants who cancel within four weeks of the retreat start date will not receive a refund of their deposit. Registrants who attend the retreat may request a refund of the deposit after the retreat is over or apply it to one of the three dana categories above. You will be reminded at the end of the retreat of the options.
We hope that a dana approach will make our monastic retreats accessible to more people, and that a cycle of generosity and gratitude will contribute to the sustainability of this offering.
The Eight Precepts:

1. Not intentionally killing or harming any living creatures.

2. Not stealing, or concerning oneself with the possessions of others.

3. Not engaging in sexual activity of any kind.

4. Not lying or using speech harmfully. (On retreat this precept is usually observed as Noble Silence–keeping the silence unless there is a practical necessity to speak.)

5. Not taking intoxicating drink or drugs.

6. Not eating after mid-day. (Optional)*

7. Not seeking amusements or wearing special bodily adornment. (On retreat one dresses and acts in a modest and restrained manner.)

8. Not using sleep indulgently.
*For those who choose not to keep the 6th Precept, a light supper will be available.
Source: calendar.spiritrock.org
---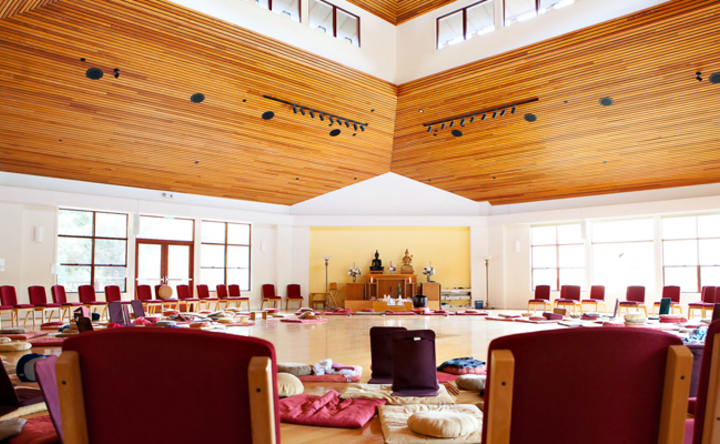 Venue Highlights
Spirit Rock's residential retreat accommodations offer comfort and simplicity. Located on 411 acres in rural west Marin, 30 miles north of San Francisco, we invite you to experience an ideal natural setting for reflection and contemplative practice, surrounded by gentle hills and expansive views.
Residential retreats are held in the upper area of the Spirit Rock campus with separate buildings for dining, meeting and sleeping. Most retreats are conducted in silence—and silence is honored by all in these buildings during a retreat. Although the buildings are a short walk from each other, there is a slope from the dining room to the residences and to the meditation hall. We have personal scooters available if the steep hill is a challenge.
Spirit Rock offers housing for 96 retreatants, teachers and the staff who support our retreats. No camping is allowed on the campus. Sleeping accommodations are housed in four, two-story residence halls, named for the Four Brahmaviharas (or Divine Abodes)—Metta, Karuna, Mudita and Upekkha. These simple, comfortable buildings house both single and double rooms. Room dividers are available for double rooms to allow for more privacy if desired. Each room has its own sink and mirror, electrical outlets, shelving and hangers for belongings, a nightstand, reading light and folding chair. Most rooms offer a pleasant view of the surrounding hills or forest.
---
Accommodations
The weather in northern California is temperate during most of the year, allowing for comfortable sleeping and meditation. During the winter, the residential housing is comfortably heated.
A pillow, blanket and bedspread are provided. You may bring a sleeping bag or your own bed linens for a twin-sized bed, a pillow case, and towel set, if convenient. For those travelling from afar or by airplane, linens (sheets and towel sets) are available onsite for you to borrrow during the retreat at no charge.
Bathroom facilities—including toilets and showers—are shared on each floor. There are individual stalls for privacy. Spirit Rock does not provide rooms with private bathrooms, although a private bathtub is available on the 1st floor of each building for those with special needs.
---
Directions
Getting Here Via Public Transportation
You would first need to get to the San Rafael Transit Center. From central San Rafael, take the West Marin Stage Coach to Woodacre in the San Geronimo Valley. Visit Marin Transit for their schedule or call 415-526-3239.
Getting Here from the Airports
Spirit Rock is accessible from both the Oakland and San Francisco International Airports. Please allow at least 2 hours to get from either airport to Spirit Rock. Please call the bus or taxi companies for up-to-date scheduling and price information.
Shuttle/Taxi option:
From the San Francisco airport (SFO), take the Marin Airporter. From the Oakland airport (OAK), take the Sonoma County Airport Express. Get off at the San Rafael Transit Center (3rd and Hetherton). From the San Rafael Transit Center, it is a 20- to 25-minute taxi ride to Spirit Rock (approx $25 - $30). The driver of the Airporter will often call a taxi for you during the drive. There are usually taxis waiting at the Transit Center (except between 7:30-9 am and 1:30-3 pm on weekdays).
For door-to-door service to Spirit Rock from either airport, you can try any of the following:
Marin Door to Door - (415) 457-2717
Western Eagle Shuttle - (415) 342-6444
North Bay Taxi - (415) 258-2800
Marin Green Cab - (415) 258-9980
Reviews
Write a review - tell others about your experience.
Thank you!
We're glad you've joined our retreat community. See you around :)
Return to my event
×