Reclamation of the Sacred
Spirit Rock
Oct 31 - Nov 7, 2018

(7 days)

sliding scale, speak to venue for details
About us
Date: Wednesday, October 31, 3:00pm – Wednesday, November 7, 11:30am

Cost: Sliding Scale $1760 – $800, plus a donation to the teacher(s) and retreat staff. Code 210R18.

Will open for registration on 6/27/2018
Through training attention, wise discernment and investigation, the Amata Dharma – undying Dharma – is intuitively known as the core matrix of pure consciousness within all that emerges and dissolves. Such knowing begins to transform our world, personally and collectively, enabling and strengthening an inner sense of freedom and confidence. The retreat includes devotional practice and qigong.
Spirit Rock extends a special invitation to young adults (age 18-26) who wish to attend this retreat at a rate of $35 per night, on a first come, first serve basis. A limited number of special rates are available, please apply early.
Source: calendar.spiritrock.org
---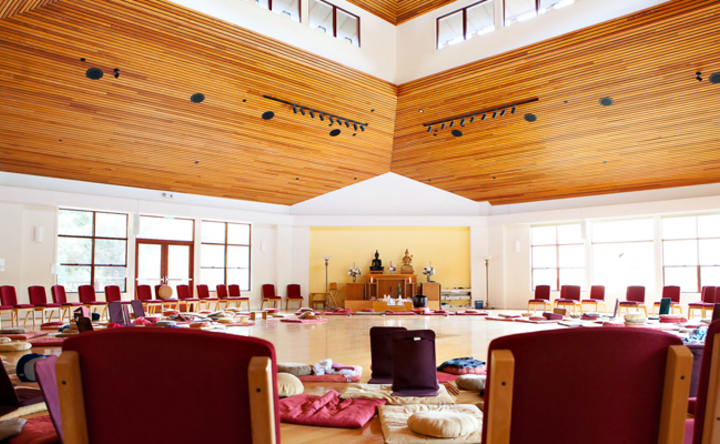 Venue Highlights
Spirit Rock's residential retreat accommodations offer comfort and simplicity. Located on 411 acres in rural west Marin, 30 miles north of San Francisco, we invite you to experience an ideal natural setting for reflection and contemplative practice, surrounded by gentle hills and expansive views.
Residential retreats are held in the upper area of the Spirit Rock campus with separate buildings for dining, meeting and sleeping. Most retreats are conducted in silence—and silence is honored by all in these buildings during a retreat. Although the buildings are a short walk from each other, there is a slope from the dining room to the residences and to the meditation hall. We have personal scooters available if the steep hill is a challenge.
Spirit Rock offers housing for 96 retreatants, teachers and the staff who support our retreats. No camping is allowed on the campus. Sleeping accommodations are housed in four, two-story residence halls, named for the Four Brahmaviharas (or Divine Abodes)—Metta, Karuna, Mudita and Upekkha. These simple, comfortable buildings house both single and double rooms. Room dividers are available for double rooms to allow for more privacy if desired. Each room has its own sink and mirror, electrical outlets, shelving and hangers for belongings, a nightstand, reading light and folding chair. Most rooms offer a pleasant view of the surrounding hills or forest.
---
Accommodations
The weather in northern California is temperate during most of the year, allowing for comfortable sleeping and meditation. During the winter, the residential housing is comfortably heated.
A pillow, blanket and bedspread are provided. You may bring a sleeping bag or your own bed linens for a twin-sized bed, a pillow case, and towel set, if convenient. For those travelling from afar or by airplane, linens (sheets and towel sets) are available onsite for you to borrrow during the retreat at no charge.
Bathroom facilities—including toilets and showers—are shared on each floor. There are individual stalls for privacy. Spirit Rock does not provide rooms with private bathrooms, although a private bathtub is available on the 1st floor of each building for those with special needs.
---
Directions
Getting Here Via Public Transportation
You would first need to get to the San Rafael Transit Center. From central San Rafael, take the West Marin Stage Coach to Woodacre in the San Geronimo Valley. Visit Marin Transit for their schedule or call 415-526-3239.
Getting Here from the Airports
Spirit Rock is accessible from both the Oakland and San Francisco International Airports. Please allow at least 2 hours to get from either airport to Spirit Rock. Please call the bus or taxi companies for up-to-date scheduling and price information.
Shuttle/Taxi option:
From the San Francisco airport (SFO), take the Marin Airporter. From the Oakland airport (OAK), take the Sonoma County Airport Express. Get off at the San Rafael Transit Center (3rd and Hetherton). From the San Rafael Transit Center, it is a 20- to 25-minute taxi ride to Spirit Rock (approx $25 - $30). The driver of the Airporter will often call a taxi for you during the drive. There are usually taxis waiting at the Transit Center (except between 7:30-9 am and 1:30-3 pm on weekdays).
For door-to-door service to Spirit Rock from either airport, you can try any of the following:
Marin Door to Door - (415) 457-2717
Western Eagle Shuttle - (415) 342-6444
North Bay Taxi - (415) 258-2800
Marin Green Cab - (415) 258-9980
Thank you!
We're glad you've joined our retreat community. See you around :)
Return to my event
×