Loving Awareness Retreat
About us
Embark on a one-of-a-kind journey into the contemplative, scientific, and healing dimensions of mindfulness with a team of meditation luminaries. Joining renowned meditation teacher Jack Kornfield are his close friends and colleagues Drs. Dan Siegel, Trudy Goodman, Shauna Shapiro, and Teja Bell. Dr. Kornfield is a trained clinical psychologist as well as leader in bringing mindfulness to the West. Dan Siegel is a clinical professor of psychiatry and founding co-director of the Mindful Awareness Research Center at UCLA. Trudy Goodman is founding teacher of Insight LA and expertly weaves together vipassana meditation and developmental psychology. Shauna Shapiro is a professor of psychology whose expansive body of scientific work focuses on mindfulness as a key to health and well-being. Teja Bell is an accomplished martial artist, teacher of the energy arts, and recognized Rinzai Zen Master and lineage Dharma teacher. Teja will be teaching qigong during the retreat.
Together, the leaders will explore the theoretical and experiential realms of inner transformation. This retreat offers a unique blend of deep meditative practice, discussion of scientific research, story, metaphor, and a day of property-wide silent practice to help the teachings integrate more deeply into our lived experience. Together, these stellar facilitators will help you cultivate greater compassion and wisdom to enhance your capacity to live life with dignity and grace. You will learn how to work with and transform difficult emotions, feelings, and thoughts, and build the capacity to stay calm, focused, and balanced regardless of external circumstances. You will also learn how to bring awareness into your relationships in order to improve the quality of interactions in all spheres. Most importantly, you will discover how to tap into a limitless source of loving awareness through which the self can be nourished and healed. This process opens up the possibility to more deeply nourish and heal others. Come explore the potential to transform our individual and collective lives.
Recommended reading: Shapiro and Carlson, The Art and Science of Mindfulness; Kornfield, No Time Like the Present: Finding Freedom, Love and Joy Right Where You Are; Siegel, Mind: A Journey to the Heart of Being Human.
Source: www.esalen.org
---
Venue Highlights
The Waters: Water flows at the heart of Esalen. Three water sources converge here to form a trinity of creation, renewal, and destruction, harkening back to our own ancient origins. According to Chinese medicine and other traditions, the human emotional body is held by the water element. Perhaps that is one reason why Esalen is a safe and powerfully healing place to look within.
The Land: There is the wonder of the place itself, 120 acres of fertile land carved out between mountain and ocean, blessed by a cascading canyon stream and hot mineral springs gushing out of a seaside cliff. There is the delicate and subtle Big Sur air of a late afternoon in May, the midnight mist of July, the drenching February rain. There are October nights so clear the Milky Way can light your walk along the darkened garden path. And always there is the sound of the sea.
The Bookstore: Adjoining the lodge at the heart of property, the Conley Bookstore is a cozy book nook with benefits. It's just the place to find the perfect book, gift, article of clothing, snack, or soundtrack to accompany your journey of self-discovery. In addition to books on topics ranging from Art to Zodiac, the store offers journals, postcards, prints, music, sundries, clothing, ceramics, and other carefully curated accoutrements to promote contemplation, relaxation, and joy.
Farm & Garden: For over forty years, the Esalen Farm and Garden has provided a holistic model of local food security and sustainability, growing organic food that sustains, heals and educates the community of people who live at and visit Esalen every year. The Esalen Farm and Garden exists in a landscape of constant transition and transformation. Our program reflects the Institute as a whole: we wear our dogmas lightly, we go with the flow, we experiment, and we constantly evolve in our practice.
The Art Center: Commonly known as the Art Barn, the Art Center is a two-storied structure with a covered patio on the ocean cliffs next to the Leonard Pavilion and the Farm. It has served as the residence for many artists over the years as well as being the birthplace for latent creativity and the source of many stories
---
Amenities
---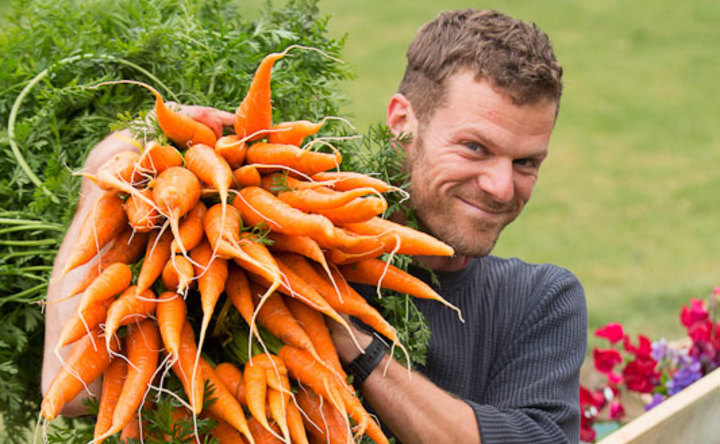 Menu/Cuisine
Whether after a rigorous workshop session or a long soak in the hot springs, a meal among friends in our lodge is surely one of the most nourishing and enlivening Esalen adventures.
The Esalen kitchen serves delicious, healthy meals to 250 to 350 people per day. This includes everyone from workshop participants and teachers to Esalen board members and staff. The kitchen team crafts each meal with mindfulness and care, featuring produce and herbs from the Esalen farm and garden.
Mealtimes
Breakfast: 8:30 - 9:45 am
Lunch: 12:30 - 1:45 pm
Dinner: 6:00 - 7:30 pm
Between Meals
Coffee, tea, house-made bread for toast, preserves, nut butters, and fresh fruit are available all day and night until 5AM.
Volunteering in the Kitchen
On-site guests are always welcome to volunteer in the kitchen, stop in and ask for the chef if you are interested in volunteering during your stay.
---
Accommodations
A variety of accommodation options is possible with workshop registration. Since some of these fill more quickly than others, it is advisable to sign up as early as possible. Please indicate your second choice for accommodations and workshop in case your initial choice is unavailable. We cannot guarantee specific room requests.
Standard Accommodations: This is shared housing that accommodates two or three persons per room, although couples or friends traveling together who book into standard accommodations will be housed privately. In some cases, bathrooms are shared. The rates listed for standard accommodations throughout the web site are per-person. (A private/single standard accommodation must be requested and may be available on a limited basis for an additional $150 per night).
Premium Rooms offer greater privacy, upgraded bathrooms (and occasionally outdoor clawfoot bathtubs), enhanced sound, climate insulation, and in-floor heating. You can request either ocean views or internet (ethernet cable), and we do our best to honor these requests, although not all rooms offer both. Prices listed throughout the website may reflect either single or double occupancy. Please call 888-837-2536 for details about premium room accommodations and availability.
Point Houses are private suites nestled behind the Esalen Garden and perched at the cliff's edge with stunning views of the Pacific Ocean. Each of the three Point Houses offers a living room with wood stove, a master bedroom, a sleeping loft, full kitchen and dining area, private redwood deck overlooking the Pacific with outdoor claw foot tub, Internet connections, and in-room telephone. Please call 888-837-2536 for details about Point House accommodations and availability.
Bunk Bed Rooms: Bunk beds are available for seminar participants who are willing to share a room with four to six persons of the same gender. Limited in number, these spaces are reserved on a first-come, first-served basis.
Off-site Accommodations: If you are staying outside Esalen, meals and unlimited use of the property's facilities are included while you are registered for your workshop.
Sleeping bags: Some of our meeting rooms are sometimes used as shared sleeping bag space and may be available for workshop participants with limited financial means. There is a 7-day limit on sleeping bag stays. Should you choose sleeping bag accommodations, you are responsible for bringing your own sleeping bag, blankets, pads, pillows, etc. Esalen provides towels and face cloths. Some rooms do not include a shower, though shower facilities are available at the baths. The meeting room is a public space where Esalen activities, scheduled and unscheduled, take place. Thus, the room is inaccessible between 9 am and 11 pm. Access to the room is not permitted while these activities are in process. Sleeping bag accommodations are coed, and several people may share a relatively small space. You may want to bring earplugs if you are a light sleeper or bothered by the sleep sounds of others.
All camping or sleeping on the grounds, either in tents, campers, or vehicles of any type is strictly prohibited. We do not have parking space to accommodate RVs.
Thank you!
We're glad you've joined our retreat community. See you around :)
Return to my event
×