"Quick, Healthy Cooking without Recipes" 2-Day, 2-Night Wellness Retreat, San Juan Island, Washington State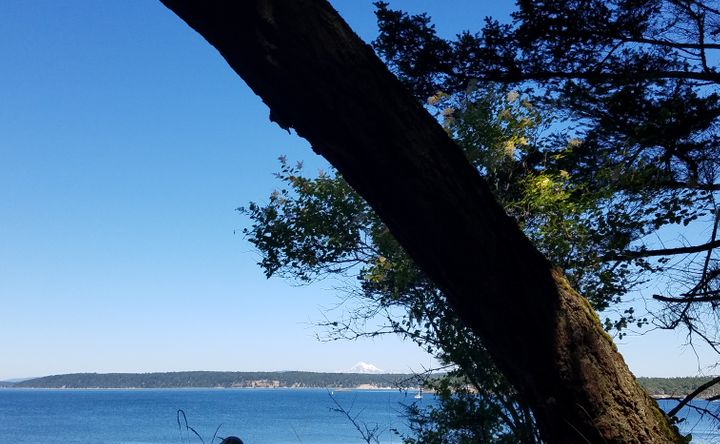 Event Highlights
PHASE ONE Before Your Retreat:
Custom crafted program to ensure we're cooking up the foods you enjoy
Full instructions for options in getting to this beautiful, remote island
List of what you'll need to have in your kitchen before you leave, so you can continue your new healthy habits when you get home.
PHASE TWO At Your Retreat:
Whole plant food based cooking lessons that can be adapted to most eating styles
Relaxation time
Simple yet nourishing meals and snacks from evening of arrival to morning of departure—the kind you'll learn to make on your own at home to ensure you're getting the best for your body
PHASE THREE: After Your Retreat:
Two e-books
Two Post Retreat mentoring sessions to remove any blocks where you may still be challenges
Self-guided reflection instructions prior to each session
Clear action steps to help you achieve success in your kitchen!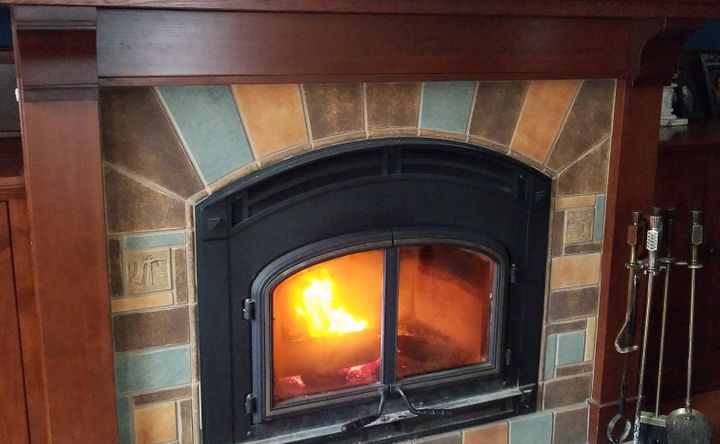 Schedule
This retreat is customized for you. In addition to the cooking instruction it can include:
Picnics (weather permitting)
Hanging out in front of the fire with a good book maybe
Relaxation or hiking time around the island's special spots
'Field Trip' to local grocery store to learn how to shop for healthy foods
IMPORTANT: This experience continues for one month after you leave the island, with 2 coaching sessions to help you integrate what you've learned during your retreat into your everyday life. You'll have full support in maintaining your new healthy cooking style during this transition phase. I believe in the people I work with. I want the results that you want, and when we work together, together we get results.
CLICK ON THE SEND AN EMAIL MESSAGE BUTTON. Let's schedule a free consultation to discover your essential building blocks to creating the lifestyle that you truly want, and make sure we're a great a fit to work together.
About This Event
Savor a fun, nourishing weekend on beautiful San Juan Island, Washington State in this informative program to embrace healthy cooking and eating habits.
In today's busy world, mealtimes can often be more of a hassle or burden than a time of enjoyment.
Maybe you find yourself spending money on take-out more than you want because you're always pressed for time. Or maybe you get home and stand in front of the open refrigerator door, stressing because you know you need to get a meal on table PDQ or you're just tired and you don't know what to do.
Perhaps you're eating unhealthy foods because they're just quicker and easier than trying to make something yourself. Or maybe your cooking skills consist of boiling water and microwaving and you'd like to move beyond that.
In this retreat solely for YOU (and a special friend or partner if you'd like), you'll learn the key skills to whip up nutritious, scrumptious meals in your own home. I'm talking the kind you need to get on the table in about the time it takes to order out food, pick up and bring home. You'll have control over what goes into your meals - no hidden ingredients, and you'll end up making much better food choices. Plus this give you that extra communal time with family.
I understand what it's like to have a steady diet of manufactured foods, take-out foods, and unhealthy meals. Once in awhile that's okay, but over time, this saps your energy; creates more inflammation in the body so more aches and pains; diminishes your focus and ability to manage stress; impairs sleep and your immune system, which sets you up for chronic illness. In short, it starts to make you feel old.
I would love to teach you a new way to approach meals, cooking in your own kitchen.
You'll learn:
What makes a meal 'healthy'
Fast cooking techniques to shave hours off the time it takes to prepare long-cooking ingredients
Techniques to plan and prepare meals ahead for healthy but quick, last-minute meals and maximize your success
Batch cooking
Freezing and re-heating techniques
The pain-free way to quick prep
Coaxing flavor out to enhance depth
'Mystery Box'
How to pull together soups, stir-fries, and one-dish meals in minutes utilizing whatever you have on hand
Quick breakfasts to power your brain and your day
Healthy desserts and snacks
Proven Grocery Shopping techniques—how and where to shop, and what to look for so you won't be seduced by marketing hype
Energy testing foods and supplements to determine exactly what your body wants and doesn't want, so you can avoid unknowingly taking in things that can sabotage your efforts to improve your immune system
This retreat will help you unleash your creativity in the kitchen without stressing over long lists of ingredients and recipes that never look like the pictures!
The instruction is whole plant food based and can be adapted to omnivore, vegetarian and vegan eating styles. All cooking skill-levels welcome.
We'll have lots of fun in the kitchen, but there's also built-in time to relax and enjoy the island. Not only will you come back home feeling fully empowered in the ktichen, you'll feel exhilarated as you embrace your new outlook.
PLUS THREE BONUSES:
My Quick Breakfasts to Power Your Brain and Your Day E-book
My Quick, Healthy Meals Idea Guide E-book
Two 50-minute mentoring sessions in the month following the retreat, to guide you through any roadblocks or challenges you may be facing. This way you'll have much great success in making your your skills a permanent part of your lifestyle.
"It's really wonderfully fun to come into someone's kitchen who cares so much about food and about helping other people learn about it, and just to see the variety of different things. I'm leaving with things I already know that I can cook and different ideas about snacks, and some ideas about how to make our tiny kitchen more effective. Also new fun things, new healthy things that we can add into our normal life. I also know about four different kinds of beans that I'd never heard of! Take this class if you want to learn about interesting beans.It was great! On top of all that, all the time-saving techniques, particularly the steamer to bring things back to life after they've been in the freezer. That was revelatory!"~ Megan C & Tim D
Venue Highlights
Located on quiet, secluded acreage with filtered lake view.
Gentle waterfall into pond in winter months offers soothing sounds.
Catch sight of resident deer dining around the property.
15 minute drive to town, beaches, forests, lagoons, trails, lighthouses.
One of America's Top 10 islands and tourist destinations.
Renowned for stunning natural scenery, wild orca whales, bald eagles, and abundant wildlife.
Experience the healing atmosphere of the island - it's like no other.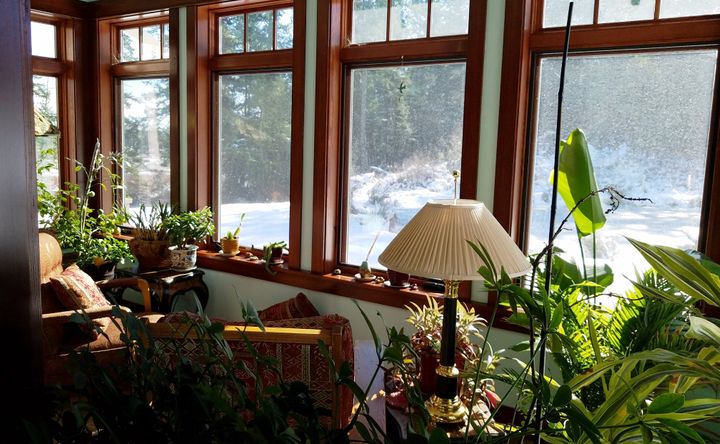 Accommodations
Large private guest room and bath in a lodge-style home
Double bed in room, but can be changed to 100% natural fiber queen on request (additional charge will apply)
Room for roll-away bed if needed.
Use of BioMat included in the room
Private bath with large walk-in shower and double sink vanity.
Towels, soap, lotions, shampoo, conditioner provided; toothpaste, mouthwash available if needed. All natural products
Views from bathroom and bedroom overlook the lake.
Plenty of cozy places in the home to rest and reflect
Wood-burning fireplace in the great room
IMPORTANT: This home and all paints, flooring, and carpeting, are low or no VOC; the home was built especially for those with chemical sensitivities. Bedding is natural fibers as well. This is a chemical-free, pet-free, smoke-free home. All products used in cleaning, laundry, personal sundries are comprised of natural sources, no added chemicals or chemical fragrances.
Amenities
Free Wifi
Towels
Free Parking
Kitchen
Tour Assistance
Coffee/Tea
Menu Types
Vegan
Vegetarian
Pescetarian
Organic
Gluten Free
Dairy Free
Nut Free
Menu/Cuisine
Meals are simple, delicious and satisfying - the kinds of meals you will learn how to prepare in your own home in about 30 minutes or less.
All meals are organic, vegan, whole plant based: no processed sugars, low natural sugars, whole grains, lots of fresh vegetables and legumes. Cooking lessons can be adapted to add seafood, poultry or animal products in your own home. Gluten free and special dietary needs easily accommodated.
Chemical Free
Preservative Free
Soy Free
Alcohol Free
Directions
Location is a 15 minute drive from Friday Harbor ferry landing and 10 minutes from Friday Harbor airport.
Taxis available if you do not bring a car (extra charge for taxi will apply)
This island is remote; Kenmore Air flies in via wheeled or float planes, about a 35-minute flight; there are shuttles from Seatac airport, about 2 hours to Anacortes, or rent a car so you have full mobility around the island. Then take a ferry to Friday Harbor, 1-hour passage. Detailed assistance with links to travel providers is available.
---
Cancellation Policy
100% deposit refund for cancellation 60+ days before event.
50% deposit refund for cancellation 30-59 days before event.
0% deposit refund for cancellation 0-29 days before event.
The remaining balance (total price minus deposit) is due upon arrival.
Get full details...
Reviews To review this event, visit the page for the venue or retreat leaders (above).
Similar Retreats You Might Like

Thank you!
We're glad you've joined our retreat community. See you around :)
Return to my event
×