Transformational Yoga & Ayurveda Holistic Teacher Training 200 Hours
Event Highlights
Become re-established in the elements of life
When we create right relationship with the elements within us and in nature, there is profound healing. Experience how to re-establish right relationship with the elements inside of us an outside of us through ancient practice, ceremony, yoga, breath, water, fire, sun, moon, ayurveda, space and earth. Nothing is separate from us. We are already connected to life, we simply need to remember our relationship to all things, through action, intention and the openness of receiving life.
Fire Ceremony - Agni
Sun Salutation - Sun
Moon Beach Walks - Soma & Water
Nature Gazing - Earth
Asana - Journey through the 5 Elements, Chakras, Vayus, Doshas and authentic practice
Chakra Meditation - Space & Subtle Elemental Practice
Prana Vayu Practices - Awareness of the functions of Prana and the Wind
Mantra and Mudra - Sound Healing (Air) and Sealing Energy (Fire of Transformation)
FULL CURRICULUM
HISTORY & PHILOSOPHY
Introduction to Yoga & Ayurveda
The Four Vedas
The Shad Dharshan: Understanding the Macrocosm and the Microcosm
The Samkya Philosophy & Involution of Consciousness: The Journey from the Doshas to Samadhi
The Four Ashrams of Vedic Life: Brahmacharya, Grihastha, Vanaprastha, Sannyasa
The Goals of Human Life: Purusartha - Dharma, Artha, Kama & Moksha
The 4 Karmas: Balancing Laws of Cause and Effect - Sanchita, Prarabdha, Kriyamana and Agami
Ashtanga - The Eight Limbs of Yoga and The Eight Limbs of Ayurveda
The Yamas and Niyamas
The Six Branches of Yoga: Hatha, Raja, Bhakti, Jnana, Karma, Tantra
The Bhagavad Gita & The Hatha Yoga Pradipika
YOGA ASANA
Principles of Warming Up & Centering
Warm Up Postures
Over 32 Asanas including: Balancing Poses, Seated Poses, Standing Poses, Forward Folding Poses, Back Bending Poses, Lateral Extension Poses,Twisting Poses and Inversions
Sun Salutations, PLUS Sun Salutes for the Doshas
Principles of Vinyasa Yoga (Breathing, Bandha, & Dristhi)
The Ayurvedic Approach to the Teaching and Practice of Yoga
Sequencing & Leading Yoga for Kapha Dosha
Sequencing & Leading Yoga for Pitta Dosha
Sequencing & Leading Yoga for Vata Dosha
Sequencing & Leading Yoga group classes based on the seasons and the Doshas
AYURVEDA
Introduction to the Tri-Dosha Theory: Dosha Prakruti and Vikruti
Introduction to the Tri-Guna Theory
Balancing the Doshas and Sensory Care
Dinacharaya and Ritucharaya – Daily Routines and Seasonal Routines
Introduction to Ayurveda Dietetics - The Six Tastes, Food & Consciousness
The Indriyas – The Senses, The Organs of Action and Cognition
Leading and Sequencing group classes for the Dosha Prakruti
PRANA & KRIYAS
Introduction to the 5 Pranas/Vayus: The Panch Prana Theory
Dirga Pranayama – The 3 Part Breath
Brastrika, Brahmari, Ujjayi
Nadi Shodhan, Surya Pranayam, Chandra Pranayam, Surya Bhedana, Chandra Bhedana
Shankhaprakshalana Kriya, Kapalbhati, Agni Sara Dhauti
MEDITATION
So Hum, Empty Bowl Meditation, Elemental Meditation, Chakra Meditation
Panch Prana Dharana, Nature Gazing, Jyoti Tratak, Fire Ceremony, Moon Meditation
MANTRA & MUDRA
Mantra to balance the Doshas
Mudras to Balance the Elements, Vayus and the Doshas
A-kara, U-kara, M-kara
SOUND & COLOR
Balancing the Elements and Doshas with Sound & Color
SUBTLE ANATOMY
The Three Bodies
The Pancha Kosha Theory
The Chakras, Kundalini, Ida & Pingala
The Panch Pranas (see section on Prana)
SUSTAINING ECOLOGY:
Business, Marketing & Ethics
The Industry: Opportunity, Challenges, Solutions
Dharma & Ahimsa: How to establish and create a conscious business environment
Living Your Practice
Establishing and Sustaining Relationships: Resources and conscious living
Business Planning & Marketing
PRACTICUM & FACILITATION SKILLS
Formal Practice Teaching
Refining your Teaching: Languaging, Guiding, & Transitioning
Assisting, Supporting, & Modifying Poses
Sequencing, Transitioning, & Sustaining Postures
How to Consult and Support
Leading Private Sessions
Theming & Cohesion
Preparing for final practicum
**Students have a series of assignments to complete during each section including class observations, written assignments, and practicums
*Final practicum will involve leading a class
This is a Yoga Alliance Certified 200 Hour Training
Instructors:
Nicole Mahabir
Nicole Mahabir is a certified International Yoga Therapist, certified Ayurveda Practitioner, Ayu-Yoga Therapist and Energy Medicine Practitioner with over 3000 hours of study and teaching. She has lead professional certified courses in Ayurveda, Ayu-Yoga and Yoga Therapy for the past 15 years. She is also seasoned teacher of natural medicine, holding designations and extensive practice of Shamanic Healing Masters, Ayurveda Body Treatments and Ayurvedic Neurotherapy. When Mahabir isn't teaching or seeing clients, she is leading international professional programs and wellness retreats. Mahabir is a Senior Health and Wellness Contributor for CBC, drawing focus on yoga therapy, ayurveda and natural medicine.
Alvaro Esteban
Alvaro is an International mind-body practitioner, senior yoga instructor, musician and osteopath. His journey began as a child, through movement, breath and energy, during his study of martial arts. As a teenager, he then commenced the study of yoga, dance and somatic techniques. Alvaro's interest to learn more about the energetics and mechanics of the body, impassioned him to travel to International shores and study with masters of yoga and health. His expertise and skilled knowledge was then applied in various holistic healing centers, where he was able to empower others through teaching and applied yoga therapy. As a seasoned musician who leads group meditations and mantra practice, Alvaro maintains a multi-disciplinary approach, with continued study and teachings from various traditions under the guidance of accomplished masters.
Schedule
*Daily Schedule
6:30 - 9:30 Kriyas, Yoga, Pranayam and Meditation Practice
Breakfast
10:30-12:30 Ayurveda, Practice and Lecture
12:30-14:00 Lunch, Pool side relaxation
14:00- 15:00 Yoga Philosophy
15:00-18:30 Asana practical labs
18:30pm Dinner followed by free time
Once or twice a week there will be evening practices including yoga Nidra, Fire ceremony, Sound Healing and Kirtan
* Schedule may be subject to change
About This Event
Together Yoga, Ayurveda, and Meditation offer deep transformation and wisdom. Learn to teach practical yogic methods to support total health through the applied knowledge of ayurveda, yogic cleansing, digestion practices, nutrition, daily routines, seasonal routines and ayu-yoga integration practices of the mind, body, spirit, and senses.
Your guided instructors will ensure that you have a strong and clear background to teach and will take time to answer your questions with care and compassion.
We will bring over 20 years of experience and mastery in the science of Yoga, Ayurveda, Meditation and Yoga Therapy and share to our fullest capacity.
Imagine 22-days in the "Islands of the Gods" as you are guided into self-retreat, self-mastery and self-rejuvenation through the practice of Yoga & Ayurveda. Awaken your senses to the peace and serenity of pristine sandy beaches, lush jungle and warm ocean of beautiful Canggu, Bali. Return to the elements as you immerse yourself in one of the most revitalizing timeless experiences as you master the art of teaching.
Experience full facilitation and instruction to learn how to master your own voice, guide others in practice and return to your passion, through the principles and practices of self-healing and self-realization, Yoga and Ayurveda.
Learn to guide a complete holistic and integrative yoga practice including ayu-yoga asana, pranayama, kriyas, mudra, mantra and meditation for the DoshasDiscover how to create yoga classes based on the science of Ayurveda and tailor your classes to the season, the Ayurvedic constitution of each person, their age and life transitions.This Yoga Alliance Certified 200Hr Ayurveda Training, offers an authentic, integrative and comprehensive way for you to apply the wisdom and therapy of Ayurveda to daily life. As a Certified Instructor you will be able to:-Teach holistic classes that include Ayu-Yoga Asana, Pranayama, Mudras, Mantra and Meditation-Lead Yoga group classes based on the season, the person's Ayurvedic constitution and the stages of their life
-Create individualized Yoga programs with cleansing and rejuvenation
-Incorporate and understand how the season and time of day, are important considerations to class design and daily protocols
-Offer Ayurvedic lifestyle recommendations to bring balance and harmony to the body, mind and emotions
"THE COURSES WERE UNBELIEVABLE, ONE OF THE BEST TRAVEL EXPERIENCES I'VE EVER HAD. I AM SO HAPPY WITH THE DEPTH, THE WISDOM AND THE TRANSFORMATION. THERE AREN'T MANY COURSES OUT THERE LIKE THIS. I WOULD DEFINITELY STUDY WITH JAI AGAIN." Xenia Brenner
What's Included
Tuition, Manual, Certification
Course related events and activities
Accommodation
Breakfast & Lunch each class day
Coconuts, Water, Fruit Snacks, Tea & Coffee
Free Wifi
Air conditioning
Daily Housekeeping
What's Not Included
Flight
Ground transportation
Additional Events on days off
Travel Insurance
Dinner Meals
Laundry
Venue Highlights
Samadi Bali is located in the quiet and peaceful area of Canggu, a few minutes drive from Echo and Batu Bolong beaches, which host a variety of local and western restaurants and stylish boutiques to boot.​
LOCATION
45 minutes from the Ngurah Rai International Airport, also known as Denpasar International Airport.
20 min from Bali's tourist center Seminyak
60 min to center of arts and culture the city of Ubud
20 min from the famous Tanah Lot Temple
Accommodations
Our accommodation package includes 22-days and 21-nights.
All of the rooms have air-conditioning, free WIFI, private bathroom, mosquito nets over the beds and daily housekeeping.
Amenities
A/C in Rooms
Free Wifi
Spa
Pool
Towels
Free Parking
Kitchen
Tour Assistance
Coffee/Tea
Cafe
Restaurant
Yoga Studio
House Keeping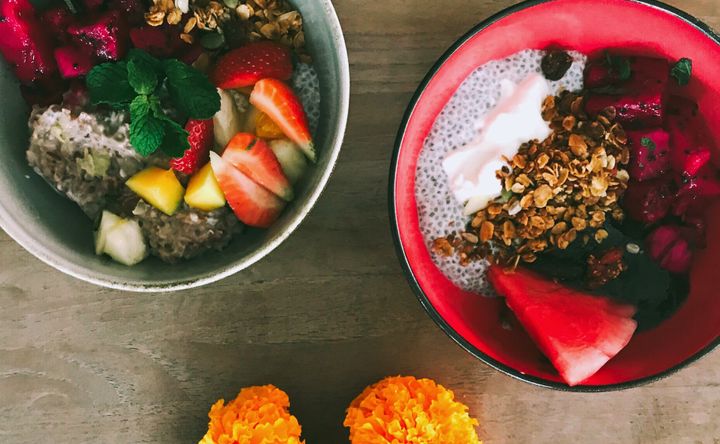 Menu Types
Vegan
Vegetarian
Ayurvedic
Gluten Free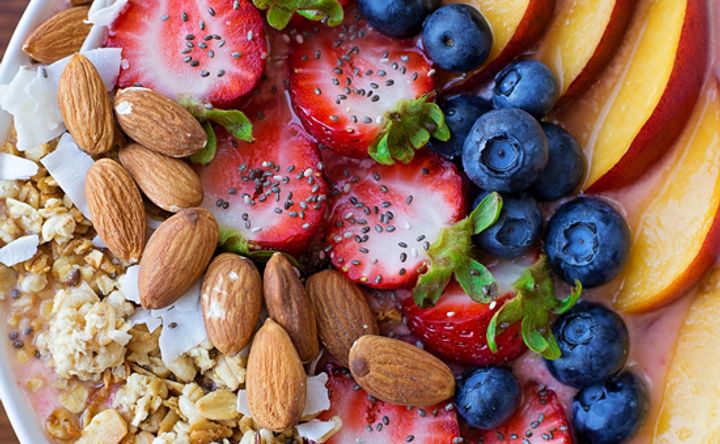 Menu/Cuisine
Food is medicine, consciousness, and health. Your retreat will include breakfast and lunch, with beverages of your choice, plus fresh fruit.
Enjoy the delicious delights of all natural, vegetarian meals with raw and cooked selections, gluten-free options and an epic salad bar - there are abundant options to choose from.
An array of Indonesian, Indian, European and American dishes are served each day to suit your tastes. Fresh juices, herbal teas, and coconut water are also available throughout the day.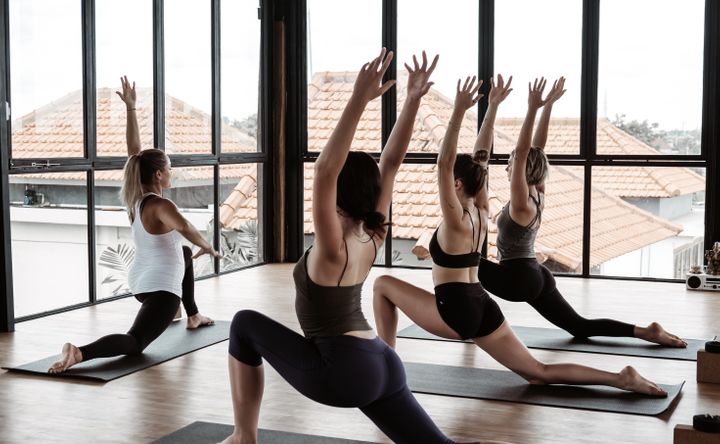 Directions
LOCATION
Samadi Bali
45 minutes from the Ngurah Rai International Airport, also known as Denpasar International Airport.
20 min from Bali's tourist center Seminyak
60 min to center of arts and culture the city of Ubud
20 min from the famous Tanah Lot Temple
---
Cancellation Policy
100% deposit refund for cancellation 60+ days before event.
50% deposit refund for cancellation 30-59 days before event.
0% deposit refund for cancellation 0-29 days before event.
The remaining balance (total price minus deposit) is due upon arrival.
Get full details...
Reviews To review this event, visit the page for the venue or retreat leaders (above).
Similar Retreats You Might Like

Thank you!
We're glad you've joined our retreat community. See you around :)
Return to my event
×