Ayahuasca Womens Retreat - Sacred Valley, Peru Oct 11th-21st 2018
About us
11 Day Women's Ayahuasca Retreat - Oct 11-21 2018
Come and retreat in the energies of the sacred feminine with a Shipiba maestra where the power of the jungle meets the tranquility of the mountains.
Experience 11 days of Ceremony in the beautiful Sacred Valley of Peru including:

5 Ayahuasca Ceremonies

Plant Cleanse

Yoga

Sacred Hikes

Integration Sharing Circles

Chaya Flower Blessing

Creation of Prayer Mandala
Closing Prayer Circle

Optional Plant Dieta with either Noya Rao or Bobinsana for those with previous experience (Dietas are offered at an additional cost of $150 USD.
11 Day Retreat Cost: $1850 USD
Sit in the circle of sisterhood and experience the healing capacity of plant wisdom, intimate community & powerful ceremony. Hosted at Las Chullpas, Urubamba in the Sacred Valley on lush land just a walk away from a beautiful creek and sacred sites. This retreat is only for those who are interested in doing deep healing work. With the support of skilled and experienced facilitators, and an Ayahuasca Maestra with over 30 years experience, this retreat offers a unique and special opportunity to step deep into your journey.
Learn more about Our Vision here: https://www.treeoflightretreats.com/our-vision
Please contact us via email treeoflightretreats@gmail.com. The first step in registering is to fill out the medical form under "booking". Please also send us an e-mail to let us know you have submitted your form.
We cannot accept your deposit until we've confirmed through dialogue your medical history, and any previous experience working with the medicine. Please be advised that anyone taking SSRI's or with a history of serious mental health issues will not be able to attend. We are committed to offering the highest quality care to those attending. We believe in the tremendous healing available through this work, but such issues should be addressed one on one. Thank you for your understanding. We look forward to hearing from you.
Fill out our Medical Form here: https://www.treeoflightretreats.com/medical-form
Shipiba Maestras
We work with two very trusted and respected Shipiba Maestras who travel from the jungles of Pucallpa, their native land, to join us in these sacred mountains for a deep healing journey. They are from the Mahua lineage and are carriers of a very sacred tree called Noya Rao, the tree of light.
The shipibo are a beautiful tribe of approximately 35,000 people located in the basin of the amazon jungle in Peru. They live in various different villages along the Ucayali River.
The Shipibo culture and their relationship with the plants are completely interwoven. Traditional Shipibo healers spend 15-20 years dieting and apprenticing with plant medicines. Spending at times years in isolation dieting different plants. During these diets, the healers receive healing songs from the plants called "ikaros". After many years of training they can help heal people by removing blockages and dark energies, by singing these medicine songs directly to people during an Ayahuasca ceremony.
Working alongside Ayahuasca and various other master plants, the spirits of the plants support the healers in their healing work. The pharmacopeia that exists in the jungle is an incredible resource that many shipibo healers have. These ceremonies can be a powerful catalyst for healing. The ceremonies will take place at night time in the dark. Our maestra will do individual work on each person during ceremonies. It is our commitment to the women attending, that we will hold a safe and supportive space throughout the retreat inside and outside of ceremony.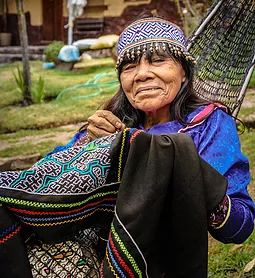 Facilitators:
Each retreat will be facilitated by 2 highly experienced and trained facilitators. It takes a special person to hold the space for this level of deep work with love and compassion. All of our facilitators have spent many years dedicating themselves to working with the plants and are walking a path of service to support the healing of others. Having the right support can make or break your experience with the medicine. A very high level of consideration goes into who we welcome onto our team as facilitators.
Meet our facilitators


Our Chef:
Our beautiful and loving chef Nancy Moya is a real master in the kitchen. Her passion for cooking is always present in her healthy and nourishing fusions of Peruvian and international dishes which she prepares specifically for our dietary needs. She takes great pride and care in making sure everyone feels supported with healthy local foods throughout your time with us. The food in our retreats is always a highlight for people and her masterful culinary skills make it easy and a real pleasure to follow the Ayahuasca dietary guidelines.
Our Location: Las Chullpas, Urubamba
We feel very blessed to host our retreats in the quiet, gentle, beautiful, and very comfortable energy of this retreat center. Each room has a fireplace, comfortable beds, warm down comforters, and hot water. There are beautiful hiking trails just out the front gate and we are sometimes blessed with visits from Chloe (the alpaca that lives on site). We bring the energy of the jungle to the mountains and have found it to be a powerful place to do deep work.
Ceremonies:
We feel very blessed to have the opportunity to work with our Maestras. Shipibo Ayahuasca ceremonies take place at night time in the dark. The medicine songs that are sung are called "icaros". During every ceremony people will receive individualized work from our Healer, as she sings directly to them. We believe and have witnessed in our own experiences that this level of care helps to remove blockages and allows for deep healing to take place.
Despacho - Haywayikuy Ceremony:
We open each retreat with a Despacho ceremony. When you arrive to someone's house, it is common to bring a gift or food as a warm offering of appreciation. This is the precise concept behind the Andean "despacho." A despacho is a traditional offering made of sweets, seeds, cotton, coca leaves, and sacred items wrapped into a gift and served to a ceremonial fire as a notion of gratitude to Earth and Spirit.
It is the vehicle by which we offer sustenance to the spiritual realms to strengthen our relations with them and empower their continued presence in our life. Within the despacho (called Haywayikuy in Quechua), the maestro and/or maestra prepare a small universe with a balance of feminine and masculine, Earth and Heaven, the elements, the stars, sacred animals, the 3 dimensions of existence, and 4 directions. In giving reverence and acknowledgment to the living nature of the world, we are offered the opportunity to put our prayers into the ceremony, and receive blessings for our life journey. These ceremonies are utilized in an endless number of ways- including happiness, work, family, projects, health, relationships, life
transitions, blessings, births and almost any given situation that one could benefit from. It is amazing to witness the reciprocity we receive when we offer our gifts to the Earth for her sustenance!
Schedule:
The first day we arrive at the center by lunch time. This day we will all settle in and make our Despacho Ceremony. On the morning of the 2nd we will begin with vomitivos (a Shipibo tradition to help clean and prepare the body for ceremony). There will be ceremonies on the 2nd, 3rd, 5th, 7th and 9th nights of the retreat. On ceremony days only breakfast and lunch will be served. There will be integration meetings to share our experiences, as well as one on one support from your facilitators whenever needed. We also offer yoga, breathing meditation, creation of a prayer mandala, a sacred geometry art class, and other supportive activities.
Deposit: There is a $750 non-refundable deposit to reserve your place.
Please review our cancellation policy: https://www.treeoflightretreats.com/cancellation-policy

Retreat:
We are excited that you are considering joining us for a retreat in the Sacred Valley of Peru. We believe in holding intimate retreats to create the space for deep healing. There will be between 12-14 participants.
Preparation:
It is our recommendation for 2 weeks before you arrive, that you begin to follow an Ayahuasca diet. The nature of this retreat is to do very deep work and beginning the diet is part of your preparation and commitment to your journey.
Decrease caffeine and sugar

No drugs or alcohol
(please let us know if you are taking any pharmaceutical medications)
No pork or red meat

No dairy

Decrease your salt intake

Eat a simple diet without spicy foods or anything heavily fried

No sex (if you are in a committed partnership, 5 days minimum of abstinence before the retreat)

No fermented foods

Stop all herbal and natural supplements (please email us if you have specific questions).
What to bring:
The sun can be quite strong during the day and the nights are cold, so bring clothes for both temperatures:
Sunscreen

Chapstick

Body butter or lotion

We recommend you travel with Vitamin C and Probitoics

Comfortable non-restrictive clothing for ceremonies

Layers are really important here. Please bring at least one big warm jacket

Sun hat for the day, warm beanie for the nights

A head-lamp with an option for RED light setting (very important for ceremony)

Water bottle

Lighter

Yoga Mat. We have some available at the retreat center but if you have one to travel with that would be great. We would also be grateful to accept mat donations so we can have a complete set for future retreats.

Tea mug thermos

Journal

Spiritual/educational books to read

Comfortable shoes for hiking if you want to explore the mountains

There is a laundry service available for 10 soles per kilo.

Extra money: at the end our maestra will have traditional Shipibo crafts & beautiful hand-woven tapestries to sell.

100-150 soles gratuity to be divided amongst the beautiful people that lovingly take care of you everyday during the retreat.
Please feel free to contact us for more details:
treeoflightretreats@gmail.com
Carolina: +51 946 800 061

Transportation:
There will be a 11am pick up in Pisac on the first day of the retreat. We recommend arriving at least 1 night prior. We are happy to book you a hotel room at our meeting place Hospedaje Chaska Pisac. The room rates are 85 soles for a single room and 120 for a double room at our group discounted rate. It will take about 1 hour to arrive at Las Chullpas. On the last day you will be transported back to Pisac arriving around 12:30am. Cost of transportation is included in the price.
Reviews
Write a review - tell others about your experience.
Thank you!
We're glad you've joined our retreat community. See you around :)
Return to my event
×