Somatic Retrieval: Tools for a Vibrant Life With Valerie Kausen & Pamela Hotchkiss
About us
THE RETREAT
Our lives are made of stories, experiences that impacted our bodies. Some stay deep in us waiting for the space and place to resolve. Most of us weren't given tools to allow the body its natural expression and resolution. For example, we are taught that shaking is a sign of weakness rather than an innate mechanism to release these small and large stories we live through.

During this week-long retreat you will learn a powerful set of tools that may be used daily or when the body needs to heal an incident naturally. You will also be guided through your own somatic territory to re-educate and assist the body's emerging health and well-being with simple movements for integration.

Somatic Retrieval, Mindful Motion, Tension and Trauma Release (TRE) are tools to support your vibrant life from the inside out. They give the body the gift of direct paths to unravel and inspire strength, healing and simplicity.

You will leave with the tools to use in your life.

We will have plenty of space for enjoying nature and being in our bodies in a new way. The gorgeous setting along with all technological amenities on property afford the kind of playground where our bodies can wake up to the vitality that is ours just by the fact of being alive.
About Pamela & Valerie: inspired-retreats.com/bio-valerie-pamela
BEST HOSPITALITY EVER! All of the hosts and staff were gracious and charming. Molly
---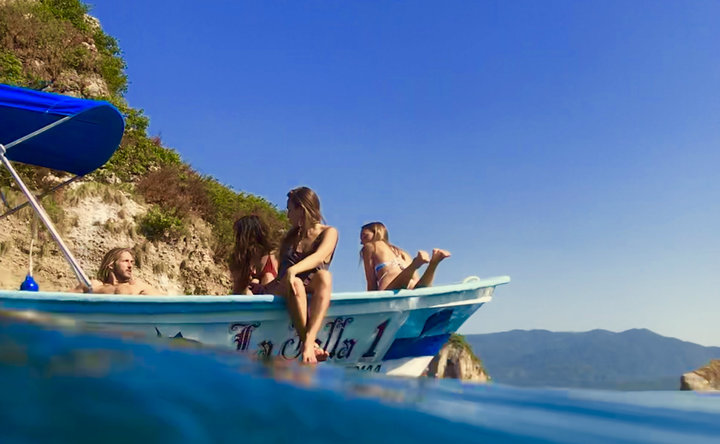 Event Highlights
Eight days at our luxury beachfront villa
Staff: cook, maid, concierge and tour guide
Use of all amenities - hyperbaric oxygen chamber, infra red sauna, bio-mat, meditation space, yoga props, pool, tennis court, surf boards for the surf beach right outside
Daily classes with Valerie & Pamela
Three delicious paleo meals daily + snacks (we can accommodate dietary requirements)
Trip to the hippy surf town of Sayulita to see the Day of the Dead celebrations
Boat tour of Banderas Bay
---
Venue Highlights
The retreat takes place in a secluded luxury villa located in the exclusive neighborhood of Punta Mita on the Pacific Coast of Mexico. Punta Mita is an hour from Puerto Vallarta and 20 minutes from the hippy-surf town Sayulita. The villa is in a very safe area on a private development with 24 hour security. The site is surrounded by multi-million dollar mansions and exclusive resorts. You will enjoy ocean views, a surf beach just steps away, 2 acre tropical gardens and use of the following amenities:
-Infra-red sauna
-Hyperbaric oxygen chamber
-Vibration plate
-Biomat
-Tennis court
-Swimming pool
-Surf/boogie boards (there's a surf break right outside)
-Meditation space
-Yoga props
Spa services and nutrient IV's/shots are available for an additional charge.
---
Amenities
Air Conditioning in Rooms
Free Wifi
Sauna
Pool
Towels
Free Parking
Kitchen
Tour Assistance
Coffee/Tea
Restaurant
House-Keeping
---
Schedule
A SAMPLE DAY
7:00 am silent meditation and movement
8:00 am breakfast
9:00 am teaching module
10:30 am free time to enjoy the beach and amenities or set up a spa service
Noon lunch
1:00 pm free time to enjoy the beach and amenities or set up a spa service
4pm teaching module
6pm dinner
7:30 integration and movement
The itinerary includes:
A trip to the hippy surf town of Sayulita to see the Day of the Dead celebrations
A boat tour of Banderas Bay
---
Menu Types
Vegan
Vegetarian
Pescetarian
Includes Meat
Gluten Free
Dairy Free
Nut Free
---
Menu/Cuisine
Saturday
Dinner: Plantain tamales | chicken tinga | poblano pepper | tomatillo sauce | avocado salad
Lime tart with caramelized coconut
Sunday
Breakfast: Green smoothie bowl | poached eggs | avocado toast | breakfast bars
Lunch: Coconut curry | chicken | thai spices | bone broth | sesame | yam | lime | cilantro | jicama | white or cauliflower rice
Dinner: Salmon | beets | pesto | asparagus | watercress salad | pecans | lemon vinaigrette
Chocolate fondant with salted caramel ice cream
Monday
Breakfast: Berry smoothie bowl | fritata | rosemary mushrooms | coconut lime pancakes
Lunch: Plantain tacos al pastor | grilled pineapple | avocado radish salad | pistachio
Dinner: Provence beef stew | roasted leeks | rosemary | carrot | baby spinach salad
Carrot cake
Tuesday
Breakfast: Super green juice | scrambled egg | sausages del rancho | roasted tomatoes | no-oat oatmeal
Lunch: Goodness bowl | chicken | ginger tahini marinade | red cabbage | carrots | broccoli | lime | black sesame | roasted zucchini rolls | cauliflower with turmeric | avocado | pomegranate | (rice)
Dinner: Almond crusted cod | grilled cactus leaves | cilantro pesto | pea puree | cucumber | zucchini
Berry & apple crumble with lavender and honey ice cream
Wednesday
Breakfast: Acai bowl | steak & eggs | granola | coconut milk
Lunch: Ceviche | fish | octopus | shrimp | avocado | carrot | cilantro | lime | plantain tostadas
Dinner: PV burger | beef | ranch mayo | tomato | lettuce | smashed avocado | baked yam fries
Chocolate hazelnut torte
Thursday
Breakfast: Golden coconut milk | zucchini casserole | banana muffins
Lunch: Salmon fishcake | greek salad | cucumber | tomato | olives | capers | garlic aioli
Dinner: Chicken asado | pumpkin puree | fajita vegetables | tomato salsa
Strawberry & almond galette
Friday
Breakfast: Vital greens juice | sweet potato hash | macaroons
Lunch: Poke bowl | white fish | chipotle mayo | spinach | sprouts | jicama | carrot | cilantro | mango | avocado | (white rice)
Dinner: Pizza party | jumbo salad
Blueberry cashew cheesecake
Saturday
Breakfast: Green smoothie bowl | shakshuka | chia pudding parfait
Snacks: deviled eggs, zucchini hummus, jello pots, flax crackers, fresh fruit, yam bites, energy bars, bone-broth shots.
---
Accommodations
All rooms are equipped with:
en-suite bathrooms
patio or deck
ocean and/or garden views
ceiling fans
air conditioning
daily maid-service
Rooms are allocated on a first-come-first-served basis.
---
Directions
The nearest airport is Puerto Vallarta International Airport (PVR). There are direct flights from most large US and Canadian cities. We can arrange round-trip scheduled airport transfers for $35/person or private transfers for $85 round-trip.
Thank you!
We're glad you've joined our retreat community. See you around :)
Return to my event
×