Santa Cruz Mountains: Annual Dzogchen Retreat
Ngakpa International

Aug 14 - 19, 2018 (6 days)

$695.00 - Tuition (Meals and Lodging charged separately)
About us
Join Pema Khandro Rinpoche for a five-day meditation retreat in the redwood forest. This retreat is an immersion in restorative practices to awaken peaceful stability to mind and body, heighten clarity and open the gateways to intrinsic wisdom.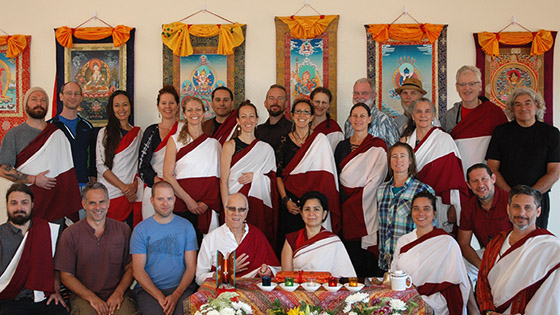 The Meditation Retreat will be held at Mount Madonna Retreat Center, in the Santa Cruz Mountains of Northern California. This area is appreciated for its profound beauty. The filtered sunlight of the redwood forest overlooking ocean views offers a scenic repose away from the hustle bustle of city life. The cabins, campsites, and decks make retreat life simple but comfortable.
---
Frequently Asked Questions
Q: Do I have to be a Buddhist to attend this retreat? A: No, this retreat is open to anyone.
Q: Does this retreat require prerequisites? A: New students are welcome to attend this retreat without previous training.
Q: Does this retreat require silence? A: This is not a silent retreat. There are a mixture of periods of silence and periods of socializing. Vajrayana Buddhism tends to offer dynamic settings, however there will be an emphasis on simple meditation in this retreat. There is also a period of chanting meditation and some lectures on Buddhist philosophy.
Q: Is Dzogchen meditation secret? A: The most advanced cycles of Dzogchen meditation are restricted practices. However there are a wealth of practices done in the preliminary and intermediary stages, as well as practices common to both advanced and beginning levels. Additionally there are many approaches to Dzogchen in Tibetan Buddhism. Historically speaking, different Tibetan lineages approach particular Dzogchen meditation practices at different times. Some are done only after 'ngondro' the extensive preliminary meditation series for training the mind in Vajrayana. Some are done before preliminaries and others interspersed with preliminaries This retreat offers a series of particular meditation techniques known as 'holding the mind.' They are practiced before, during and after preliminaries because they are the main part of the path from the beginning to end in Tibet's Nyingma lineage's contemplative tradition. These particular practices are only taught in retreat settings because they require a deeper introduction.
Q: What kind of lodging is available? A: Single rooms, dorms, and camping are available. Lodging is limited and available only on a first come, first serve basis. Commuter rates are also available but we ask that commuters attend the full daily schedule from either 7am to 9pm or 10am to 9pm depending on which day – in order to help keep the momentum and energy of the group practice stable.
Q: What other activities are offered at the retreat? A: All program participants are welcome to enjoy all parts of the land and center, including hiking trails, hot tub, practice spaces, and freshly prepared vegetarian meals.
Q: What diets will be accommodated at the retreat? A: The meals are all vegetarian. Non-gluten and non-dairy options are available at every meal.
Q: What should I bring to the retreat? A: Notebook, paper, sunscreen, sunhat, sunglasses, bathing suit if you want to swim in the lotus pond, hiking shoes, comfortable clothes for sitting meditation and yoga, non-toxic bug spray, one nice outfit to dress up for the Tsok on Saturday night. If you are camping, bring your camping gear.
Q: What is the weather like? A: Prepare for heat or cold, the mountains can be unpredictable. It is likely to be quite hot.
Q: Is there anything I should not bring? A: Please, no food, drugs, alcohol, pets, incense, candles or other flammables. Mount Madonna Retreat Center requests us to not wear strongly scented body products, as these cause severe toxic reactions in some people.
Q: Is there financial aid or scholarships available? A: The costs of the retreat are set at the lowest possible rates to cover the expenses of the retreat. Membership discounts are available – see below. Additionally, two financial assistance rates are available by application. Email info@buddhistyogis.org
---
Tentative Schedule
*This is the approximate schedule based on last year's retreat. The daily schedule is approximate and subject to change.
Tuesday, August 14th
4:00pm  Arrival, registration and check-in at Seminar House
5:00pm  Dinner
7:00pm  Opening Ceremony
Wednesday through Saturday
7:00am     Optional Yoga Class
8:00am     Breakfast
10:00am   Class
12:30pm   Lunch and free time
3:30pm    Class
5:00pm    Dinner (5:30pm on Friday)
7:00pm    Class
Friday Evening
7pm Celebration
Saturday Evening
7pm Tsok
Sunday –  Last Day Schedule
8:00am    Breakfast
9:00am    Yoga and Meditation
10:00am  Pack out lodging
11:30am  Class
12:30pm  Lunch
1:30pm    Final Transmission and Closing Ceremony
3:00pm    Group Picture and Meetings
4:00pm    Departure
---
Member Discounts
*Membership discounts apply to Tuition Only
**Use your membership discount code at checkout.
10% discount  – Supporter Members
20% discount  – Mandala Holders
50% discount  – Snow Lion Members (with a 6-month commitment)
100% discount  – Sustainers and above (with a 3-month commitment)
Click Here to Learn More about Membership
Reviews
Write a review - tell others about your experience.
Thank you!
We're glad you've joined our retreat community. See you around :)
Return to my event
×