Transformational Breath® Level 4A: Scotland
Respiremos

Dec 14 - 21, 2018 (8 days)

INVESTMENT £1400 Level IVA Program £1300 Early Bird Discount Level IVA Program (paid in full by 1st October 2018) PLUS £400 Accommodation and Full Board (7 Nights)
About us
Transformational Breath® Level IV (Part A) Training with Eugenia Altamira. We are excited to bring the Transformational Breath® Foundation's Professional Facilitator Training Program to Kagyu Samye Ling Monastery, Scotland.
In this first part of the Transformational Breath® Certified Facilitator Training you will develop the skills to work with individual clients using body mapping, breath analysis and psycho-spiritual counselling. The course presents the finest skills and techniques to support your personal and professional development as you begin to share this powerful process with others. After experiencing the life-changing qualities of the Personal Seminar (Levels I, II & III), Level IV supports you to go deeper into your own process and strengthen your daily practice while integrating your understanding of Miracle Consciousness and your calling to share this work.
Level IV (Part A) focuses on facilitator skills and the experience required to become a professional in Transformational Breath®. The Certification Program provides in-depth personal tutoring and mentoring from Eugenia Altamira, Curriculum Coordinator for the Transformational Breath Foundation and International Senior Trainer.
The course includes a daily breathing exercise and a complete facilitated Transformational Breath® session. Transformational Breath® is a hands on technique and facilitation is learned through classroom based teaching, personal study and practice under the guidance of the training team.
This is a week of profound transformation and empowerment where you will be fully immersed in the deep knowledge needed to work with yourself and others using this powerful self-healing tool.
This training includes:
Knowledge, skills and application of Transformational Breath® on a professional level through practical exposure and with immediate feedback from our experienced team of facilitators and trainers.
Advanced breathing analysis techniques.
Enlightened coaching skills.
Expansion of intuitive capabilities.
Accelerated personal growth and evolution through the reflective process in a residential environment.
An international family network of breathers & facilitators.
A deeper commitment to Transformational Breath.
This training will be organised and supported by Senior Trainer Anne-Marie Birch and Trainer Pippa Wheble. The team work together to create an amazing environment of Miracle Consciousness where you can expand into the fullest potential of your Truth, Light and Intention.
Event Site Description: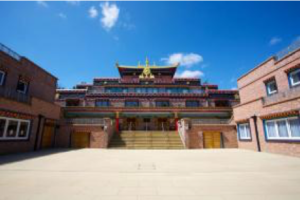 To protect life and refrain from killing.
To respect other's property and refrain from stealing.
To speak the truth and refrain from lying.
To embrace health and refrain from intoxicants.
To respect others and refrain from harmful sexual activity.
Prerequisite levels: Seminar (Levels 1-3)
---
Menu Types
Vegan
Vegetarian
Includes Meat
Organic
Gluten Free
Dairy Free
Nut Free
Reviews
Write a review - tell others about your experience.
Thank you!
We're glad you've joined our retreat community. See you around :)
Return to my event
×