The Jaguar Odyssey—14 days, Four Ayahuasca Ceremonies
About us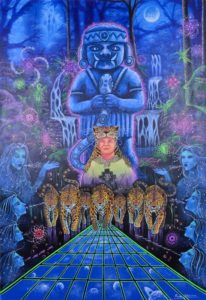 The Jaguar Odyssey is a full-on spiritual immersion in Dawn of Eden's modern-day resurrection of ancient shamanic arts. Participants experience four transformational Ayahuasca ceremonies facilitated by the Jaguar-Shamans in the unique-throughout-the-world Jaguar Temple of Transformation.
"Every ceremony is a divinely orchestrated dance with mystical agents of healing and transformation."  
  —Dan Reynolds, Jaguar-Shaman, Dawn of Eden
---
 Welcome to Dawn of Eden®: Gateway to the Gods
Humanity has entered a phenomenal new era in support of an entirely new culture and spiritual paradigm. We have arrived at the Dawn of Eden—the imminent coming of the so-called "Golden Age."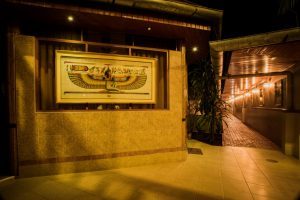 The Dawn of Eden® Project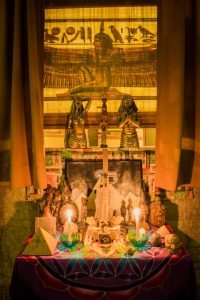 The temple's sanctified ceremonial space is infused with supernatural energies—the transcendent energies of the Egyptian deities. The miraculous power [and truly magical quality] of such energies provide a supreme catalyst for evolutionary change. Combined with Dawn of Eden's hallowed Ayahuasca, these ascendant energies provide the consummate opportunity to achieve deep cleansing, spiritual purification and personal growth.
The "Fast Track" and the "Holy Grail"
Ayahuasca, the revered"vine of the soul,"is an undeniable gift to humanity— a divine agent of transformation. It is the proverbial "FastTrack" for the advancement of human consciousness empowering one to achieve communion and alignment with the divine.
In a league apart, Dawn of Eden-Ayahuasca is prepared following a divine protocol [imparted by Horus] to achieve a holy alchemy. Dawn of Eden's hallowed brew—like the temple's sanctified ceremonial space—is infused with the supernatural energies of the Egyptian deities. Miraculous and magical in their nature, these heavenly energies add a celestial component—a supreme catalyst for evolutionary change. Consuming Dawn of Eden-Ayahuasca in the sanctified temple—in ceremonies with the Jaguar-Shamans—unveils the "Holy Grail" of spiritual transformation.
The Dawn of Eden® Facilitators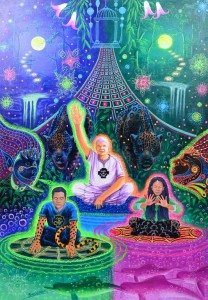 A sanctified coalition with the venerated gods and goddesses enables these accomplished shaman-facilitators to interface directly with high-order ascendant beings. The result is a holy undertaking—a deified human/spirit collaboration aided immeasurably by powerful metaphysical influences from heavenly realms. Every ceremony is a divinely orchestrated dance with mystical agents of healing and transformation.
The Jaguar-Shamans' Preparation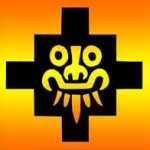 To prepare for their service in the long-awaited Dawn of Eden® Project, Dan and Denis relinquished their former lives. Their readiness required they accept arduous apprenticeships with the sacred medicine-plants, Ayahuasca and Huachuma.
Rigorous training, overseen by Horus and their jaguar-spirit mentors, resulted in the resurrection of rarely seen shamanic abilities—gifts bestowed in past lives [including Egyptian]. As Jaguar-Shamans—between-world mediators of a high-order—they consider their anointed roles in the Egyptian-initiative to be the crowning glory of their spiritual lives.
Dan and Denis attribute all healing and transformation occurring in their ceremonies to the Egyptian deities, the spirit of Mother Ayahuasca, their jaguar-spirit collaborators and other divine beings in service to humanity.
We wish to be clear, Dawn of Eden is not a commercial organization nor are we connected in any way to what's popularly known as "Ayahuasca Tourism." The Egyptian deities, however, in keeping with their celestial initiative, planned to share the fruits of the Dawn of Eden Project with others. Consequently, to begin, three guest rooms (each with double occupancy) were constructed so others might benefit from our modern-day renewal of the ancient shamanic arts. A private room can be booked at a small upcharge for participants so inclined.
Future plans include added capacity. At present, we can comfortably accommodate small groups of up to six people. We enjoy engaging with smaller groups as this enhances the personal attention we can extend to each participant.
Food Services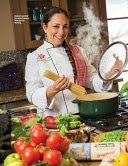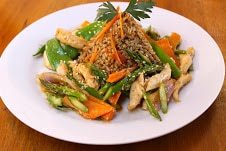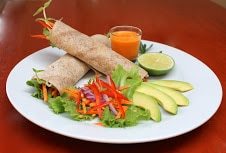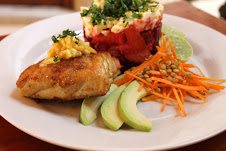 From food services and room amenities to enjoyable sight-seeing outings, considerable attention has been focused on making the Jaguar Odyssey the adventure of a lifetime for those seeking to deepen their connection to spirit.
Dawn of Eden's® transformational work is tailored to individuals who desire a greater alignment with their authentic-self and to those awakening to a higher purpose in service to humanity.
The deities are grateful to everyone following their evolutionary impulse; in whatever manner they feel guided. The rising tide of higher-consciousness floats all boats.
Dawn of Eden® is home to the Jaguar Temple of Transformation—unique throughout the world—consecrated by Egyptian gods and goddesses to accelerate the evolution of human consciousness.
---
Venue Highlights
- The shamanic center is 15 minutes from the city center.
- In case of any inconvenience we have the assistance of the Ana Sthal clinic
- We are members of the Chamber of Commerce of Loreto.
- We have all the amenities so that the experience is unique and beautiful.
- The rooms have air conditioning, hot and cold shower, wifi, cable TV.
---
Amenities
Air Conditioning in Rooms
Free Wifi
Towels
Kitchen
Restaurant
Fitness Center
---
Menu Types
---
Menu/Cuisine
Food Services
Certain foods should be avoided when consuming Ayahuasca. This is common knowledge. However, other than following generally accepted prohibitions, most shamanic centers pay minimal attention to the food being served.
At Dawn of Eden, we know the menu plays an important role in one's ceremonial work. For that reason, we arranged for Fernanda Guevara, an international "Holistic Chef" to come to Iquitos to develop our menu and train our cooking staff. Every meal is visually appealing and sensationally delicious and each has been tailored with local, "Ayahuasca-friendly" ingredients to provide optimum nutrition.
---
Accommodations
The rooms have air conditioning, own bathroom, in each bathroom there are small windows, mirror, individual towels, we have cold water and hot water, liquid soap for hands, soap for body, toilet paper, lavatory and toilet. Each room has two single beds, each bed has two drawers in the lower part, we also have a small closet, large vents with curtains.
---
Directions
The transit from the airport is easiest, faster and the most important thing is that using google maps you can find us.
Reviews
Write a review - tell others about your experience.
Thank you!
We're glad you've joined our retreat community. See you around :)
Return to my event
×