Custom Group Retreats
The Sentinel

Ongoing

King Room - $200.00 Queen Room - $165.00 Twin Shared Room - $200.00 Sentinel Camping - $35.00
About us
Welcome to The Sentinel, a boutique Retreat Centre specializing in unique and custom retreat experiences.
Let us host you for your leadership meetings, corporate retreats or development and training weekends.
Your Retreat – Our Job
Take a break from business as usual and let our team take care of your team.  Whether you are looking for a week of relaxation and adventure or want to engage in team building and coaching we have the tools to build a retreat tailored to your needs.
Opportunities & Experiences:
Hiking Trails (all levels welcome)
Mountain Biking
Kayaking Backcountry & Heli Skiing (Intermediate to Advanced)
Snowshoeing
River Rafting 
ZipLine Course
Craft Beer Tour
Naturalist Walk
Ainsworth Hot Springs
Need a leader or facilitator for your retreat?
We can assist you in arranging workshop leaders, speakers, activators and coaches in the areas of Team Building, High Performance, Creating a Culture, Branding, Conscious Businesses and more.
The Sentinel Accommodations & Offerings
9 Luxury Rooms 
Lodge & Dining Area
Woodfired Cedar Hot Tub
Cedar Sauna
Roundhouse Meeting Hall (40 ppl Max)
Sun Meeting Room (20 Max)
Yoga & Meditation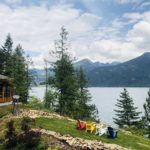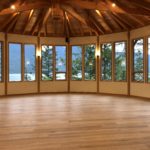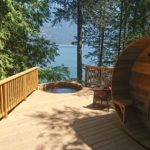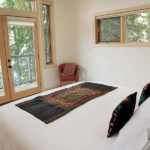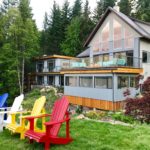 Luxury Accommodation in a Private Remote Setting
Expansive sundecks, terraces and a lakefront sitting area ensure you have ample space to enjoy this tranquil setting both as a group and during individual breakout sessions. Our timber frame roundhouse meeting hall with lake views provides a unique alternative to the boardroom for your team meetings.
Each room is immaculately appointed and have ensuite bathrooms with rain showers and heated floors for your comfort. Relax in your room and take in the sweeping views of Kootenay Lake and Mount Loki, a magical peak waiting for those who wish to climb its 9,000 ft. peak.
Cuisine
Each day professional chefs prepare creative and nutritious meals to meet the needs of your team. Our menu changes every day to incorporate ingredients from our organic garden, freshly baked bread as well as locally and consciously sourced products from the area.  We can easily accommodate your group's dietary restriction and craft a menu specifically for your group.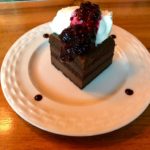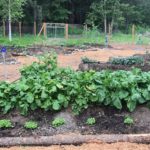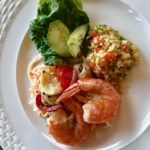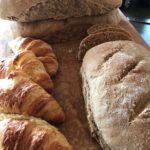 Travel Made Easy
Our remote and private setting amplifies the rejuvenating experience of being in nature. Getting here is part of the journey and we are here to make sure it is a rewarding experience.
Travel Options:
Charter Flight from Abbotsford to Kaslo (Pickup and drop off ground transport in Vancouver and Kaslo)

Commercial Flight from Vancouver Airport  to Castlegar Airport (Ground transport from Castlegar to The Sentinel)

8.5-hour Scenic Drive from Vancouver
Pricing

Due to the highly individualised nature of your stay with us retreat packages vary greatly. Costs depend on size of your group and your choice of daily engagements. Get in touch and we will be happy to give you a tailored quote.
The retreat centre is warm, the rooms are lovely, the food and staff was great and the setting was soothing.
---
Amenities
Free Wifi
Spa
Sauna
Towels
Free Parking
Kitchen
Hot Tub
Coffee/Tea
Cafe
Yoga Studio
---
Menu Types
Vegan
Vegetarian
Pescetarian
Ayurvedic
Includes Meat
Organic
Gluten Free
Dairy Free
Nut Free
---
Menu/Cuisine
We offer an array of colourful, nourishing and well-balanced meals lovingly made by professional chefs and consciously sourced from our organic, on-property garden.
FARM TO TABLE The Sentinel produces its own organic fruits and vegetables which are supplemented by local organic gardens.
The earth is our foundation for health – we know that the tomato on your plate was planted and nourished to its full potential by us.
LOCALLY SOURCED Meats are free range organic and prepared from our own suppliers, honey is from local bee keepers and vegetables are from our garden and local providers. Experience the connection while walking through our gardens.
MADE WITH LOVE Our most important ingredient is the love of those that have grown and prepared your meal – so your body can be nourished and be able do the work that is needed to be done on the planet.
A TASTE OF OUR MENU
BREAKFAST: Our signature "This is not oatmeal" combinations of nature's wellness berries including chia and goji berries –sesame seeds and dried fruits. Gluten-free. Farm fresh eggs of the day, served with freshly picked greens and herbs
Organic yogurts and honey & Applesauce muffins & Freshly baked bread every day
LUNCH: Fresh mixed garden salad, Quinoa lasagna with marinara sauce with Russian garlic and truffle oil
DINNER: Chicken Ancho (a specialty from our friends in Mexico) with roasted root vegetables & mixed grain salad OR our signature vegan curry with Sentinel garden pumpkin
TREATS: Peach cobbler
---
Directions
When you see this sign you have arrived!
We are 50 minutes from Nelson BC and 15 minutes from Ainsworth Hot Spring & 7 minutes from Kaslo.
You can drive her from Vancouver in 9 hours and from Calgary in 8, these drives are beautiful in the summer time and especially if you are coming with a friend! Alternatively we are just a short 1 hour flight from either of these major cities, the closest airport is the Castlegar airport, which is 1.5 hours from our door!
Thank you!
We're glad you've joined our retreat community. See you around :)
Return to my event
×