reNEW - New Year's Week! - Yoga & Myofascial Release Retreat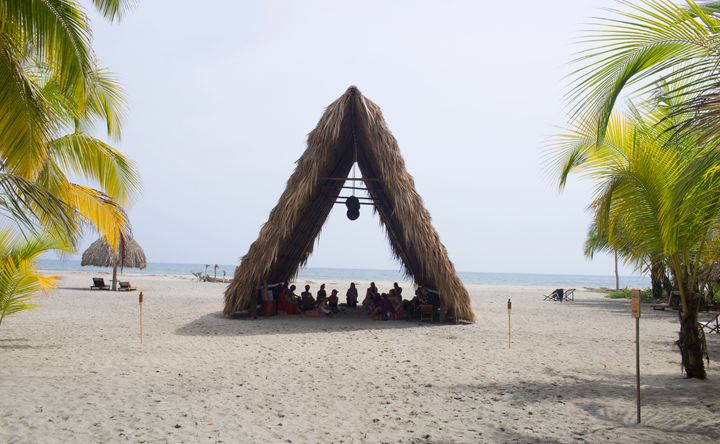 Event Highlights
Kogi Fire Ceremony
New Year's eve party
Tayrona National Park hike
Amazing food! (Sea to table)
Learning so much with a small (maximum 13 participants!) group of heart-centered, curious people.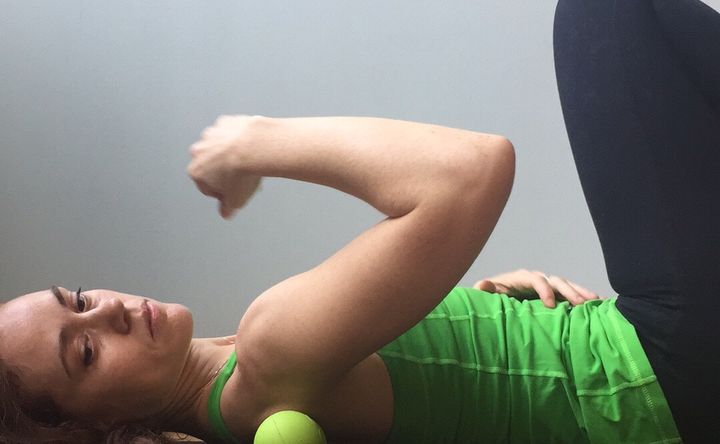 Schedule
Morning yoga and movement practices and afternoon myofascial release sessions, with plenty of time in between to beach, pool, SUP, hike, eat, and be merry.
About This Event
Fill your heart up to the rim.
I'm so excited to announce this New Year's Week beachfront eco-yoga retreat on the Caribbean coast of Colombia. My love for Latin America runs deep and I cannot wait to adventure southward. Please join me for a renewal week dedicated to profound body and spirit wellness Dec 30, 2018-Jan 5th, 2019.
Welcome to one of the most magical places on earth. At the foothills of the Sierra Nevadas, this area is known as The Heart of the World. Famous for Tayrona National Park, it is home to the tallest mountain closest to the ocean and supports five lush rivers that run from the mountains to the sea.
Colombia is an ecological wonderland, and in this specific area the wildlife is abundant, with 20% of Colombia's 1921 different bird species, the most in the world. Along with the abundance of nature, the indigenous tribes of the land continue to thrive and care for the land. Throughout the retreat, we will be immersed in the ancient wisdom of the Kogi people, who are considered protectors of the Earth. The Kogis will share their knowledge and lifestyle practices of how they aim to live in alignment with the planet and inspire us to do the same. Connect further to yourself, based out of our magical home for the week, Gitana Del Mar.
There's something else that makes this retreat so very special: our afternoon practices will emphasize self myofascial release, a practice that deeply compliments yoga asana, but is in itself a skill of self-care that will enhance the rest of your life.
30 CONTACT HOUR CEUS WILL BE ISSUED FOR YOGA ALLIANCE REGISTERED YOGA TEACHERS, YOGA THERAPISTS, AND BODYWORKERS (PT'S ARE PER-STATE, BUT LIKELY AVAILABLE)
"Twenty years from now you will be more disappointed by the things you didn't do than by the ones you did do. So throw off the bowlines. Sail away from the safe harbor. Catch the trade winds in your sails. Explore. Dream. Discover."
-Mark Twain
At this movie-set-like, magical Caribbean beachfront, surrounded by stunning, snow-capped mountains and the nearby Tayrona National Park, your days will be filled with vibrant yoga, mantra, meditation, self-care and self-myofascial release.
Soak in the energy and rejuvenate in the sacred elements of sun, earth, sand, sweat, and cacao. Oh, and totally delicious food.
Because the best things in life aren't things.
The hidden little town of Buritaca lays to the east of Tayrona National Park, where the fresh water Buritaka River empties into the crystal clear Caribbean sea.
We will stay in eco-chic bungalows and glampers. The bungalows are each individually designed, with hand-made traditional palm-leaf roofs made from sustainably and locally harvested palm fronds.
Each bungalow has its own private bathroom and semi-outdoor shower.
Our yoga practice shala is open on three sides to the view of the ocean and palm trees. We will fall asleep to the sounds of the ocean, and take dips in either salt water or the pool.
The retreat center, Gitana del Mar, is dedicated to light presence on the earth.
LODGING
BUNGALOWS:
Gitana del Mar has three types of bungalows, each with a ceiling fan, a private bathroom and a semi-outdoor shower. Unless you choose "Deluxe", the shower water will be unheated, perfect for the mid-day sun after yoga or a dip in the pool.
3 person shared with three twin beds,2 person shared with a queen bed and a twin bed,2 person shared queen bed and a twin bed with hot water, the "Deluxe Bungalows"
PRIVATE ROOMS
Private rooms (1 person only) are extremely limited. If you choose private room, you will be in a bungalow unless otherwise arranged.
GLAMPERS / SAFARI TESNTS
Glamping / Glampers are Safari Tents with 3 twin beds each. They are sturdy and safe, and the bathrooms are shared.
FOOD
BREAKFAST OF AREPAS (TRADITIONAL COLOMBIAN CORN CAKE), EGGS, HOMEMADE GRANOLA AND FRESH FRUIT.
Feast three times a day on locally-sourced, gourmet Sea-to-Table meals. The menu is fusion-style (Colombian, Latin and Asian flavors), integrating the most local ingredients available, including fruit, veggies and herbs from the retreat center's own gardens and fresh-caught fish and seafood from regional fisherman.
Fresh, tropical juices will be available and may include: Passion Fruit, Star fruit, Guava, Lulo, Mango, Pineapple, etc. Bottled water, coffee and tea will also be available.
The kitchen can accommodate any vegetarian, vegan, gluten-free and allergy needs.
See more photos of the retreat center by clicking here.
ACTIVITIES
In addition to twice-daily yoga/self-myofascial release, activities (free of charge) include: pool, hammocks, beach-time.
Collectively we will:
travel to Tayrona National Park (contact info blocked) – please note, this park is closed for 1 month every year for spiritual cleansing, but we will be there in the best time of year to get a chance to go in. This will be an accessible hike to a stunning private beach. Partake in a Kogi Fire Ceremony on the beachCelebrate the change of year with a ritualsee Ciudad Perdida (needs confirmation)
SPA
Massage & Therapeutic baths and scrubs are available in the retreat spa for additional price.
"The world is a book, and those who do not travel read only one page."
-Saint Augustine
YOGA & SELF-MYOFASCIAL RELEASE CLASSES
Yoga/Self-myofascial classes will be offered twice daily in our open-air beach-front shala and will last 1.5-2 hours each. They are open to all levels. Afternoon practices (it will be warm) will be more focused on myofascial release.
Beginners and all levels are welcome to join the retreat. More experienced students can expect to have breakthroughs in advanced asana if they wish.
In addition to asana and myofascial release, we'll explore pranayama, mudra, mantra, chanting and meditation techniques. Classes will leave you feeling both restored and expanded.
MYOFASCIAL RELEASE
Our friends, Rad Roller, are generously sponsoring this retreat, and ALL ATTENDEES with receive a FREE Point Release Kit (a $65 value), that we will use during the week (and of course, beyond).
WHAT'S INCLUDED?
The retreat price is inclusive of everything you will need on site: 2 daily yoga classes, all on-site meals, drinks, towels, sheets and room/board. There's even a lending library, and a private shuttle Sunday morning from Cartagena is included.
Day trips and guided hikes may have nominal fees (typically less than $25). Participation in each activity is optional, though highly recommended:
Morning and evening 1.5-2-hour yoga classes dailyLocal shaman-led fire ceremonyFree time for day trips and loungingPool time Access to stand up paddleboards and kayaksShuttle from Cartagena (or Santa Marta airport) to the retreat center on Sunday December 30th
Let yourself be completely cared for in this all-inclusive yoga retreat.
We recommend the purchase of travel insurance for this trip.
NOT INCLUDED:
– Airfare to / from Colombia – Excess baggage fees – Visa or passport fees – Travel insurance – Alcoholic beverages – Gratuities – One way shuttle — Other personal expenses
If none of the housing options work for your needs, please email (contact info blocked) for alternative arrangements.
WEATHER
Daytime highs average in the mid-80s (Fahrenheit). Rain is rare this time of year, it is truly the optimal time to visit. Nights will be in the mid 60s.
GETTING THERE
You may fly into either Cartagena (Jet Blue, Spirit Air) or Santa Marta (via Bogota). Cartagena is a 4 hour private shuttle ride (shuttle to the retreat center is included in the price of the retreat) to our retreat center so please arrive Saturday in Cartagena if possible. Santa Marta airport is only accessible via domestic flights, so you have to go through Bogota first (you would fly into Bogota Saturday or earlier). You could fly into Santa Marta on Sunday. Santa Marta is 1 hour and 15 minutes from our retreat center (shuttle to the retreat center is included in the price of the retreat).
Please note: this is the most popular time of year to vacation near Cartagena. Please book your Saturday night stay ASAP or email (contact info blocked) to coordinate your stay with a fellow traveller.
WHAT TO PACK
Sandals or flip-flops as well as sturdy hiking or tennis shoesClothing layers, including clothes for yoga, a swimsuit or swim trunks (or quick dry clothes) for jumping in the ocean, long sleeves or a cardigan for the evening, light colored breezy long sleeves, pants or skirts to help keep the sun at bay during the day, and light pajamas for nighttime. Wool socks may come in handy for both hiking (if you choose)Brimmed hat and sunglassesToiletries (all natural, biodegradable), including good sunscreenCash (or credit card) for exchange for local currency for day trips, tips, etc.Yoga mat (optional — see below)
MANDUKA EKO-LITE TRAVEL MAT – WEIGHS 2 LB
Yoga mats (and props) are available for use onsite if you choose not to travel with your own. If you choose to bring your own, we recommend the Manduka eKO Super Lite folding Travel mat (for ultra light travel) or the Manduka eKO Lite for a little more cushion. You can place them over one of the mats at the retreat center.
Please do reach out to me if you have any questions. Share this event with friends or RSVP on Facebook. I look forward to seeing you!
to ease and joy and sunshine and self-care,
Ariele
Because the best things in life aren't things.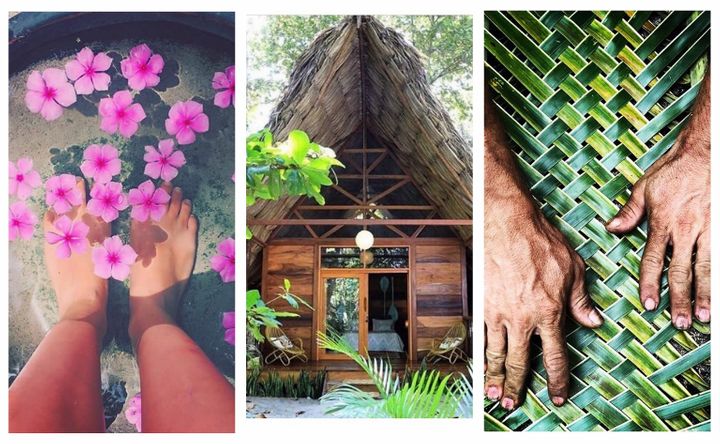 Venue Highlights
Eco-friendly, beachfront center with pool. Massages available on site.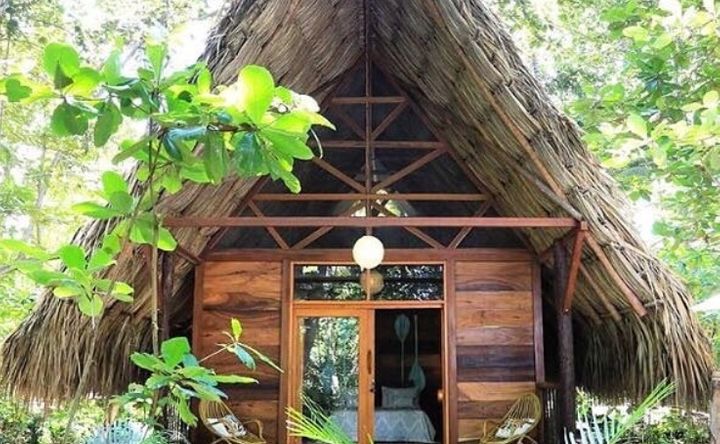 Accommodations
eco friendly bungalow on a twin bed with ceiling fan, natural cooling ceiling, and mosquito netting if you wish.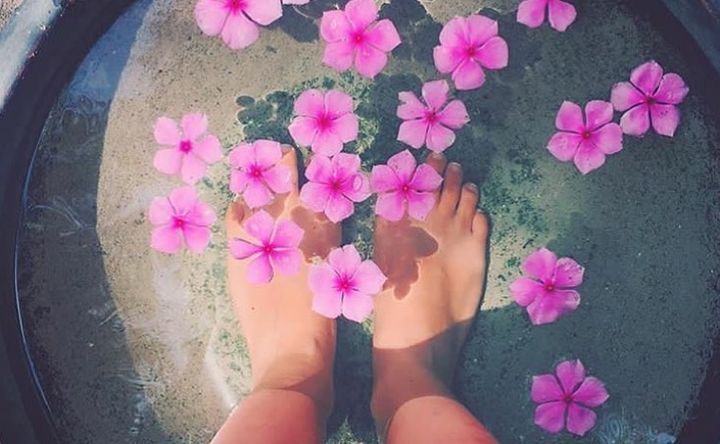 Amenities
Free Wifi
Spa
Pool
Towels
Free Parking
Tour Assistance
Coffee/Tea
Cafe
Restaurant
Yoga Studio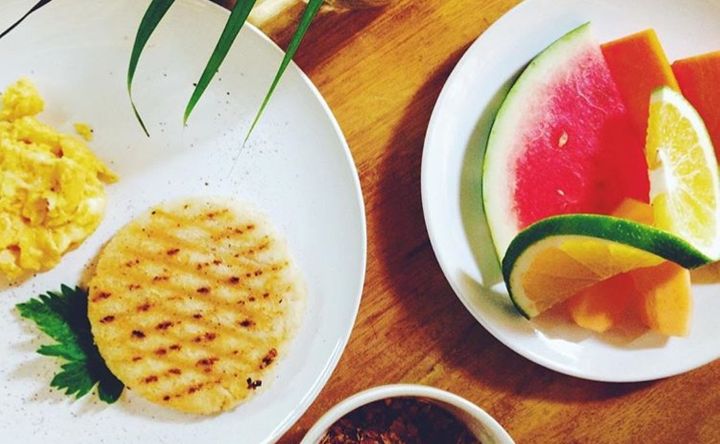 Menu Types
Vegan
Vegetarian
Pescetarian
Meat
Organic
Gluten Free
Dairy Free
Nut Free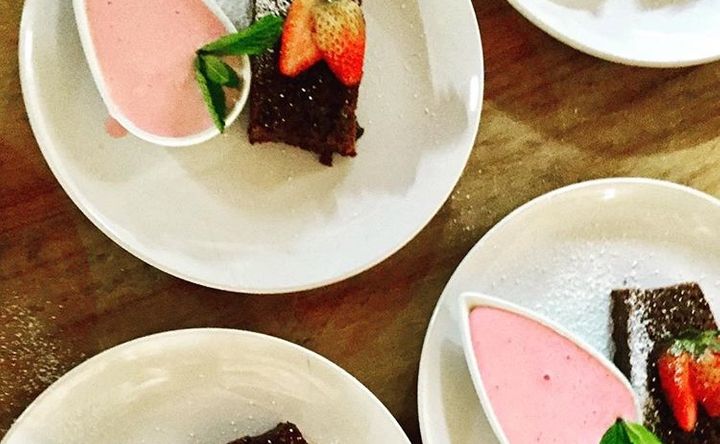 Menu/Cuisine
Vegan, Vegetarian, Pescetarian and Gluten-free options. Everyone will be happy! Lots of snacks and fresh fruit available .
Directions
Fly into either Cartagena (Jet Blue flies here) or Santa Marta (from Bogota). You'll take a shuttle to our retreat center, which is located 4 hours from Cartagena (and totally worth it) or about 1.5 hours or less from Santa Marta. Shuttle to the retreat center is included.
Reviews To review this event, visit the page for the venue or retreat leaders (above).
Similar Retreats You Might Like

Thank you!
We're glad you've joined our retreat community. See you around :)
Return to my event
×