SHIFT Transformative Retreat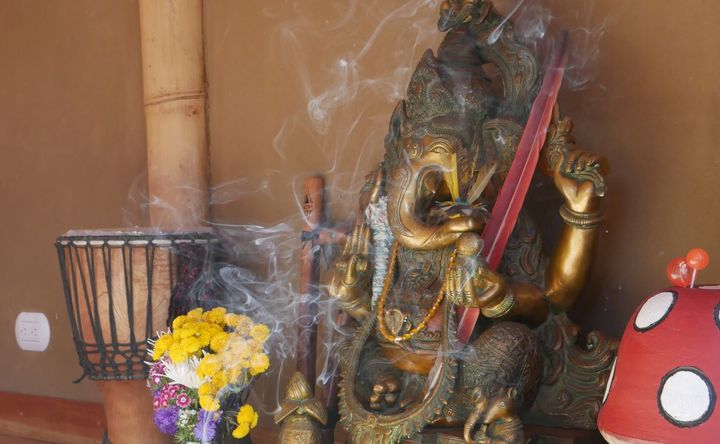 Event Highlights
What is included in Shift?
3 Sacred Medicine ceremonies
Yoga (Vinyasa, Yin and Kundalini)
Breathwork
Intention setting
Private consultations
Sound Healing Journey
Temazcal (Sweat Lodge)
Plants, flowers baths, purges and purifications
Intimate circle discussions
Mini Vision Quest with Grandfather
Meditations
Fire Ceremonies
Art Therapy workshop
Voice Activation
Digital Detox: no cell phones or electronics
Qigong
Accommodation at Casa de Liberación, San Marcos La Laguna
Support to organize transportation from/to Guatemala City or Antigua to center
3 wholesome meals per day; 1 or 2 on the day of our ceremonies nights
Hiking & nature
And more!
We will help coax you out of your comfort zone into a place of magic while respecting your boundaries, personal choice and self-knowing with love and respect.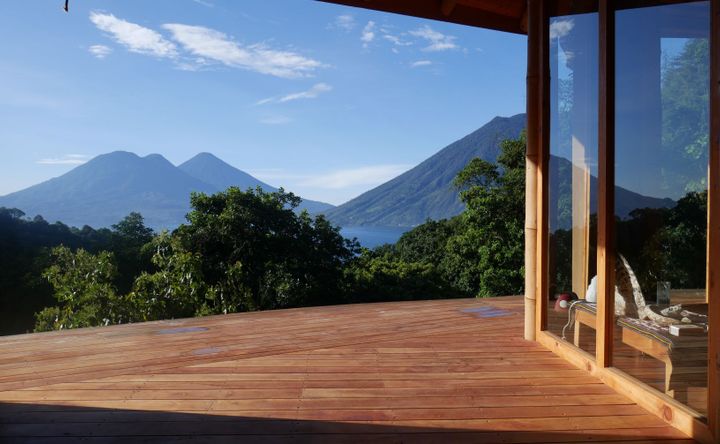 Schedule
Sample itinerary; we will of course allow SHIFTs to serve the group's highest good.
Day 1
3pm - 5pm - Arrival & settle in
6pm - Dinner
7:30pm - Fire circle, burying of swords and shields, get to know, sing and meditation
Day 2
6:30am -9am - Yoga, Breath & Meditation
9am - 11am - Breakfast
11am - 1pm - Group discussion & Voice Activation
1pm - 4pm - Lunch break
4pm - 6pm - Temazcal (Sweat Lodge)
6:30pm - 8pm - Dinner
8pm - 9:30pm - Rapé & Meditation with sound journey
Day 3
6:30am - Lemongrass purge
8am - 10am - Yoga, Breath & Meditation
10am - 12pm - Breakfast (only meal)
12pm - 1pm - Journaling exercise
1pm- 5pm - Private free time, nature or guided hike
5pm - 6:30pm - Yin Yoga
7pm - 3am - Grandmother ceremony (you may return to your room after Ceremony or sleep in the Temple space)
Day 4
8am - 9am - Tea & Qigong (optional)
9am - 10am - Break the fast
10am - 12pm - Integration Circle
12:30pm - Flower Bath
1:30pm - 3:30pm - Lunch
4pm - 6pm - Diet & Practices Workshop
6pm - Dinner
8pm - 9:30pm - Sound Journey
Day 5
6am - 9am - Yoga, Breath & Meditation
9am - 11am - Breakfast
11am - 1pm - Voice Activation & Singing with Group Discussion
1pm - 5pm - Lunch break with free time
5pm - 7pm - Temazcal (Sweat Lodge)
7pm - 9pm - Dinner
9pm - 10:30pm - Dessert & movie
Day 6
6am - 9am - Yoga, Breath & Meditation
9am - 11am - Breakfast
11am- 12:30pm - Art Therapy
12:30pm -2pm - Light lunch
2pm - 5:30pm - Free time
5:30pm - Yin Yoga
7pm - 1am - Little Saints Ceremony (you may return to your room after Ceremony or sleep in the Temple space)
Day 7
8am - fruit, chocolate & tea will be set out
9am - 10am - Easy morning flow and prayers
10am - 1:30pm - Private free time
1:30pm - 4pm - Lunch
4pm - 6pm - Cacao & Dance
Day 8
6am - 9am - Yoga, Breath & Meditation
10am - Light Breakfast
11am - 6pm - Grandfather silent vision quest in nature
6pm- 8pm - Dinner
8pm - 10pm - evening fire & Rapé ceremony, integration, sharing circle & songs
Day 9
6am - 9am - Yoga, Breath & Meditation
10am - Breakfast
Noon - Closing sharing circle with Lunch
3pm - Farewell
About This Event
SHIFT is for everyone, from novice to experienced, as long as you are willing to dive deep in daily practices, work with plant medicine, and desire significant change in your life to experience emotional & spiritual healing, connection to source, self and all that is while finding more balance and reset in a held space of love and co-creation.
Each SHIFT retreat is limited to 12 spaces to be able to focus attention on each person as they need and to allow the flow of the group to be at ease.
If you choose to voyage into these realms then I can highly recommend Sam as your guide, and the beautiful Casa de Liberación as your vessel.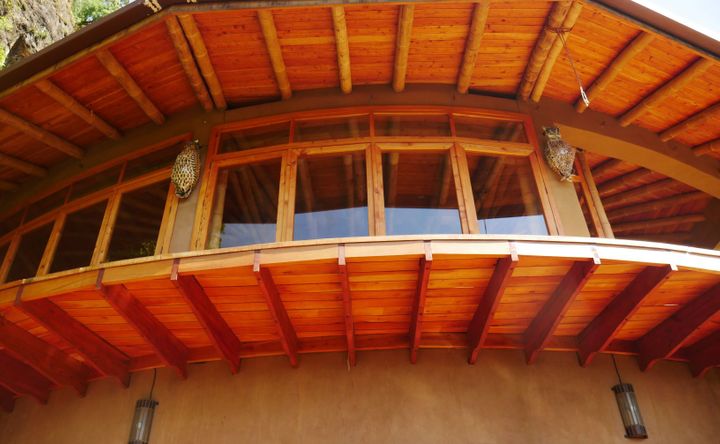 Venue Highlights
Casa De Liberación is a new, state-of-the-art and beautiful retreat space that can host up to 27 people at each retreat. It has the choice of dorm room style beds or more private spaces and cabanas. We are keeping our retreat at a minimum of 12 people so there will be plenty of space to spread out and have the support of doing such deep inner work given to you one on one with the facilitators.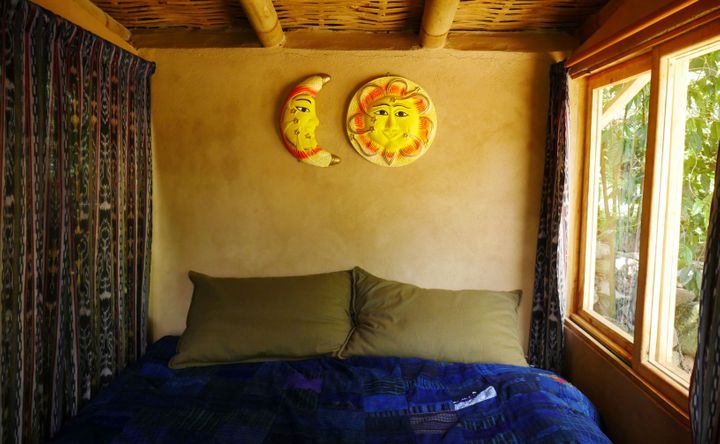 Accommodations
(contact info blocked)
Bamboo Dorm
Availability: 8
With quality bamboo beds, cedar writing desk and cypress wood floors, this is not your typical hostel setup. Choose this shared dormitory option to get a cozy single bed, large lockable dresser drawer for your valuables and writing desk. Featuring 4 large bamboo bunk-beds in one room and 6 in the other. We reserve the right to assign dorm spaces for the most harmonious situation for all guests, i.e. men, women and couples. Dorms are not co-ed for this retreat. Spacious shared bathroom features two showers, two toilets, large cubby holes for personal belongings, sink and mirror.
Queen Casita
Availability: 3
Your own cozy cabin in the woods with a super comfy queen bed, views and safe for your valuables. Retreat to your nest for some alone time. Breathe in the nature from the hanging hammock chair on your private patio. If booking double occupancy, you must have your second person to share. These casitas only have one queen bed; beds cannot be added or changed.
Tree house Casita
Availability: 1
The unique tree house casita has a queen bed and a single. It is perched 12 feet off the ground with spectacular views of the lake and volcanoes. Must be comfortable with heights and able to climb steep stairs.
Amenities
Sauna
Kitchen
Coffee/Tea
Restaurant
Yoga Studio
House Keeping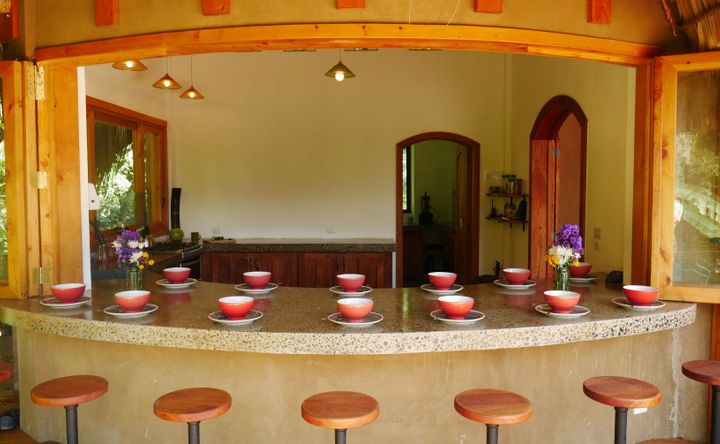 Menu Types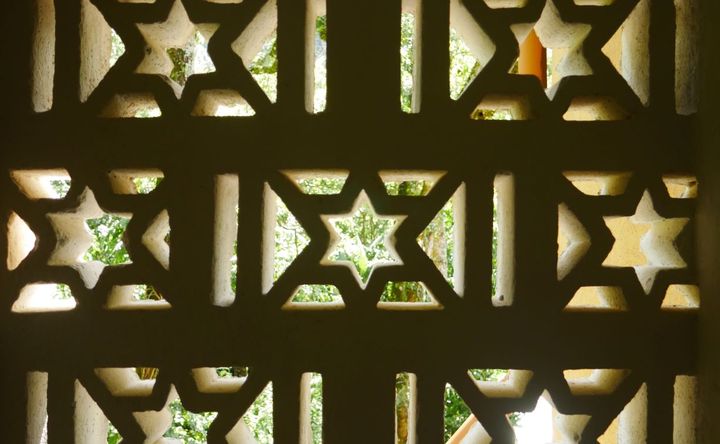 Directions
While planning your trip to the lake, please be aware that if your flight arrives in the late afternoon or evening, it is easier and safer to stay close in the city or Antigua. Morning travel to the lake is recommended
From Guatemala City or La Aurora Airport/GUA, there are two options for getting to Panajachel and one option direct to the town of San Marcos.
Option 1: Shared bus/shuttle from Guatemala City/Airport GUA to Lake Atitlán --the town of Panajachel, $25 p/p. Daily service, 6:00am/11:00am/2:15pm. Private Service is more expensive and can be scheduled at any time according to your needs, please specify time and number of passengers for details. We recommend San Pedro Tours for a safe, comfortable ride; they can be found on Facebook.
Option 2: Public transport (chicken buses). This is a much longer option, can be crowded and less safe, if you're on a budget, don't mind the time you arrive then maybe an option for 20GTQ ($2.50). Read a little about it beforehand to be ready for the experience!
(contact info blocked)
From Panajachel you can take a lancha (boat) to San Marcos. They leave about every half hour and will bring you to San Marcos La Laguna after a beautiful 45-minute ride. Lanchas run from 6:30am to 7pm from Panajachel. Cost: 20GTQ, ensure you have the correct change.
Option 3: Spend the evening in Antigua and travel the next morning.
Antigua is the tourist hub of the country and nearly all transportations runs through there. There are shuttles every hour from the airport to Antigua (Q100, 45mins-1.5hrs depending on traffic). A direct, private shuttle service to San Pedro can be scheduled at any time. Take the Pullman Bus at 5:30 am to San Pedro, $40 p/p (5hrs, executive Class Pullman A/C, Recliners, bathroom) If on a San Pedro shuttle service, either get off the shuttle in San Pablo la Laguna and take a tuk-tuk (Q5) to San Marcos la Laguna (the next town over), or from San Pedro take the 'lancha' boat (Q10) to San Marcos.
(contact info blocked)
We do not advise driving in Guatemala, as roads can be full of potholes. If you insist on renting a car, we advise you to park in Panajachel and take the ferry over.
Reviews To review this event, visit the page for the venue or retreat leaders (above).
Similar Retreats You Might Like
Apr 5 - 25, 2020 (21 days)

Jun 21 - Jul 11, 2020 (21 days)

Oct 25 - Nov 14, 2020 (21 days)

Aug 1 - 10, 2020 (10 days)

Thank you!
We're glad you've joined our retreat community. See you around :)
Return to my event
×