8 Days of Yoga, Meditation and Nature Retreat with La Vida Surf in Mystical Morocco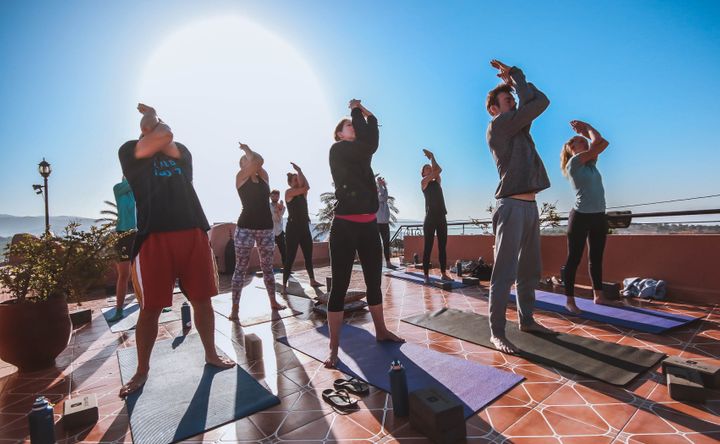 Event Highlights
● Sunrise and sunset yoga classes with the mountain and ocean view 
● Guided and silent meditations 
● Pranayama and breath holding workshop
● Daily plant-powered brunch and dinner buffet
● Conscious walk in the Atlas Mountains
● Trip to a local Berber village market
● Traditional Moroccan dining ritual
● Signature smoothies of the day 
● Boutique accommodation in traditional Moroccan Villa
● Private pool, garden and rooftop terrace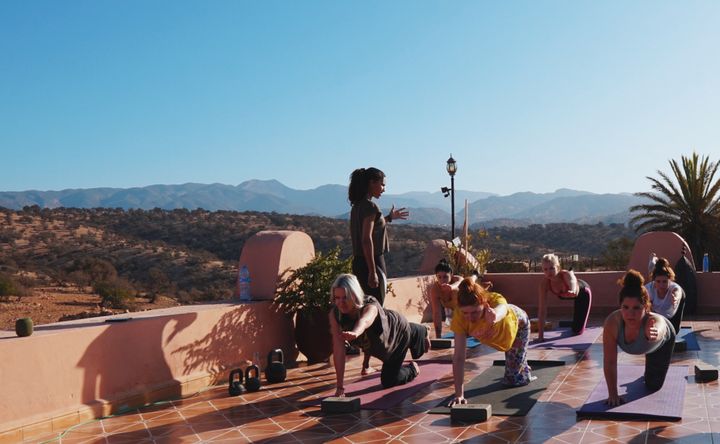 Schedule
Program
La Vida Surf's founders have chosen this location for the outstanding nature and vibrant culture of Morocco, therefore it is natural for us to incorporate the unique combination of these elements into your retreat. With La Vida Surf, you will enjoy both a relaxing wellness retreat and an active vacation, through practicing daily yoga, integrating with nature and experiencing the highlights of Moroccan culture.
La Vida Surf's retreats are created for everyone regardless of previous experience. All we ask from you is an interest in self-reflection, transformation and good times. We are not here to tell what you will feel but to provide a platform for self-development, peace of mind and body, as well as the tools necessary for continuing your practice on your own once you return from the retreat.
Daily Yoga Classes
You will begin your mornings with a gentle flow, vinyasa or hatha yoga class to open your body, mind and spirit. Each class lasts 75-90 minutes and takes place at the rooftop yoga shala with a stunning view over the mountains and the ocean. The classes follow a classical yoga protocol including pranayama (breathing), asana (seating or dynamic posture) and savasana (relaxation). Through the conscious coordination of the elements around and within yourself, you will find the balance for beginning a harmonious day.
Your evening classes are designed to calm down and restore our body and mind after an active and vibrating day. You will engage in a calm Hatha, Yin or Restorative yoga practice including relaxation and meditation. Donating a moment to full relaxation during each day is as important as the active lifestyle. We invite you to release and rejuvenate during the evening classes.
Monday Pranayama and Breathing workshop
Dive into the world of pranayama and breathing work as an additional feature of your retreat. Discover a conscious way of breathing, become aware of its nature and explore its expansive capacities of focusing and healing. We will guide you through the whole journey with the air going in and out of your body and mind.
Wednesday Moroccan Immersion
Immerse into Moroccan culture and experience its daily lifestyle during a trip to a local market, souk. Every Wednesday, a vibrant hustle and bustle takes place in one of our neighbouring Berber villages. You will dive into a rich Moroccan world of flavours and smells - pyramids of spices, mountains of dates, towers of vegetables, and much more. We invite you to finish your day joining a traditional Moroccan dining ritual with our team and listen to the stories and tales about ancient Berber civilization.
Friday Conscious Walk
Integrate with nature during a silent walk through the hills and mountains covered with ancient Argan trees and wild plants. Open the senses and allow the elements to forge you. Every Friday we invite you to follow the rhythm of local life, when the most important weekly ritual in Morocco, the Friday prayer, takes place. Take a short magical journey through the long established Berber villages, with the sacred sounds of prayer wafting from the mosques scattered across the mountains. From a place of deep gratitude for our surroundings, we finish the Friday walk with a group meditation in one of our secret spots hidden in the hills.
A Day with La Vida Surf Founder
When La Vida Surf's founder Aleksi Koskelin is present at the Riad Dar Shajara, you will have an opportunity to take part in classes and workshops composed out of elements from his background as a yogi, therapist of TCM, martial artist and professional contemporary dancer.
During this day, you will be able to explore your understanding of movement, both internal and external. You will learn how to nurture your body as a whole complex structure - mental, physical and spiritual. By coordinating our practice, harmonising between activity and relaxation we become the alchemists of our own bodies.
How your day can look like
08:00 Wake up Moroccan mint tea
08:30 Morning yoga practice
10:00 Healthy nutritious brunch buffet
12:00 Pranayama and breathing workshop
13:30 Signature smoothie of the day
14:00 Free time for hammam rituals, surf adventures, and exploration
17:30 Evening yoga practice
19:00 Organic tasty dinner buffet
20:00 Night time star gazing
About This Event
Welcome to La Vida Surf's Yoga, Meditation and Nature retreat in mystical Morocco - transformative experiences for everyone regardless of previous practice.
Discover a perfect platform to reconnect with your body and empower your mind. Enjoy a unique week of yoga, meditation and breathing workshops, immerse in vibrant Moroccan nature and culture, and nourish your body with healthy organic meals. Unwind at the boutique Villa Dar Shajara nestled in a UNESCO biosphere reserve overlooking the Atlantic Ocean and Atlas Mountains.
La Vida Surf invites you to experience what we are passionate about and have cultivated carefully within ourselves over years of practice.
Powered by Froala Editor
"I sing to the forests and oceans, birth place of all life. I listen to your wisdom, may you shed upon me thy light. Accept your child who wishes to learn, who understands the wrong and is ready to return." Aleksi Koskelin,  Founder of La Vida Surf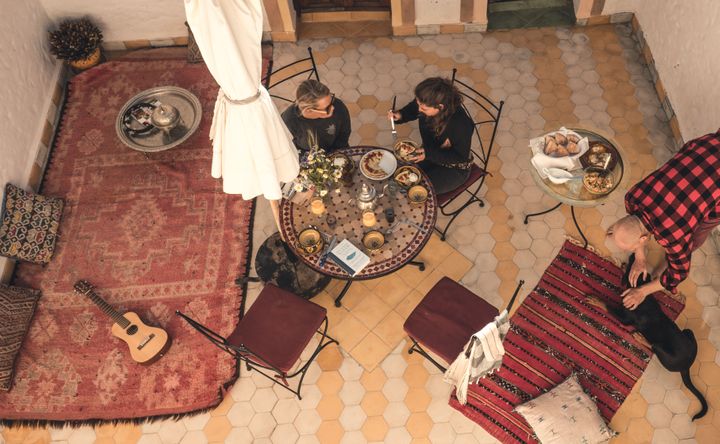 What's Included
● 7 nights' boutique accommodation in traditional Moroccan Villa
● Daily morning yoga classes
● Daily evening yoga classes
● Guided and silent meditations
● Pranayama and breath holding workshop
● Conscious walk in the Atlas Mountains
● Trip to a local Berber village market
● Traditional Moroccan dining ritual
● 7 healthy nutritious brunches
● 7 organic tasty dinners
● Signature smoothies of the day 
● Wake up Moroccan tea 
● Yoga mats, bricks, straps and bolsters
● Free access to a private rooftop terrace, pool and garden
● Cleaning service and towels
● Agadir Al Massira Airport arrival and departure transfers on Saturdays
● Agadir bus stop arrival and departure transfers on Saturdays
What's Not Included
● Surf adventures
● Hammam and massage rituals
● Transportation outside of the retreat start dates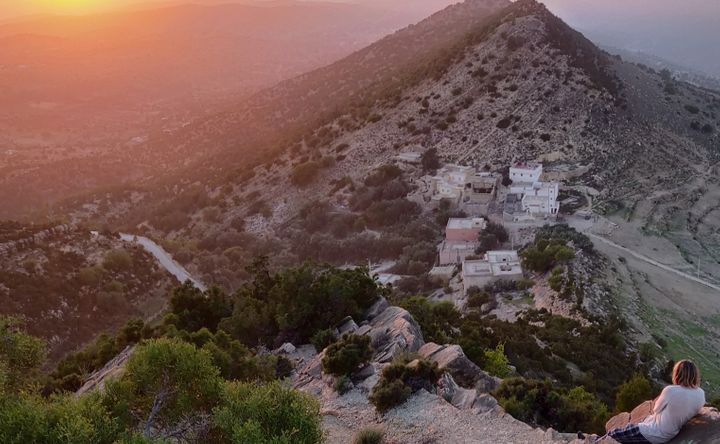 Venue Highlights
Retreat location
La Vida Surf was founded in the midst of wild nature, a UNESCO biosphere reserve, for our guests and inhabitants to be able to feel and work with the powers of nature and her elements. Most of all, what we invite you to experience is what we are passionate about and have cultivated carefully within ourselves over years of practice.
Morocco is often described as the land of mystery and fascinating culture. You will soon experience what it means to stand on the vibrating grounds of Africa surrounded by thousands of ancient Argan trees, magical Atlas Mountains and of course the roaring Atlantic Ocean.
Villa Dar Shajara is located 4.5 kilometres from the famous surf village of Taghazout and 45 minutes from Agadir Airport reachable by direct flights from major European cities.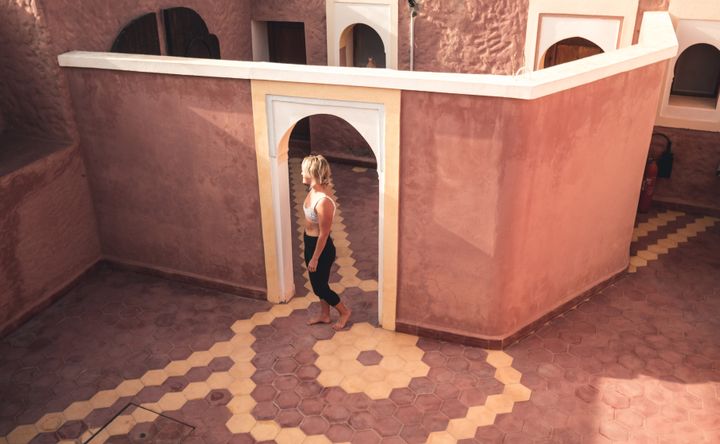 Accommodations
Accommodation
Villa Dar Shajara
Here at La Vida Surf we enjoy hosting retreats with attention to detail in small groups of up to 14 participants. You will be accommodated in one of our 7 boutique and authentically decorated twin, double and triple rooms with 5 bathrooms of which one is en-suite. 
Villa Dar Shajara is a traditional Moroccan house - Riad, with a private pool, garden and rooftop terrace, where you can enjoy contemporary comfort and complete privacy along with a chance to experience the authentic life of a local Berber village, known for its warm hospitality and tranquil vibes.
Resting on the hills of a UNESCO biosphere reserve, Villa Dar Shajara is surrounded by thousands of ancient Argan trees from which our villa got its name, Dar Shajara, where "Dar" stands for a house and "Shajara" for a tree. 
Your Home Away
Witness every sunrise and sunset on the rooftop yoga shala with a stunning 360 view over the Atlas Mountains and the Atlantic Ocean. Immerse yourself into yoga practice with the rugged mountains and roaring ocean greeting you, with the white sails protecting you from the sun and a light breeze caressing the yoga session.
Take a dip into a refreshing pool, relax under the warm Moroccan sun and laze on a sunbed with a fresh smoothie of the day. Share delightful meals and tales from around the world in a sunny dining hall with the pool and garden view.
Enjoy a cosy moment around the fireplace in the living room, uniquely decorated in traditional Moroccan style. Once the last light disappears over the horizon, explore a magical star map of bright Moroccan sky, and if you are really lucky - see a shooting star.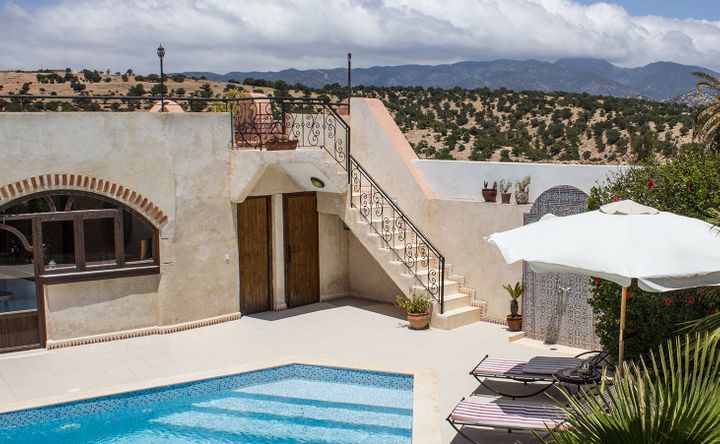 Amenities
A/C in Rooms
Free Wifi
Spa
Pool
Towels
Free Parking
Tour Assistance
Coffee/Tea
House Keeping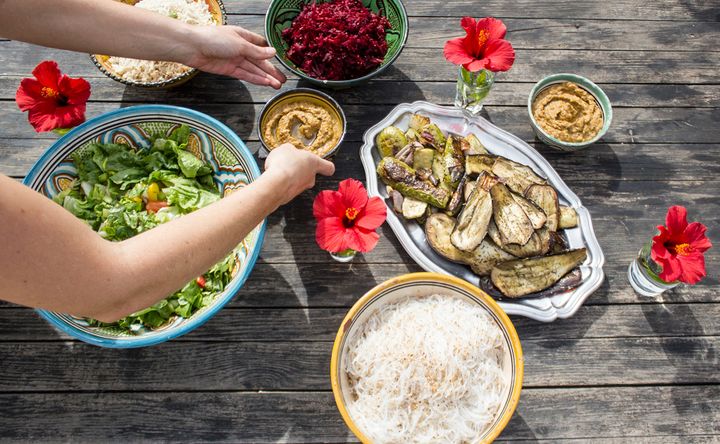 Menu Types
Vegan
Vegetarian
Pescetarian
Ayurvedic
Organic
Gluten Free
Dairy Free
Nut Free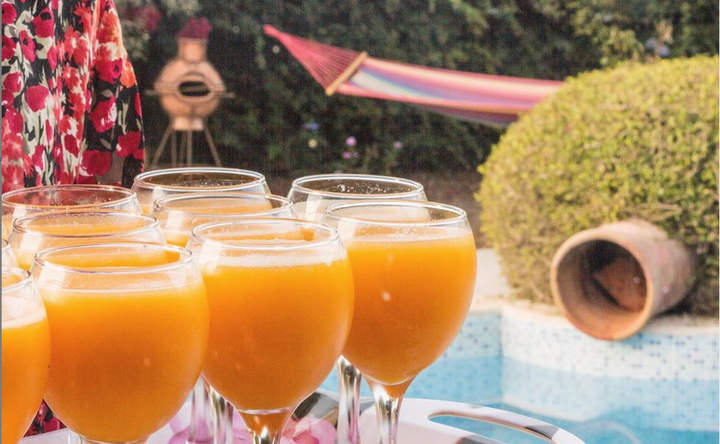 Menu/Cuisine
At La Vida Surf, you will be served meals with a purpose. You will nourish your body with plant-powered brunches and dinners, alongside with signature lunchtime smoothies of the day. You will eat healthy, fresh, and organic food handpicked from the nearby region and provided by local farmers.
Your menu will consist of delicious vegetarian and vegan meals, inspired by yogic and Moroccan cuisine, with our private chefs adapting their recipes to your dietary requirements and allergies. If you follow a pescatarian diet you will be catered a fresh fish of the day from the local fishermen for one of your dinners.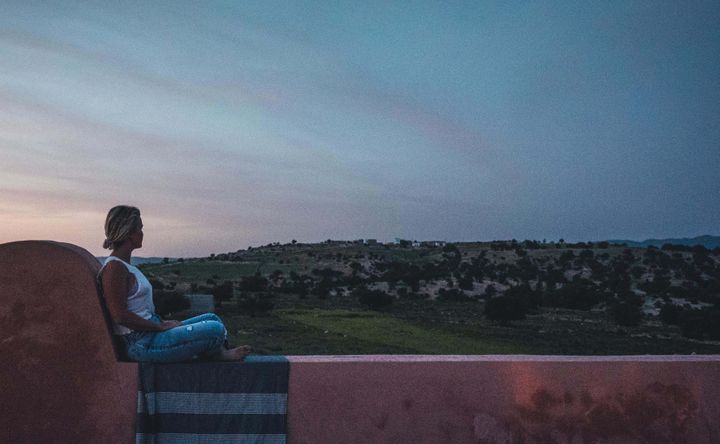 Directions
Transfers
La Vida Surf retreats start each Saturday and we provide free transfers from and to Agadir Airport, Agadir bus stop and other locations in Agadir for all Saturday arrivals and departures.
Private taxi service is available for arrivals and departures outside of the retreat start dates upon request for an affordable additional cost.
If you are travelling around Morocco before or after the retreat, private taxi service is also available in any other requested location.
Our driver will meet you according to your arrival time with the sign "La Vida Surf".
Agadir Airport
La Vida Surf is located 45 minutes' drive from our nearest local Agadir Al Massira Airport (AGA) which is served by international airlines operating direct flights on Saturdays from major European cities. Our driver will meet you at the Airport according to your arrival time with the sign "La Vida Surf".
Marrakech Airport
If you arrive in Marrakech Menara Airport (RAK), commuting to Agadir by bus is also very easy and safe, and we will help you along the way to find the right place. Book your ticket with local bus companies CTM or Supratours, and our driver will meet you at the bus station according to your arrival time with the sign "La Vida Surf".
We can also arrange a private taxi transportation from Marrakech for an affordable additional cost. Our driver will meet you at Marrakech Airport or any other location in Marrakech on the requested time with the sign "La Vida Surf" and bring you directly to the Villa.
---
Cancellation Policy
100% deposit refund for cancellation 60+ days before event.
50% deposit refund for cancellation 30-59 days before event.
0% deposit refund for cancellation 0-29 days before event.
The remaining balance (total price minus deposit) is due upon arrival.
Get full details...
Reviews To review this event, visit the page for the venue or retreat leaders (above).
Similar Retreats You Might Like

Thank you!
We're glad you've joined our retreat community. See you around :)
Return to my event
×