San Pedro (Huachuma) + Yoga and Treks Retreat in the Sacred Valley, Cusco - Peru
About us
Save 30% when you book by November 5th!
Rediscover and connect with yourself in the energy rich environment of the Sacred Valley, Peru.
Experience the transformative San Pedro ceremony with our Cusco native teacher who has more than 20 years of experience
performing Andean ceremonies and healing. Enjoy twice daily yoga classes in our beautiful, sacred space. Wake up every
morning in your comfortable room with stunning views of the mountains and the surround nature. Explore the Sacred Valley
of the Incas with our experienced and knowledgable trekking guide, Max who will show you all the special, hidden places
He has had the luck of knowing the Tambo and it is an incredibly wonderful place, surrounded by mountains and the beautiful hill, inner peace, they received excellent in the stay, the rooms are very comforting, I recommend the Tambo for the lovers of the nature and to live a great experience in the sacred valley. Paul
---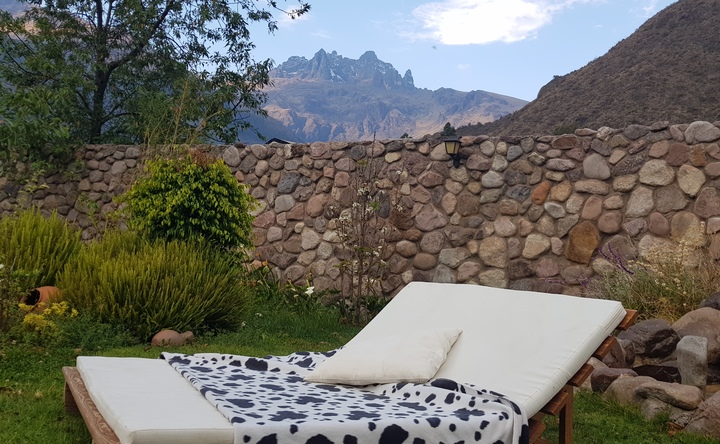 Event Highlights
Hiking to sacred sites and littles towns
Visit to the local waterfall Arin
Visit to Salinas de Maras
Visit to hot spring
Plant medicine experience Huachuma (San Pedro)
Transport
Daily yoga
Breakfast
Lunch
Dinners
---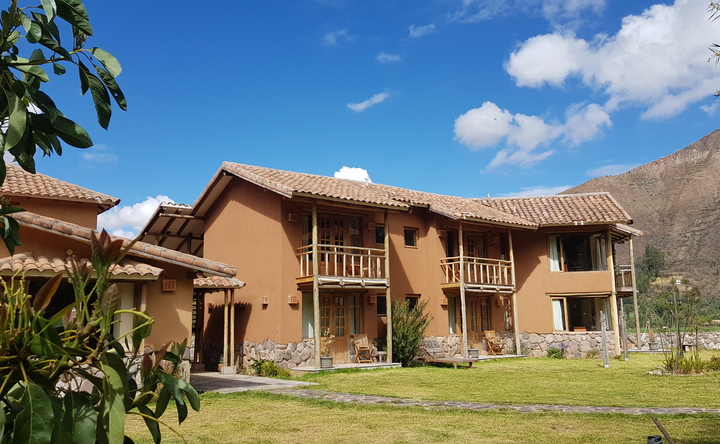 Venue Highlights
Tambo del Caminante is situated in a quiet, riverside corner of the Sacred Valley, Peru. We have spacious gardens, loads of sunshine, and the sound of the river will lull you to sleep!
---
Amenities
Free Wifi
Towels
Free Parking
Kitchen
Tour Assistance
Hot Tub
Coffee/Tea
Cafe
Yoga Studio
---
Schedule
Day 1. (MONDAY 19)
13 - 14 HS LUNCH
14 -17 HS FREE TIME TO VISIT A LOCAL WATERFALL
18 A 19 YIN YOGA CLASS
20 A 22 HS DINNER
Day 2. (TUESDAY 20)
8:15 A 9:30 YOGA CLASS
10:30 A 19 HS HUACHUMA- SAN PEDRO (medicinal and fasting day)
20 A 22 HS FREE
Day 3. (WEDNESDAY 21)
8:15 A 10 VINYASA YOGA CLASS
10 A 11 HS BREAKFAST
11 A 18 HS FREE TO VISIT SALINAS DE MARAS
18 a 19 HS YIN YOGA CLASS
20 A 22 HS DINNER
Day 4. (THUESDAY 22)
8:15 A 10 YOGA CLASS
10 A 11 HS BREAKFAST
11 A ? GO TO LOCAL HOT SPRING
THAN FINISH THE DAY WITH THANKS GIVING MEAL
Day 5 ( FRIDAY 23)
9 A 10 BREAKFAST
ALL ACTIVITES ARE IF WEATHER PERMITS
---
Menu Types
Vegan
Vegetarian
Includes Meat
Organic
---
Accommodations
Accommodations are luxurious! Downy duvets will keep you warm, firm mattresses ensure a good night's sleep. All rooms have their own balcony. The common area is large and comfortable, with plush sofas, a huge fireplace and separate TV area. We do have wifi, but we are encouraging all guests to avoid using it as much as possible! All linens, towels and bedding is included, of course. There's a tea available for all guests all the time.
---
Directions
To get to our retreat from the Cusco airport, we send a driver to come and get you. Total travel time is a very scenic 1hr 15mins.
Tambo del Caminante km 57.400 road urubamba- calca.
The Walker's Lodge is located in Huaran, Calca.
Calca's bus central station is 4 km away from The Walker's Lodge and the airport Alejandro Velasco Astete is 60 km away from us.
You can find Pisac and the Ollantaytambo ruins are 25 minutes by car.
We are a few minutes away from Machu Picchu.
You will have free access to a public parking lot next to the lodge.
If you are coming by public transport, we can pick you up in Calca (Bus station) or Urumba (Pecsa service station), just give us a call at: +51 955 044 869
Thank you!
We're glad you've joined our retreat community. See you around :)
Return to my event
×