A Healing Journey of Love, Devotion and Renewal
Hale Akua Garden Farm & Eco-Retreat Center at Maui, Hawaii

Apr 19 - 25, 2019 (7 days)

Cabana Queen Bed - $810.00 Cabana Twin Bed / Full Futon - $594.00 Main House: Gazebo Private Room - $1,170.00 Main House: Queen Bed - $810.00 Main House: Twin Bed - $594.00 Villa: King Bed - $2,880.00 Pali Uli - Cliff House -…
About us
FULL DESCRIPTION:
What does it mean to live with an open-heart? Is it even possible in today's busy, competitive world? Even if you open your heart, how do you keep it open? What are the obstacles that prevent us from living this way, and how can we learn to overcome them?
Join Shahn, Rob and Melissa for 6 days on the magical island of Maui for an in-depth exploration of these questions, and discover ways to help live from your most authentic and radiant self, from our true, child-like nature – one of joy, fearlessness and love.   
Our world can be busy, scary and overwhelming.  As we navigate these stressors, we find ourselves using maladaptive ways of coping and being devoted to things that do not serve us.  Because these coping skills don't work, we feel anxious, depressed, busy, overwhelmed and stressed.
During this retreat, we will open our hearts through Bhakti yoga (yoga of devotion), energetic healing workshops and by immersing ourselves in a beautiful and tranquil environment. The retreat center is filled with luscious grounds, a working farm, a waterfall and numerous soaking spots, the perfect setting to foster the peace and stillness from which we can begin again.
We will sing kirtan together, move together and celebrate together to cultivate deeper connections to the divine within each of us. As the connection to our heart deepens, we will then begin to uncover the obstacles that stop us from living this way in our day-to-day lives through hypnotherapy, meditation, energetic hygiene and learning new coping skills. All of this work will be supported the entire time by delicious Ayurvedic cuisine, a beautiful, peaceful environment and the overall beauty and magic of Hawaii.
Be nourished, inside and out. Come to Hawaii with us and rediscover your true, pure and authentic Self.
-Dates: Friday, April 19, 4pm through Thursday, April 25 noon.
-Cost: $1200 for tuition and food; rooms to be booked through Hale Akua Garden and Farm by clicking on the "click here to book" after your tuition is paid.
Registration Details:
Registration is $1250 and includes tuition, all meals and snacks, plus use of the beautiful property.
Please contact Naia or Katie at Hale Akua if you have any questions about accommodations 808-572-9300.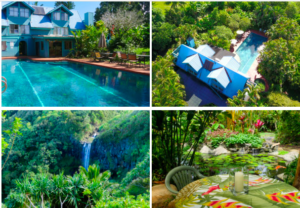 Thank you!
We're glad you've joined our retreat community. See you around :)
Return to my event
×