शिक्षा shiksha: 300 hour yoga teaching training course
Yoga with a View
San Antonio de Escazu, San Jose, 50 meters south of Restaurant Tiquicia and 350 meters east on Calle Dos Cercas, 3rd gate on the right, color red

Jul 1 - 30, 2019 (30 days)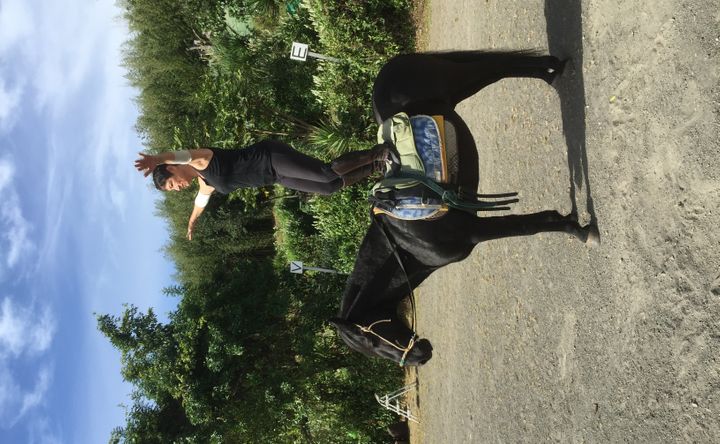 Event Highlights
Daily Equine therapy
Yoga and the fine arts
Yoga and nonviolent communication
Design yoga programs for schools and corporate venues
in-depth study of the philosophical foundations of Yoga; Baghavad Gita and the Sutras of Patanjali and Sage Thirumoolar
Located in the mountains of Escazu where the shamas used to meet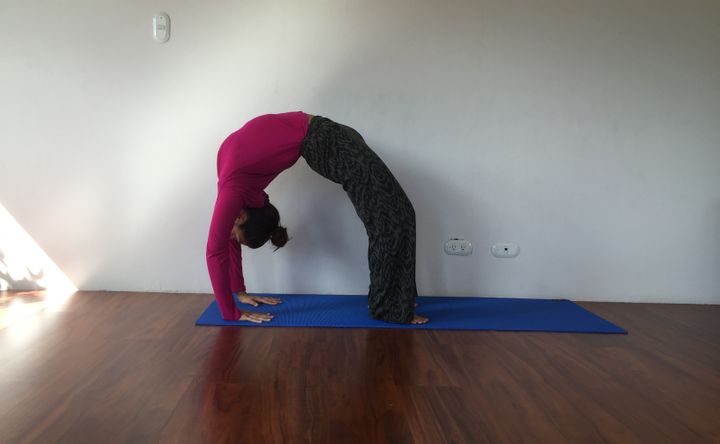 Schedule
7:00-8:00 am——————————-mantra and pranayama session followed by a meditation session.
8:00-8:30 am——————————morning tea and Sanskrit writing time.
8:30-9:30 am————————--—-surya namaskar, asana practice, Hatha style.
9:30-10:30 am——————-——-—breakfast.
10:30-12:30———————-———-equine therapy and lecture sessions.
12:30-1:00 pm————————-—journal writing
1:00-3:00 pm——————————lunch and personal time
3:00-5:00 pm——————————-lecture session
5:00-5:30 pm——————————-journal writing
5:30-7:00 pm——————————-asana practice
7:00-8:00 pm——————————-dinner
8:00-9:00 pm——————————student led group discussion
About This Event
Welcome and namaste. The general outline of lectures, discussions, and activities, in addition to course requirements are found in this document.
The course is primarily designed to help you develop, expand, and refine your personal yoga practice. Yoga is an experiential practice. In order to authentically share yoga with others it is important to have direct experience of the joys and obstacles to practicing yoga. The course is designed to give you daily experiential opportunities to explore and expand yoga techniques, practices, and philosophies beyond your current experience. Universally the more we explore yoga the more we go beyond asanas and begin to yearn for a deeper understanding of the philosophical underpinnings of yoga, the role of mantra and yantra, the role of Sanskrit, and of the great yogis who have kept this science alive for thousands of years.
If one of your reasons for attending is to be better teacher this course offers a couple of proven pathways for you to achieve your goal. First, as the Sutras of Patanjali state it is through right knowledge, right practice, and sincere effort over a long time that we realize yoga. Every day of the program you are guided and offered opportunities to experience the living truth behind the Sutras. You will enjoy direct experience of mantra Japa, pranayama, and asana practices. Daily meditation through dharana, and dhyana will be offered in guided and unguided platforms. The healing energy and intuitive teaching from our horses in our equine therapy sessions will increase your awareness and mindfulness in daily life.
Secondly, we offer lectures and discussions on the development, design, implementation, and evaluation of individual and group yoga classes.
Topics covered are,
Yoga anatomy, including human physiology and the energetic body. We study the physical and energetic body from a yoga therapeutic point of view. We will study the role of cellular metabolism, electricity, electromagnetism, and energy fields of the human body. Ayurvedic principles of doshas, koshas, gunas, nadis, dhatus, vayus, agnis,chakras, and marmas will be discussed as the basis of yoga therapy treatments. We will also study the history of Ayurveda, medicine and surgeries.
Yoga mantra. Mantra will be discussed from two viewpoints that merge into one cohesive understanding of the power of this practice. Mantra is sound. Sound is energy and travels in waves within fields. Mantra is also a sacred practice based on the Sanskrit language. We will study the writing, pronunciation and energetic properties of the Sanskrit language.
Yoga philosophy. We will study the Sutras of Patanjali and the Bhagavad Gita in order to deepen our understanding of how and why the practice of yoga leads us to self realization.
Yoga history, we will discuss some of influential people and texts within the yoga tradition.
Surya Namaskar; it's practice, mantra, and deeper meaning. We will explore the Sanskrit mantra for each of the 12 asanas that compose the traditional Sun Salutation.
In depth study and practice of the Pawanmuktasana series.
Yantra and mandala art. We will study the yogic symbolism of these two art forms and how they relate to the practice of yoga.
Nonviolent communication. We will study ways of communicating with others and ourselves that reflect the Yamas and Niyamas.
Yoga wellness sequences and programs. We will study how to design, execute, and evaluate short and long term yoga programs, workshops, and courses. We will be using the Logic Plan, a paradigm used by many organizations these days. Based on principles of Ayurveda and human anatomy holistic yoga and lifestyle treatment options will be explored. Some topics will include emotional issues such as self esteem, and physical issues such as high blood pressure, scoliosis, surgical recovery.
Students are requested to observe and record their experiences in the following journals,
Spiritual journal: observe your personal experiences of the 8 limbs of yoga throughout the course.
Equine therapy session journal: observe and record your physical, emotional and energetic experiences with the horses.
Art journal: observe your emotional and spiritual experiences with tantric yantra and mandalas.
Sanskrit journal: to practice your writing of the Sanskrit language and to fulfill one of the assignments: choose a Vedic mantra and write it in your journal 10times a day in the Sanskrit script.
Course requirements and prerequisites,
This is a Yoga Alliance registered advanced 300 hour yoga teacher training course. In order to successfully register as a 500 hour RYT (registered yoga teacher within Yoga Alliance) students must already have completed 200 hours of yoga teacher training from a registered Yoga Alliance curriculum. Students with yoga experience who wish to attend the course but do not have a 200 hour certification are welcome. They will receive a certificate of successful participation and completion of the course but will not be eligible to register with Yoga Alliance.
Students are required to attend all lectures, discussions and course activities.
Successful graduates, additionally are required to,
Design and offer a weekly mini workshop to fellow students on any topic explored that week
Complete topic guide worksheets, on their own or in groups
Participate in group activities and discussions
Final written exam consists of two projects,
a. a group project to design a yoga curriculum for a targeted population of their choice, ie. 4 month elementary after school yoga program.
b. An individual project to design a workshop, yoga therapy sequence and program, or retreat yoga curriculum.
Required reading
Sutras of Patanjali, students may choose among the many translations available, no particular version is recommended, all are good.
Bhagavad Gita, students may choose any translation available.
We ask that students read these two books before the course begins. We will be exploring in depth these two important yoga tomes and it will be helpful if students have some familiarity with their contents.
We ask that students bring sufficient notebooks to fulfill the journaling requirement and to take notes. This may be done on electronic devices , however when we are with the horses it is not advisable to bring your device into the horse arena. ( one of the horses walked away with my phone in his mouth!).
We will have two asana sessions per day. The morning and afternoon sessions are devoted to different goals. The morning session will focus on understanding the Sun Salutation, the Pawanmuktasana, and individual practices. The afternoon session will concentrate on therapeutic yoga.
The first week is devoted to students identifying the goals and objectives of their individual asana practices. The second week is devoted to the design and modification of their individual asana practices to either respond more thoroughly to their current goals or to new goals.
The third and fourth weeks of asana practice are devoted to the study of individual asanas and asana sequences designed to address particular wellness issues.
Below you will find a description of the general daily schedule.
General daily schedule
7:00-8:00 am——————————-mantra and pranayama session followed by a meditation session.
8:00-8:30 am——————————morning tea and Sanskrit writing time.
8:30-9:30 am————————--—-surya namaskar, asana practice, Hatha style.
9:30-10:30 am——————-——-—breakfast.
10:30-12:30———————-———-equine therapy and lecture sessions.
12:30-1:00 pm————————-—journal writing
1:00-3:00 pm——————————lunch and personal time
3:00-5:00 pm——————————-lecture session
5:00-5:30 pm——————————-journal writing
5:30-7:00 pm——————————-asana practice
7:00-8:00 pm——————————-dinner
8:00-9:00 pm——————————student led group discussion
Students may arrive one day before the course begins. Be advised no meals will be served however the fully equipped kitchen is available to students to prepare their own food that day. Students are free to visit the yoga studio and gardens. For safety reasons the horses and stables are not open to the students until after the group lecture on the safe and proper interactions with the horses.
Yoga with a View: Stretch you Limits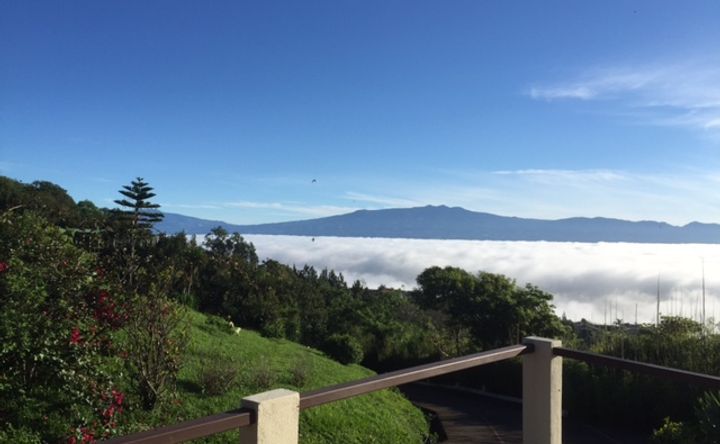 Venue Highlights
Yoga with a View is a private mountain yoga studio and school campus tucked away in the mountains of Escazu. The gardens cover 2.5 acres of lush plantings and private meditation corners. A small river borders the east side and the lights of San Jose, the capital city, shine brightly at night to the south.
The yoga studio is located in the small town of Escazu, south of Restaurant Tiquicia and near Calle Dos Cercas to the east. San Antonio de Escazu is known by the indigenous as Itakazu or the resting rock. It is here that shamans from both coasts of Costa Rica meet to share news and ideas.
The studio is surrounded by rural agriculture and pasture lands where you may be able to see and hear the famous wooden ox-carts of Costa Rica on the local roads, the Costa Rican green frog, plenty of songbirds and predatory birds, green parrots, oropendulems, and blue mot mots.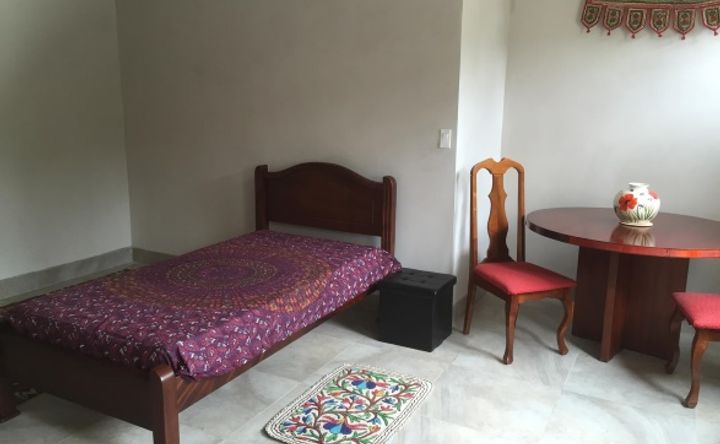 Accommodations
The first student apartment accommodates up to five students. Double and triple room sharing in the ample bedrooms. Beds are all twin size. Both bedrooms have en-suite bathrooms with reliable water and hot water supply. The bathrooms are modern with tile, granite, and modern fixtures.
There is a combined sitting room/dining room with tropical hardwood furniture and comfy sofas. The extensive reference library is housed here and available to all students. A full-sized kitchen adjoins the sitting room where the chef prepares the shared meals. The apartment also offers a tea-kettle, coffee-maker, refrigerator, microwave and toaster for students to use in between meal times. Students are asked to wash their own dishes and clean the kitchen after their personal use.
All rooms have views of the gardens and or the mountains and central valley. There is a large viewing balcony upstairs, a sunbathing balcony, and another outdoor eating area next to the apartment. The yoga studio is upstairs and directly accessible from the inside staircase.
Included in the accommodation is once a week maid service of the bathrooms and library/dining room area. Students are required to keep their sleeping places tidy on their own. Sheets and towels are changed every seven days. Also included are one fitted sheet, one flat sheet, one pillow and pillowcase, and one bath towel, hand towel, washcloth to each student; and one warm blanket to each bed. If you require additional items, please bring your own supplies.
Laundry service of personal clothing is offered every 10 days. The service only accepts clothing items that can be put in a washing machine and drier. Hand washing is the responsibility of the student. The service will accept 3 kilos of clothes per student every 10 days and cannot accept more clothing due to the limitations of the washer and drier. Please respect these guidelines.
The second student apartment has two bedrooms with private attached bathrooms and features one queen bed in each bedroom. Both rooms have views of the valley and the mountains and access to an outdoor terrace. These are private rooms and will be available once the other student apartment is full. If you would like to share the queen bed with a friend that is acceptable and you will not be charged the supplemental rate.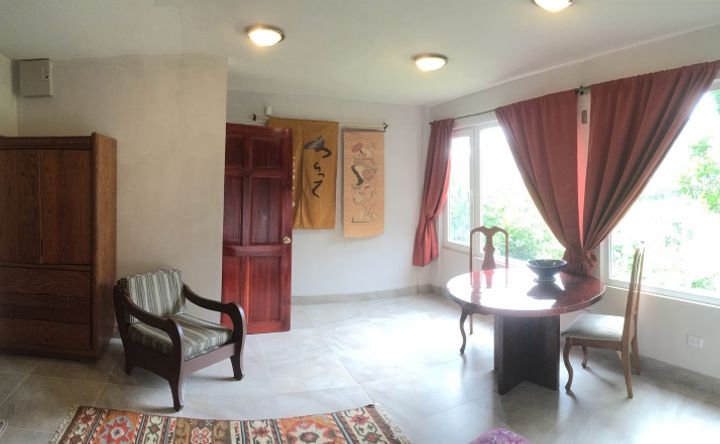 Amenities
Free Wifi
Towels
Free Parking
Kitchen
Tour Assistance
Coffee/Tea
Yoga Studio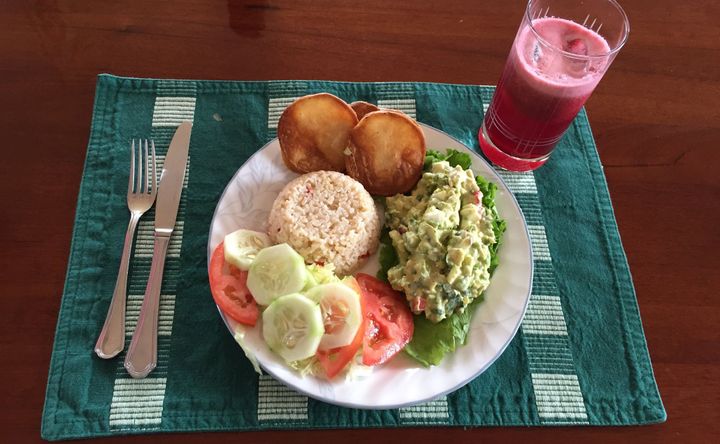 Menu Types
Vegan
Vegetarian
Organic
Gluten Free
Menu/Cuisine
All meals are provided for during the course. The chef lives on the property and is well versed in the nutritional properties of mostly organically sourced vegetables and fruits.
In the past, students who have entered the course as meat eaters, leave the course and are now confirmed vegetarians or vegans as a result of the tasty meals the chef prepares.
Students do have access to the kitchen 24 hours a day.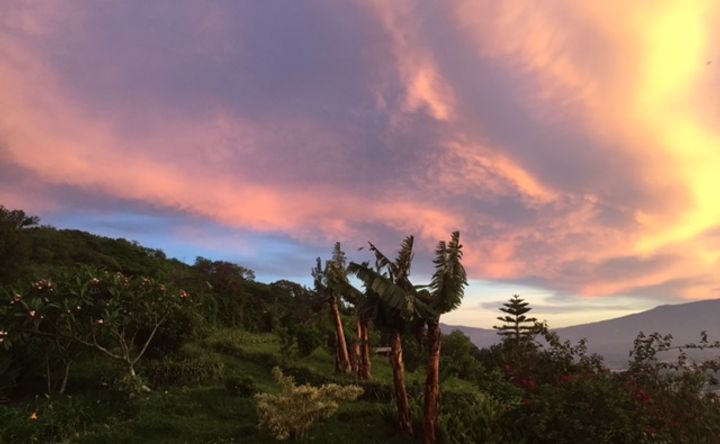 Directions
In San Antonio de Escazu, the retreat place is 50 meters south of the Restaurant Tiquicia and 350 east on Calle Dos Cercas, the fourth gate on the right. In Spanish: San Antonio de Escazu, 50 metres al sur del restaurante Tiquicia y 350 metres al este en Calle dos Cercas, quatro porton a mano derecha. You can arrive easily by taxi from the airport or local bus terminal.
We are 13 kilometers from the international airport, Juan Santa Maria in the Central Valley of Costa Rica, just outside of the capital city of San Jose.
The taxi ride is about 30 minutes with a cost of between $25 and $35 dollars.
Reviews To review this event, visit the page for the venue or retreat leaders (above).
Similar Retreats You Might Like

Thank you!
We're glad you've joined our retreat community. See you around :)
Return to my event
×