Insightful Family Retreat
Event Highlights
- family support
- alternative vacation
- (introduction to) meditation
- cultivating an open and loving family environment
- family activities
- personal and family coaching
- Lectures about relevant subjects (some tailored to the needs of the family)
- durable approach
Schedule
Example:
07:30 - 08:00 Meditation - first gong (three times) will sound at 07:20. From this moment you can walk to the meditation space.
08:15 - 09:00 Collective breakfast
09:30 - 12:00 Activity like hiking, archery, painting, drawing, etc.
12:00 - 13:00 2nd meal - we eat the warm meals in the midday
13:00 - 14:00 Rest
14:00 - 17:30 Space for personal and family coaching or other activities
17:30 - 18:30 Light last meal
19:00 - 20:00 Sometimes a lecture or informative meeting (examples: what is meditation, family patterns, etc. If you have questions about a specific subject tell us.)
20:00 - 20:30 Meditation
20:30 Rest
If you stay for a third week only the meditation is required of you (if you're present) to keep the right rythm and atmosphere on the grounds.
About This Event
This two-week all-in retreat (optional third week included) is for families who want a good and open atmosphere (back) in their home situation, to cultivate a more loving environment and / or wish to develop themselves as a family.
There are different reasons why you can take part in this retreat. For example, missing deep and open contact between family members, there is only shallow talk and family members should be cheerful. As a parent you may experience difficulties in the upbringing of and connection with your children and you hope this retreat may help you guide your children better and give your children help on how to handle their problems. How to learn from their problems. Maybe you don't experience great difficulties but wish for a calm vacation that brings your family closer together instead of going into the hustle and bustle of a great city. Lastly, there are a lot of families that consist of two or more former families. Children with different parents, etc. When two families connect, two totally different cultures connect, also. If this doesn't go fluidly it may be helpful to get some guidance to help both families to mingle durably.
In short, your wish to (re)discover openness, love and understanding, to accept and support instead of criticizing each other, fighting and irritation. You feel a need for real contact in your family, a family situation where you know that your understood and supported, despite all the mistakes that you and others may make.
What is this and what can you expect?
Families that recognize this situation or something similar are most welcome to work on their family situation for two (or three) weeks in Portugal. In an ideal situation the parents make a safe space from which different family members can journey into the world. A prerequisite for this safety is contact between family members, but especially parents. With contact we mean the possibility to also discuss difficult subjects in a situation where other family members try to understand the point of view of the speaker. Even when they don't agree.
By learning how to make (real) contact, how to be in conflict in a constructive way and by getting to know each other on a deeper level you lay the foundation for a good family situation at home.
This family retreat differs from other coaching weeks because it isn't the quick fix that is advertised so much. Years and years of personal and relational problems won't disappear with a trick and a 5-stepplan. It requires dedication and connection and the mannerisms and behaviors that are good for your family will flow from this naturally. The roots of this family retreats are in system theory and the Buddhist way of life: we are naturally good and also wish to do good. Through (an adapted) meditation you learn to unwind and to gain insight in yourself.
Because parents make the bed for the whole family, they are an important pivot in the process. The family coaching also works to improve and deepen the relationship of the parents. There will be conversations with the whole family as well as with the parents together. When one of the family members experiences individual problems, they can be discussed individually as well as with the whole family.
What does the family retreat look like?
During the family retreat you will be with a few other families on our premises in Portugal. Through group activities, lectures and personal assignments you work on the dynamics of your family. The program includes both parts where you actively work on the family situation and recreational activities. It is important in every relationship to also do fun things, have fun with each other. Examples include walking, archery, painting, etc. The only thing we do not do during the family retreat is to "hide" and avoid contact, that way you will not get to know each other. To this end, everyone hands in telephones and other electronics for the duration of the retreat. The conversations are focused on understanding each other, expressing desires and acceptance instead of condemning. In addition, we take the most important work points per family member and reduce them to practicable steps.
The family retreat takes two weeks, you choose when within the time available (27 July to 29 August), but it is possible to stay on the grounds for a third week to return to the normal rhythm at home. During the third week you can request extra guidance, but you have the time to schedule activities yourself, such as in a regular holiday. We can help with renting a car or arranging a taxi for this period. During the first two weeks of the retreat, the food is provided. It is possible to have us arrange a furnished tent for you. You can inquire for the possibilities.
We hope this retreat appeals to you and that we may welcome you this summer. Pleas contact us if you would like more information or still have questions.
Venue Highlights
We don't believe that 'new' is always better. Sometimes change means going back to very old values. Traditionally, keeping the good and discarding what's not. This is also reflected in our center. Brise Suave is organized and guided by a family. Bert and Krista are longtime therapists, supervisors and Bert is a recognized Buddhist teacher. Their son, Egbert, is a conceptual artist and guides artists that wish to deepen the concept and motivation behind their art. Daughter-in-law Tessel is an art therapist and focusses on families, relational difficulties and individuals with psychosocial problems. The basis for our work are the spiritual and psychological values of Tibetan Buddhism.
As a family and as a centre we try to be open towards everyone and to put love, even in hard times, at the forefront of our lives.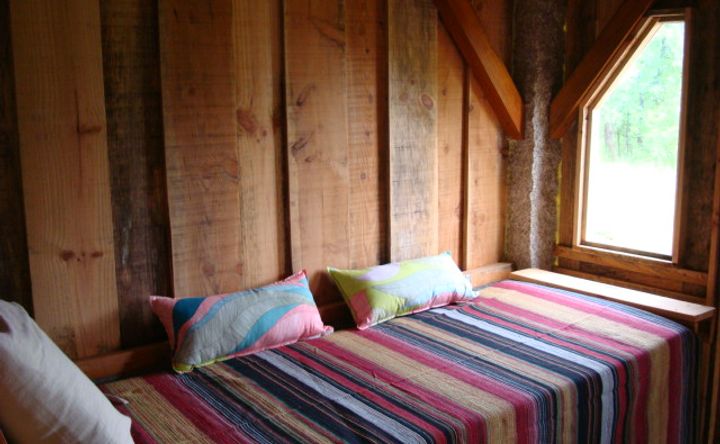 Accommodations
Our centre in Portugal is located just outside the small village Melo, near Gouveia. It is a beautiful one hectare piece of land. On the terrain, we have several places where you can put up a tent and two small cabins with a bed and table. There is a group space with a toilet and shower and we're building an outdoor kitchen. We ask that you bring your own toiletries, towels, etc. and that everyone takes care of the group space. If it's possible you can take you're own camping equipment with you otherwise you can rent a gastank to cook on, etc. from us. During the first two weeks of the family retreat, the food is provided and a furnished residential tent is provided for each family.
We have a small pool that's connected to our watermine and that you can use to cool off. The pool isn't yet in the pictures, but at least twice the size of the well.
Menu/Cuisine
During the organized retreats we provide the meals. The meals are always vegetarian and often vegan. When you are present outside of the organized retreats you cook your own meals. Groceries can be done in the village. The local shop is only 20 minutes by foot. If there are more people present they take turns in doing the groceries for everyone. The shopkeeper is very kind and sometimes brings the groceries to the centre if it's for more people.
Directions
The nearest airport is in Porto. From there you can take the train to gouveia and a taxi to our centre. The taxi in Gouveia isn't very expensive (approx. 15 euros). If you wish, we can bring you in contact with the taxi-service in Melo to support the local community.
Reviews To review this event, visit the page for the venue or retreat leaders (above).
Similar Retreats You Might Like

Thank you!
We're glad you've joined our retreat community. See you around :)
Return to my event
×