Tantra Yoga Teacher Training in Pokhara at Shivalaya Yoga Center
Event Highlights
FEATURES:
The comprehensive curriculum of our Yoga Teacher Training Course encompasses a vast range of inspiring topics.
Tantra Yoga (5 Yoga System – see section, What do we Teach?)
Yoga Nidra combined with Rotation of Awareness, Nyasa
Subconscious re-programming – manifestation of intention
Yoga Sutras of Patanjali and Bhagavad Gita
Chakra and energy centered practice
Yoga community and long-term support from your teachers
Teaching Methodology including sequencing, adjusting, teaching standards, classroom management
Yogic Anatomy and Ayurveda
Conscious Expressive Dance
Energy Work and Pranic Healing
Mantra Initiation
Establishing time for technology detox .
Mid-term and Final Exam, Practical Exam
The following ingredients support our graduates to become successful Yoga instructors:
Deeply powerful energy based Hatha Yoga
Establishment of a daily meditation practice with various techniques
Theoretical understanding of metaphysics and yogic philosophy
Experience of a yogic lifestyle (nature based, healthy diet)
Physical and energetic comprehension of postures
Effective correction training and supervised teaching experience
Personal guidance and family-like group atmosphere
Beautiful Nature and time for swimming in the lake
Schedule
The daily schedule will create a structure giving you the space and support to let go of attachments and fears; while surrendering to the process of transformation.
05:30 - wake-up (maintaining silence till breakfast)
06:30 - yoga / meditation (2h hours)
08:30 - breakfast (1h 30min break)
10:00 - lecture
12:30 - lunch (1h 30min break)
14:30 - workshop / teaching practice (2h hours)
16:30 - personal time
17:30 - dinner
18:30 - evening meditation/ satsang/ kirtan
20:00 - silence, retire to rooms
*Please note that the schedule is subject to change as the course develops depending on various factors. We will always take your needs into consideration. Please remain open and flexible.
* Sundays will be a free day. We will have one group outing during the month to visit Sarankot, view of Annapurna mountain range. There will be two study days before exams.
* We encourage time to go to the lake and have a swim.
About This Event
TANTRA YOGA TEACHER TRAINING
EXPERIENCE. EXPAND. TRANSFORM.

200 Hour Yoga Alliance Certified
Are you ready to expand your consciousness and bring out your greatest potential? This teacher training is designed to take you deeply into the essence of yoga, while providing the space for personal growth in a supportive loving atmosphere. We will provide you with all the tools to fully embody yoga and its sacred principles, so that teaching becomes a natural evolution.
Our course is an immersion in yoga lifestyle and community that will strengthen you in ways that you never knew possible. The spiritual depth of this course is naturally conducive to self-empowerment and inner transformation. Every student is respected on his / her personal path and encouraged to cultivate their own unique expression.
May the journey begin....
OVERVIEW
Why Tantra?
Tantra is the natural evolution of yoga. It is an integral system that consists of 5 Yogas, as originally taught by Lord Shiva, the original Guru of Yoga.
Tan means expansion, tra means freedom. Tantra is the art of being free from all physical, mental and spiritual bondage through the expansion of energy.
Unlike other systems of yoga, Tantra takes a liberal approach of embracing life in all its facets and using life as our ultimate teacher. Through accepting all that is, we find ourselves gradually liberated from all limitations and conditioning, which allows us to step fully into our personal power and the joy of being fully alive. 

Tantra Yoga emphasizes the development of power latent in the chakras in a systematic manner to heal and balances all aspects of the self - including the physical, emotional, vital, mental, and spiritual bodies. It eventually leads to supreme consciousness, the ultimate aim of human life.
WHAT MAKES OUR TRAINING SPECIAL?
Tantra itself is special, however misunderstood, it is an ancient system of activating the dormant potential inside each and every one of us. This training is not just a yoga teacher training but a life training to give you what you require to blossom fully into who you are meant to become in this lifetime.
Actually what makes our training special is you, each of you are unique and when we come together for this higher purpose a positive energy is created that will shape our course in its own beautiful expression. Sheltered in the tropical paradise of Goa you will find yourself in an expansive environment that encourages you to find your own inner yogi or yogini.
Moving beyond the physical aspect of yoga, however important, we place utmost importance on transmitting authentic yoga in all its fullness and glory, so that you may develop your own inner capacity of truly living in yoga. It is upon this foundation of spiritual strength and wisdom that a genuine yoga teacher may emerge. We aim to provide you with the foundational building blocks needed to teach with confidence and ease as soon as you graduate.
OUR LINEAGE
Our school of Tantra Yoga comes out of Shanti Yoga Ashram of Nepal, whose lineage is the combination of Tantra Yoga as taught by Swami Nirajananda, successor of Swami Satyananda of Bihar School of Yoga and Swami Shivalingam of Nepal, also a student of Swami Satyananda, who taught the ancient hidden secrets of Nepalese Tantra to his disciple Yogi Prakash, or Guruji, as he is known, founder of Shanti Yoga Ashram.
Nepal is the land of Tantra, where Shiva himself taught this science to his other half, Parvati. It has been preserved in its pure form from Guru to disciple ever since. It is our intention to transmit this wealth of knowledge, through adapted practices and providing a good structural means for conducive learning and integration.
WHAT DO WE TEACH?
Tantra yoga starts with the gross level, the body, and gradually transitions to the subtle level, consciousness. This teaching system offers the evolutionary process from Hatha yoga, meditation through the body, to Astanga yoga, meditation through the mind, to Mantra yoga, meditation through sound, to Kundalini yoga, meditation through the chakras, and ultimately to Shiva-Shakti yoga, meditation through the internal masculine and feminine energies.
Hatha Yoga – The Foundation of Tantra. Classical Hatha Yoga to balance our solar and lunar energies, when the body is balanced in this way the energy can flow properly which is the basis of good health.
Shat Karma – 1st step in Hatha Yoga, internal yogic cleansing to prepare our bodies and minds for the yoga practice to follow, so that when prana does start to flow it will be moving through clear open channels.
Asana, Pranayama, Mudra, Bhandha
Asana – 36 Classic Hatha Yoga Asanas, Sun Salutations with deeper esoteric meaning while incorporating chakra awareness, How to incorporate breathe, awareness and movement along with enjoyment.
Pranayama – Sensitizing, Vitalizing, Balancing and Tranquilizing. You will learn more than techniques but gain the ability to use your breathe to direct your own pranic flow.
Mudra – Create a flow of prana through different gestures, essential element of tantra yoga.
Bhanda – Learn to lock and release different parts of the body to direct the energy as needed.
Astanga Yoga (Raja Yoga) – 8 Limbs. There are practices in each of these limbs that help one evolve to the next.
Yama and Niyama – Development of personal character by imbibing certain lifestyle regulations for upliftment. Bhakti Yoga and Karma Yoga are included here
Bhakti Yoga (Yoga of Devotion) – Embodying Divine Qualities.
Karma Yoga (Yoga of Selfless Service) – Doing something good for humanity that reaches beyond your own borders.
Asana – Become comfortable in your own skin and still so that the cosmic life-force may flow through you.
Pranayama – Learn to expand the space between the breaths to come fully into present moment awareness, preliminary stages of meditation.
Pratyahara – Can you fully relax and go within? Learn to withdraw your senses and find your true home, inside of you.
Yoga Nidra and other techniques will be practiced regularly
Dharana – Concentration – Esoteric Practices to create the strength and focus necessary for meditation
Dhyayna – Meditation will happen naturally with the preparatory practices we will give you.
Samadhi – Blissful state of Enlightenment – A glimpse will be possible as the soul begins to shine out and feel real peace.
Mantra Yoga – Once the body and mind are balanced we are ready to invoke the divine energy through sound vibration, the most subtle of all manifestations.
AUM Chanting – There are many ways to chant Om to awaken different energy centers and to either elevate or ground.
Kirtan – Singing together chants to invite Cosmic Energies.
Mantra Initiation – You will receive a mantra to connect you with the yoga lineage to chant on your own.
Yantra, Mantra and Tantra – Visualization and Manifestation.
As part of this theme we will incorporate dance and movement throughout the course to fully awaken and unite our bodies and souls.
Kundalini Yoga – The yoga of awakening the sleeping potential of the human being through bringing awareness into each chakra, energy center using a variety of tantra yoga methods. This is an integral practice that will evolve throughout the course. We will also spend time to understand and work with each chakra individually.
Kriya Yoga – Working inside of the asana to circulate prana from one chakra to the next, a process of purification.
Shiva Shakti Yoga – Requiring the use of all the yoga systems learned previously; it is our goal to make you a master of your own body, mind and energy systems. You will learn how to become an embodiment of divinity and to balance your own internal masculine and feminine energies.
Harmonizing sexuality with spirituality to understand sacred sex.
Ritual and Ceremony to celebrate and honor the divine feminine and noble masculine.
Intuitive Massage – a method to connect touch with your intuition. You will be guided and have the chance to practice on each other.
Connecting the three main power centers.
Ayurveda – the art of living in harmony with yourself and the natural world.
Philosophy and Practical Application.
Circardian Rythyms and Natural Cycles.
Self-care and Daily Routine.
Ayurvedic Diet and conscious eating.
"Yoga means union and Tantra is the union of all yoga systems, as it weaves together and integrates all practices into one. When this occurs divine bliss is experienced." - Yogini Gopika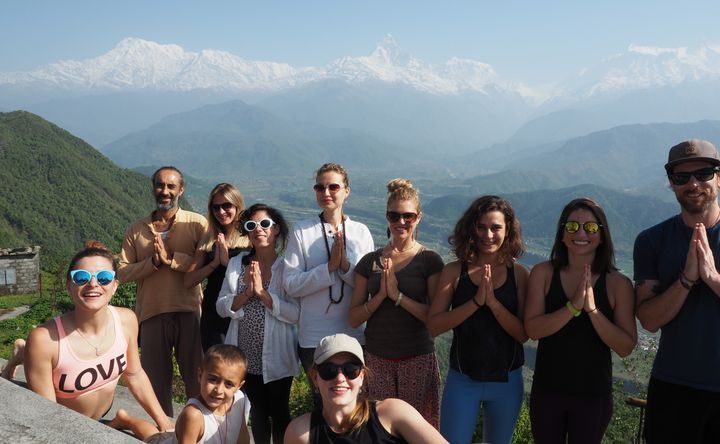 Venue Highlights
One hour away from Pokhara, you will find the magnificent Shivalaya situated in the heart of mountains and rising above Begnas lake. The atmosphere of serenity envelops you giving perfect conditions for concentrating your energy on spiritual growth. It is a wonderful space to fully immerse yourself in yoga.
Inside of a lush green forest, overlooking Begnas Lake, surrounded by the abundance of Mother Nature and the fresh mountain mountain air; we will come together for the experience of a lifetime. Dedicated and disciplined daily practice within the context of a warm loving family of like minded friends with the same aspiration – to learn and embody all the facets of yoga and to evolve into yoga teachers.
The view of the sunrise coming up from behind the mountains over the lake is simply breathtaking. Everyday it is different. We will hold a lot of our classes outdoors. There will be time to swim or go boating in the lake. There are nature paths to walk on as well.
Accommodations
A new building has just been made, so the rooms are brand new. You can choose a private room or a room with two beds. Both have attached bath. We have two yoga halls, both with a lake view.
Amenities
Free Wifi
Tour Assistance
Menu Types
Vegan
Vegetarian
Ayurvedic
Dairy Free
Menu/Cuisine
Three home cooked meals will be served daily. The menu will be varied and will be vegetarian. For example: Fruits and porridge or pancakes in the morning. Lentils, rice, chapatis, vegetables and salad for lunch. Soup and vegetables with chapatis for dinner.
Herbal teas will be served. Coffee available upon request.
Directions
You can take a tourist bus from Kathmandu to Pokhara (it takes a maximum of 8 hours).
One possible bus company is Gardencity tours and travels. (contact info blocked)/ (contact info blocked)/ (contact info blocked).
The cost is about 1,000 rs or 10 USD. 10 KM before Pokhara you should come down at Tal Chowk (near Begnas Lake). Our host Bishnu can come to meet you when you arrive and take you to Shivalaya. If needed, his phone number is (contact info blocked).
Another option is that you can come by jeep with some of the other students. This is more comfortable and about 2 hours shorter than the bus drive. We can organize this. For four people
Otherwise you can fly into Pokhara.
---
Cancellation Policy
100% deposit refund for cancellation 60+ days before event.
50% deposit refund for cancellation 30-59 days before event.
0% deposit refund for cancellation 0-29 days before event.
The remaining balance (total price minus deposit) is due upon arrival.
Get full details...
Reviews To review this event, visit the page for the venue or retreat leaders (above).
Similar Retreats You Might Like

Thank you!
We're glad you've joined our retreat community. See you around :)
Return to my event
×