Transformational Breath® Seminar – Mexico
Respiremos

Feb 23 - 28, 2019 (6 days)

$1,850.00 - Seminar, includes lodging and meals / Seminario, incluye hospedaje y alimentos $1,650.00 - Seminar, includes meals only / Seminario, solo incluye alimentos
About us
The Seminar or Personal Level Training: Is a 5-day Personal Transformation Program that covers Levels I, II and III. This Program provides a powerful venue for rapid healing and personal transformation of the physical, mental / emotional, and spiritual aspects of one's being. Amazing shifts in health, awareness and well-being are experienced through using the breath and other powerful modalities.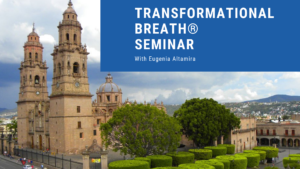 Event Site Description:

The state capital of Michoacán and its most dynamic and beautiful city, Morelia is an increasingly popular destination, and rightly so: the colonial heart of the city is so well preserved that it was declared a Unesco World Heritage site in 1991, and its cathedral is not just gorgeous, it's inspirational.
Morelia, founded in 1541, was one of the first Spanish cities in Nueva España. The first viceroy, Antonio de Mendoza, named it Valladolid after the Spanish city and he encouraged Spanish nobility to move here with their families. In 1828, after Nueva España had become the Republic of Mexico, the city was renamed Morelia in honor of local hero José María Morelos y Pavón, a key figure in Mexico's independence.
Elegant 16th- and 17th-century stone buildings, baroque facades and archways line the narrow downtown streets, and are home to museums, hotels, restaurants, chocolaterías (chocolate shops), sidewalk cafes, a popular university and cheap-and-inviting taquerías (taco stalls). There are free public concerts, frequent art installations, and yet so few foreign tourists. Word may soon leak out, but, for the moment, Morelia is all yours to enjoy.
El Seminario o Niveles de Entrenamiento Personal: Es un curso de 5 días de Transformación Personal que cubre los niveles I, II y III. Este programa provee un proceso rápido para la sanación y transformación en los niveles físico, mental/emocional y espiritual del ser. Experimentaras increíbles cambios en salud, conciencia y bienestar al usar la Respiración y otras poderosas modalidades.
Tendrán 10 sesiones de Respiración Transformacional e iniciarán el día con un ejercicio corto de respiración y meditación. El resto del tiempo se estudia la teoría detrás de la practica de la Respiración Transformacional y se trabaja con otras modalidades de apoyo que ayudan en el proceso. Las modalidades de apoyo nos ayudan a trabajar con nuestros pensamientos conscientes e ideas, mejoran nuestra capacidad de comunicación y nos ayudan a ver mas allá de los conflictos en nuestra vida.
Una de las metas principales del Seminario es dar a cada quien la autonomía para que trabajen por si mismos. Al final del entrenamiento podrás darte sesiones a ti mismo y continuar en tu proceso de forma individual. Estudiaremos el mapa del cuerpo, esto te permitirá trabajar en ti mismo, para que puedas tener acceso a esta poderosa herramienta de auto-sanación en cualquier momento.
Thank you!
We're glad you've joined our retreat community. See you around :)
Return to my event
×