8-day Circus with Purpose Aerial, Acro & Yoga Retreat in Nicaragua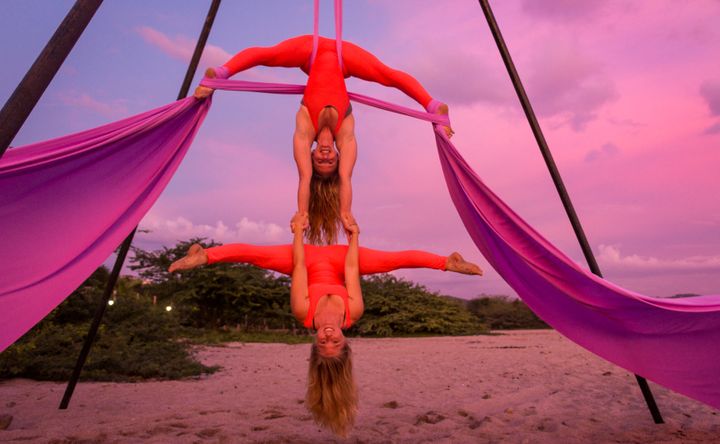 Event Highlights
7 nights in our Circus Castle by the sea
Daily Yoga, Dance, Acro Yoga and Aerial Acrobatic classes held by international and local teachers and artists
Organic rhythms by musical innovators
3 delicious, colourful, nourishing meals daily + snacks
Priceless connections with purposeful creators and a beautiful community of YOUnicorns
Raised funds go towards building a Circus and Yoga school, to make a difference and give back to the local community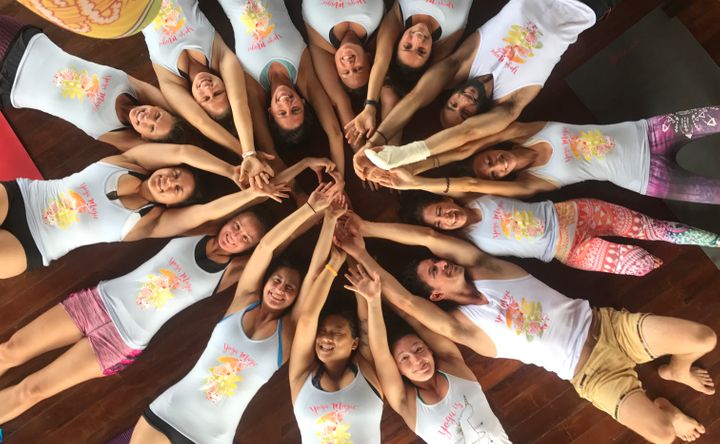 Schedule
7am - Coffee & fresh fruits
7.30am - Morning meditation
8am - Active CircAsana yoga practice, including AcroYoga, handstands and Aerial Yoga
10am - Healthy, big, beautiful breakfast
12pm - Creative movement class
2.30pm – Bright, colorful lunch
3.30pm - Intimate speakeasy, where thought leaders in the their field discuss the various facets of passion and purpose
5pm – Choice of aerial acrobatics (silks, hammock & lyra) or AcroYoga, handstands and dance workshops
7pm – Family-style dinner
8pm - Evening activities, such as relaxing therapeutic yoga, Thai massage, restorative aerial yoga and AcroYoga, and a hot springs adventure
About This Event
Come to the edge of the world for a meeting of the minds with purpose driven changemakers and BE the YOUnicorn you wish to see in the world. This is about growth hacking our bodies and our minds and expanding our potential through collaboration.
We have invited some of our favorite purposeful creators including Andrew Sealy and Crested Butte Dance Collective to teach yoga, dance, handstands, AcroYoga, aerial arts (including aerial yoga, silks & lyra), make art and explore the concept of PURPOSE at beautiful Magnific Rock.
Immerse yourself in our Circus Castle by the Sea where every moment is your canvas, wake up and align yourself in our birds eye yoga shala, ignite your energy with colorful nourishing meals, explore your body in our aerial and acrobatic jungle gym, breathe in vast views of the tropical coast line, take a surf board and become one with the vibrations of the pacific ocean, find your float to handstand, move your body to organic rhythms created by musical innovators, immerse in Spanish language and Nicaraguan culture with bilingual classes taught by local artists and yogis, ideate with thought leaders in their fields to hone your passion and purpose, and work with international artists, yogis and the local community to co-create a piece of collaborative art for the purpose of building a social circus and yoga education center in El Remate Nicaragua.
THE PURPOSE:
The children of El Remate have been practicing yoga weekly for 2 years on a dusty, sunny baseball field, sharing 10 yoga mats between 50 children. Their teacher Harold, has been teaching himself yoga and mindfulness techniques to share with the children and over the past 2 years he has seen great increases in the children's emotional health and communication skills. We have worked with Harold teaching acro yoga and creating circus performances which the children absolutely loved and are now training Harold to be a certified CircAsana Yoga Teacher so he has even more yoga magic to share with the kiddos. Our goal is to raise funds to build a Circus Yoga School in El Remate and help the children to continue to develop life skills and growth mindsets through circus and yoga education.
HOW CAN I SUPPORT?
-Join the Retreat
All of the profits of this retreat go directly to the El Remate Project.
-Donate
If you can't attend the retreat, you can donate directly here: (contact info blocked)
-Spread the word
Share on social media or announce in your community
OUR CREATIVE COLLABORATORS
ANDREW SEALY: a connection catalyst, a Yoga artist, and a movement creator. His days are spent traveling to find adventure, practicing to cultivate growth, and constantly absorbing wisdom to creating new experiences that he shares with love to his friends around the world. He finds joy in interviewing Yogis from all walks of life to share their inspiring stories on the Yoga Revealed Podcast.
CIRCASANA: Amy and Saffron are a professional aerial + acrobatic YOUnicorn duo. They joined forces in the tiny town of Popoyo, Nicaragua, with a shared mission to "unleash the inner YOUnicorn", inspiring creative confidence and purposeful collaboration through circus + yoga. Their community circuses bridge cultural gaps, bringing together expats, traveling artists and the local community to create uplifting, yoga-inspired circus spectacles. These shows not only impact the audience, but leave all involved glowing with a sense of connection and purpose.
MATTHEW SILVER: Homeless, crazy man or genius artist & busker?
Matthew Silver is an American comedian, sacred clown, and street performer, who is best recognized for creating his viral street performance Words of Wisdom from An Unexpected Citizen. He uses New York City's Union Square Park as his venue, as well as other unexpected places around the globe, to spread his inspiring message of Love, Farts & Magic.
SYMPHONIC PLANET is a group of music and film industry professionals who travel the world in search of unique sound phenomena. Using the sounds we collect, we compose cinematic music inspired by our journeys. We think of ourselves as goodwill ambassadors, traveling the globe and dedicating our musical talents to the cultures and spaces we encounter, honoring them with our work and our art.
CRESTED BUTTE DANCE COLLECTIVE: Adge Lindsey has a fiery passion for dance emanates from her very soul, down her arms and legs and shines from her whole body - she loves to MOVE and always invites everyone to join her! Adge has extensive training in styles including jazz, lyrical, tap, African, contemporary, hip-hop and physically-integrated dance through her studies with Philadelphia Ballet, Barbara Ann's School of Dance, The Edge Performing Arts, Camp Mabina and the AXIS Dance Company.
ECUELA DE COMEDIA Y MIMO (School of Comedy & Mime) is a social circus project in Granada, Nicaragua. They have various fire-twirling, juggling and superstar clowning members, who teach and perform in Central America and Europe.
"This retreat was an unexpected, transformative experience for me. I'm a creative person, and a lot of the things that were represented to me as part of this creative process, were things that I think I might have lost as a child. Ways in which to make new things, express myself as an artist, that I have left behind for one reason or another, and I was able to connect with those things, and I just fell in love with the place and the people. "" -Gianni - California, USA ""All the new connections I've made; all the experiences doing acro and yoga and other things with people I've never met before; all the good thoughts it has generated; all the positive emotions; and all the things I've learnt about myself along the way: how I deal with the world, with people, with myself, with my body. Those are invaluable lessons that will remain with me for the rest of my life."" -Klaus, Austria ""I feel like both Saffron and Amy have infectious personalities that make you feel loved and warm, and make you want to try new things, and give you the confidence to try things you never thought your body could do, but with their instruction I felt like I could let go and put my body into amazing different positions, and just be silly – I think that was what a lot of it was about – just being silly."" -Robyn - USA ""I liked all of the acro aspects. I come from a cross-fit background, so I have the strength part but not necessarily the flexibility. I really liked the Hoopasana – I thought that was a lot of fun - hula hooping isn't something you typically do at this age, so that was really fun. I'll buy a hoop when I get home."" -Jill - South Dakota, USA ""A super adventurous, colorful, very outdoor, energetic retreat. My intention to come to the retreat was connect to myself and my inner power, and I learnt so many things – my strengths, about pushing myself a little more, but not to take it so seriously. I got to really push myself, without competing or comparing myself to others."" -Marie Elisa, Germany "Thank you guys – had an amazing time! It you haven't done one of these retreats, get down to it. I learned everything: acroyoga was amazing, learnt some new techniques when it came to inversions – all your pointers and techniques really nailed it in for me - and then just learning to connect with good people." Nathan - Canada
What's Included
7-nights at magical Magnific Rock in the accommodation of your choice
Airport transfers
3 bright, colorful meals daily
Bottomless tea, coffee + water
Daily fresh fruit smoothies
Morning meditations
3 movement workshops daily:
AcroYoga, aerial yoga, handstands, contemporary dance, hip-hop, clown, fire twirling, hula hooping, aerial silks & lyra
Beach aerial rig & AcroYoga photoshoot
1-hr massage
Surf lesson
Community cultural tour
Hot springs adventure
Entrance to the BIG show & post-show celebration
(Optional) opportunity to perform
All retreat profits donated to the El Remate project
What's Not Included
Flights are NOT included.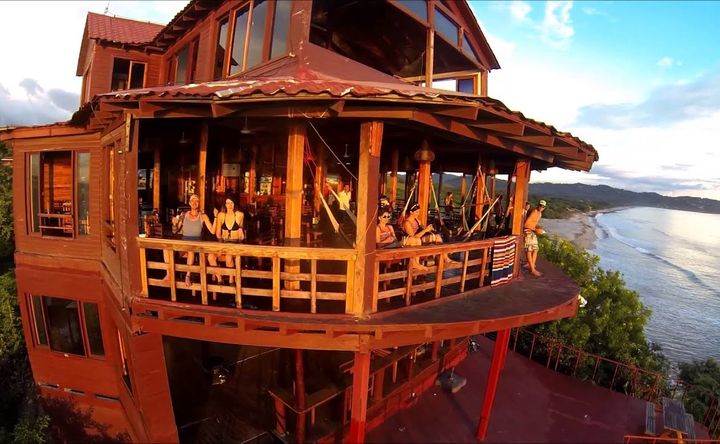 Venue Highlights
Perched on a 30-metre cliff face, with 270 degree ocean views Magnific Rock offers guests an unparalleled experience, with a variety of accommodation options, beautiful restaurant and bar, breathtaking aerial yoga studio, surf activities and the best views. Magnific Rock offers guests the best possible service and amenities you need while maintaining a personal, fun vibe.
Amenities Include:
Fully serviced onsite restaurant
Onsite bar with live music, DJs and latest sport event broadcasting
Swimming pool
Yoga studio with daily classes
Aerial silks
Surf boards & paddle boards for rent
Laundry service
Parking
Safe and secure
Outdoor shower
Kitchen facilities in apartments
Towels provided in all private rooms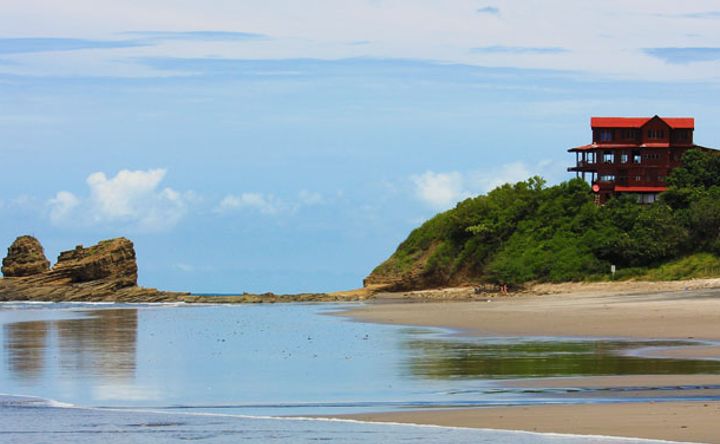 Accommodations
4-share dorm - US$ 1,890
Bunk beds, fans, and private bathroom
3-share apartment - US$ 1,990
AC, cliffside ocean views, private bathroom & balcony
2-share studio - US$ 2,190
AC, cliffside ocean views, private bathroom & balcony
Private studio - US$ 2,490
AC, queen bed, cliffside ocean views, private bathroom & balcony
Safe and secure
Non-smoking
Wifi
-3-share apartment
1 double and 2 single beds
Air-conditioned bedroom
Kitchenette
Private balcony
Private bathroom
Safe and secure
Non-smoking
Wifi
-2-share studio
USD$1690
2 Beds (one queen and one single)
Air-Conditioned
Wi-Fi
Private Balcony
Private Bathroom
Non-Smoking
Safe and Secure
-Private studio
2 Beds (one queen and one single)
Air-Conditioned
Wi-Fi
Private Balcony
Private Bathroom
Non-Smoking
Safe and Secure"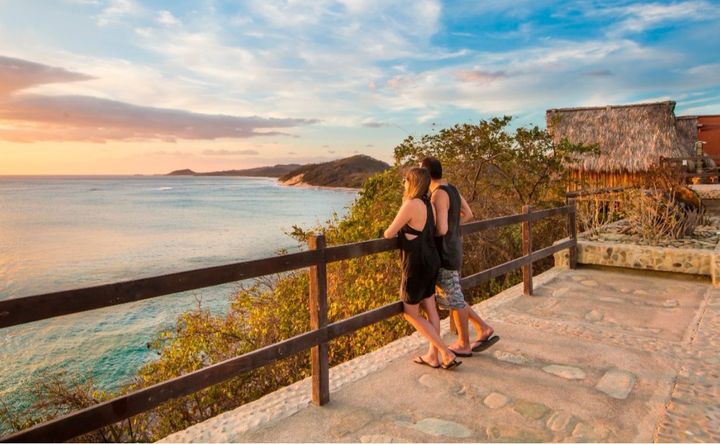 Amenities
A/C in Rooms
Free Wifi
Spa
Pool
Towels
Free Parking
Kitchen
Tour Assistance
Coffee/Tea
Cafe
Restaurant
Fitness Center
Yoga Studio
House Keeping
Bicycles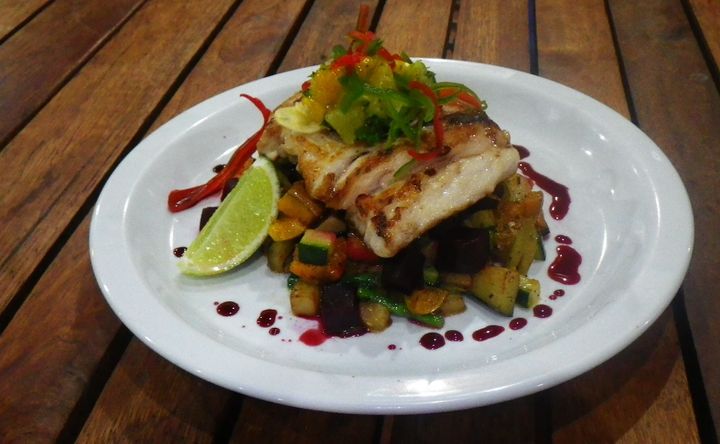 Menu Types
Vegan
Vegetarian
Pescetarian
Meat
Organic
Gluten Free
Dairy Free
Nut Free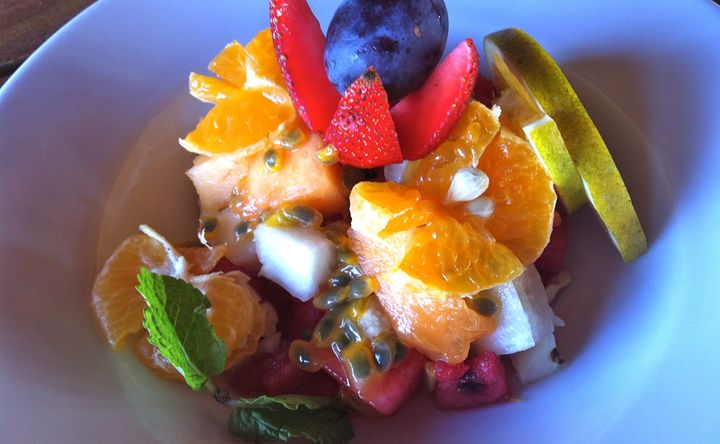 Menu/Cuisine
The food alone could make your day! Daily fresh delicious food prepared by the famed Magnific Rock restaurant includes 3 meals daily with a breakfast buffet and vegetarian, vegan, fish, chicken and meat options. Refreshing daily smoothies, and unlimited coffee tea and water will keep you fueled for the daily adventures and everyone raves about the cacao bliss balls!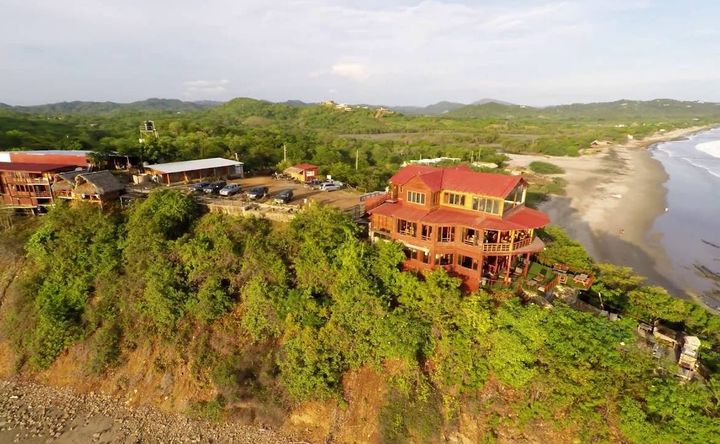 Directions
Free airport transfers provided from MGA (Augosto Sandindo Intl Airport) in Nicaragua on arrival and departure days.
Reviews To review this event, visit the page for the venue or retreat leaders (above).
Similar Retreats You Might Like

Thank you!
We're glad you've joined our retreat community. See you around :)
Return to my event
×