21 Days 200-Hour Yoga Teacher Training in Guatemala (April 2019)
Event Highlights
Ashtanga Vinyasa yoga embodied within the Doron Yoga Building Blocks
In-depth asana teachings with emphasis on alignment, anatomy, and hands-on assists
Pranayama, meditation
Non-dogmatic approach to yoga philosophy
Chakras, naulis, kriyas, bandhas
Flexitarian approach including Ayurveda, nutrition/healthy eating, and the yoga lifestyle
Teaching techniques, ethics, and yoga as a business
Teaching Tools: Voice, Language, Instructing, Modifying and Demonstrating
Teaching practice: leading a group, holding space and being present
Mentoring: observing, assisting, personal guidance.
200 hour Yoga Alliance Register Yoga Teacher (RYT) certification
Swimming, hiking, kayaking, and other nearby activities
Daily brunch, snack, and dinner with non-alcoholic beverages
Living by the beautiful lake Atitlan and the surrounding villages
20 nights accommodation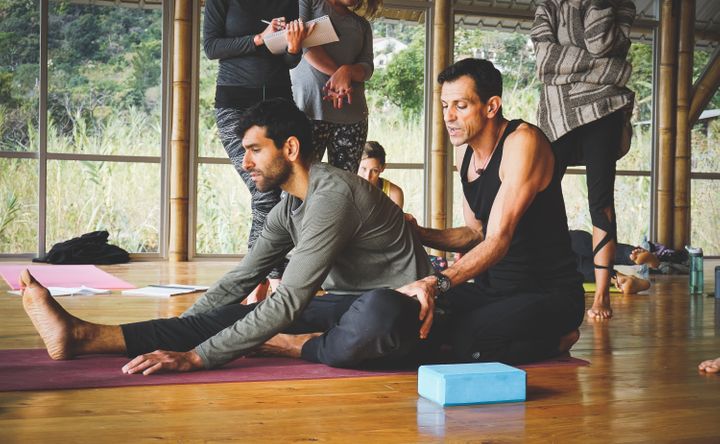 Schedule
5:00 – 6:15pm Opening Circle (arrival day)
6:00 – 7:00am Meditation and Pranayama
7:00 – 8:45am Doron Yoga asana practice
9:00 – 9:30am Breakfast
11:00 - 1:00pm Class: Asana adjustments/Yoga Philosophy/Teaching practice/Anatomy studies
1:00 – 1:30pm Lunch
3:30 – 6:30pm Class: Asana adjustments/Yoga Philosophy/Teaching practice/Anatomy studies
6:30 – 7:30pm Dinner
7:30 – 9:30pm Rest, study and Optional Activities
EXCURSIONS:
Organized excursions are not a part of this training; however, Sundays are free days and Lake Atitlan offers a plethora of different activities, including but not limited to swimming, kayaking, and hiking. A day trip can be taken by boat or tuk-tuk to the nearby villages for sightseeing and shopping.
The DYZC is located in Tzununa, which is surrounded by hills on Lake Atitlan with great views of the volcanoes on the other side of the lake. Hiking, swimming, and kayaking opportunities can be found around the village, which also has a dock where local lanchas (boat taxis) stop every 20-40 minutes to take you to explore other towns around the lake. San Marcos, the closest town over, can also be reached by foot along a dirt road. There, trainees can relax in one of the many cafes and restaurants or partake in an array of healing offerings, including shamanism, cacao ceremonies, reiki, massage, and much more. Among others, San Pedro, a short ride to the other side of the lake, has more of a vibrant backpacker's vibe and is a little less expensive.
On either end of your training, the nearby cities of Antigua and Quetzaltenango (commonly known as Xela) are only a few hours away and worth the visit
About This Event
WHAT IS THE DORON YOGA METHOD?
The Doron Yoga ashtanga vinyasa teacher training program is a life-changing, growth and transformational opportunity. Doron Yoga is a holistic approach to yoga – and more broadly, to life – blending meditation, pranayama, asana, food and nutrition, Ayurveda, mind training, philosophy, energy work, and much more for a healthy, well-balanced life. When you grow as an individual, learn about yourself, deepen your practice, and become an example for others, you naturally develop into a great teacher and a better person.
The Program:
The curriculum is based on the teachings of Krishnamacharya, particularly from the Ashtanga Vinyasa tradition along with selected wisdom from a variety of yoga and Buddhist traditions. These include alignment from Iyengar and western physics, kundalini pranayama and Bhakti chanting, as well as Zen and Ayurveda (learn how to balance yourself and others with food, nutrition, yoga and lifestyle).
First of all, we will establish very strong foundations, and build on top of that. It will all be super clear, and easy to remember (using fun teaching systems).
We learn the ashtanga primary series, but more than that we learn a sustainable vinyasa system. The program includes a very well structure for building a sequence (based on the first 2 series of ashtanga and more). There are 19 building blocks, that each one may have a variety of poses to choose from. This means you get a basic structure that keeps the class balanced and healthy, but with flexibility to change and vary according to levels or just for fun. It is very much balanced between a strong yang practice (movement but with mind focus and breath), along with some stillness, of deep stretching.
Beyond a teacher training, this is a personal journey for anyone engaging on a process of personal-enquiry – a time for increasing self-awareness and deepening your relationship with your practice whether or not you wish to go on to teach. For those who do wish to teach, our approach recognizes that being able to inspire others with the practice comes from the passion you truly hold for it, the depth of your understanding of it, and your ability to communicate it to your students. This course cultivates these skills to help prepare you to contribute to the yoga community through your teaching and practice.
What is Included?
All-inclusive rates include:
20 nights shared accommodation per person
3 daily nutritious home-cooked vegetarian meals and a snack with water, herbal tea, and coffee
All instructions and program
Extensive 300 page manual written by Doron Hanoch, your TTC teacher
200 hour RYT certification upon successful completion of the course
What is Not Included?
Of the required reading, only the Doron Yoga Manual is included in the program fee. All other books on the required and recommended reading lists must be purchased separately.
Your flights and transportation between the international airport in Guatemala City and the Doron Yoga & Zen Center in Tzununa in Lake Atitlan is not included. Additionally, any extra snacks, beverages, excursions, and/or spa treatments are at the student's expense.
Massage therapies or other consultations with our experts
Know Before You Go
We recommend this training to students with an intermediate-level practice.
Be mindful of food and water hygiene, as travellers' diarrhea is not uncommon in Guatemala, which can be quite challenging when embarking on a TTC. Bring some grapefruit seed extract, daily maintenance of 7-8 drops in water or juice or any other supplement that suits.
There are no ATMs or currency exchange facilities in Tzununa. It is advisable to carry with you sufficient cash or plan to travel by boat to Panajachel or San Pedro for an ATM or bank. Guatemala is a cash friendly economy.
Payment:
Please be sure to cover all fees your bank charges for the payment.
"The 200 hour teacher training with Doron was a true pleasure and it exceeded my expectations completely. We were taught thoroughly not just about the Asanas, but also about the history, philosophy, and evolution of Yoga and the Sutras. Doron facilitated and helped our group live "the yoga lifestyle" during our 3 weeks together; from eating practices and Ayurvedic nutritional concepts, to daily meditation, Pranayama, and the importance of mindfulness in everyday actions. I left the training with a new perspective and total confidence in my ability to teach Yoga and facilitate a well-balanced, beneficial class for all levels. The training gave me the inspiration and the tools to continue with my own daily self-practice, which was one of my biggest goals going into the training. Additionally, our group was small but very diverse in personalities and backgrounds and I constantly marveled at Doron's ability to adjust to and manage such a varied clan of people. By the end of the 3 weeks, we all had a strong sense of connection and love for one another and we didn't want the training to end! I will cherish my experience and the friends I made along the way for a lifetime to come. Thank you, Doron." – Landra Scherer, CA. USA. 2016 Guatemala TTC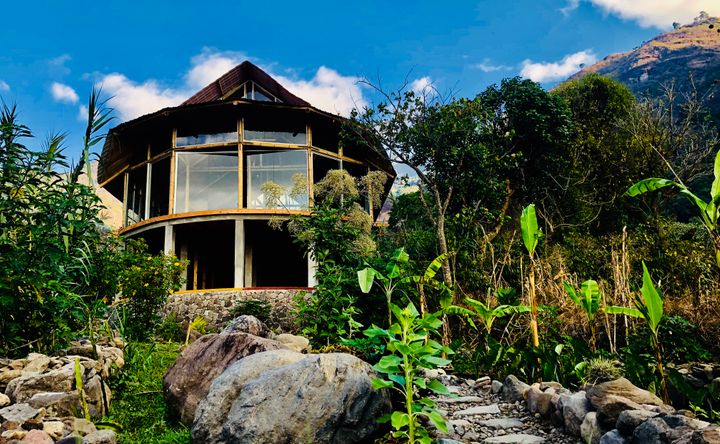 Venue Highlights
LOCATION
Doron Yoga & Zen Center is a spiritual eco village, based on permaculture principles with touches of Zen. It manifests the power and energy of the magnificent lake Atitlan. The lake can be majestically viewed from our grounds, with volcanoes and local villages perfectly framing the scene. We are part of the Maya village of Tzununa in Guatemala. Located 7 min walk from the lake. Hammocks hang by the river and gardens, and connecting paths are all paved with local stone.
YOGA SHALA
We may just have one of the most beautiful yoga spaces in the world, consisting of a sprawling cypress floating floor, surrounded by large glass sliding doors, held up by huge bamboo pillars, and featuring jaw-dropping views. High ceilings with extra insulation keep the temperatures perfect year round. It is a temple sitting along the Tzununa River, allowing for the sound of water to flow softly and soothingly into our practice. Unlike many ashrams, they did not cut corners, and you can see the beauty in the details. The place is kept very clean and has a wonderful vibe to it. The cane, Cyprus, pine, and rocks used in the construction are locally sourced, where local community workers built each house with care. Permaculture principles are followed to ecologically enhance the quality of the construction, garden, and design functionality of the center.
BUDDHA CAFÉ
The Buddha café is a wonderful meeting place. It hosts a large deck with a variety of seating options and a gorgeous view of the lake. It serves super nutritious, delicious gourmet, vegetarian food. One of its primary highlights is the great company. Travelers meet to share stories, experiences, a cup of tea, and a hug. It offers a place to rest, connect with new friends, read and have some delicious food.
GROUNDS
Permaculture principles are followed to ecologically enhance the quality of the construction, and design functionality of the center. We grow coffee, bananas, avocados, lettuces, beans, yams, radishes, herbs and around 30 other fruits and vegetables (yum, guacamole!).
We have a beautiful fire pit under the grand Jocote tree (which you may want to climb). Additionally, we've built a natural, large, ceremonial-grade sauna to help with detoxing and cleansing. We offer massages and can organize tours around the lake for you.
The DYZC was built on a high-frequency vibration land. We are sure you will feel it as you come stay with us. As one guest stated: "center" doesn't seem to be the most fitting word- maybe something like dream village, or yoga farm, or riverbank Zen oasis.
EXCURSIONS:
Organized excursions are not a part of this training; however, Sundays are free days and Lake Atitlan offers a plethora of different activities, including but not limited to swimming, kayaking, and hiking. A day trip can be taken by boat or tuk-tuk to the nearby villages for sightseeing and shopping.
On either end of your training, the nearby cities of Antigua and Quetzaltenango (commonly known as Xela) are only a few hours away and worth the visit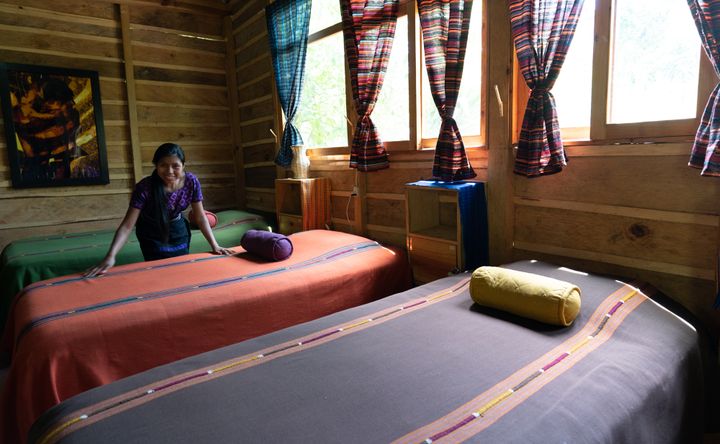 Accommodations
There are variety of options for your accomodation from shared dorms to privat deluxe rooms.
There are two lovely and spacious dormitories, which sleep 5 -6 people and share the bathroom area.
We have 3 private rooms with shared bathrooms. These rooms are unique and have their own painted wall murals, and other special art and decorations. There are 3 toilets, 2 showers and 2 sinks, separate from one another, so there is never wait time.
There are also three beautiful log cabin rooms. These rooms have en-suite bathrooms, a deck with hammocks and chairs, gardens and beautiful lake view.
Our showers have hot water, and we have western toilettes (eco treatment). Our water source is from a spring supplied by the municipality and from river water that runs through the property.
We try to give you a local experience, using local fabrics, building with natural materials, eco-friendly materials and following permaculture principles. However, we have made sure you will feel at home, and hope you will love this unique experience as much as we love creating it.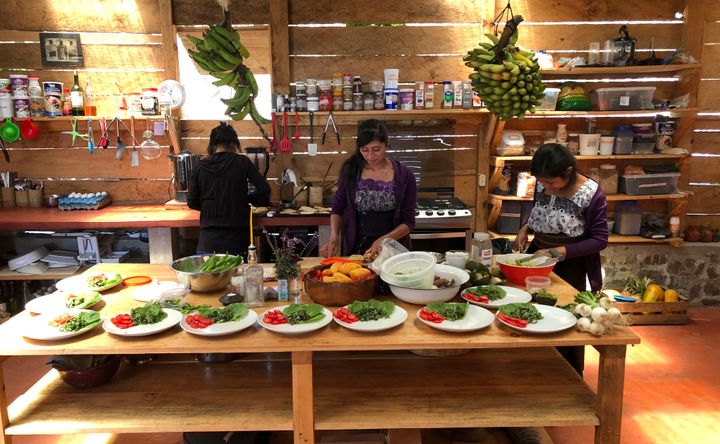 Amenities
Free Wifi
Sauna
Towels
Tour Assistance
Coffee/Tea
Cafe
Restaurant
Yoga Studio
House Keeping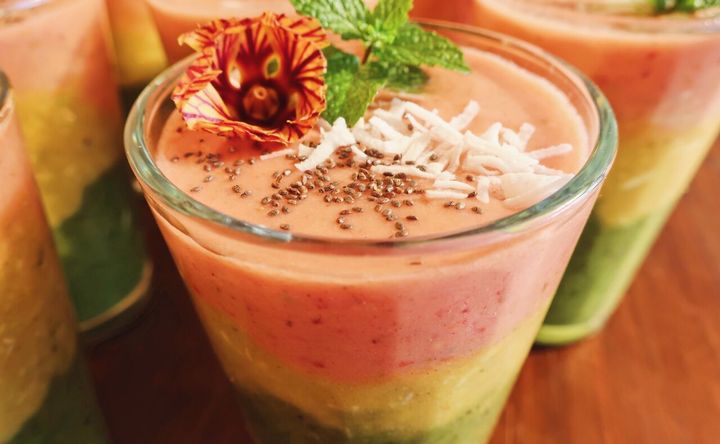 Menu Types
Vegan
Vegetarian
Ayurvedic
Gluten Free
Nut Free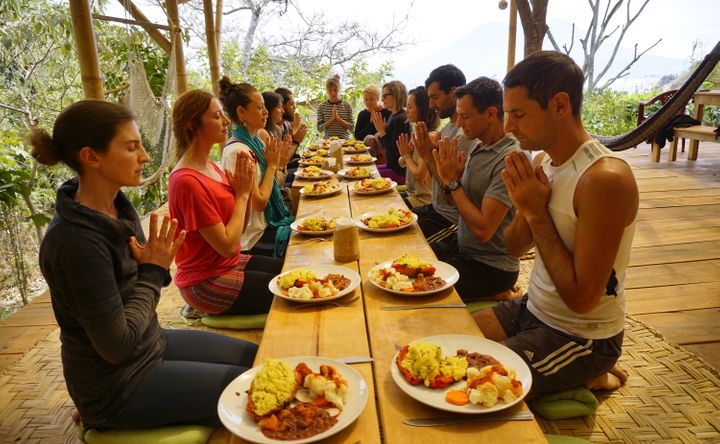 Menu/Cuisine
Three vegetarian meals will be served each day with a mix of international, Guatemalan, and Doron's special healthy, yummy, and Mediterranean touch. These are made from fresh local produce, organic when available. Gluten free and Vegan diets can be accommodated upon request.
Each meal is substantial, varied, and nourishing, to energize you through your practices, without leaving you feeling too heavy.
All food at the Doron Yoga & Zen Center is prepared as healthily and nutritiously as possible, under the guidance of the founder and director, who is also a trained chef and certified nutrition consultant.
To the greatest extent possible, food is organic and locally sourced, including from their own blossoming gardens.
You will get a great balance of raw food, cooked food (with healthy oils), fermented foods, healthy sauces and condiments, homemade jams and peanut butter, fresh homemade granola, baked sourdough bread, fresh made tortillas on wood oven, pizza from our clay and wood burning pizza oven and so much more.
We offer snacks and drinks for a pick me up or dessert. Try our chocolate chip banana muffins, vegan power super food rich bliss balls (made with local Mayan raw cacao), vegan black bean brownies, or one of our drinks: kombucha or probiotic ginger.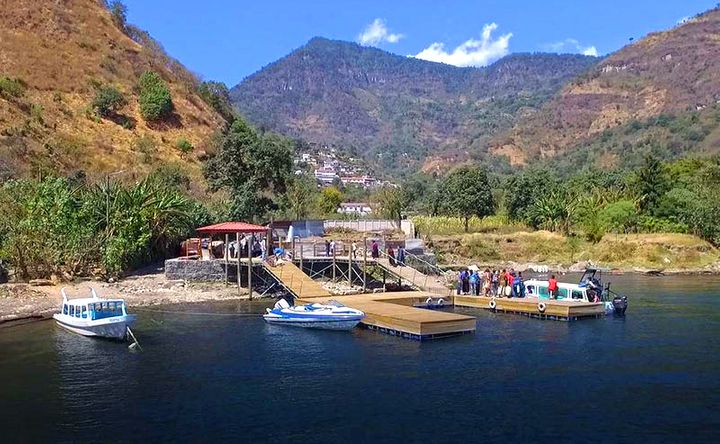 Directions
Be sure to arrive in Guatemala City La Aurora International Airport (GUA) before noon on the first day of the course. We can then arrange an optional (additional fee) group shuttle to leave the airport at noon. The shuttle arrives at Panajachel, followed by a boat ride to Tzununa.
Check with us, many times there are spaces for you to stay in the Doron Yoga and Zen Center (for additional fee) a few days before so you can actually get acclimated and be fresh for the beginning of the course. If you are arriving early and staying elsewhere (in Antigua or around Lake Atitlan), check if your hotel has a pick-up service.
Once in Tzununa, locals know DYZC as Casa Doron Yoga, so you can take a tuk-tuk from the dock (5 minutes), cost 5-10Q.
---
Cancellation Policy
All deposits are non-refundable.
The remaining balance (total price minus deposit) is due upon arrival.
The remaining balance is non-refundable once paid.
Get full details...
Reviews To review this event, visit the page for the venue or retreat leaders (above).
Similar Retreats You Might Like

Thank you!
We're glad you've joined our retreat community. See you around :)
Return to my event
×