NEW YEAR'S REJUVENATION RETREAT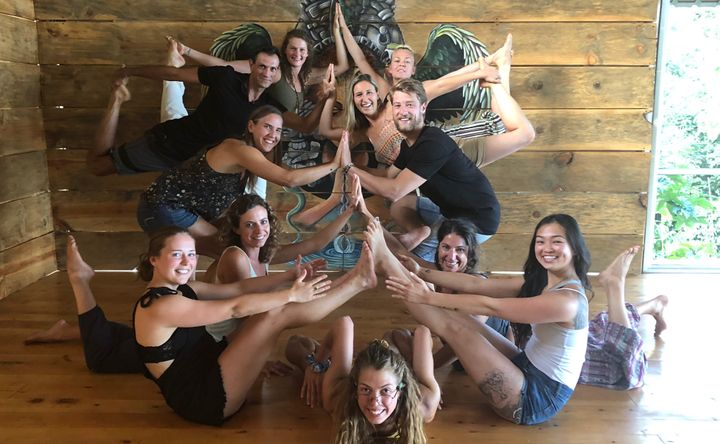 Event Highlights
The serenity of a Zen Retreat by a Maya village
Amazing lake and volcano views, with river flow through the land
Morning yoga sessions – Deepen your yoga practice
Understand better alignment and mechanics of poses
Pranayama practices to enrich your energy and life force
Zen meditation
Osho Kundalini meditation
Zen Dance
Detailed workshops that will change the way you see the world
Yin Yoga to deepen flexibility and balance the body
Better understand the functioning of the mind
Practice gratitude – joy-enhancing techniques
Amazing teachings and hands-on assists from a well-seasoned international teacher
Lake swimming
Temascal / sweat lodge / natural sauna
Exciting evening fire-side Zen talks / chanting
Explore the distinct and charming towns of Lake Atitlan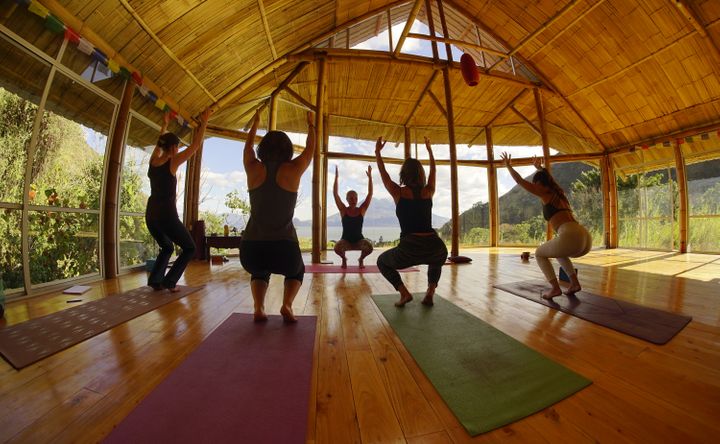 Schedule
5:00 – 6:15pm Opening Circle (arrival day)
6:00 – 7:00am Meditation and Pranayama
7:00 – 8:30am Doron Yoga asana practice
8:45 – 9:30am Breakfast
1:00 – 1:30pm Lunch
4:30 – 6:15pm Afternoon workshops
6:30 – 7:30pm Dinner
7:30 – 9:30pm Rest and Optional Activities
Your days begin with pranayama (breathing practices), meditation, and yoga asana. This practice, which lasts a total of 2.5 hours, is the perfect way to start your day from a place of bliss. Practice is followed by a yummy, nutritious, super food breakfast. You then get a break to relax, read or go explore. We are happy to help with arranging activities such as stand up paddle, massage, market visits, Volcano hikes and more.
It's also fun to just sit on your hammock, relax by the river on the property, or chat with new friends. It's also an easy walk to the lake, where you can enjoy swimming or sitting on the dock by the water.
In the afternoons we will deepen yoga practice, dance, sing and play. We will soften into yin, relax into yoga nidra and understand better how to make resolutions actually work. Doron will guide you through meditations and intentions setting, that will actually help you reach your goals.
AFTERNOON WORKSHOPS
This inspiring workshops, which are an opportunity to dive deeper into the practice, gain more knowledge from an expert leader, and have time to ask specific questions.
Dr. Asana: Alignment tips and tricks to create a sustainable practice, refine the basics, and master the more advanced challenges. Options are offered for all levels of practitioners. (You may learn how to improve your jump backs, or simply build more strength for it. You may work on arm balances, or more foundational poses). Most retreats will host two Dr. Asana sessions, at times mixed in with some yin.
Yin Yoga: Deepen your flexibility with longer held proses. Open up your hips, release the hamstrings, and build up more opening in the back and spine. These sessions are sometimes mixed with other sessions.
Yoga Nidra: Doron will guide you through a deep relaxation session. This is mostly an add on to another session
Yoga and Zen Philosophy: Dive deeper into the understanding of yoga and Buddhism; Duality vs. non-duality. Understand what are the mind's afflictions that keep us from finding freedom. Doron makes it practical and inclusive so you deepen and explore further no matter how many years of practice you have.
Yoga Lifestyle: Q&A about the yoga lifestyle; Integrating morning routines, food options, sleep, hygiene, and more into your daily life. It's recommended to read The Yoga Lifestyle, by Doron Hanoch before the retreat. (Available on Amazon and other online stores)
Calistyoga: Fun 80s Jane Fonda-inspired calisthenics workshop, sometimes replaces part of the Dr. asana second session.
Prepare to laugh, dance, practice some powerful yet loving yoga, focus your mind like a Jedi and love yourself and others like never before!
About This Event
Ring in the New Year from a place of balance, joy and gratitude at the Doron Yoga & Zen Center! This week-long retreat will be all about celebration. Enjoy delicious food and new friendships as you bring your mind and body back to alignment to start the new year with a clear mind. Take time away from the stress of your everyday life to immerse yourself in the gorgeous natural beauty of Lake Atitlan and the surrounding mountains. Breathe into the incredible view as you devote attention to your yoga, dance, and meditation practice. Prepare to laugh, eat, dance, practice powerful yoga, focus your mind like a Jedi, and learn to love yourself and others like never before.
As a bonus opportunity to clear the system and start fresh, we will also offer a purifying ceremony in our traditional temazcal (sauna). Get ready to feel cleansed!
This is an ashtanga-vinyasa retreat, mixed with bhakti and kundalini, for all levels. Detailed instruction and lots of care are shared to help you grow your practice. Stunning yoga space, props, and amazing views will help make this one of the most memorable experiences of your life. This retreat is for everyone interested in a more holistic yoga lifestyle.
WHAT'S INCLUDED
6 nights accommodation3 Daily vegetarian meals, locally-sourced food, all cooked from scratch with quality ingredientsFiltered water, herbal tea and coffeeRetreat to build a holistic yoga lifestyle, integrating mind, body, food and nutritionLive in a spiritual communityAll yoga instructionsPranayama (breathing exercises)Zen MeditationTips and tricks on mastering yogaYoga guidance from a well-seasoned international teacherTips on integrating the Yoga Lifestyle into your life at homeGuided meditations, programs and workshopsTime to explore the distinct and charming towns of Lake AtitlanHammocks, chill out benches and spots around the property
WHAT'S NOT INCLUDED
ExcursionsExtra snacks and beveragesTransportation and transitions to and from the retreat (we can organize it for a fee)Massage therapies or other consultations with our experts
YOGA
The Doron yoga method (based in Ashtanga from primary through third series) mixes yin and yang, core work and strengthening, with deep stretching. The class offers a challenge and movements, but the flow is slow, mindful and focused. You will work hard, and laugh at the same time. There are lots of tips and teachings that will help you advance rapidly. Doron Yoga is a sustainable yoga system, where safety comes first and foundations of correct alignment specifically for each individual. Then, based on that we build up to the most advanced practices according to each student's level and needs. Receive amazing hands-on assists from a loving, compassionate, enthusiastic, and energetic teacher with more than 25 years of yoga practice and studies around the world.
AMENITIES
Environmentally friendlyPermaculture Organic GardenRiver with meditation seats by itChill out areas and hammocksSpecial nutrition requestBeautiful Yoga shala with stunning viewsFree Wi-FiNatural Sauna / Temascal / Sweat lodge (fee)Snacks, probiotic drinks and gifts for saleLaundry service (fee)Daily room cleaningYoga Lifestyle consultations (fee)Linens and towelMassage room and therapistsHolistic lifestyle coachingReading / chill out spotsCan organize private Spanish classes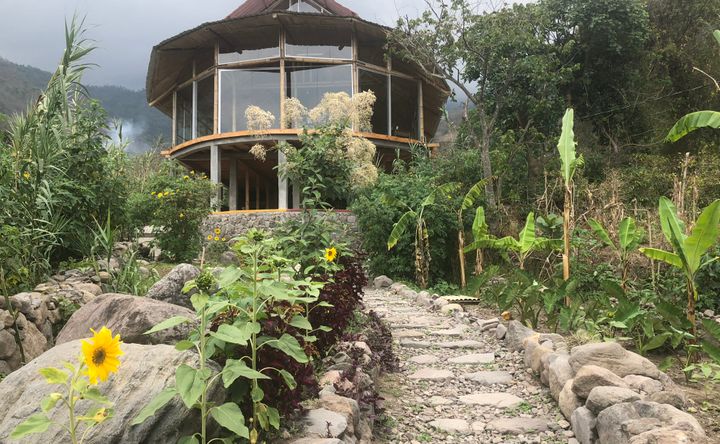 Venue Highlights
LOCATION
Doron Yoga & Zen Center is a spiritual eco village, based on permaculture principles with touches of Zen. It manifests the power and energy of the magnificent lake Atitlan. The lake can be majestically viewed from our grounds, with volcanoes and local villages perfectly framing the scene. We are part of the Maya village of Tzununa in Guatemala. Located 7 min walk from the lake. Hammocks hang by the river and gardens, and connecting paths are all paved with local stone.
YOGA SHALA
We may just have one of the most beautiful yoga spaces in the world, consisting of a sprawling cypress floating floor, surrounded by large glass sliding doors, held up by huge bamboo pillars, and featuring jaw-dropping views. High ceilings with extra insulation keep the temperatures perfect year round. It is a temple sitting along the Tzununa River, allowing for the sound of water to flow softly and soothingly into our practice. Unlike many ashrams, they did not cut corners, and you can see the beauty in the details. The place is kept very clean and has a wonderful vibe to it. The cane, Cyprus, pine, and rocks used in the construction are locally sourced, where local community workers built each house with care. Permaculture principles are followed to ecologically enhance the quality of the construction, garden, and design functionality of the center.
BUDDHA CAFÉ
The Buddha café is a wonderful meeting place. It hosts a large deck with a variety of seating options and a gorgeous view of the lake. It serves super nutritious, delicious gourmet, vegetarian food. One of its primary highlights is the great company. Travelers meet to share stories, experiences, a cup of tea, and a hug. It offers a place to rest, connect with new friends, read and have some delicious food.
GROUNDS
Permaculture principles are followed to ecologically enhance the quality of the construction, and design functionality of the center. We grow coffee, bananas, avocados, lettuces, beans, yams, radishes, herbs and around 30 other fruits and vegetables (yum, guacamole!).
We have a beautiful fire pit under the grand Jocote tree (which you may want to climb). Additionally, we've built a natural, large, ceremonial-grade sauna to help with detoxing and cleansing. We offer massages and can organize tours around the lake for you.
The DYZC was built on a high-frequency vibration land. We are sure you will feel it as you come stay with us. As one guest stated: "center" doesn't seem to be the most fitting word- maybe something like dream village, or yoga farm, or riverbank Zen oasis.
DURING YOUR FREE TIME, YOU CAN ENJOY SOME THESE ACTIVITIES
Walk / hike around Tzununa, up the mountains or to next-door villages
Sit on a rock in the river and meditate or read a book
Sit by the river, or on a hammock and relax
Swim in the lake or chill out on the dock with awesome views
Hike The San Pedro Volcano (with guide)
Kayak in San Marcos or San Pedro
Stand up paddle, in Panajachel or San Marcos
Get a massage in our "by the river" room
Venture by boat, tuk-tuk, or foot into one of the neighboring towns for some shopping for traditional textiles, paintings and crafts, sight seeing, and a feel for some local Mayan villages
Relax surrounded by the soothing sound of the babbling river that flows through the Doron Yoga & Zen Center (DYZC)'s grounds and views of Lake Atitlan, it's volcanoes, mountains, gardens, coffee, avocado, and banana trees.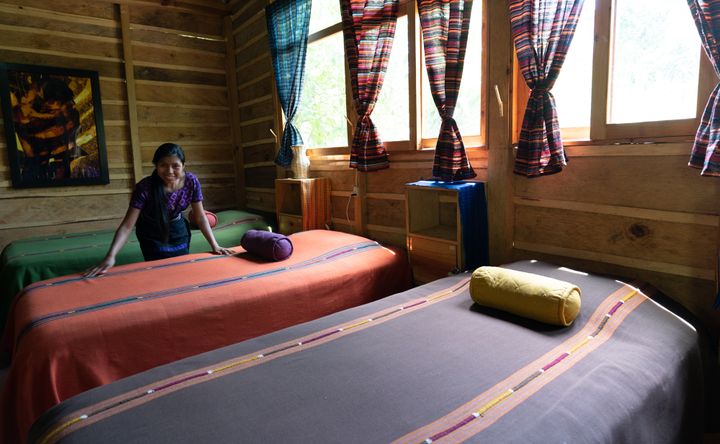 Accommodations
The rooms at the Doron Yoga & Zen Center (DYZC) in Tzununa are simple but beautiful; rustic, yet charming. Located up the hill from Lake Atitlan, coffee, banana and other trees and lush vegetation abound on the DYZC's grounds.
All DYZC accommodations are built for comfort and safety while being ecological . The base for all rooms is a stone wall, made of stones from our land held strongly together with concrete. The other walls are from wood, or at times bricks when we seek to have better sound insulation between rooms. Our showers have hot water, and we have western toilettes (eco treatment). Our water source is from a spring supplied by the municipality and from river water that runs through the property.
The dormitories sleeps 5 to 6 people and shares the bathroom area (3 western-style toilets, 2 showers, and 2 sinks).
We tried to give you a local experience, using local fabrics, building with natural materials, eco-friendly materials and following permaculture principles. However, we made sure you will feel at home, and hope you will love this unique experience as much as we love creating it.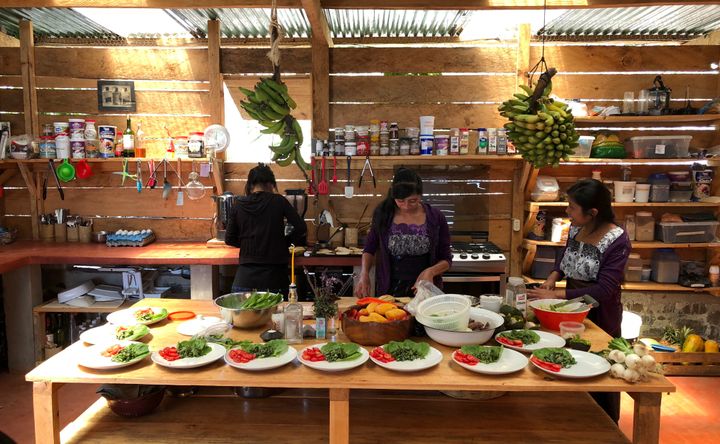 Amenities
Free Wifi
Sauna
Towels
Tour Assistance
Coffee/Tea
Cafe
Yoga Studio
House Keeping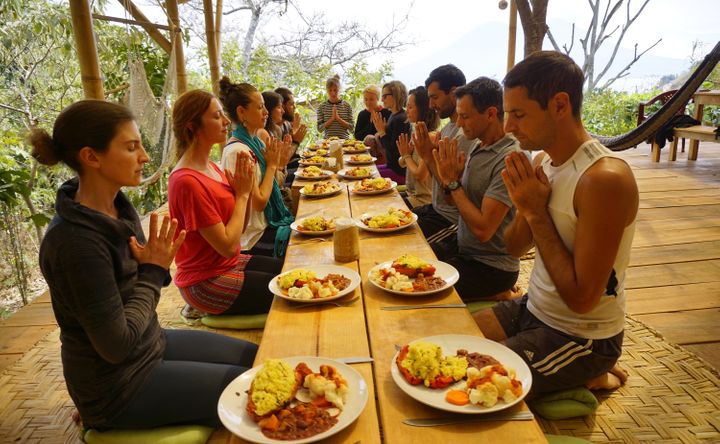 Menu Types
Vegan
Vegetarian
Gluten Free
Dairy Free
Nut Free
Menu/Cuisine
Three vegetarian meals will be served each day with a mix of international, Guatemalan, and Doron's special healthy, yummy, and Mediterranean touch. These are made from fresh local produce, organic when available. Gluten free and Vegan diets can be accommodated upon request.
Each meal is substantial, varied, and nourishing, to energize you through your practices, without leaving you feeling too heavy.
All food at the Doron Yoga & Zen Center is prepared as healthily and nutritiously as possible, under the guidance of the founder and director, who is also a trained chef and certified nutrition consultant.
To the greatest extent possible, food is organic and locally sourced, including from their own blossoming gardens.
You will get a great balance of raw food, cooked food (with healthy oils), fermented foods, healthy sauces and condiments, homemade jams and peanut butter, fresh homemade granola, baked sourdough bread, fresh made tortillas on wood oven, pizza from our clay and wood burning pizza oven and so much more.
We offer snacks and drinks for a pick me up or dessert. Try our chocolate chip banana muffins, vegan power super food rich bliss balls (made with local Mayan raw cacao), vegan black bean brownies, or one of our drinks: kombucha or probiotic ginger.
Notes: Be mindful of food and water hygiene, as travelers' diarrhea is not uncommon in Guatemala. This can be quite challenging when embarking on a yoga program. Bring some grapefruit seed extract and for daily maintenance, add of seven to eight drops in water or juice. Remember to bring along any other supplement that helps soothe your tummy.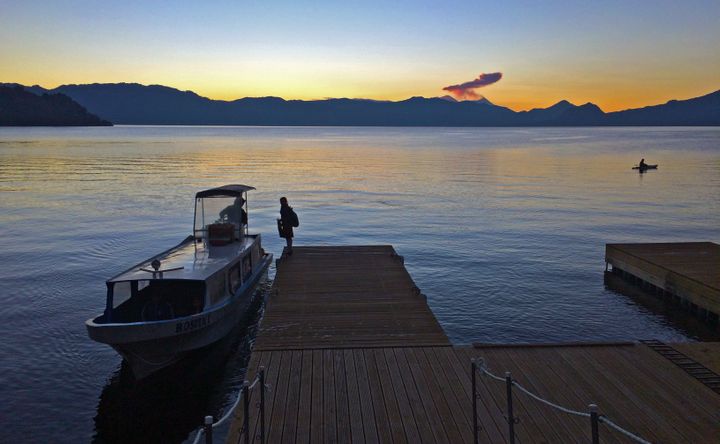 Directions
The closest airport to the center is La Aurora International Airport, which is located in Guatemala City. The airport code is GUA.
The airport is located 3-5 hours from Lake Atitlan depending on traffic. When planning flights, please be sure to consider this in your plans. It's safest and easiest to travel around Guatemala and the lake during daytime hours. As such, We recommend booking a flight that lands before noon if possible. This will allow you to arrive with plenty of time to get to the lake and navigate transportation to the center during daylight hours.
Once in Tzununa, locals know DYZC as Casa Doron Yoga, so you can take a tuk-tuk from the dock (5 minutes), cost 5-10Q.
IF YOUR FLIGHT LANDS AFTER 2 PM
If your plane lands in the afternoon, please consider spending a night in Guatemala City and traveling to the center in the morning. Private shuttles can be booked for flights arriving as late as 3pm, but you must also be prepared to pay for a private boat on the lake if you arrive after the public boats stop running.
IF YOUR FLIGHT LANDS AFTER MIDNIGHT
If your flight lands after midnight, we would suggest waiting at the airport until around 5am to begin your journey towards the lake, though private shuttles can be arranged at any time.
SHUTTLE OPTIONS
The Doron Yoga & Zen Center works with local travel agencies/shuttle companies to help provide you transportation from the airport and to other major centers of tourism in Guatemala. Shuttles run to and from the nearby town of Panajachel, not directly to the center. We offer help with arranging private shuttles, as well as shared shuttles provided by the travel company. The private shuttles are a more direct option. The shared shuttles from the city sometimes also make stops in Antigua, and therefore can take longer to arrive. If not coming from the airport, the shuttles can pick you up from addresses in zones 1, 9, 10 and 13. Please allow at least an hour and fifteen minutes from the time your flight is supposed to land to the time you book your shuttle.
PRIVATE SHUTTLES
Private shuttles can be arranged at any time, and are a total of $100 USD. The price changes for bigger groups (groups of four or more people). Please inquire about pricing if you have more than three people in your group. If arriving in the evening, please also be prepared to book a private boat from Panajachel.
SHARED SHUTTLES
Shared shuttles leave the airport at 11am and 2pm. Shuttles cost $30 USD per rider. For the 11 am shuttle, your flight must land by 9:45am. For the 2pm shuttle, your flight must land by 12:45pm.
---
Cancellation Policy
All deposits are non-refundable.
The remaining balance (total price minus deposit) is due upon arrival.
The remaining balance is non-refundable once paid.
Get full details...
Reviews To review this event, visit the page for the venue or retreat leaders (above).
Similar Retreats You Might Like
Thank you!
We're glad you've joined our retreat community. See you around :)
Return to my event
×