30 Days Kalaripayattu, Meditation and Horse Riding Retreat in Kerala India. Kadathanadan Kalari Sangam, Wayanad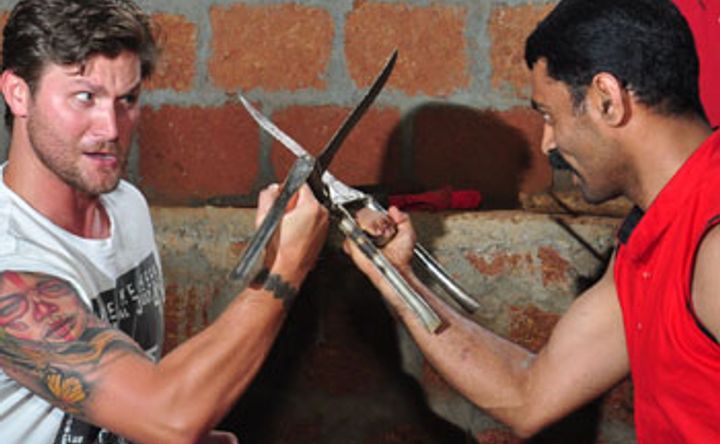 Event Highlights
- Daily Kalari Classes twice a day
- 30 days accommodation in a dorm
- 3 nutritious meals a day
- Unlimited herbal water
- Coffee
- Introduction to herbal plants
- Pranic Health. Reconnect with the cosmic energy.
- Horse Riding
- Chance to visit traditional farms
- Daily prayanama sessions
Schedule
7.00am - 9.00am - Morning session Kalaripayattu and meditation
9.00am - Breakfast
10:30am - 11.30am - Theory class on Kalaripayattu
11.30am - rest and free time
1.00pm lunch
3.00pm - Spend time with the horse and the other farm animals and learn horse riding
5.00pm - tea time
5.30pm - 8.00pm - evening Kalaripayattu session
8.30pm - dinner
About This Event
Kalaripayattu is an ancient martial arts form from Kerala. The movements and exercises are based on the science of Yoga and the medical treatment is based on the science of Ayurveda.
"KALARIPAYATTU IS A HOLISTIC APPROACH INTEGRATING
BODY, MIND AND SPIRIT."
Mythology credits Saint Parasurama as being the father of Kalaripayattu having learned it form God Shiva himself. Kalaripayattu means the fighting art of the Kalari. In ancient South India the Kalari (yard for practicing Kalaripayatttu) was a place of learning for subjects such as medecine, philosophy, astrology, architecture, and geometry, in addition to combat art and yoga.
Another definition is 'Kalari' (Battlefield) and 'Payattu' (Training in the art of combat). Kalaripayattu includes strikes, kicks, grappling, preset forms, weaponry and healing methods.
According to Indian history, the practice of martial arts was made compulsory in India during the 11th century, which was the period of Chera-Chola war. This is the period when Kalaripayattu become popular. In the 16th century, northern Kerala was a battle field where many wars were fought. Therefore Kalaripayattu became an inseperable part of the tradition and culture of Kerala.
There are three different Kalari yards: Nalpatheeradi Kalari, Anpatheeradi Kalari, and Pathineteeradi Kalari. This classification is based on the size of the Kalari yard. For Kalari practice there are two systems: Northern Kalari and Southern Kalari. Kadathanadan Kalari belongs to the Northern Kalari system and is popular for its unique Kalaripayattu practices, as it is based on the "Thanthra Sasthra" (Tactics Science), an Indian scientific ruling system. Students go through a 12-year schooling system to master all the different levels of Kalaripayattu, before they can learn the secrets of Kalari massage.
Kalaripayattu is not only a system for martial arts alone but also a medium for prayer, meditation, personality, mind control, concentration, tact building etc. Kalaripayattu has a different image than other martial arts forms in its warm-up system, practise and treatment system. Complete dedication of body and mind, strict discipline and devotion are very essential for practicing Kalaripayattu. There is also a strong focus on "Gurushishya Bandam" (teacher student relationship) in the Kalaripayattu system.
Kalaripayattu is a holistic approach integrating body, mind and spirit.
Venue Highlights
The school is located in a small village in Wayanad in the highlands of the Kerala around serene nature. Wayanad is a rural district in Kerala state, SouthWest India. In the east, the Wayanad Wildlife Sanctuary is a lush, forested region with areas of high altitude and home to many animals. The school is located a few kilometres away from Mananthavady in a lush green area surrounded by spice farms, coconut trees and Arecanut trees. A beautiful farm with lots of home grown vegetables and fruit trees surround the school.
The student will become part of everyday family life, enjoy the local lifestyle, culture and food. The student will have the chance to explore a farming life surrounded with horses and other animals, many fruit trees, various spices and a organic vegetable garden. They may help out and learn with the master if interested. Special medicinal oil is made from local herbs grown in the farm which is used for massage and flexibility for Kalaripayattu training.
Accommodations
The accomodation has basic facilities which is surrounded by a beautiful farm which grows various spices, fruits and vegetables. It also houses horses and a few other animals. It is a shared dormitory with 14 beds. Blankets, pillows, and hot water is provided.
Amenities
Free Parking
Kitchen
Coffee/Tea
Menu Types
Vegan
Vegetarian
Ayurvedic
Menu/Cuisine
Traditional South Indian Food
Directions
pick up and drop off from Calicut International Airport provided at an additional fee of $50
Reviews To review this event, visit the page for the venue or retreat leaders (above).
Similar Retreats You Might Like
Aug 19 - 29, 2020 (11 days)

Aug 24 - 26, 2020 (3 days)

Thank you!
We're glad you've joined our retreat community. See you around :)
Return to my event
×