Meditation and Yoga Psychology retreat in one of Mexico's "Treasures"
Event Highlights
Our Yogis are guided in Classic Yogic and Samkhya philosophy, or Darshana, adhering to and recognizing the historical cultural roots and practice of Yoga.
Our Master Ashtangi and head teacher, Yoga Acharya Tanya Witmond, studied directly with the creator of Ashtanga Vinyasa Yoga, Shri K. Pattabhi Jois and his grandson Sharath Jois, with the personal recommendation of her Yoga guru in Malaysia. She is also a wellness and health professional with various certifications, and an award-winning athlete, with a career of dedication to the field. Tanya Ji offers her extensive experience and lifetime of disciplined spiritual practice as a mentor for each new teacher-trainee.
Lead teacher, Yogini J'aime Blakely, has a master's degree in Psychology with a specialty in consciousness, spirituality, and integrative health with a thesis focus in Yoga Psychology and a doctorate in Metaphysical Sciences. Our program draws upon this expertise by offering teachings in Yoga Psychology and the Yogic Mind.
Our guest meditation instructor, Khun Chakkaratani, is a respected and honored Buddhist nun, holds the title of "Benefactor of Buddhism," and is the official representative of her lineage in Mexico.
The Yoga and Mindfulness School is housed within the award-winning La Buena Vibra Hotel, considered one of the great Treasures of Mexico. A truly breathtaking environment, dedicated to sustainability, wellness, beauty, and consciousness. The hotel offers accommodation in luxury and style, full spa services, and the option of a Yogic Diet package during the course modules.
Taught in both Spanish and English with live translation.
Schedule
8:00 Tea/fruit
8:30 - 9:00 Shatkarma and Pranayama
9:00 – 10:30 AM Ashtanga Vinyasa
10:30 – 11AM Break
11am – 1:00 PM Lecture
1:00 – 2:30 PM Break
3:00 – 4:30PM Lecture
4:30 – 5:00PM Break
5:00 – 6:30 PM Hatha Yoga
6:30 – 7:30 PM Meditation
About This Event
During this workshop, we will address the practices of Raja Yoga or Dhyana Yoga, which includes sensory withdrawal, concentration of the mind, and absorption of consciousness, leading to the ultimate goal of Yoga – Samadhi. To attain the highest goal of Yoga, according to the Yoga Sutras, we must understand how the human mind works and recognize how psychological constructs form in the consciousness before we can transcend these mental/emotional/karmic behavior patterns and conditioning that limits us from Self-realization. Throughout this course, we will have daily lectures on the subject of meditation and Yoga psychology, as well as meditation and asana practice, where we will employ what we have discussed. Your teachers: Tanya Witmond, Jaime Blakely, Khun Chakkaratani
At La Buena Vibra (The Good Vibe), we aim to raise the awareness and benefits of a holistic and knowledgeable Yoga practice in order to create balance and harmony between the Self and the surrounding environment, both for the individual practitioner and the good of all.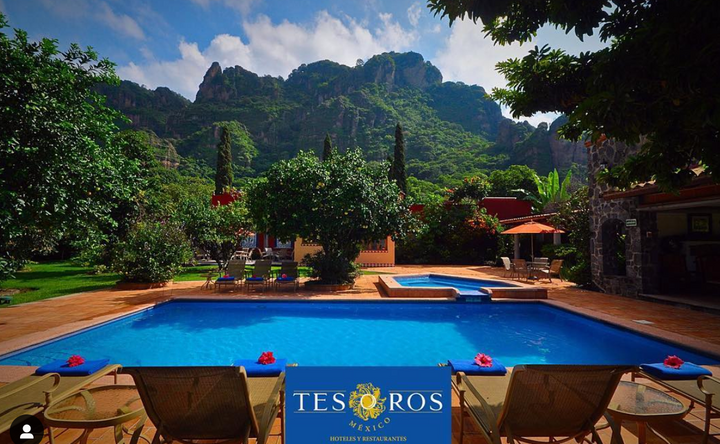 Venue Highlights
Our Yoga training facilities are housed within the award winning La Buena Vibra Resort, just under the pyramid mountains of Pueblo Mágico Tepoztlán, and feature our asana practice room with stunning views of the Los Venaditos cascade, a quiet and comfortable meditation room, a large hall for feature events and special guest teachers, and several classrooms all in an upscale, lush, green environment. The resort offers several options for accommodation, a fully equipped spa and aesthetic center, and an attentive on-site staff to help with anything you may need. Our Yoga training guests are welcome to enjoy a delicious vegetarian meal after class, prepared by our professional chefs in our garden restaurant, or a cleansing steam bath to relax the muscles and freshen the skin. Truly, a perfect place for a profound meditation, rigorous yoga class, intensive training course, or workshop.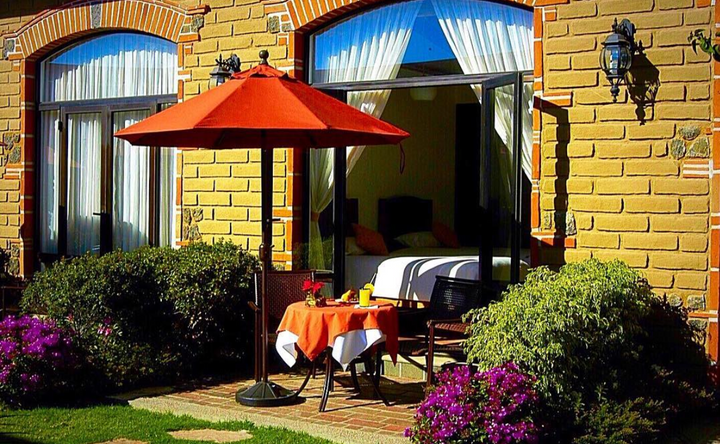 Accommodations
We have several different types of accommodation to suite everyone's needs. Our most economical option is our Yoga Dormitory. Our shared Yoga Dorms are perfect for a people expecting luxury on a budget. Minimum of 4, maximum of 6 people. Our dorms are located adjacent to the Meditation and Yoga halls, have a gorgeous garden and mountain view, and open out onto a private fountain courtyard. The dorm bathrooms are outside and alongside the dorms, yet they are private to the dorm guests. Our shared triple rooms come with a choice of three individual beds, or a king-sized bed and an individual.
Our Shared Double rooms are located inside our adobe courtyard, and all have their own small garden patios and private bathrooms. These Luxuriously decorated and upscale rooms with two separate beds are perfect for friends traveling together.
Our private rooms are perfect for those who prefer quiet luxury, with private patios or balconies, stunning garden and mountain views, and beautiful decoration. These rooms come with King Sized beds, with an option for two single beds, and courtesy water/coffee/tea, high quality bedding, and private sound system. All of our guests enjoy free wifi access, and pool and gym access.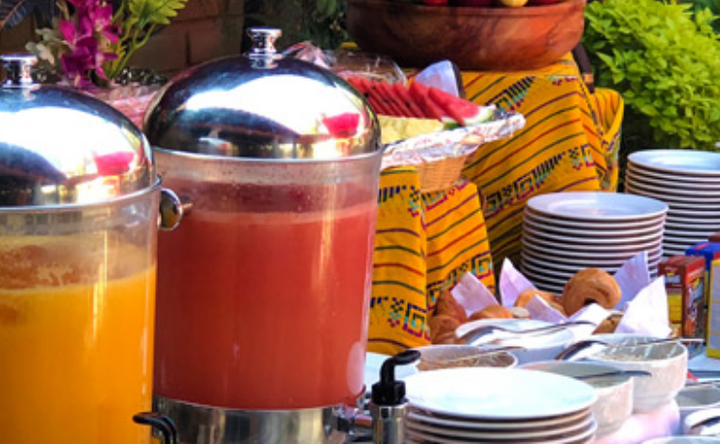 Menu/Cuisine
We are pleased to offer a "Yogic Diet" package to our retreat guests who are interested in a light, organic, and Sattvic menu. We believe the foods that we eat should be prepared with love and positive intention. In eating a yogic diet, we are increasing prana and supporting a higher state of consciousness. We suggest that our Yoga practitioners adhere to Sattvic yogic foods, while avoiding foods that do not align with yogic principles. These suggestions are recommended for any level of yoga practitioner or individual seeking a healthy, spiritual path.
If something more liberal is desired, our guests have complete access to our award winning "La Cascada" restaurant, serving Mexican and Fusion foods, Vegetarian and Vegan foods, and our full bar at our normal prices.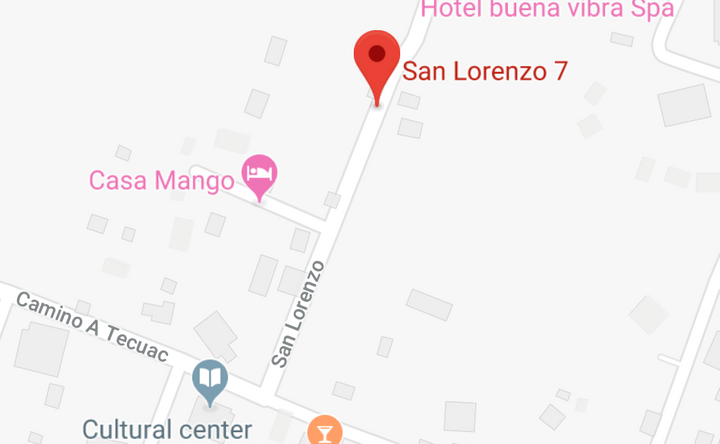 Directions
The easiest way to arrive is to fly into Mexico City International Airport (MEX) and take a taxi directly to Tepoztlan from one of the official taxi companies that have their stalls inside the airport. There is also a bus station inside the airport terminal that can take you either to Cuernavaca, where you can take a taxi to Tepoztlan, or directly to Tepoztlan. The busses to Cuernavaca run more frequently. It is only a short 20 minute ride from the Cuernavaca station to the center of Tepoztlan, and then another 10 minutes to the hotel.
Reviews To review this event, visit the page for the venue or retreat leaders (above).
Similar Retreats You Might Like

Thank you!
We're glad you've joined our retreat community. See you around :)
Return to my event
×