200 Hour Yoga Teacher Training in Goa
Event Highlights
<b>Asanas (Led & Mysore Style) and Anatomy/Alignment</b>
The program offers a strong foundation in Ashtanga and Vinyasa flow. Concentrating on the correct alignment of the postures that make up the Primary Series with a focus on offering modifications to suit practitioners of all levels and abilities.
In addition to learning proper alignment for each posture in the Primary Series, you will also focus on how to modify your own practice as well as your students, when needed. You will learn how to identify when these modifications are needed and as well as preparation techniques to help improve the practice both for yourself and your students.
These classes are delivered by one of our Senior Teachers and supported by several of our Assistant Teachers to ensure that each individual receives attention throughout the class.
The aim is that you build on prior knowledge of anatomy, whatever level that may be, and leave with a greater awareness of your own body. During these classes, you will also focus on how to modify your own practice (if needed) identifying your weaknesses. The teachers will help you identify such areas and give you preparation techniques. During week two, you will be ready to begin practicing by yourself; Mysore-style classes. The teacher will no longer lead the class, you will complete the series, together with your peers, with your own breath count and in your own time. You will be supported by your Senior teacher and assistant teachers who will check alignment, help you deepen the posture and adjust you if available. Self practice is a great way for your teachers to help you personalise your development.
<b>Pranayama – (Breathing Techniques)</b>
From the first moment you step onto your mat, you will be encouraged to bring awareness to your breath. In Ashtanga, the ujjayi breath initiates the movement from one posture to the next. You will learn to use the rhythm of this breath to progress through your practice. In addition, you will also learn 4 further Pranayama techniques that will help you clear your mind, improve your lung capacity plus a range of other mental and physical benefits. This is an important aspect of yoga that is often overlooked, but should always follow a physical practice. Tutorials will explain the theory accompanying these breathing techniques, enabling you to practice effectively during guided classes. During these classes, you will also cover Kriyas (cleansing) and Mudras (energy seals).
<b>Teaching Methodology</b>
You will start to teach your peers during the first week of your training. You will instruct each other on a one-on-one basis by breaking down the fundamentals of a yoga class, from here you will progress to writing and delivering your own class. Each session, there will be tools provided for you to develop your teaching skills, facilitating you to build your own yoga class that you will deliver during the final week. The teaching methodology sessions include: opening a class, sequencing, instructions, relaxation techniques, corrections and adjustments, modifications. Students always find this a particularly memorable experience as the majority of them will teach for the first time. Participating in each others classes and providing constructive feedback for your peers is a great way to learn and this supports the ethos that learning is sharing.
<b>Yoga Philosophy</b>
Classical yoga philosophy is interwoven throughout the program and you will be introduced to Patanjalis yoga sutras, allowing you to make your own comparisons of classical and contemporary yoga, posing the question: What is yoga? These sessions are a great time for philosophical debates and indeed provide a welcome insight into the views of your fellow students. Each yoga class will have a spiritual message that will allow you to understand how you can incorporate philosophy into practice. Hari Krishna will deliver a talk on yoga in Gita, a beloved Indian text from which many lessons can be learned.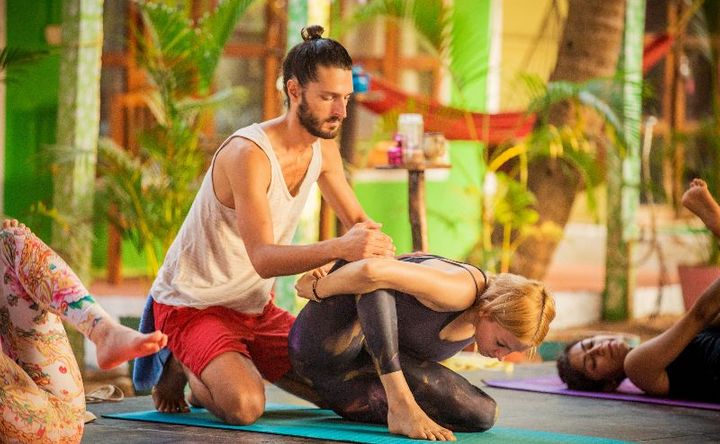 Schedule
Sample Daily Schedule
07:00 – 09:00 Ashtanga Vinyasa Yoga: primary series (self-practice / led class)
09:00 – 10:00 Pranayama followed by Meditation / Kriyas
10:00 – 11:00 Breakfast
11:00 – 13:00 Anatomy & Alignment class
13:00 – 14:00 Lunch
14:00 – 14.45 Self Study
14:45 – 16:15 Teaching methodology / Yoga Philosophy
16.15 – 16.30 Afternoon Snacks & Fruit
16:30 – 18:00 Back-bending or Transitions Workshop, Yin or Ashtanga Flow
19:00-20:00 Dinner
About This Event
The Kranti Yoga Teacher Training course is a comprehensive Yoga Alliance approved 200 hour yoga teacher training Goa program that runs over 3.5 weeks in beautiful Patnem Beach, South Goa. Although intensive, the course is presented with a progressive approach to Ashtanga Vinyasa Yoga. The course is a stepping stone to becoming a yoga teaching professional and the training itself will give you a solid foundation in Ashtanga and Vinyasa Flow Yoga.
The course is a stepping stone to becoming a yoga teaching professional and provides participants with a solid foundation in Ashtanga Vinyasa Flow Yoga and the Primary Series. The program is presented in a fun, relaxed, modern and progressive environment, however, students should be prepared to be mentally and physically challenged.
Kranti Yoga is delighted to offer you a Yoga Teacher Training Goa residential course accredited by the Yoga Alliance.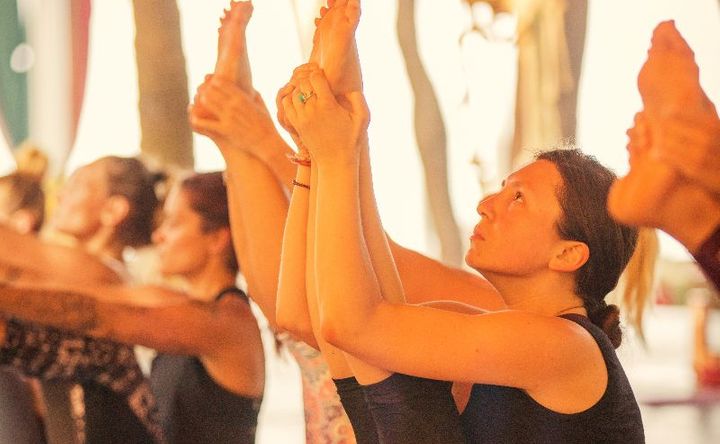 Venue Highlights
With so many Yoga Teacher Training Schools to choose from, not just in Goa but worldwide, here are our top 6 reasons why you should come and stay with us at Kranti Yoga.
1. We have been delivering teacher training courses for 10 years with over 6000 students passing through our shala giving us one of the most trusted reputations in our community and beyond.
2. We are situated right on the beach with a morning practice in our main shala overlooking the Arabian Sea. You may be lucky enough to spot a dolphin or two at sunrise!!! What more can you ask for.
3. Between classes, you can enjoy beach life. Use your downtime to swim in the sea, relax on one of our 'residents only' sun loungers or grab an ice cream and walk along the shoreline to the next beach. Enjoy another amazing Goan sunset with a soda in one of the many beachfront bars and restaurants. After a full day of yoga, you will deserve it.
4. The food and refreshments are delicious and plentiful. We have specially prepared menus for vegan, raw vegan and gluten-free guests upon on request. While curry and rice is a staple here, we offer salads, soup, homemade bread as non-Indian cuisine alternatives.
5. The courses are extremely structured and organized. All modules complement each other and a holistic approach to the Ashtanga Yoga practice is provided. We have a really good balance of Western and Eastern influence.
6. Our teachers are more than happy to support you as best they can. They are fully aware of the intensity of the course and are happy to guide you through. They are always there for you and willing to share expertise. You are more than welcome to arrange a tutorial with them to speak on a personal level.
Accommodations
Our yoga spaces are split between our 2 resorts with 3 Yoga Shalas in Ocean Side Resort and 3 Yoga Shalas in Garden Side Resort. All are fully equipped with mats, blocks and belts with fans to keep us cool during the hotter months in Goa.
Kranti Yoga School and Beach Village Resort is located in the very heart of Patnem. It is a 5000-square-meter area operating as a Yoga Village, having access to both the beach and the roadside. Yoga Village comprises of 2 campuses: Moksha, meaning liberation or release which is our ocean view campus. Sattva, meaning purity or reality which is our garden view campus. These are located next to each other with Moksha situated right on the beach and Sattva directly behind it.
Moksha: Ocean View Village Resort
Bijou Beach Front Cottages
Sattva: The Garden View Village Resort
As part of the Yoga Teacher Training Courses, we offer residential packages so that you can make the most of your time with us. Our spacious Village cottages are available exclusively for our guests. We have several options to suit your requirements as it is important to us that you feel comfortable and can relax and focus on your learning and development. Choose from either of our resorts, ocean view or garden view; decide on single, double or shared occupancy. You always have the option to upgrade to a beachfront cottage.
Moksha houses 29 cottages, 10 of which are beachfront and the prime location for the Village. All these cottages have stunning views of Patnem Beach and are right next to the Arabian Sea in the shade of luscious palm trees. Another 13 cottages are located in Sattva, along with 4-bed shared cottages. These are amongst the mangroves and surrounding our original shala, the heart of The Yoga Village. All of our cottages are fully equipped with everything you will need to make yourself feel at home. Each garden cottage is 28 – 30 square-meters and has its own porch, hammock and swinging chair. Here you can sit, relax and enjoy refreshments from our onsite Indian kitchen whether you are overlooking the ocean or within our garden.
The Yoga Village is decorated with glimmering lights and vibrantly colored muslin. Swinging beds await your enjoyment along with many other cozy places to take chai, study, chat, sunbathe - the choice is yours. Many of these places are fitted with fans to keep you cool during the midday heat.
The village has an eco friendly solar power supply, providing hot water and electricity throughout the day. Facilities also include washing machines for your laundry, beach towels, cleaning products for you to maintain your room and housekeeping services.
Cottages are available on a single/double or sharing basis and dormitories are on a 4 person sharing basis.
Accommodation Features
1. Hot water
2. Wifi throughout the Yoga Village
3. Mosquito net
4. Porch with hammock and swing seat
5. 24 hr security
7. Daily cleaner, on request
8. Warm bedding, fresh bed sheets, wash towel, hand towel, beach towel, toilet paper, hand wash
9. Fully equipped spacious western bathroom with shower and toilet
10. Huts made of completely natural materials
11. Free phone for local calls
12. Security locker
13. Communal fridge
14. Washing machine (extra charge)
15. Herbal teas and drinking water available all day
Amenities
Free Wifi
Towels
Coffee/Tea
Cafe
Fitness Center
House Keeping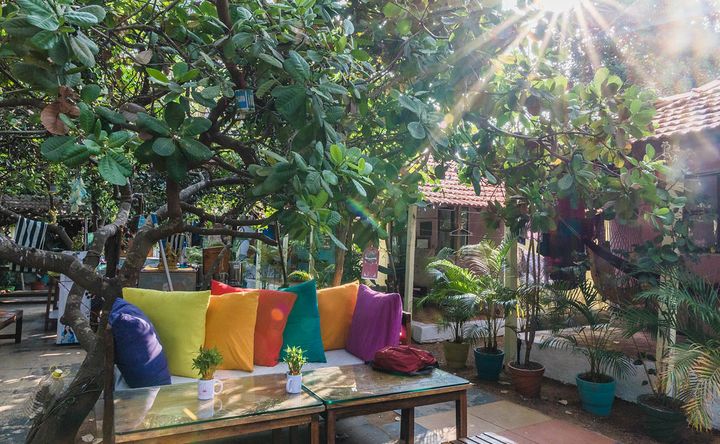 Menu/Cuisine
Breakfast
Turmeric Ginger oats (water based), Caramalized Nuts, Raw Nuts, Seasonal Fruit Salad, Poached Eggs, Bhaaji (type of various beans), Pancakes, (vegan available), Yogurt/Curd
Lunch
Carrot and Lime Soup, Homemade Spiced Bread (Vegan), Mint & Pea Brown Rice, Basmati Rice, Dhal (Lentil Curry), Veggie Burger, Seasonal Salad, Mushroom Garlicky, Penne in a Coconut Cream Sauce,
Dessert: Seasonal Fruit Salad
Snack Time
Energy (Protein) Balls, Spinach Pakora, Samosa, French Fries
Dinner
Basil Chickpea Hummus, Olive Brown Rice, Roasted vegetables (Steamed available), Vegetable Manchurian, Pasta with Housemade Tomato & Basil Sauce, Spinach Zucchini Pasta,
Dessert: Coconut Papaya Ice Cream, Banana Bread, Chocolate Banana Pie (Cashew Crust)
Directions
Dabolim International Airport is approximately 90 minutes from The Yoga Village in good traffic. We offer a 24 hr taxi service at an additional cost of 35 euros each way. When you have registered with us and paid your deposit, you will receive an email requesting your details.
Reviews To review this event, visit the page for the venue or retreat leaders (above).
Similar Retreats You Might Like

Thank you!
We're glad you've joined our retreat community. See you around :)
Return to my event
×