6 Day Doctor Monitored Renewal Cleanse Program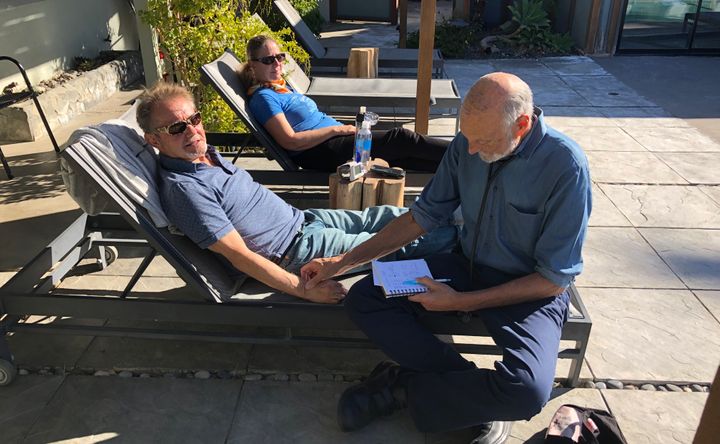 Event Highlights
Medically supervised juice cleanse or water fast
Daily One-on-One meetings with the doctor to answer your specific medical questions
Initial blood analysis and daily monitoring of vital signs
Daily lectures on healthful living and applied nutrition
Daily yoga and meditation classes
Plant-based whole food preparation class
One colonic and one infrared sauna session
Upscale accomodations at our luxury boutique hotel
Evening programs to enhance your experience and education about plant based foods
Schedule
Spring Renewal Cleanse Program Schedule
May 19-24, 2019*
_________________________________________________
Sunday
3:00 PM Check In
3:00 PM Juice for All
3:00 PM 6:00 PM Relax/Spa Treatments
6:00 PM 7:30 PM Retreat Overview/Orientation
6:00 PM Water or Juice
_________________________________________________
Monday
8:00 AM 9:00 AM Desert Walk and Meditation
9:00 AM Water or Juice
9:30 AM 10:30 AM Doctor Rounds
11:00 AM 12:00 PM Applied Nutrition Class
12:00 AM Water or Juice
12:00 AM 3:00 PM Relax/Spa Treatments
3:00 PM Water or Juice
3:00 PM 4:00 PM Gentle Hatha Yoga
4:00 PM 5:00 PM Ask the Doctor Q & A Session
5:00 PM Water or Juice
5:00 PM 7:00 PM Relax/Spa Treatments
7:00 PM 8:00 PM Meditative Mandala Art Class
_________________________________________________
Tuesday
8:00 AM 9:00 AM Desert Walk and Meditation
9:00 AM Water or Juice
9:30 AM 10:30 AM Doctor Rounds
11:00 AM 12:00 PM Applied Nutrition Class
12:00 PM Water or Juice
12:00 PM 3:00 PM Relax/Spa Treatments
3:00 PM Water or Juice
3:00 PM 4:00 PM Gentle Water Exercise
4:00 PM 5:00 PM Ask the Doctor Q & A Session
5:00 PM Water or Juice
5:00 PM 7:00 PM Relax/Spa Treatments
7:00 PM 8:00 PM Movie Night
_________________________________________________
Wednesday
8:00 AM 9:00 AM Stretch and Meditation
9:00 AM Water or Juice
9:30 AM 10:30 AM Doctor Rounds
11:00 AM 12:00 PM Applied Nutrition Class
12:00 AM Water or Juice
12:00 AM 3:00 PM Relax/Spa Treatments
3:00 PM Water or Juice
3:00 PM 4:00 PM Gentle Hatha Yoga
4:00 PM 5:00 PM Ask the Doctor Q & A Session
5:00 PM Water or Juice
5:00 PM 7:00 PM Relax/Spa Treatments
7:00 PM 8:00 PM Mineral Spring Sound Bath
_________________________________________________
Thursday
8:00 AM 9:00 AM Chair Yoga and Meditation
9:00 AM Juice for All
9:30 AM 10:30 AM Doctor Rounds
11:00 AM 12:00 PM Applied Nutrition Class
12:00 PM Juice for All
12:30 PM 2:00 PM Food Preparation Class
2:00 PM 3:00 PM Relax/Spa Treatments
3:00 PM Juice for All
3:00 PM 4:00 PM Ask the Doctor Q & A Session
5:00 PM Juice for All
4:00 PM 7:00 PM Relax/Spa Treatments
7:00 PM 8:00 PM Night of Reflection/Evening Off
_________________________________________________
Friday
9:00 AM 11:00 AM Summary and Light Meal
12:00 PM Check Out
12:00 PM 3:00 PM Relax/Spa Treatments
_________________________________________________
*Schedule is subject to change
About This Event
Join master physicians Michael Klaper, M.D. or Antonio Soler, M.D., yoga teachers, Alese Jones or Lady Beth Soler and the talented healers and therapists at The Spring for a week of water and juice cleansing that will leave you lighter, more flexible and more balanced on a cellular level. Attend daily lectures and Q & A with the doctor for a mini course in healthy eating and lifestyle that will continue the beneficial changes awakened during your Spring Renewal Cleanse Program where we are planting the seeds of health.
Medically Supervised Water or Juice Fast
Your most intimate and complex medical questions will be answered by knowledgeable plant-based doctors! Before you start the retreat the doctor will review your blood work to ensure your safety during the cleanse. During the retreat the doctor will take your vital signs and meet with you each day to review the status of your cleanse and answer any additional questions you may have.
Lectures on Healthy Living and Plant-Based Education
Spend an hour a day in detailed lectures on healthful living and applied nutrition. Learn about the inner workings of the body and digestive system from the mouths of fasting experts and doctors. Learn how the standard American diet is making America sick and what you can do to turn potential health problems around with an organic plant based diet.
Plant Based Food Preparation Class
Enjoy a food preparation class with experts from the field based on the principles of a whole food plant based-diet and no added sugar, oil or salt (SOS). Learn how to make basic foods like salad dressings, nut milks, cashew cheese, soups and many different ways to prepare vegetables. You will leave with a handful of recipes and an arsenal of information to jump start your health when you get home.
Daily Gentle Hatha Yoga
You will be guided each day through meditation and gentle Hatha yoga classes with our trained yoga instructors designed to help further detoxify your body and life.
My Whole experience was truly amazing and I cannot possibly thank you enough. It was a unique opportunity for me to have someone so prestigious in the field be willing to take out the time to review my history, listen to all of my questions, and provide me with a plan of action based on the whole picture. I have returned home invigorated and hopeful! Forever Grateful. - Eva O., New Jersey, NY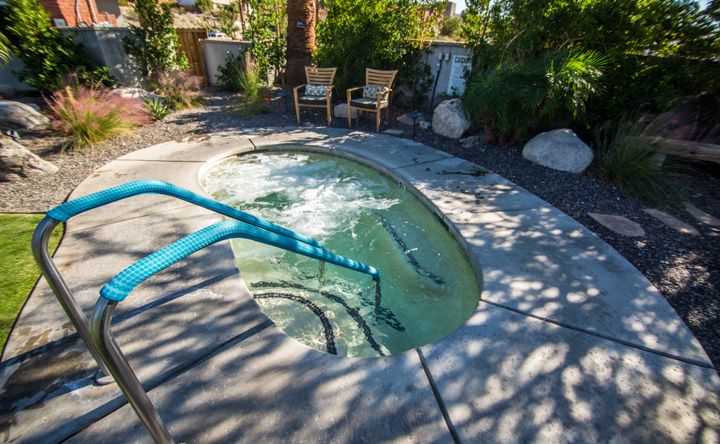 Venue Highlights
Our quiet property sits with an amazing view of the San Jacinto and San Gorgonio mountains close to the hiking trails. THE SPRING's sparkling pure mineral water emerges at 170° charged with healing restorative minerals. While Desert Hot Springs has the largest geothermal pool in Southern California within its boundaries, the very hottest water is in a tiny four block area. At the center of this area lies THE SPRING Resort & Spa. Our water is simply unparalleled in its high content of calcium and magnesium to soothe the body, silica to soften the skin, sulfur and bicarbonate to heal the muscles and trace minerals, including lithium, to relax the mind. Enjoy our Finnish sauna 24-hours a day to continue to detoxify from the inside out additonally by adding water to the heated rocks will creating a steam bath for the lungs. Eucalyptus is available in the gift shop to add to the bronchial benefits of the steam. We are 20 minutes from downtown PALM SPRINGS and 45 minutes from JOSHUA TREE NATIONAL PARK and the INTEGRATRON SOUND BATH CENTER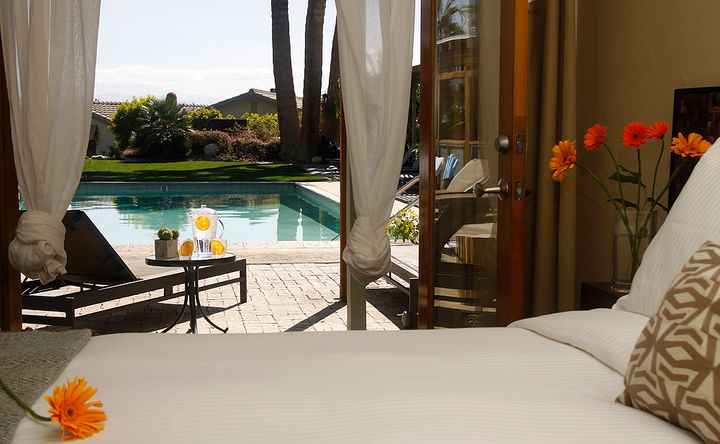 Accommodations
Behind the double French doors, king size pillow-top beds of the finest quality adorned with 100% Egyptian cotton linens await your arrival. Lavish down duvets and down pillows comfort guests during their tranquil sleep. Guests are provided with premier quality robes and slippers. Showers are equipped with deluxe rain heads and a fine selection of fragrant amenities fill the air. Most rooms are equipped with full kitchens and those that are not have mini fridges. For peaceful and serene experience we have no televisions on the property, however there is free Wi-Fi and an iPod ready stereo for those who need to stay connected.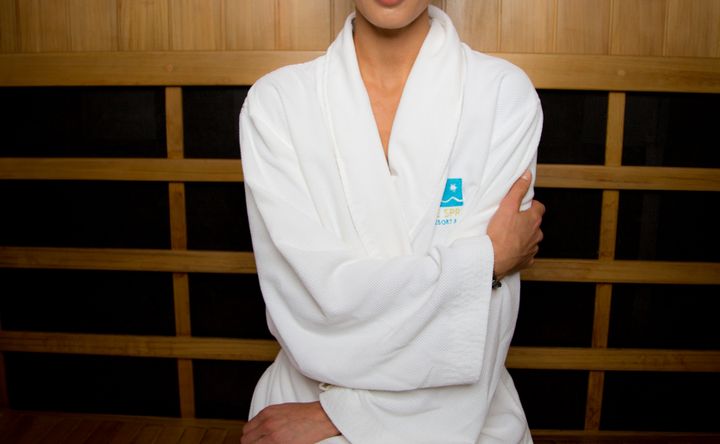 Amenities
A/C in Rooms
Free Wifi
Spa
Sauna
Pool
Towels
Free Parking
Kitchen
Hot Tub
Coffee/Tea
House Keeping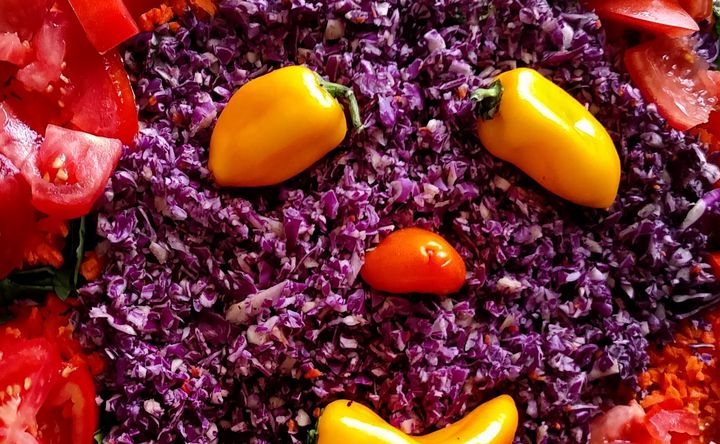 Menu/Cuisine
For our retreat attendees we will be serving fresh pressed juice and distilled water during the cleanse. On the last day of the retreat we will be serving a plant-based organic light meal such as a hearty salad, home made oil-free dressing and steamed vegetables. For our guests not doing the juice cleansing retreats we serve a healthy continental breakfast in the privacy of their room.
Directions
We are located 20 minutes from the Palm Springs Airport, 1 hour from Ontario airport and 2 hours from LAX airport in Los Angeles.
---
Cancellation Policy
100% deposit refund for cancellation 60+ days before event.
50% deposit refund for cancellation 30-59 days before event.
0% deposit refund for cancellation 0-29 days before event.
The remaining balance (total price minus deposit) is due upon arrival.
Get full details...
Reviews To review this event, visit the page for the venue or retreat leaders (above).
Similar Retreats You Might Like

Thank you!
We're glad you've joined our retreat community. See you around :)
Return to my event
×