The Freedom & Flow Surfing, Qigong & Meditation Retreat
Event Highlights
12 days boutique accommodation at our Villa, Tao de Libertad, in either our standard or balcony rooms.
Extra fly in, fly out days for free.
Two full day sightseeing and tourist activity days.
One half day sightseeing tour.
WHAT YOU WILL LEARN
3 minds into 1 - Learn that mindfulness is available outside of meditation, and at all times. Eyes open technique.
Cosmic Breath - Awaken the energy inside you and learn to breathe in the cosmic force around you. Meditative technique.
Tao Yin - Activate the tendons and meridians of the body, and release stress and tension through gentle and controlled movements; designed to stimulate all of the systems of the body.
Healing Qigong, Iron Shirt, & 3 Forces Qigong for morning exercise - Learn how to connect and feel the energy that surrounds you using simple movements to ground yourself, and bring the healing energy into your body. Use this energy for healing and increased vitality.
Joint rotations - The fountain of youth. Learn the importance of moving in all planes and degrees of motion. Move freely, pain free and with increased coordination and complexity!
The simple heart smile - An eyes open technique that connects us with our intuitive mind. This is the beginning step of connecting with yourself and opening your ears to the "Inner Voice".
The 6 healing sounds - Eliminate and transform negative energies from the body. Get rid of the emotional and mental baggage that you carry and start building personal freedom in your actions and reactions.
The Inner Smile meditation - The most profound and simple meditation. Literally grow within you the positive virtues of Love, Kindness, Openness, Courage and Calmness. Develop an amazing connection with yourself, and learn how to heal yourself.
The Microcosmic Orbit - Learn how to open and circulate energy through the major Yin and Yang meridians of the body. The gateway
practice to enlightenment.
Plus much, much more!
CAN I CHOOSE ANY OTHER ACTIVITIES?
Yes, you sure can!
We can organise free diving courses
Kung Fu & Tai Chi Lessons
Chi Nei Tsang (Abdominal Massage Treatments)
Incredible private Massage Treatments
Surfing Lessons
Snorkeling
All transportation and entry costs for sightseeing activities.
All boat trips and transfers for surfing the different breaks are included.
Any land trips to "Secret Spots".
Transfer to and from Airport or Port.
Daily meditation, fitness, health and Qigong sessions.
Access to paddle boards, snorkels, goggles and towels for enjoying the ocean.
Night time feasts, fit for the most surf starved frother among you – all to prepare your body for the next day of surfing and fun
Breakfast and Lunches for everyday of your stay, including meals on day trips and planned excursions – Full and hearty meals to keep you going throughout the day.
Tasty Snacks from the traditional Filipino menu.
WHAT WILL YOU LEARN?
Ancient systems of meditation passed down over thousands of years
Qigong – Internal energy work
Unique surf warm up routine
Unique systems of body rehabilitation
A unique morning warm up and qigong routine.
Unique surfing flow stretch routines
Breathing techniques for life and surfing
Tao Yin – Taoist yoga for activating the meridians of the body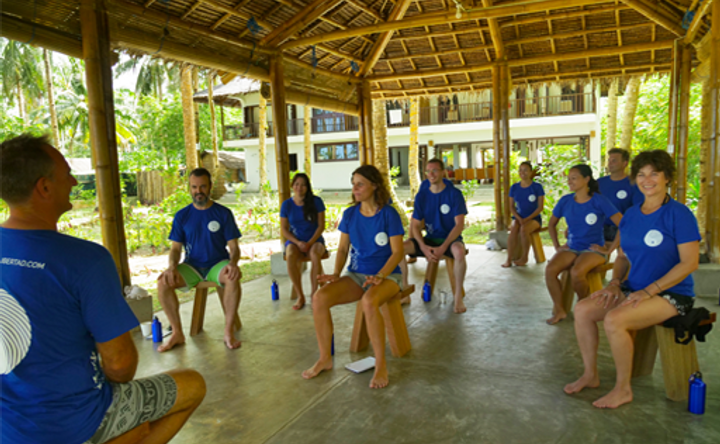 Schedule
5am - Wake with the sun and begin the day with a morning exercise routine that combines a Specific joint rotation program (designed to move and lubricate every joint in the body) and a unique morning qigong program to awaken your own internal energy and connect you to the energy around you.
5.30am - Morning meditation. The Inner Smile meditation.
5.50am - Light Fruit and Coffee or Tea
6am - First Surf for the day.
8.30am - Full breakfast after surf.
9.30am - Full body compensation techniques. Self Myofascial release, Stretching Flows and mobility work. Theory of sophistication and applied movement neurology.
11am - Second Surf - Yeeeew feeling pumped after the stretch and relaxation.
1pm - Lunch
1.45pm - Repeat Compensation and Myofascial release (a continual progression plus repetition will ensure that you have a clear understanding and are able to remember everything that you learn)
2.45pm - Option for 3rd surf, relaxing, (contact info blocked) or tourist activities.
5.30pm - Evening meditation and Tao Yin session.
7pm - Dinner
We will discuss the theory, history and philosophy behind the techniques…this will
be weaved throughout the day, over meals and during travel times.
About This Event
THE FIRST RETREAT OF IT'S KIND IN THE WORLD
The Freedom & Flow Surfing, Meditation & Qigong Retreats 2019
1st of APR – 12th APR, 2019 OR 28th SEP – 9th OCT, 2019
A surf retreat like no other…
Have you ever felt moments where time disappears….
There is a concept that is experienced while riding a wave, which is called Flow.
Flow is being present. Engaged in the moment. The Now.
Everything else disappears, one's focus is purely centered on the act of riding a wave. This complete engagement in the moment is what gives surfers the elated feeling which is associated with being in a state of FLOW.
Surfers have a profound connection to the earth. We immerse ourselves in it's oceans, we watch the cycle of the winds, tides and seasons. We understand the cyclical nature of the earth and it's natural phenomenon.
It is the physical and mental connection with the earth and the forces of nature which culminate in the act of riding a wave, the physical manifestation of these forces, which makes surfing so special.
The combination of surfing epics waves with Taoist Meditation and Qigong, plus education on complete body health management is a world first for surfing retreats.
We teach unique systems for ensuring physical health and fitness, combined with once highly guarded secrets of Taoist Meditation & Qigong (energy work) that are only found in combination at Tao de Libertad .
During this retreat you will surf the many waves that Siargao Island in the Philippines has to offer. Plus you will learn specific techniques and learn how to embody certain principles that are needed to bring a feeling of flow into your daily life.
One thing that cannot be guaranteed on a surf trip…… is surf. At Tao de Libertad we can guarantee that every moment of this retreat will be filled with new, unique and rewarding experiences.
You will gain knowledge that will change your life. Physically, you'll cope with the strains of surfing. You will feel less rigid and more mobile. Mentally, you will feel calmer and clear headed. Emotionally, you will be more balanced and centered. Spiritually, you will gain deeper insights into yourself; and form a greater connection within yourself, and with the natural world.
Our retreat leader, Nathan Head is a passionate Surfer, he is a Kung Fu Master, creator of Fit4Surf, Healer and Teacher of ancient techniques of Qigong and Meditation. Nathan will take you on the surf retreat of a lifetime. One where the memories and the techniques you learn will last forever.
The retreat prices are all inclusive! Transfers, all meals, accommodation, surf trips, tourist activities, curriculum and cultural experience over 12 days!
Spots are limited, so secure your spot today!
"Better than my 10 year course in PhD Psychology and 1 Year at Medical Harvard School, because instead of being theoretical, it's practical and as soon as you walk out, you can start using it." - Alex Gilandas, Neuro & Clinical Psychologist "My stay on this surf retreat was truly amazing, I was given the tools to connect with myself, control my emotions and tools to harness the best out of myself. World class surf, stretching and internal work has been amazing." Shane King "If you're into surfing, good news, it's got great waves! The flow techniques and chi kung were great ways to revitalise the body and the mind. Siargao is such a beautiful place. Tao de Libertad is a tropical paradise." Marty McGrath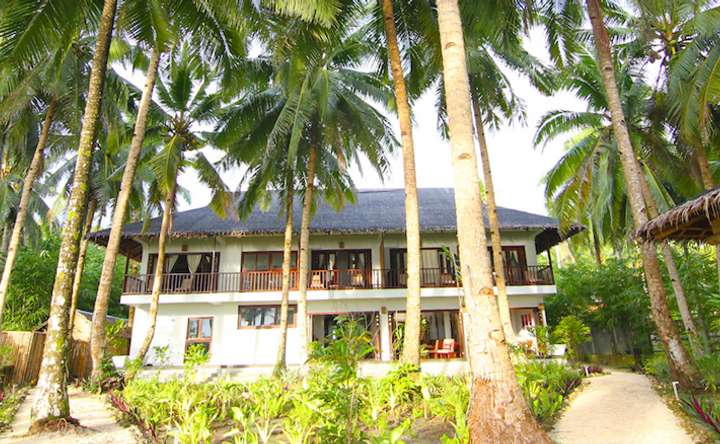 Venue Highlights
Tao de Libertad is a boutique style, retreat villa situated in a tranquil and peaceful environment, surrounded by a forest of lush green bamboo, exotic tropical garden that backs onto white sandy beach and electric blue ocean.
Our centre offers guests a place of sanctuary, an escape from busy and stressful lives. It gives them an opportunity to disconnect from technology and the "monkey mind" and is designed to re-establish a balance in the "Four Realms" of the Physical, Mental, Emotional and Spiritual. After spending time at Tao de Libertad our guests return back to their lives, having begun a transformation process of evolving, awakening and transforming.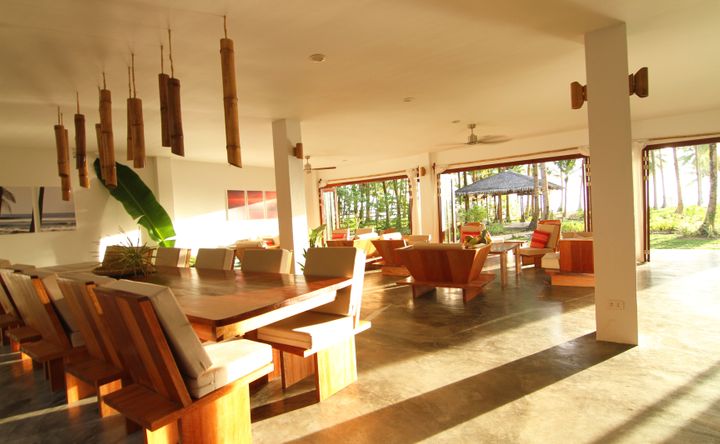 Accommodations
OCEAN VIEW ROOM – TWIN SHARE OR PRIVATE
Tao de Libertad offers a majestic Balcony Room with a queen bed or two king singles. The rooms contain exquisite, handmade hardwood and bamboo furniture, with bi fold doors that open up onto a balcony overlooking the Gardens and out onto the beach and the ocean.
The room has one double bed and one single bed as well as a hardwood table and chairs. A seperate bathroom and shower is available for guests. The room is further equipped with a ceiling fan.
STANDARD ROOM – TWIN SHARE OR PRIVATE
Tao de Libertad offers a Standard Room, with queen sized bed, or two king singles, in the main building. This room allows you to take full advantage of the natural surroundings that Libertad has to offer.
The room contain exquisite, handmade hardwood and bamboo furniture, with hardwood sliding doors that open up as a Juliet Balcony.
With views of the rice fields, these rooms are spacious and allows a fresh tropical breeze and natural light to create a peaceful ambience.
The room has hardwood beds, as well as a hardwood, and woven natural material, luggage and clothes storage. A seperate bathroom and shower is available for guests. The room is further equipped with a ceiling fan.
Towels are provided.
Your home away from home. Communal Lounge, Dining and Open Kitchen. A great way to really get to know each other!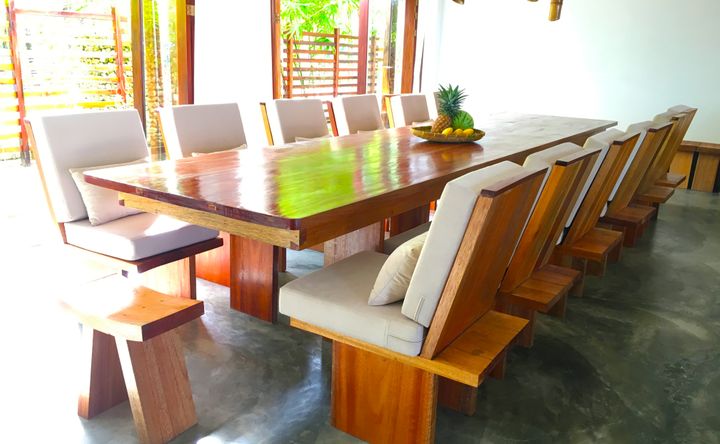 Amenities
Free Wifi
Towels
Free Parking
Kitchen
Tour Assistance
Coffee/Tea
House Keeping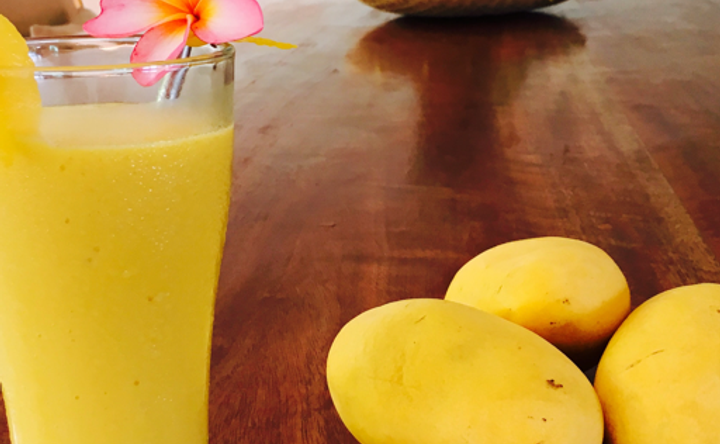 Menu Types
Vegan
Vegetarian
Pescetarian
Meat
Organic
Gluten Free
Dairy Free
Nut Free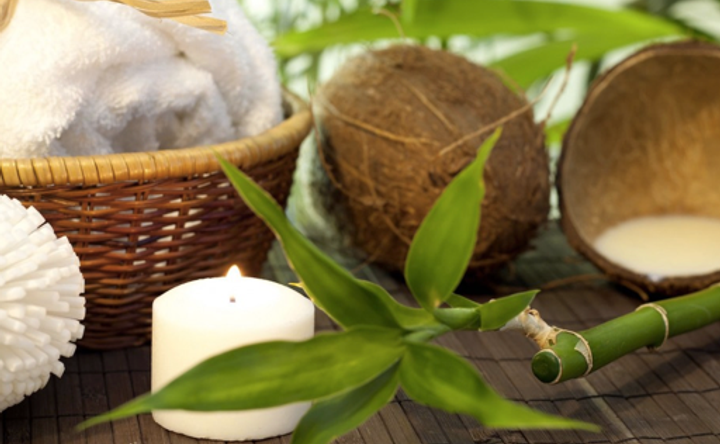 Menu/Cuisine
All meals are native Filipino dishes, including main meals and desserts.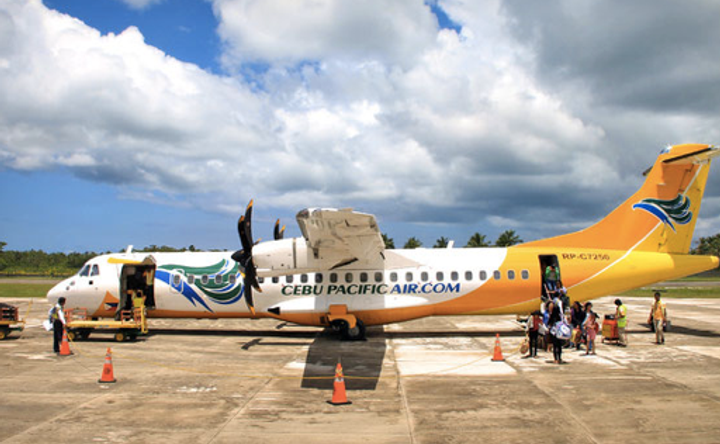 Directions
HOW TO GET TO SIARGAO?
When travelling to Siargao, there are two major ports of entry, which is either MANILA or CEBU.
From either of these ports, there are a wide variety of ways to get to Siargao island, below is the most direct or easiest option.
1. FLY DIRECT to Siargao from MANILA with Skyjet or Cebu Pacific
There is daily flights departing Manila for Siargao. From Manila the flight time to Siargao is approx. 2 hours. Visit: (contact info blocked). or (contact info blocked)
FLY DIRECT to Siargao from CEBU with Cebu Pacific
There are 2 - 3 daily flights departing Cebu for Siargao. From Cebu the flight time to Siargao is about 50 minutes. Visit:
(contact info blocked).
Alternatively, you can also fly to Cebu from other Asian countries, with other airlines, via Singapore, Malaysia etc. You
would then fly with Cebu Pacific from Cebu straight to Siargao also. The same dates and stopover safety measures
would be ideal on the departing leg.
A van transfer will await you at Siargao Airport, to take you to the villa Tao de Libertad. All included in the price.
Reviews To review this event, visit the page for the venue or retreat leaders (above).
Similar Retreats You Might Like

Thank you!
We're glad you've joined our retreat community. See you around :)
Return to my event
×