30 Days Wellbeing and Weight Loss Yoga Retreat in Himachal Pradesh, India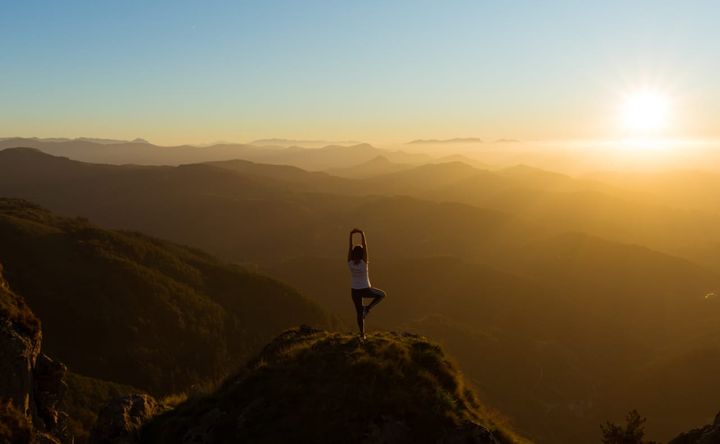 Event Highlights
During the training course, you will get to enjoy herb massages with steam bath sessions. The treatment is included in the price. Naturopathy treatment with yoga and meditation practice will help you to gain body's immunity and strength. You will feel better to breath full and increase muscles flexibility. Your mind would be helpful to serve you happiness.
Naturopathy cleansing
Daily meditation session
Wellness massages
Daily morning and evening yoga sessions
Free pickup and drop from Dharmshala Airport (DHM)
29 nights double sharing accommodation
All daily meals, drinks, and fruits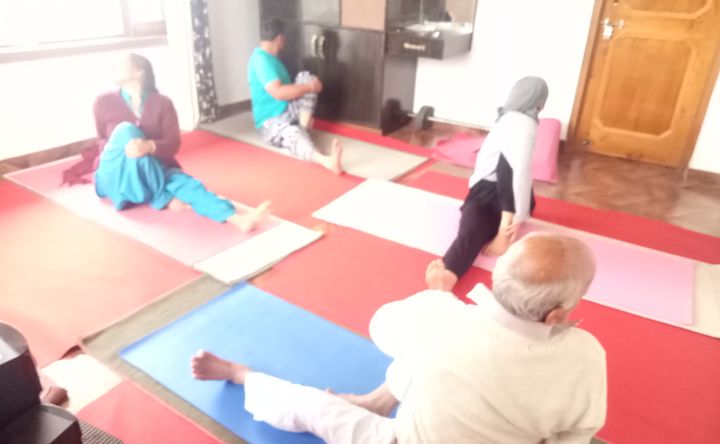 Schedule
You are welcome to join Saptrashmi Yoga for 30 days yoga, detox and meditation holidays. Saptrashmi Yoga will assist you to reach your goal of health and happiness with yoga, naturopathy detox, Ayurveda massage, meditation, and healthy food. Health is a boon to mankind. Health is a blessing. If you lose your health, where is enjoyment in life?
Modern methods of living, high strain on the mind, unhealthy habits, unscientific food, and clothing, have all contributed to the breaking down of the natural resistance and defense. The state of health implies much more than freedom from disease. Good health is the attainment and maintenance of the highest state of mental and bodily vigor. Thus, this retreat will help you manage your weight and health for a better living lifestyle.
This 30 days exclusive wellbeing yoga retreat helps to manage weight and health with Saptrashmi's finest nature therapies, where it is easy to do and is very effective. The therapy works on body and mind. Losing weight and disease is more mentally than doing physical exercises. Through this retreat, you will learn and gain natural health and wellness. The therapy will have no side effects, as there is no use of chemical and medicine.
There would also be yoga, detox, and meditation sessions in this retreat. This retreat is a powerful and energetic way to remove harmful toxins of modern lifestyle from the body, for healthy people to maintain their health. Most beneficial for those who eat out regularly, do not work out, someone with low immunity, gaining extra fat, feels sluggish, works late at nights, drinks alcohol, or smoke occasionally or regularly.
It is beautifully designed to clean and revive digestion and respiratory system, open sweat glands, relax body and mind, purify the blood, and channelize positive energy. This is the best combination of Ayurvedic massages, herbal steams, Ayurvedic colon cleansing, and yogic diet planning.
A balanced yoga practice is known to rejuvenate the body, increase vitality and train the mind to be strong and flexible in the face of stress and change. It balances the glandular system, strengthens the nervous system, and promotes creative potential. For many years now, yoga has helped in healing the pain of physical illness, mental pressure, drug and alcohol dependence and other addictive behaviors.
- Detoxification
Detoxification is one of the best ways to remain healthy in a polluted and toxic environment. These are signs that detoxification is needed: unexplained headaches or back pain, memory failing, brittle nails and hair, frequent allergies, exposure to cleansing solvents, pesticides, diuretics and certain drugs, etc.
One of the benefits of detoxification is that liver, kidney and blood purification can take place, which wouldnt occur during regular eating patterns. Other advantages include: the immune system stimulated, the hormonal system is enhanced and dependency on substances such as sugar, caffeine, nicotine or alcohol can be reduced.
- Retreat objectives
Removing toxins from body systems
Cleaning/opening energy channel of body and mind
Losing weight/body fat
Keeping your skin well oxidized and fresh
Increasing body immunity
Helping to cure and prevent disease and sickness
Allowing deep relaxation and rejuvenation
Strengthening will power and concentration
Strengthening digestive, respiratory, immune, excretory, reproductive and nervous system
- What you will expect
Detox treatment
Ayurvedic massage and herbal steam
Daily two times yoga sessions
Meditation session
Acupressure treatment
-Retreat schedule
*07:30 Detox therapy
*09:00 Yoga and pranayama (breathing)
*10:30 Fruits breakfast
*11:00 Meditation
*12:00 Relaxation
*13.00 Lunch
*16:00 Massage and steam or detox therapy
*17:30 Fruits
*18:00 Yoga
*19:30 Dinner
About This Event
You are welcome at Saptrashmi Yog. Yoga is the way to improve your karma and live a happy life. We would be really happy to add yoga understanding in your teaching. Yoga is about, how we do our daily duties by being in meditative and relax state of mind. We practice hatha yoga, basic traditional style not only postures or jumping unnecessarily without the understanding of body and mind. Our aim is to give you an understanding of yoga in a relaxed manner, and this is we will share with you during your stay with Saptrashmi. Practicing yoga to achieve relax state of Mind)
Saptrashmi Yoga will share their knowledge with you about hatha yoga postures, pranayama (breathing) and natural body detox techniques.
With our modern lifestyles we usually put more toxins into our bodies than can be removed. Over time the toxins build up, creating sluggish digestion, a disturbed mind, restlessness and poor health. Even if you feel that you are relatively healthy, detoxification is a wonderful preventative measure against ageing and future ill health. Join this retreat and change your lifestyle into a healthier one.
Health is a boon to mankind. Health is a blessing. If you lose your health, where is enjoyment in life? Modern methods of living, high strain on the mind, unhealthy habits, unscientific food and clothing, have all contributed to the breaking down of the natural resistance and defense. The state of health implies much more than freedom from disease. Good health is the attainment and maintenance of the highest state of mental and bodily vigor. Thus, this retreat will help you manage your weight and health for a better living lifestyle.
If you have any question, please feel free to ask. Hope to serve you soon!
Silvia YogaBonito recommends Saptrashmi Yoga. November 25, 2018 · I spent 4 days with Tarun in Saptrashmi and they were very important in my yoga life and journey. The food is DELICIOUS, lessons based on the pure hatha yoga, kriyas every morning and hot drinks to detox your body and soul. Beautiful place to disconnect and find your peace of mind. Tarun is a very patient and kind man who helps you to find your inner peace. The people who lived with me in the ashram were very very sweet and I'll take with me forever ❣️Miss them all. Om namah shivaya Isabel Salzmann recommends Saptrashmi Yoga. February 6 · excellent yoga lessons! very helpful (contact info blocked) you! Alexia Doyhamboure recommends Saptrashmi Yoga. March 8 at 2:13 PM · A wonderful time spent with Tarun, a great teacher, in a peaceful and nice place. I have learned so many important things about me and happiness that I wish for everybody to have the opportunity to live in his/her life this same experience. Erin Rapacki reviewed Saptrashmi Yoga — 5 star April 25, 2018 · Tarun's attentive yoga teaching helped me break through some areas where I've been holding stress. His comforting words "relax, give up control" are a mantra for life's journey. The food is great with many second, and third, helpings for lunch and dinner. The location looks more like a homestay so I recommend calling Tarun on arrival so he can help you settle in. Narayan Tiwari recommends Saptrashmi Yoga. March 27 at 12:31 PM · Tarun is a wonderful teacher .... a pleasant place with great food for meditation and yoga ... I strongly recommend this place for serious meditations and yoga ... thank Tarun for ur support and teaching .....! Francesco Testa recommends Saptrashmi Yoga. January 2 · Tarun is a great master, in so little time he was able to give me so much showing me the way. I felt like I could be born again, a new me with happy thoughts :) Don't miss this place if you want to enjoy the deep traditional hatha yoga :) Silver Wing Wines reviewed Saptrashmi Yoga — 5 star September 11, 2018 · I spent 8 days at Saptrashmi, it was a fantastic experience, friendly people, lovely surroundings, especially good was the Yoga I gained a lot more movement and flexibility, whole body feeling very good after this treat. Thanks. Andrew William Preston recommends Saptrashmi Yoga. September 8, 2018 · I spent 30 days with Tarun at Saptrashmi (July 25th-August 24th, 2018) and highly recommend Saptrashmi. The food was healthy and delicious. The yoga was, challenging, but well worth the effort. I learned about myself and about changes I can make in my life to get me to my goal. Tarun is funny, knowledgeable and patient. Whether you can stay a week or a month or longer, go and be there as long as you can and you WILL make gains towards becoming the person you want to become. Thanks Tarun and Saptrashmi! Janine Koch reviewed Saptrashmi Yoga — 5 star March 24, 2018 · Tarun gives 100% - humble, generous, joyful, immensely skilled. Beautiful environment with snow capped mountains that take your breath away each morning. After 15 days the yoga, simple nutritious Ayurvedic diet and cleansing routine left us feeling wonderful. Tarun's preference for small groups meant we got valuable individual teaching and a chance to bond with other practitioners. I personally found the teaching resonated on all levels - physical, emotional and spiritual. Janine and Winston ❤️ Harriet Rickman recommends Saptrashmi Yoga. November 6, 2018 · Me and My daughter had 30 days of amazing experience. we stopped smoking, doing yoga Two Times everyday, and inner cleansing. i Will DO it all över again, i strongly recommend this ashram, Tarun, Nicha and Rohit miss u all. Tess Miller reviewed Saptrashmi Yoga — 4 star June 19, 2018 · Tarun is an excellent teacher, I have left feeling refreshed and excited to continue with meditation and yoga. Great to be in small group with a lot of focus on self development! ????‍♀️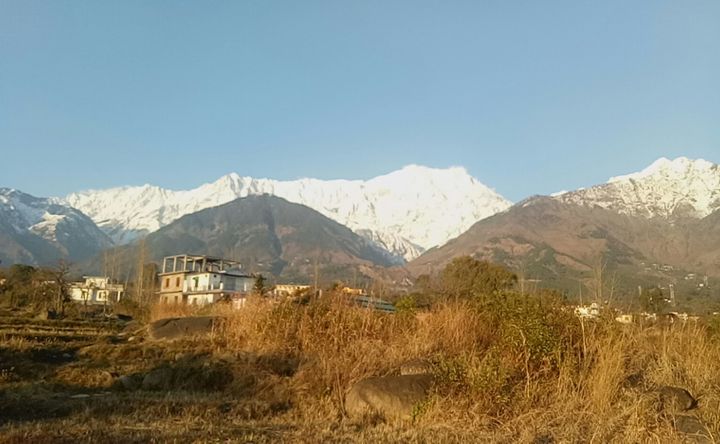 Venue Highlights
Dharamshala is a city in the Indian state of Himachal Pradesh. Surrounded by cedar forests on the edge of the Himalayas, this hillside city is home to the Dalai Lama and the Tibetan government-in-exile. The Thekchen Chöling Temple Complex is a spiritual center for Tibetan Buddhism, while the Library of Tibetan Works and Archives houses thousands of precious manuscripts. The place is one of the most frequented spots in Dharamshala and is famous for its Tibetan culture, handicrafts and temples.
Himachal Pradesh (literally "Snow-abode") is a state of India located in Northern India. It is bordered by Jammu and Kashmir on the north, Punjab and Chandigarh on the west, Haryana on the south-west, Uttarakhand on the south-east and by the Tibet Autonomous Region on the east. The name was coined from Sanskrit him 'snow' and achal 'mountain'.
Himachal Pradesh is famous for its natural beauty. Many perennial rivers flow in the state, and numerous hydroelectric projects set up. Himachal produces surplus hydroelectricity and sells it to other states such as Delhi, Punjab, and Rajasthan. Hydroelectric power projects, tourism, and agriculture form important parts of the state's economy.
The state has several valleys, and more than 90% of the population living in rural areas. Practically all houses have a toilet and 100% hygiene has been achieved in the state.[The villages have good connectivity with roads, public health centres,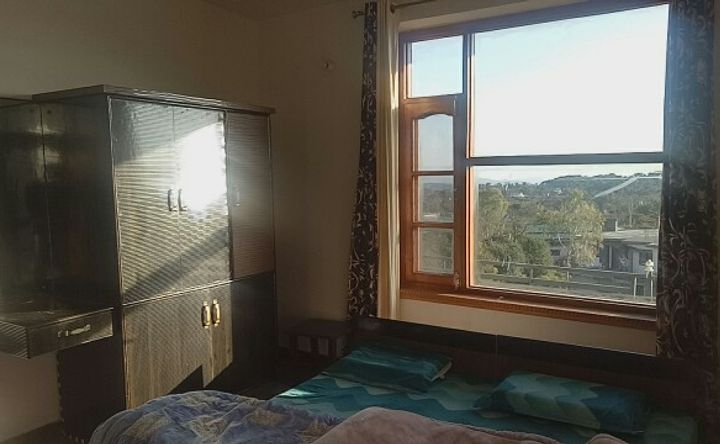 Accommodations
-A home away from home
An experience like no other, nestled in the rustic lush greens of the village. Thankfully it is one of those villages that is still stuck in time, and nobody intends to change that characteristic feature of this tranquil haven. Accommodation is in nature to give you best view of snow clad mountains, sun rise and set. Room has attached toilet and shower. Toilet papers, Towels, laundry service. sharing Room. Single rooms can also be arranged on extra charges. Come experience true Indian Heritage.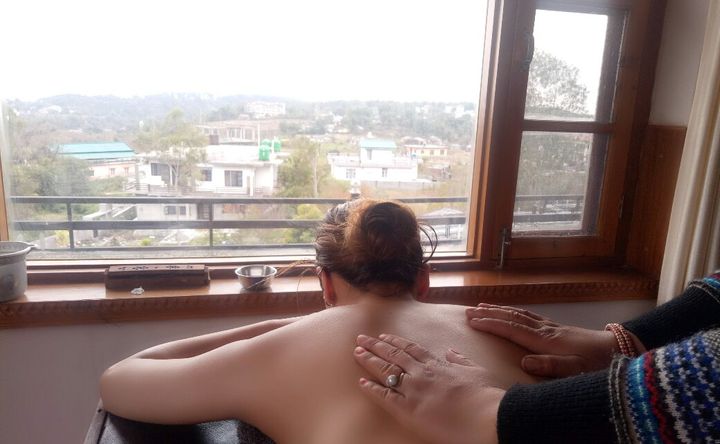 Amenities
Free Wifi
Spa
Towels
Free Parking
Kitchen
Tour Assistance
Fitness Center
Yoga Studio
House Keeping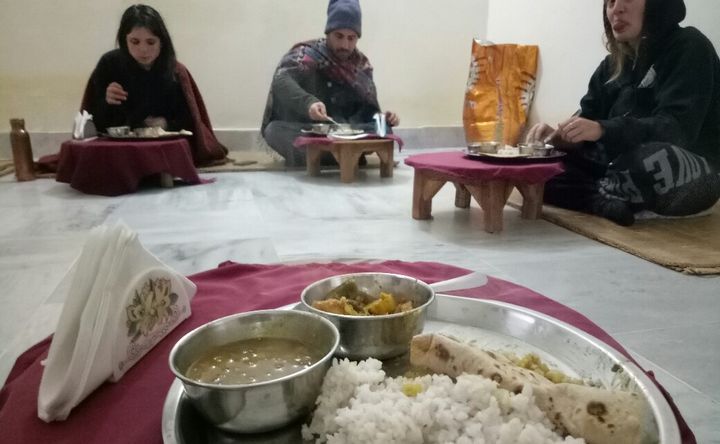 Menu Types
Vegan
Vegetarian
Ayurvedic
Organic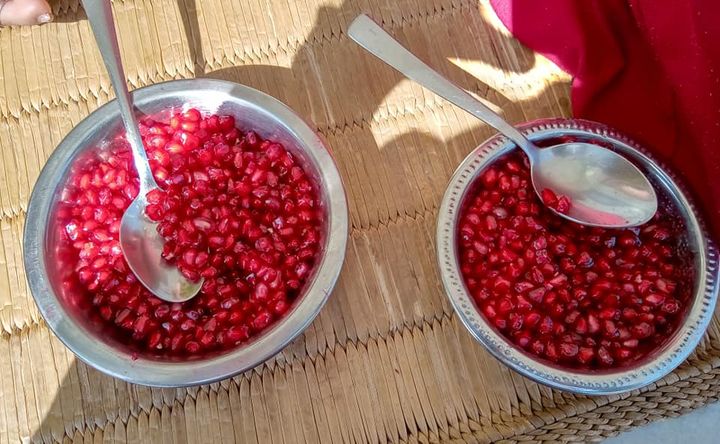 Menu/Cuisine
-Healthy, Fresh and Homemade meals
Morning Herbal drink, fruits breakfast, Indian vegetarian lunch, afternoon juice/drink, Indian vegetarian dinner.
You will be fed organic vegetarian meals prepared with love and mantra chanting. Saptrashmi offers a varied menu, delicious and healthy Indian cuisine using mainly local and organic ingredients.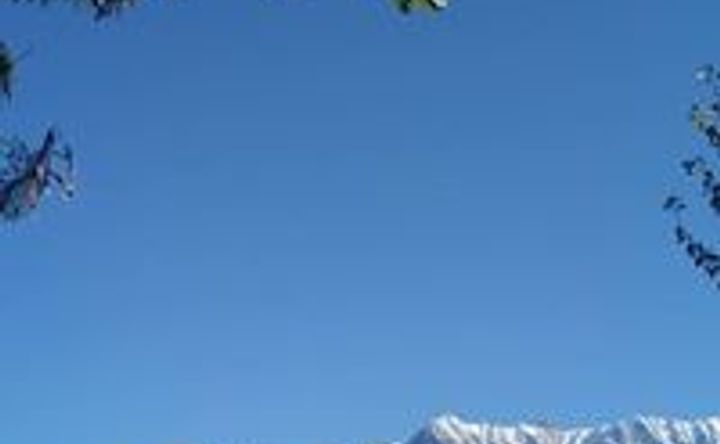 Directions
-Arrival by airplane
Please book your flight to arrive at Kangra Airport. (DHM), from there We can assist you to arrange taxi pick up, or you can take taxi to Sidhbari village. which is about 15 kilometers from Dharmshala Airport
-Arrival by Bus
Please book your tickets to Dharmshala, regular night buses from Delhi ISBT. The overnight journey is about 10 hours, from there you can hire a taxi or local buses to arrive at the Sidhbari village, which is about 15 kilometers from Dharmshala Bus Station. or we can arrange taxi pick up.
---
Cancellation Policy
100% deposit refund for cancellation 60+ days before event.
50% deposit refund for cancellation 30-59 days before event.
0% deposit refund for cancellation 0-29 days before event.
The remaining balance (total price minus deposit) is due upon arrival.
Get full details...
Reviews To review this event, visit the page for the venue or retreat leaders (above).
Similar Retreats You Might Like

Thank you!
We're glad you've joined our retreat community. See you around :)
Return to my event
×