29 Days 200-Hour Scholarship Yoga Teacher Training in Rishikesh, India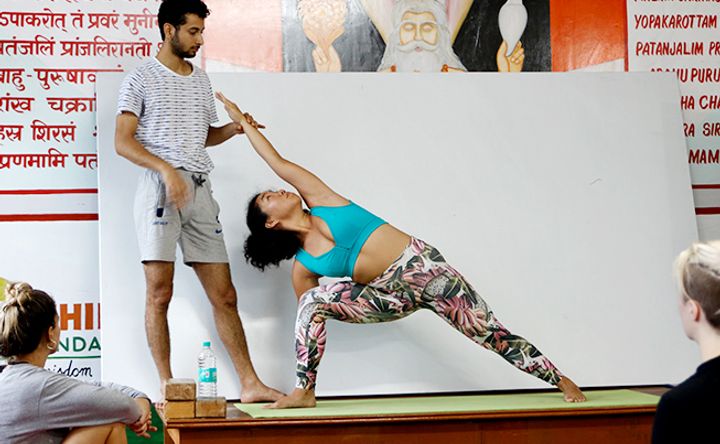 Event Highlights
Daily Hatha and Ashtanga yoga classes
Daily meditation, pranayama, and mantra chanting sessions
Equal emphasis on yoga philosophy, ethics, and yoga anatomy
Eligibility to register for Yoga Alliance yoga teacher training certification
Free Indian cooking classes and dance yoga
Free weekly trips to local sites of interest
Healthy nutritious meals and drinks
28 nights accommodation
Schedule
05:45 Morning tea
06:00 Hatha yoga
07:45 Pranayama
09:00 Breakfast and rest
10:30 Mantra chanting
11:30 Tea break
11:45 Yoga philosophy
13:00 Lunch and rest
15:00 Teaching methodology
16:00 Tea break
16:15 Ashtanga yoga
18:15 Meditation
19:15 Dinner
20:30 Self-study
22:00 Lights out
About This Event
Rishikul Yogshala believes that yoga should be available for all regardless of wealth and background, the cost of training should not be a barrier to eager students fulfilling their desire to become teachers. Join this life-changing training through an immersion into the ancient art of yoga for better health and wellbeing, improving your strength, flexibility, and mind in the environment that encourages compassion to blossom from within.
Certifications
Upon completion of this yoga teacher training, students will receive certificate affiliated with Yoga Alliance. Students who complete their subsequent trainings are eligible to register with Yoga Alliance as Registered Yoga Teachers (RYT®).
Rishikul Yogshala's scholarship program
The science of love, compassion, kindness and unity, yoga stems from one of the most devout backgrounds presented to mankind. The real lesson of yoga is to aim for universal consciousness and help others to prosper and fulfill their life's purpose. Rishikul Yogshala resonates with this philosophy and believe in helping fellow yogis to become enlightened by this holy science of health and wellness.
Their Karma yoga endeavors have brought greatness to the lives that they have touched and Rishikul Yogshala is honored to offer a scholarship program of yoga teacher training, to enrich the yoga community, and make yoga accessible to all. Rishikul Yogshala has designed a scholarship program inspired by all those wishing to make yoga a career and spread the art form by becoming teachers.
Participants will be tasked with Karma yoga duties during their stay (helping with the upkeep of the school and local community projects). Accepted applicants will learn Ashtanga yoga, Hatha yoga, meditation techniques, transforming breath work, and theoretical knowledge related to yoga. Please note, the curriculum of this scholarship as well as regular students remain the same and there is no differentiation made between the two.
Who is eligible?
Rishikul Yogshala's scholarships are here to be inclusive to all, regardless of background, occupation or yoga experience. The only prerequisite that they have is a devotion and unconditional love for the reformative art form and the desire to share this with others. Additionally, they prefer applicants who:
Have been practicing yoga for a minimum of two yearsCommit to 90 percent attendanceAre able to involve in Karma yoga projectsSend them an application stating your experiencesAre in need of financial assistance and showcase so in their application (they request you to be genuine and honest when writing about this).
They request you to understand that this is a partial scholarship program and that you should be able to contribute to cover your food and accommodation costs along with your travel arrangement, while they take care of your course fee. All applications will be thoroughly reviewed by the panel of their highly revered yoga gurus and decision will be communicated within one week from the date of application.
Rishikul Yogshala is registered with Yoga Alliance, USA, and the course is based on a combination of the traditional form of Hatha and Ashtanga yoga. The aim is to provide a strong foundational knowledge of yoga along with the correct postures, meditation process, breathing techniques, and philosophy, giving participants a strong foundation to go on to teach confidently with skill or to deepen their own self practice.
Reading the reviews by former students of Rishikul Yogshala it is clear to see the love that students who have completed the course feel for the teachers and course content.
Rishikul Yogshala has many years of experience in putting together a teacher training program structured to make students physically as well as mentally strong, as well as spiritually content. After the successful completion of this course, students can learn the techniques of yoga to such an extent that they can easily teach the basics of yoga, the primary series of Ashtanga and Hatha yoga.
Asana classes
Ashtanga yoga
The tradition of Sri K Pattabhi Jois - the founder of Ashtanga yoga, forms the base of this intensive class with the use of theoretical knowledge in practice.
In-depth study of Ashtanga VinyasaPrimary series and secondary seriesDetails of all the involved asanasLearn to concentrate on energy locks (bandhas)
Hatha yoga
With numerous health benefits, Hatha classes will teach students to observe the body and take a conscious approach to its limitations. The focus of the class is not related to the dynamic way of performing asanas, but to work on correct alignment in every posture.
Sun salutation with 12 surya mantras and its benefitsTraditional and classical Hatha yogaCorrect alignment and adjustmentsThe benefits of each asanaTerminologies and Sanskrit names and the meaning of asanaModification of asana for various ability levelsHow to use props correctlyHow to use the breathMudras or gestures
Yoga philosophy
The philosophy classes will help the students achieve their inner and spiritual growth, offering answers to many question related to yoga and life. While teaching yoga philosophy, the students are assisted to live an enlightened life in society. The key points include:
The base of the philosophy and history of yogaAn introduction to SanskritIntroduction to yoga sutras, Shiva sutras, kama sutras, and bhakti sutraStudy of all yoga hypothesis on the basis of ancient scriptures
Mantra yoga
Mantra is a group of Sanskrit words that are rhythms and create sound vibrations that touch every cell in the body, the depth of the soul. In mantra classes, students will learn to come together to create an inner awareness as the teacher guides you through each mantra and its meaning.
Correct pronunciation of mantraAllow inner spiritual transformationAids in reaching the highest stages of meditation
Meditation
You will learn a wide range of meditation exercises and strategies for relaxation and to clear the mind.
Guided and self-meditationLearn how to guide others in meditationThe science of meditation and proper breathingYoga Nidra basic series up to four levelsMeditations and its practices
Pranayama
Prana is life force or breath. The classes awaken students' realization of the importance of the breath both in the practice of yoga and in everyday life. When you manage to purify your bodies and minds, pranayama becomes a real pleasure and reveals the way to the spiritualistic experiences.
Knowledge of the breathing techniques beneficial to both the body and mindNadi shodhanam, bhastrika, ujjai, shetali and shetkari, nadi and kapalbatiThe importance of diaphragmatic breathingStress and anxiety related breathing techniquesExternal pranayama series up to two variationsKumbhaka (retention) and pause less or continuous breathingsLevels of concentrations and its refinements
Anatomy
Anatomy classes allow the students to gain a basic knowledge about the human body and its most important systems.
Theoretical knowledge necessary for teaching in the futureAbility to apply appropriate practices to improve and maintain healthKnowledge of the benefits and side effects of particular yoga practicesTechniques of observations and correcting the bodily systems and organsEnergy anatomy and physiology (chakras, nadis, and others)Anatomy and psychological study of inhalation and exhalationAnatomy of nerves system and respiratory systemsAnatomy of spinal cord and digestive systems
Teaching methodology
It is strongly believed that the teacher training program is incomplete without proper classes of teaching methodology and techniques. In the last week of this course, you will be given the opportunity to teach others under the guidance of the teachers.
Principles of observationDemonstrationsAssisting and correcting other peoples bodyProper alignment, benefits, and potential risks of various yoga postures and kriyasStudy of the different principles apply to different asanasLifestyle and ethics of a yoga teacher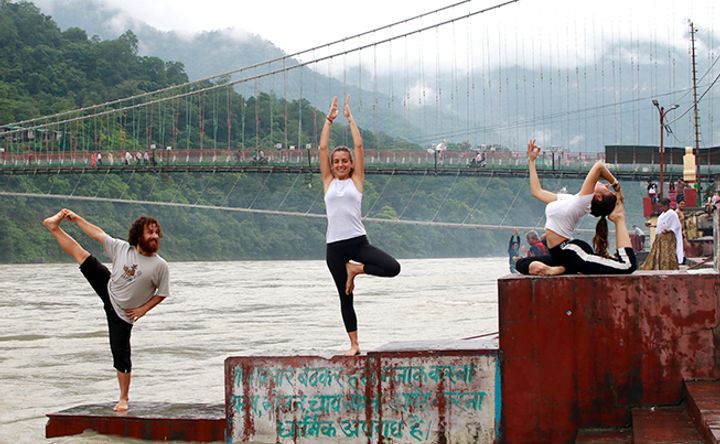 Venue Highlights
The program shall be conducted in the holistic town of Rishikesh. Set on the banks of holy river Ganges, surrounded by the panorama of lush green Himalayas, this program shall provide you with a dream-like experience.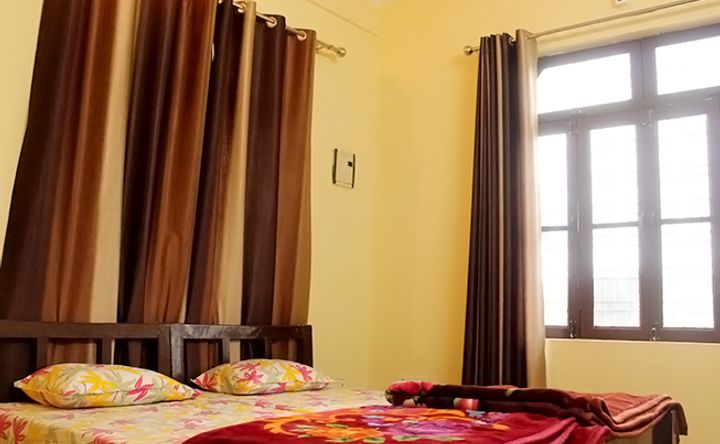 Accommodations
Snuggled in the lap of Himalayas, amidst the beautiful, cosy surroundings streamlined by rustling trees and fresh air, the Yogshala provides a marvelous on-site accommodation in Rishikesh, to all its students. The rooms are spacious well-equipped with modern amenities, private marble-floored bathrooms and free Wi-Fi. All rooms are furnished with fans. Air-conditioned rooms are also available on request.
Accommodation will be shared with one other person (of the same gender). The yoga halls are further beautified by breath taking view of the scenery of Himalayas. And the lush green garden in the school provides ample space and a holistic environment for social meetings and interaction.
Amenities
Free Wifi
Spa
Tour Assistance
Coffee/Tea
Fitness Center
Yoga Studio
House Keeping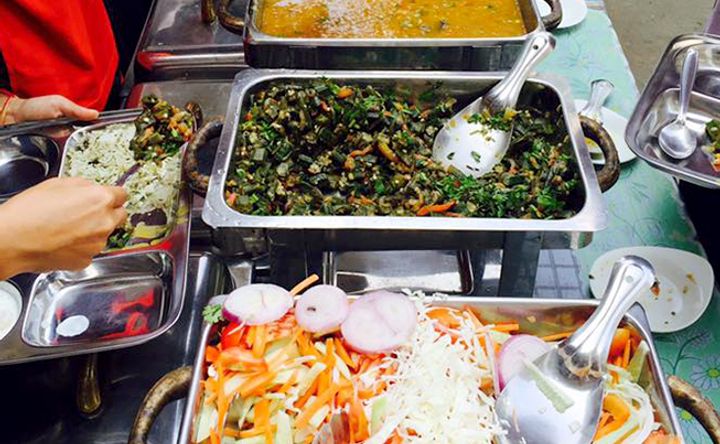 Menu/Cuisine
Keeping the well-being of students in mind, Rishikul Yogshala's Ayurvedic chefs prepare nutritious vedic meals for all the students. Each dish prepared caters to the high demands of the program. You will also be offered three teas and refreshments per day.
The following meals are included:
Breakfast
Lunch
Dinner
Drinks
Directions
Please book your flight to arrive at Jolly Grant Airport (DED). Transfer from and to these airports is available upon request with an extra cost of 20 USD (one-way). Transfer to and from Indira Gandhi International Airport (DEL) is also available with an extra cost of 80 USD (one-way).
---
Cancellation Policy
100% deposit refund for cancellation 60+ days before event.
50% deposit refund for cancellation 30-59 days before event.
0% deposit refund for cancellation 0-29 days before event.
The remaining balance (total price minus deposit) is due upon arrival.
Get full details...
Reviews To review this event, visit the page for the venue or retreat leaders (above).
Similar Retreats You Might Like

Thank you!
We're glad you've joined our retreat community. See you around :)
Return to my event
×