29 Days 300-Hour Yoga Teacher Training in Rishikesh, India
Event Highlights
Shatkriyas (cleansing) and laughter therapy
Daily morning Hatha yoga and evening Ashtanga yoga
Daily meditation, pranayama, and mantra chanting classes
Equal emphasis on yoga philosophy, ethics, and yoga anatomy
Free Indian cooking classes and dance yoga
Free weekly trips to local sites of interest
Healthy nutritious meals and drinks
28 nights' accommodation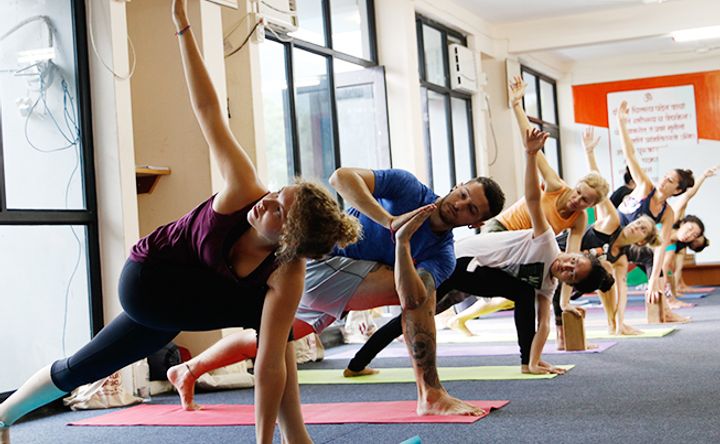 Schedule
05:45 Morning tea
06:00 Hatha yoga
07:45 Pranayama
09:00 Breakfast and rest
10:30 Mantra chanting
11:30 Tea break
11:45 Yoga philosophy
13:00 Lunch and rest
15:00 Teaching methodology
16:00 Tea break
16:15 Ashtanga yoga
18:15 Meditation
19:15 Dinner
20:30 Self-study
22:00 Lights out
About This Event
Start your yogic journey with Rishikul Yogshala. Live and undergo a life-transforming experience with its yoga teacher training programs in the spiritual valley of Rishikesh. The program is designed for all levels of yogis from beginner, intermediate, advanced levels. Build your foundation, indulge in deeper self-practice or become a well-practiced yogi, the program caters to every requirement of the individual.
Certification
Rishikul Yogshala is one of the most eminent yoga schools in India under the RYS (Registered Yoga Schools) category. The school offers 200-hour, 300-hour, and 500-hour yoga teacher training programs that are duly recognized and certified by Yoga Alliance, USA. Students who complete their subsequent trainings are eligible to register with Yoga Alliance as Registered Yoga Teachers (RYT®).
Program
Based on a blend of Hatha yoga and Ashtanga yoga, the primary aim of 300-hour yoga TTC program at Rishikul Yogshala is to form a strong foundation of yoga for all its participants along with taking yoga learning and practice to a more concrete level.
Along the course of this program, the students shall be able to learn about pranayama, meditation, yoga philosophy, life's teachings, correction of postures, etc. that shall help you become a well-practiced yogi.
Rishikul Yogshala strongly believes that if a yogi is dedicated to becoming a yoga guru, then they should not refrain from it. To convert this humble thought into action, the Yogshala announces and awards Yoga Teacher Training Scholarships to all those aspirants who hail from a humble background and have an inspiring dedication for acquiring its knowledge and practice.
Now, do not let anything keep you from fulfilling your passion for yoga. Rishikul Yogshala brings to you an experience that shall transform your life forever and help you achieve your dream of becoming a recognized yoga teacher and it is for free.
Apply for the 300-hour YTTC scholarship program at Rishikul Yogshala and acquire this art form without any kind of financial strain. Let money 'not' be a barrier between you and your love for this magnificent art form.
Instead, demonstrate your dedication for it and get rewarded in return. With the 300-hour TTC scholarships to be held in September in Rishikesh, you shall become an intermediate level RYS certified yoga trainer.
When to Apply?
To secure your seat, please send your applications by April 15, 2018.
Asana classes
Ashtanga yoga
The tradition of Sri K Pattabhi Jois - the founder of Ashtanga yoga, forms the base of this intensive class with the use of theoretical knowledge in practice.
In-depth study of Ashtanga VinyasaPrimary series and secondary seriesDetails of all the involved asanasLearn to concentrate on energy locks (bandhas)
Hatha yoga
With numerous health benefits, Hatha classes will teach students to observe the body and take a conscious approach to its limitations. The focus of the class is not related to the dynamic way of performing asanas, but to work on correct alignment in every posture.
Sun salutation with 12 surya mantras and its benefitsTraditional and classical Hatha yogaCorrect alignment and adjustmentsThe benefits of each asanaTerminologies and Sanskrit names and the meaning of asanaModification of asana for various ability levelsHow to use props correctlyHow to use the breathMudras or gestures
Yoga philosophy
The philosophy classes will help the students achieve their inner and spiritual growth, offering answers to many question related to yoga and life. While teaching yoga philosophy, the students are assisted to live an enlightened life in society. The key points include:
The base of the philosophy and history of yogaAn introduction to SanskritIntroduction to yoga sutras, Shiva sutras, kama sutras, and bhakti sutraStudy of all yoga hypothesis on the basis of ancient scriptures
Mantra yoga
Mantra is a group of Sanskrit words that are rhythms and create sound vibrations that touch every cell in the body, the depth of the soul. In mantra classes, students will learn to come together to create an inner awareness as the teacher guides you through each mantra and its meaning.
Correct pronunciation of mantraAllow inner spiritual transformationAids in reaching the highest stages of meditation
Meditation
You will learn a wide range of meditation exercises and strategies for relaxation and to clear the mind.Guided and self-meditationLearn how to guide others in meditationThe science of meditation and proper breathingYoga Nidra basic series up to four levelsMeditations and its practices
Pranayama
Prana is life force or breath. The classes awaken students' realization of the importance of the breath both in the practice of yoga and in everyday life. When you manage to purify your bodies and minds, pranayama becomes a real pleasure and reveals the way to the spiritualistic experiences.
Knowledge of the breathing techniques beneficial to both the body and mindNadi shodhanam, bhastrika, ujjai, shetali and shetkari, nadi and kapalbatiThe importance of diaphragmatic breathingStress and anxiety related breathing techniquesExternal pranayama series up to two variationsKumbhaka (retention) and pause less or continuous breathingsLevels of concentrations and its refinements
Anatomy
Anatomy classes allow the students to gain a basic knowledge about the human body and its most important systems.
Theoretical knowledge necessary for teaching in the futureAbility to apply appropriate practices to improve and maintain healthKnowledge of the benefits and side effects of particular yoga practicesTechniques of observations and correcting the bodily systems and organsEnergy anatomy and physiology (chakras, nadis, and others)Anatomy and psychological study of inhalation and exhalationAnatomy of nerves system and respiratory systemsAnatomy of spinal cord and digestive systems
Teaching methodology
It is strongly believed that the teacher training program is incomplete without proper classes of teaching methodology and techniques. In the last week of this course, you will be given the opportunity to teach others under the guidance of the teachers.Principles of observationDemonstrationsAssisting and correcting other peoples bodyProper alignment, benefits, and potential risks of various yoga postures and kriyasStudy of the different principles apply to different asanasLifestyle and ethics of a yoga teacher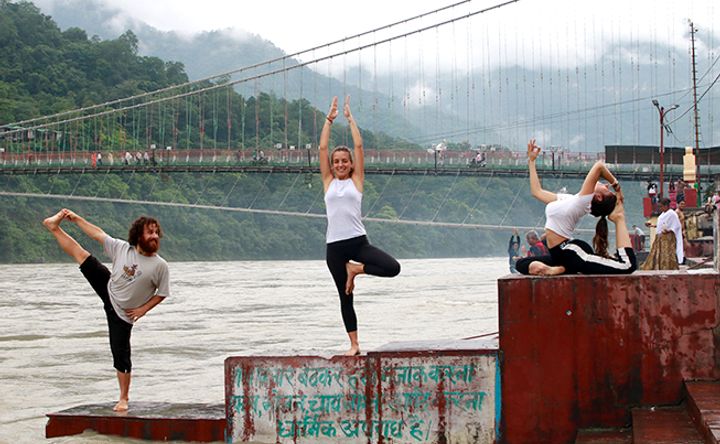 Venue Highlights
The program shall be conducted in the spiritual town of Rishikesh. Situated by the banks of holy river Ganges, surrounded by the panorama of lush green Himalayas, this program proves to be a life-transforming experience.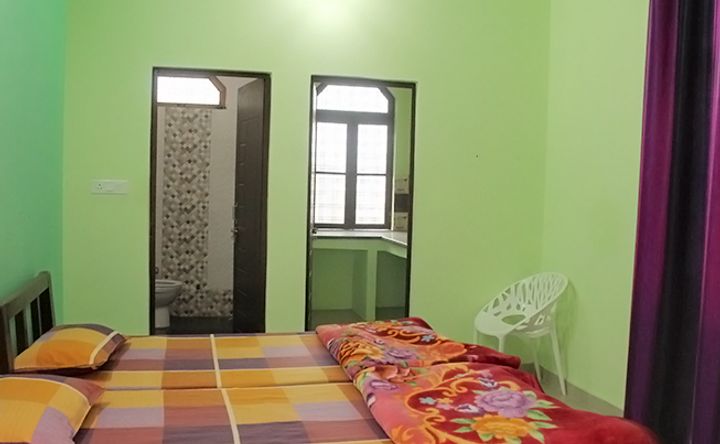 Accommodations
The Yogshala provides on-site accommodation to all its students. Built away from the hustle bustle of the town, in the ethereal beauty of the Himalayas, surrounded by beautiful English oak trees, the school provides a serene, holistic, rejuvenating atmosphere to its students.
The rooms are spacious well-equipped with modern amenities, private marble-floored bathrooms, and free Wi-Fi. All rooms are furnished with fans. Air-conditioned rooms are also available on request.
The yoga halls are further beautified by the breathtaking view of the scenery of Himalayas. And the lush green garden in the school provides ample space and a holistic environment for social meetings and interaction.
Your accommodation will be a spacious en-suite room shared with one other person (of the same gender). As part of the course, you are required to take this accommodation.
Amenities
Free Wifi
Spa
Tour Assistance
Coffee/Tea
Yoga Studio
House Keeping
Menu Types
Vegan
Vegetarian
Ayurvedic
Organic
Gluten Free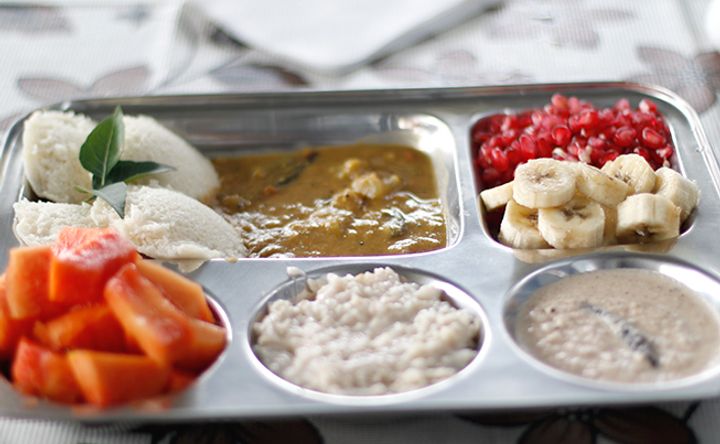 Menu/Cuisine
Keeping the well-being of students in mind, Rishikul Yogshala's Ayurvedic chefs prepare nutritious vedic meals for all the students. Each dish prepared caters to the high demands of the program.
The following meals are included:
Breakfast
Lunch
Dinner
Directions
Please book your flight to arrive at Indira Gandhi International Airport (DEL) or Jolly Grant Airport (DED). Transfer from and to these airports is available upon request. The cost from Gandhi International Airport (DEL) to the retreat center is 80 USD while the cost from Jolly Grant Airport (DED) is 20 USD.
---
Cancellation Policy
100% deposit refund for cancellation 60+ days before event.
50% deposit refund for cancellation 30-59 days before event.
0% deposit refund for cancellation 0-29 days before event.
The remaining balance (total price minus deposit) is due upon arrival.
Get full details...
Reviews To review this event, visit the page for the venue or retreat leaders (above).
Similar Retreats You Might Like

Thank you!
We're glad you've joined our retreat community. See you around :)
Return to my event
×