Be Woman Circle Facilitator Course dedicated to Laksmi Devi - Education on the Sacred Feminine
Schedule
In this module, you will go through a deeper healing journey of sharing with each other your challenges of being a woman. An important part will be the writing of your sexual history which through a sacred ritual you will sanctify and offer back to Devi. You will learn the 16 steps Puja which is a Vedic ritual that consists of 16 offerings honoring Laksmi as all that is as well as your own body as a temple.
Discovering that the body is sacred and that there is nothing to be ashamed gives you profound relative freedom which is essential in order to ultimately own up your absolute wholeness. Through prayers and mantras that have chanted for 1000 of years invoking the healing aspects of Laksmi and getting deeper into the meaning of the sacred feminine, you will also rest with Yin yoga classes and vital essence trauma release breathwork that supports the healing and growing journey beautifully.
Being Laksmi means I honor myself as all that is, including my sacred parts, allowing myself to feel pleasure, sanctify my relationships, and ritualize all aspects of my life. As part of your training, you have invited a very dear brother who is a very talented photographer and craniosacral therapist. He has supported many women in their healing journey towards self-acceptance. He will be supporting your training by taking photos and portraits of each woman.
Many women carry many tensions and a huge amount of self-loath (that can be from being overly occupied with one's body to carelessness and self-hatred) around their appearances. As this module is dedicated to sacred beauty and honoring of the body as a temple, Be Woman Project wants to support every woman to discover herself as the sacred feminine with a body temple that is fit to be seen, honored, adored, praised, and admired.
Being in front of a camera or not, you can be comfortable at all times at all places. Be Woman Project has seen that many women feel especially uncomfortable in front of a camera. Each woman is unique and beautiful when she is comfortable with her self no matter the size, shape, color. All her Devi. Be Woman Project has a prayer that you can all discover that fact.
Their dear brother, Jean, has an eye to capture the woman in her essence, in her rawness, and natural beauty. He makes the journey of being one's photo taken, a deeply healing, nurturing, and sacred one.
In this course, you will look into:
- Sisterhood, challenges and strengths, sacred beauty, dignity and vanity, self-image - reputation, worthiness and sense of shame, self-care, and health
- Yin fascial yoga, dance, and mudras
- Archetype Laksmi Lalita
- 108 Sanskrit names of Laksmi and names of Lalita with meaning in English
- Values and integrity - discovering love and compassion
- Freedom in relationships
- Relationship guided meditation
- Sexual healing through writing and sharing your story
- 16 step Laksmi and Lalita Puja and guided meditations
- Morning Puja - the body is your temple
- Ritualizing one's life, one prayerful day
- Ceremonial sharing and healing circle - hands-on
- Ceremonial sharing and healing circle - hands-on
- Vital essence trauma release breathwork
- Photo session
About This Event
Laksmi is about seeing and knowing life as an offering, and all relationships as a tool for growth. We will immerse ourselves in self-care practices & healing techniques, centered around the art of sacred space, touch and creating intimacy from within. The practices will include self-care massage tailored to care for our sacred temples, and specifically honour the needs of a woman's body, including womb, pelvic, breast & yoni care. We will immerse deeply into practices, techniques and ritual that support every woman to be seen, honoured and come home to her essential truth. We will immerse into embodied feminine movement & breath practices to honour and welcome us home to our essential nature. Seeing ourselves through the lenses of others where we are exposed to other people's opinions and judgments is frightening. In this training we will be embracing this special challenge by welcoming and integrating all the emotions that arise by being seen and placed in the spotlight, and to experience what it means to be truly witnessed and allow all of the hidden parts of our unconscious that may have held us back from embracing our full potential, to be brought back into love.
To welcome us home, to know ourselves, our bodies, our lives & each other as sacred once more.
"This Be Laksmi Lata Training has changed my life, it is exactly the path I want to be on and exactly the kind of teacher I want to be"
What's Not Included
Airfare
pick ups from and to the airport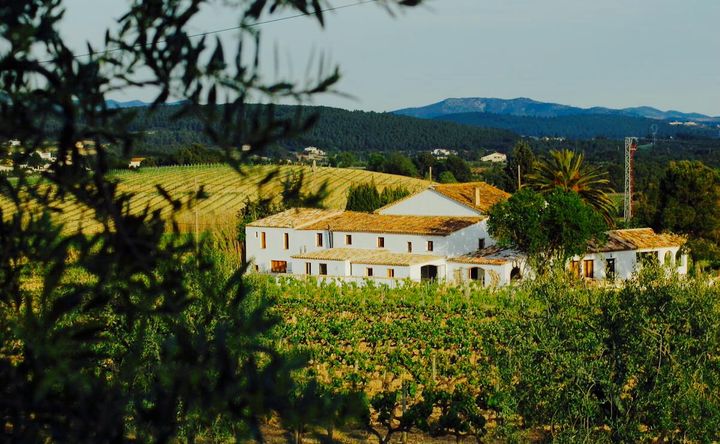 Venue Highlights
The beautiful farmhouse is made up of a main building and three smaller "houses" situated in the beautiful wine region of Penedès and this area is famous for its cava (Spanish champagne), the houses are named after the various native grapes. They are fully equipped, each with private bath and kitchen, have a private balcony with panoramic views and patio or garden.
The house is bright and airy, decorated in a comfortable and welcoming way, giving a nice Mediterranean flavor. The Alaya house where you will stay is the newly built large activity room (120 m2), in the place where the old barn was.
The word Alaya comes from Sanskrit meaning "base or home "; it is also the ground state of existence or consciousness, the place from which all things arise and exist. The building encapsulates our desire to offer a space allowing for the expression of who we are whilst remembering who we were – how the use of the old barn was the storage place for seeds that were planted to bear fruit.
The building has comfortable accommodation for groups in separate beds and all the equipment to make organizing your event most comfortable. Spread over two floors, the Alaya also has a chillout terrace on its roof with wonderful views of the vineyards of Penedes.
On the ground floor there is a dining room, bathrooms and showers, a dorm with bunk beds and two twin bedrooms. On the upper floor there is a magnificent open space specifically designed without any obstructing columns so as to facilitate all kinds of activities. The floor is of natural oak which brings a lot of warmth and comfort.
It has large windows that take advantage of natural light, which is enjoyed in this area most of the year and, of course, they open out to the beautiful views of the natural surroundings and vineyards. On the terrace there are large awnings giving a pleasant shade in the warmer months for outdoor activities, rest and relaxation.
The venue is a beautiful and traditional Catalan farmhouse dating over 150 years that has been completely renovated. Situated among vineyards in the Alt Penedes, the town of Torrelles de Foix is a region famous for its wines and champagnes. It is an inspiring, idyllic and peaceful place that can accommodate yoga retreats, meditation groups and workshops of all varieties.
Equally it is the perfect location to write, create art or simply take a break from everyday life in the city; the calm and beauty of the vineyards that surround the house, make it a special place to disconnect from the urban bustle.
With ample parking for your convenience, getting here is easy via road, train or even plane from Barcelona airport. The local train station Vilafranca del Penedes is well connected to the rail network and we also offer a pick up service from the station. The training will be located in the courtyard of the main house with its ground floor serving as a residence for up to 20 students complete with kitchen, dining room and showers. The house also has a spacious outdoor poolside to conduct meetings, yoga classes or just enjoy the time off.
Accommodations
Single beds in shared confortable and beautiful rooms.
Menu Types
Menu/Cuisine
Participants will be served all meals in the Alaya retreat center. Participants will be served breakfast and main meals. Everything would be served in a buffet style. The menus will be vegan and/or vegetarian (gluten-free option available on request).
Be Woman Project realizes the importance of good, healthy and tasteful food while you stay with them and offer delicious dishes for the guests. The meals offered are prepared with fresh, seasonal, and, for the most part, locally grown, produce. The meals prepared can be characterized as " Mediterranean-Asian Fusion": offered are Spanish, Catalan and Italian, Greek and Moroccan, Indian and Indonesian dishes.
Be Woman Project only uses fresh ingredients and everything is prepared on the spot, using olive oil (if possible from their own olive trees) and fresh spices. Be Woman Project buys at the local markets preferably from local vendors.
The retreat center has a small vegetable garden so you might eat tomatoes, wild spinach, lettuces or peppers. In addition, Be Woman Project has organic almond, cherry, apple, nisperos, kaki, plum and lemon trees, in addition to 3 hectares of vineyards. Be Woman Project makes their own chutneys out of nisperos and grapes. Bottle their cherries so they last over the winter, roast their almonds and make marmelades.
Be Woman Project picks rosemary and thyme in the hills behind the house and have mint, basil, salvia, oregano and other aromatic plants in their gardens.
The cook was inspired by his travels around the Mediterranean and Brasil. His passion is to cook simple tasteful healthy meals prepared all fresh and homemade with local spices and ingredients.
Directions
Driving directions from Ibiza Airport (IBZ) or Ibiza port
Take the road to Santa Eularia.
Once there, follow the signals on the way to Sant Carles.
After Sant Carles, follow Cala Sant Vincent road.
Drive through six kilometers of curves till you get to a stop signal.
At the right side is Cala Sant Vicent.
At the left, Saint Joan.
Follow the directions to Sant Joan.
Two kilometers later, at kilometer number seven, take the road on your right side.
Pass through a bar called Es café.
Follow the road about two kilometers till you find, on the right side, a big natural stone and a big blue stoned.
That means you have arrived at Ses Caletes Hacienda and we will be waiting for you.
Reviews To review this event, visit the page for the venue or retreat leaders (above).
Similar Retreats You Might Like

Thank you!
We're glad you've joined our retreat community. See you around :)
Return to my event
×