About This Event
Join us on a one week adventure exploring the concepts of this wonderful meditative body movement practice.
Immerse yourself into the tranquility and peacefulness of the surroundings to slow down and quite down as we embark on a journey of self exploration and self discovery, self expression and transformation.
We will guide you in ways where you can take your own path to follow and to explore.
TRIM is a practice that comes alive with the practitioner's unique and individual way.
An exploration of our potential and a realization of our fullest self !
TRANSFORMATIONAL RAW INTUITIVE MOTION
TRIM is a new unconventional meditative body movement practice which places the practitioner in a guiding position.
The practice becomes eventually the unique expression of each practitioner.
TRIM stands for TRANSFORMATIONAL RAW INTUITIVE MOTION
The practice relates to the self as a whole, body, thoughts and emotions and explores our inner realities as we transcend into an intuitive flow of inner expression.
With TRIM we move slowly from the awareness of our body to the trusting of its intentions as we explore the potential of our self through bodily expression.
TRIM is a sacred space which we create to manifest our presence.
TRIM promote our realization of our true potential, creating through the transformation of our inner realities, a rebalancing of our energies in accord with our present awareness of who we are.
TRIM is an ever evolving practice and should be undertaken with the seriousness of a child passionately at play.
TRIM is YOU
TRIM IS A NEW MEDITATIVE BODY MOVEMENT PRACTICE
INSPIRED BY YOU
IMERSE YOURSELF INTO A JOURNEY OF EXPLORATION
AN ADVENTURE
NAVIGATE INTO NEW SPACES
RELATE TO YOURSELF
YOUR BODY
YOUR THOUGHTS
YOUR EMOTIONS
EXPAND AND CREATE
PLAY THROUGH YOUR EXPRESSION OF YOUR INNER REALITY
FLOW INTO AN INTUITIVE MOTION OF AWARENESS
BE YOURSELF IN THE MOMENT
TRANSFORM THE RAW ENERGY INTO A DANCE OF EXPRESSION
BE
IN MOTION
TRIM
TRANSFORMATIONAL RAW INTUITIVE MOTION
THE PRACTICE
TRIM is a meditative body movement practice
The practice promotes the discovery of ourselves as we navigate through our body exploring all possible movements
TRIM stands for TRANSFORMATIONAL RAW INTUITIVE MOTION
It is a movement practice which involves our self as a whole
With TRIM through our intuitive body movement expression we transform our raw energies as we rebalance our relationship with them
It becomes an adventure and an exploration as we begin to relate intimately to our energies and our relationship with them
Boundaries and limits are recognized on the way as well as tension areas which restrict movement
The practice consists of three phases which are loosely connected and interchangeable at times
The initial phase of the practice is aimed at quitting ourselves and slowing down as we begin to immerse in the present reality of our body as a whole
Our world of thoughts and emotions are in an intercourse with our world of sensations and body awareness through movement
In the first phase of the practice we begin to slowly move parts of our body as we indulge in an exploration of movement where we relate intimately to our body and its movement potential
Thoughts and emotions will arise during this phase and interact with the body movement as we navigate and explor
As we move on combining movements and exploring possibilities we intensify the experience as we move towards a climax
We then slowly come down again to a still
Here the second phase begins as we allow ourselves to take in and digest the previous experience of our personal exploration through movement
By trusting and allowing the previous experience to be integrated in our present we will begin to immerse into an intuitive state of awareness as we allow our body to guide us in an adventure of self exploration, self discovery, self expression and self evolution
A challenge and an adventure, an exploration in playful bliss
A dance
A celebration of life
An explosion of imaginative creativity as we transform and rebalance
The practice is done with the seriousness of a child at play
The third phase involves manifesting the insights of the practice in our daily lives
In this phase we allow the experience of the practice to interact with our daily rhythms and ways transforming our expression as we evolve continually towards new balances
New perspectives are reached as we celebrate our evolving self
TRIM
LIVE YOUR FULLEST
Venue Highlights
Our retreat base, The Sea Side House is a wonderful 5 bedroom natural stone built villa very near the sea of the Mediterranean ocean and located west where amazing sunsets are enjoyed on the lovely terraces just in front of the house.
A large swimming pool is also available for cooling off or for getting in those extra strokes.
The most amazing beaches in all Europe, Elafonisi, Falasarna, Balos, are located just 20min from our villa.
With many small dirt roads winding through olive groves and fascinating wild coast line there are many options for a meditative walk or an adventure by the sea shore. Places to wonder in quietness and enjoy the company of yourself and those with you.
The villa is very spacious with many niches for participants to enjoy space and privacy if they so choose to, as well as large comfortable common areas to interact and to share experiences.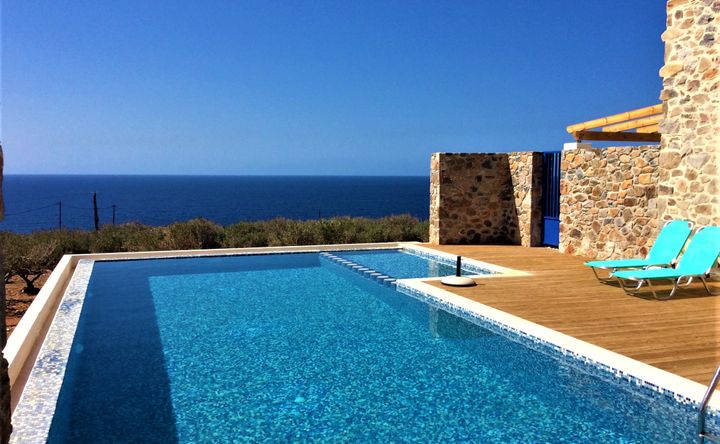 Accommodations
The villa where the retreat participants will be accommodated has two levels with 3 bedrooms in the lower level and 2 bedrooms in the upper level.
The 2 upper floor bedrooms and one lower floor bedroom have a double bed and their own bathroom in the room. The other 2 bedrooms on the lower level share a bathroom just outside of their door and one is with adouble bed and a courch while the other has two single beds.
Spacious and comfortable dining and living spaces together with a beautiful and very functional ktchen area complete the lovely interiors of this gorgeous stone villa.
Many outdoor terraces offer spaces for hanging out, reading a book and of course practicing and meditating.
Sheets and towels are provided and there will be a cleaning and linen change during the middle of the week.
A large an in a perfect position swimming pool also adds to the outdoor entertainement scene.
---
Cancellation Policy
100% deposit refund for cancellation 60+ days before event.
50% deposit refund for cancellation 30-59 days before event.
0% deposit refund for cancellation 0-29 days before event.
The remaining balance (total price minus deposit) is due upon arrival.
Get full details...
Reviews To review this event, visit the page for the venue or retreat leaders (above).
Similar Retreats You Might Like

Thank you!
We're glad you've joined our retreat community. See you around :)
Return to my event
×