21 days Y.E.S. Yoga, Spanish and Salsa retreat in Cali, Colombia
Event Highlights
30 hours of salsa lessons
30 hours Spanish group class
21 optional Integral yoga sessions
Language certificate of level A1.1 verifying 90 hours of Spanish
City tour to Cali's downtown and local markets
30 hours of Spanish discussion group sessions
22 nights accommodation
Nights out in local Salsa clubs
Transportation and entrance during the excursions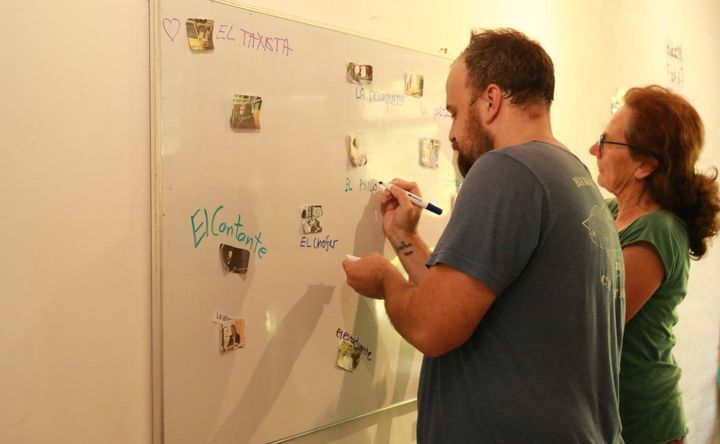 Schedule
Time schedule
Morning spanish lesson: 8:00 -10:00
Yoga class: 10:30 - 12 m
Afternoon spanish lesson: 15:00 - 17:00
Salsa lesson: 17:00 - 19:00
About This Event
Program
The Y.E.S-Spanish School proposes the learning of Spanish as a foreign language as a way to get to familiar with the Colombian culture and also to approach to the nuances of it. During the classes, you will develop your communicative skills (it is not a grammar-based course).
Practice your acquired skills in the Spanish language during the excursions to local markets and city tours, you also have the possibility of practicing and integrating your learnings through the optional yoga and salsa courses in the property. These two options could help you develop inner skills of well-being and discover the city dancing salsa and bachata in the world-famous Latin clubs, these options are included in the price. You will also get to explore the Pance River and enjoy the sunset at the Cali's Farallones National Park, home of 600 different birds and butterflies whilst you practice your Spanish.
It is 21 days of classes. During this time, you will take Spanish classes in the morning and you will strengthen your morning knowledge in the afternoon.
Time schedule
Morning spanish lesson: 8:00 -10:00Yoga class: 10:30 - 12 mAfternoon spanish lesson: 15:00 - 17:00Salsa lesson: 17:00 - 19:00
What you will do
You will develop your Spanish skills to speak and express yourself with the locals during the organized excursions to local markets accompanied by your Spanish teacher. Here, you are going to practice the Spanish by buying the tropical and exotic fruits and vegetables that are typical of the region.
In addition, if you choose the option included on the price you can accompany this amazing experience through the development of inner tools through the Integral yoga lessons that focus on the balance of your physical, mental, emotional, and spiritual aspects through a comfortable and inclusive approach to asanas, meditation, and breathing techniques, insightful movement and energy management techniques.
Furthermore, Cali is known in the world as the Capital of Salsa, you will get the opportunity of learning, if you want, salsa in the two-hour classes everyday and practice your learned skills in the emblematic clubs of Cali (optional, included on the price).
Cali has seven rivers that cross the region and you will get to visit Cali's Farallones National Park around the Pance River where you can bird watch and explore the woods and waterfalls. At the end of the retreat, if you wish to continue with your learnings, IKYU will provide you with the contact information of a specialized guide that will take you to live and share with the Misak indigenous community of Silvia - Cauca.
During this retreat, everyday you will have one group class of Spanish as well as a discussion group where you can learn how to express your ideas and opinions in Spanish. If you decide to take the option every morning at 10:30 a.m. you will have a yoga session and, at the end of the day, you will have a salsa class to release and enjoy.
The retreat includes Cali's city tours to practice Spanish while you shop and exchange with locals and nights out to typical Salsa dancing clubs to test the skills you've acquired. It takes minimum 10 people to do the retreat.
The levels of Spanish are organized into modules, for example, the first language level is proposed as A1.1 (Complete beginners). After you have finished the course, you'll receive a language certificate that will verify that you attended to 90 hours of Spanish classes. This is not a valid language diploma.
Content Spanish lessons level A1.1 (beginners)
¿Quién eres tú? / Who are you?Presentation of oneself, personal informationVerbs: ser, estar, llamarse, vivir en presente del indicativo (introduction to the origin of the Spanish language)Interrogation: ¿cuál? ¿cómo? ¿dónde? ¿quién?Pronouns: yo, tú, usted (vos) de acuerdo con la situación (formal or informal)Numbers (1-1000) / AlphabetFamilies around the world - Colombian families / Cali's familiesAdjectivesIndigenous and rural familiesMy family -Communities (cities and villages)Daily activities (city and rural fields)Verbs: ir, necesitar, querer, preferir en presente del indicativoShopping in the cityMy city - My townColombian gastronomy - Typical dishes from CaucaAsk for food in a restaurant or local shopExpress my favorite dishVerbs: gustar, encantar, etc.
Included excursions
Excursions to local markets to practice the acquired Spanish skill and taste the variety of tropical fruits and vegetablesExcursion to Cali's downtown to learn about Cali's lifestyle and historyExcursion to traditional night clubs to practice the Salsa learnings and exchange with the locals
What's not includedFlightsTransport from and to the airportHygiene productsWashing machine serviceFood during the complete course
Review by Adonis Bunghis from United States February 26, 2019 "All in one" ISHKA is a nice retreat where people can enjoy yoga, salsa and at the same time learning Spanish. I had excellent teachers and trainers: Lina and Simon. They did their best in sharing their knowledge and experience. They embody all qualities that a teacher should have: talent, humor, patience, empowerment and perpetually appreciating and encouraging. I recommend them full heartedly. Spanish classes, salsa and yoga was awesome. Garden is beautiful and the yoga cats funny. Review by Louis-andré Fortin from Canada March 2, 2019 "The teacher were just amazing." The teachers were nothing short of amazing. Review by Marco Nassimento February 5, 2019 "Great Spanish, yoga and salsa retreat in the making!" I loved the Spanish lessons. I thought it was a good routine of starting the day off with 2 hours of Spanish then returning to it later on in the afternoon. The overall vibe and energy of the location was beautiful, so close to the city but was a peaceful getaway that allowed us to focus on all the information we were given. Simon and Lina (Spanish and yoga professors) were amazing. They completely made this retreat as great as it was. They were nothing but positive, understanding and caring. Truly two beautiful human beings!
Venue Highlights
Surounded by nature
Peaceful, calm and revitalyzing
Close to Cali
Butterflies, birds, squirrels, cats
Fruit trees
Beautiful garden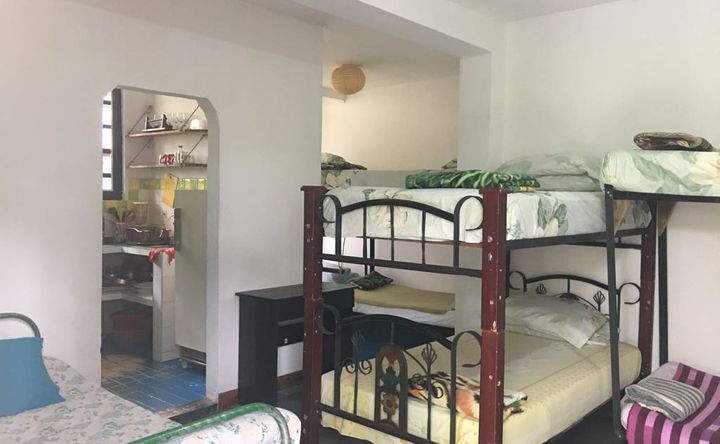 Accommodations
There are two kinds of accomodation, dorm for 490EUR and private room for 590EUR. Both accomodations are in shared appartments with kitchen and fridge for the use of the participants.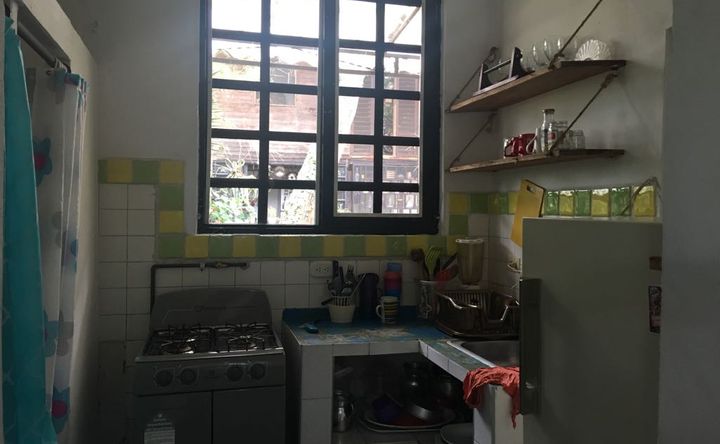 Amenities
Free Wifi
Free Parking
Kitchen
Yoga Studio
Bicycles
Menu/Cuisine
Food is not included on the price, there are two available kitchens for the participants and nearby restaurants as well as food delivery service.
Directions
Arrival by airplane
Please book your flight to arrive at Alfonso Bonilla Aragón International Airport (CLO). From the Alfonso Bonilla Aragón International Airport (CLO), you can take a shuttle to Cali's bus terminal for 2 USD and then take a taxi to Ishka Center for a minimal charge of 10 USD. You may also take a taxi from the airport directly to Ishka Center which costs around 25 USD.
---
Cancellation Policy
100% deposit refund for cancellation 60+ days before event.
50% deposit refund for cancellation 30-59 days before event.
0% deposit refund for cancellation 0-29 days before event.
The remaining balance (total price minus deposit) is due upon arrival.
Get full details...
Reviews To review this event, visit the page for the venue or retreat leaders (above).
Similar Retreats You Might Like

Thank you!
We're glad you've joined our retreat community. See you around :)
Return to my event
×